ROCCAT Isku FX Multicolor Gaming Keyboard Review
Mon, Apr 15, 2013 - 12:00 AM
Roccat Isku Multicolor Gaming Keyboard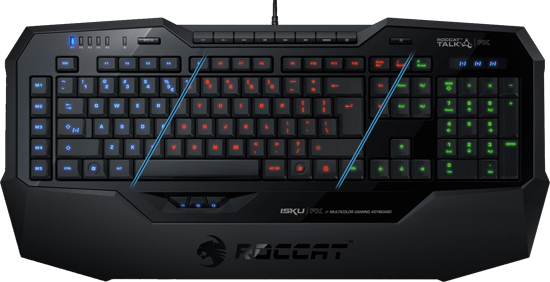 It was less than a year ago when Legit Reviews took a look at ROCCAT's original Isku gaming keyboard. Today we're looking at another Isku keyboard that's not very different as the only real changes found on the Isku FX are the multicolor backlights and accompanying lighting software. The expected outcome of this is for the Isku and Isku FX to coexist, but it's a shame really to see the pricing of the two keyboards differ only by $10.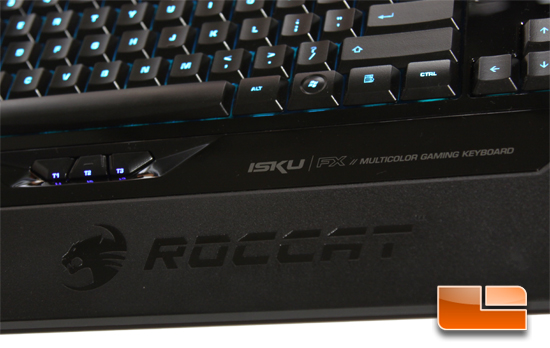 That puts the Roccat Isku FX (ROC-12-901)at $99.99 shipped and it looks like a better value than the $89.99 shipped Isku (ROC-12-701) considering their similarities. We're still interested in innovation and so let's take a look at the advertised features that differentiate the Isku and Isku FX.
Roccat Isku FX Multicolor Gaming Keyboard (ROC-12-901) Features:
The Isku FX is the only keyboard in the world to feature our groundbreaking Easy-Shift[+] technology, which offers you the wonder of 36 easily-customizable macros strategically positioned in 3 spots in the easy-to-find WASD zone.
Three individually-programmable Thumbster macro keys right below the Isku FX?s spacebar – each easily activated with a quick thumb strike. Perfect for casting a lightning-quick healing spell in the middle of a tough fight.
MULTICOLOR KEY ILLUMINATION with 16.8 million colors of your choice; with 6 brightness levels , 3 EASY-SHIFT[+] ZONES for easy key duplication
36 EASY-TO-REACH MACRO KEYS including 3 Thumbster keys, MACRO LIVE! RECORDING with dedicated M-Rec button; 180+ macros in 5 profiles
8 CONFIGURABLE MEDIA and HOTKEYS 25+ assignable functions, MEDIUM-HEIGHT KEYS with an optimum keystroke & pressure point; advanced anti-ghosting; 1000Hz polling rate
INTEGRATED CABLE CHANNELS for better device organization, NON-SLIP BASE with lock-on keyboard feet , ULTRA-FAST PROFILE SWITCHING 5 Profile-Status LEDs
ROCCAT DRIVER + MACRO MANAGER incl. Sound Feedback; Macro Presets for games, multimedia and office apps, EXTRA-LARGE GRANULAR WRIST REST with special surface texture
ROCCAT TALK SET BONUS get more out of your ROCCAT devices by combining their functions, ROCCAT TALK FX translates on-screen action into sensory effects on your Isku FX gaming keyboard
That last feature really grabbed our attention. One most interesting features of this product is ROCCAT Talk and Talk FX. There's a bunch of words on the product box and website about "Set Bonus advantages" and "sensory effects" and even a picture that shows the Isku FX and Kone XTD together with their lights synced in purple. This feature was really interesting to me and as a result, I've elected to discuss the Isku FX's lighting in a fair amount of detail beginning with this video demonstrating the lights on the Isku FX and Kone XTD mouse reacting to on-screen actions.
Hopefully you just watched the video and it managed to get you excited about how the keyboard and mouse react to the game. If you are, then you'll be disappointed. ROCCAT hasn't implemented reactive lighting in its driver software – at least not yet. Nevertheless, it's unfortunate that ROCCAT has heavily promoted a really cool and unique core feature only to not have it included in the final product. I'll get more into that later, but let's start looking at the package first and then the keyboard.