Overclockers Delight - MSI GeForce GTX 760 HAWK
When the NVIDIA GeForce GTX 760 video cards came out in June 2013 we were impressed by the performance and price point, but many of the board makers said that the best was yet to come. Today, MSI announced the GeForce GTX 760 HAWK 2GB video card or N760 HAWK for short. MSI has been producing 'HAWK' edition cards that were built for overclocking since 2010, so most enthusiasts should be familiar with this product line.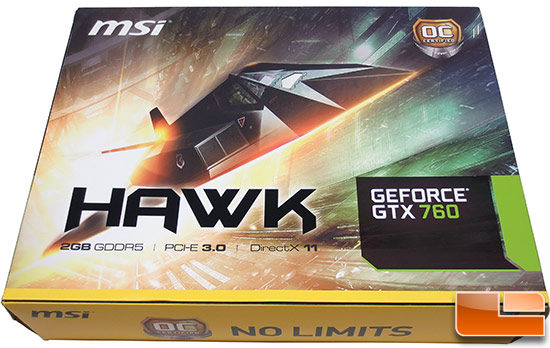 The MSI N760 HAWK is similar to the cards that came out before it in the sense that it has triple overvoltage support (GPU, Memory and PLL voltage adjustments), a beefed up power design, voltage check points and an improved Twin Frozr IV dual-fan cooler. MSI basically threw out the NVIDIA reference design and came up with their own PCB design and pretty much improved every aspect of it.
| | | | |
| --- | --- | --- | --- |
|  GeForce GTX 760 | MSI N760 HAWK 2GB | MSI N760 GAMING 2GB | NVIDIA Reference |
| Model | N760 HAWK | N760 TF 2GD5/OC | reference |
| GPU boost clock | 1176MHz | 1085MHz | 1033MHz |
| GPU base clock | 1111MHz | 1020MHz | 980MHz |
| Texture Fillrate | 106.7 GTexel/s | 97.9 GTexel/s | 94.1 GTexel/s |
| Memory clock | 1502MHz (6008MHz) | 1502MHz (6008MHz) | 1502MHz (6008MHz) |
| Memory interface | 256-bit | 256-bit | 256-bit |
| Memory Bandwidth | 192.3 GB/s | 192.3 GB/s | 192.3 GB/s |
| PWM Phase | 6+2 | 5+1 | 4+1 |
| Length | 264mm | 260mm | 241mm |
| Price |  $299.99 |  $264.99 |  $249.99 |
The MSI N760 HAWK is clocked at 1111MHz on the core and 1176MHz on the boost clock. This is a 13.4% overclock on the base clock and a 13.8% overclock on the boost clock.  The 2GB of GDDR5 memory runs at 1502MHz (6008MHz effective), so the memory has not been overclocked and is running at stock speeds. Notice that the length of the PCB is also the longest of the bunch at 10.4" or 264mm in length. This is because the MSI N760 HAWK uses a totally different PCB than the MSI N760 GAMING (our review) due to the added components that make up the improved PWM.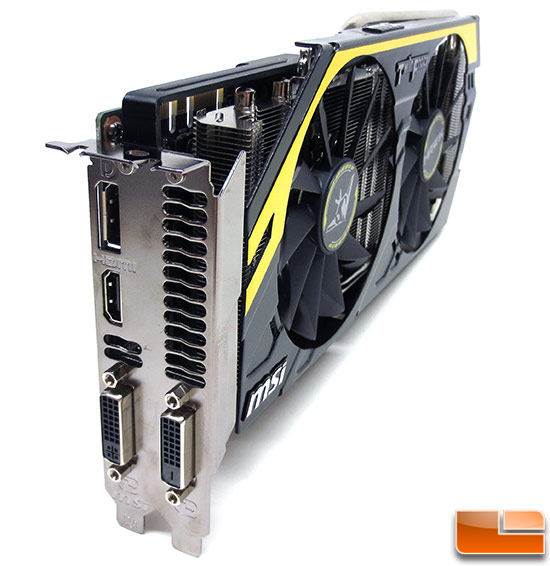 The MSI GeForce GTX 760 HAWK features two 100mm (10cm) fans and the Twin Frozr IV GPU cooler that has 5 copper heat pipes. The MSI N760 HAWK has a yellow and black color scheme that looks great and should go along great with the MSI Z87 MPOWER, MPOWER MAX and XPOWER motherboards as they are also black and yellow.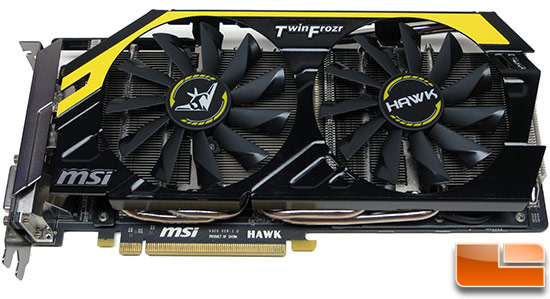 When it comes to GPU cooling, the MSI N760 HAWK is equipped with MSI's new Twin Frozr IV Advanced GPU cooler. This dual-fan GPU cooler uses two 10cm (100mm) fans with PropellerBlade Technology. MSI says that the Twin Frozr IV Thermal Design can lower temperatures by 10°C and noise by 12.48 dB, compared to the reference design. Unlike this MSI N760 Gaming, the MSI N760 HAWK has Dust Removal Technology. This is said to significantly improve cooling performance by running the fans in reverse for 30 seconds every time the system is started. This helps to remove dust from the heat sink fan module and optimizes the long-term graphics card's cooling performance.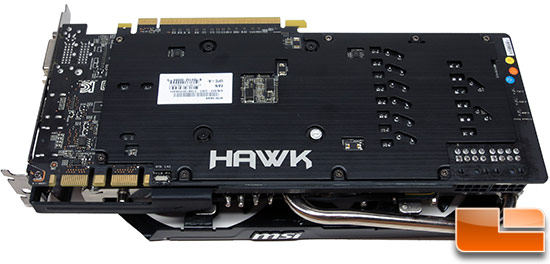 Here we have the back side of the card and as you can see MSI is using a nice black colored metal backplate! It should be noted that this card uses a PCB that is 10.4" in length, but that should easily fit in most any case.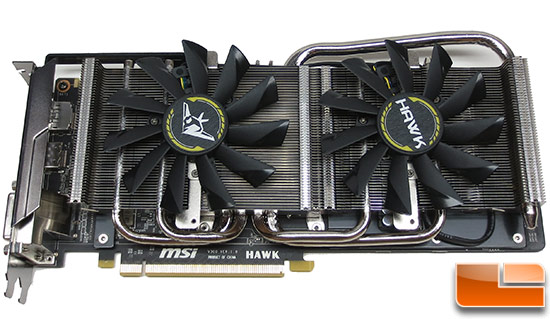 The N760 HAWK uses Military Class 4 components that have been tested and certified against the MIL-STD-810G standard by an independent laboratory. This means the card has Tantalum core Hi-C Cap for longer service life and stability, new SFC with polished surfaces for even better cooling, and the moisture- and rust-resistant Dark Solid CAPs. All are used on the card to improve the stability of the MSI N760 HAWK.
With the Twin Frozr IV Advanced GPU cooler fan shroud removed you can better see the five heatpipes that are being used on this card. The bottom four are 6mm in diameter and the top one is the 8mm SuperPipe that MSI loves to brag about in marketing material. The key take home message here is that the MSI N760 HAWK does not use the same GPU cooler as the MSI N760 GAMING. They might look similar, but the MSI N760 HAWK has an additional heatpipe and a slightly different heatsink design.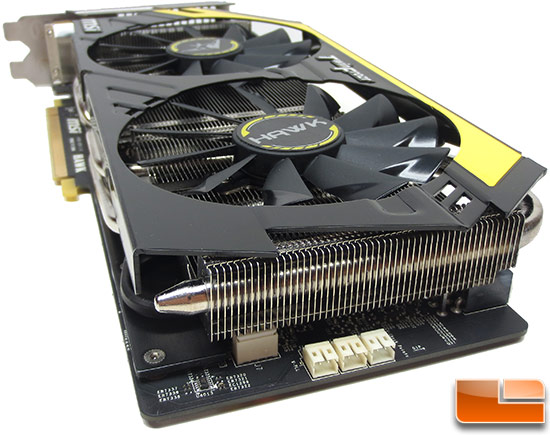 The MSI N760 HAWK also uses a different PCB and supports triple overvoltage, which means that in the MSI Afterburner software you can change the voltages for the GPU, memory and PLL. MSI includes three "V-Check Points" on the PCB and includes an "OC Kit" to make it even easier for enthusiasts to monitor voltages with a multi-meter! The MSI GeForce GTX 760 HAWK graphics card was built for overclockers, so features like this are a must.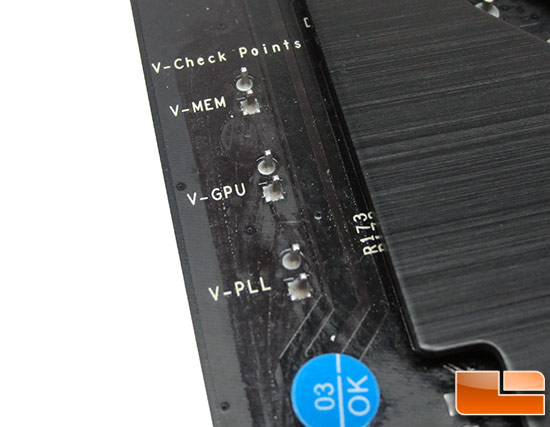 The V-Check Points are not all labeled on the front of the card, but a quick look at the back will show you which is for the V-MEM, V-GPU and V-PLL.  It should be noted that only Afterburner v3.0.0 Beta 12 and later support triple overvoltage. When we were sent the card just Afterburner v3.0.0 Beta 11 was available and we were unable to use the feature.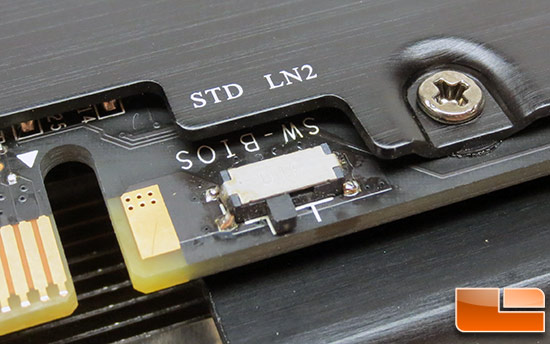 On the back of the card you will also find a small switch for MSI TWIN BIOS. You can use this switch to change between the cards two BIOS, one is standard and one is intended for use with sub-zero (LN2) cooling. When you switch over to LN2 it disables OCP (Over Current Protection) and APS (Active Phase Switching), so you can push the card to the bleeding edge.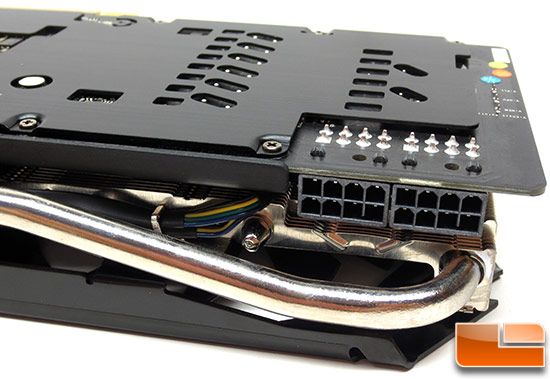 MSI went with two 8-pin PCI-e power connectors for their GeForce GTX 760 HAWK 2GB video card. MSI suggests a 500 Watt or greater power supply for proper operation with a +12V rating of at least 30 Amps. MSI said that the N760 HAWK has a higher Max TDP due to the higher clock speeds and that this card should peak at around 180W versus 165W on the MSI N760 GAMING card. This also means that there will be a difference in temperatures, despite the different GPU cooler design.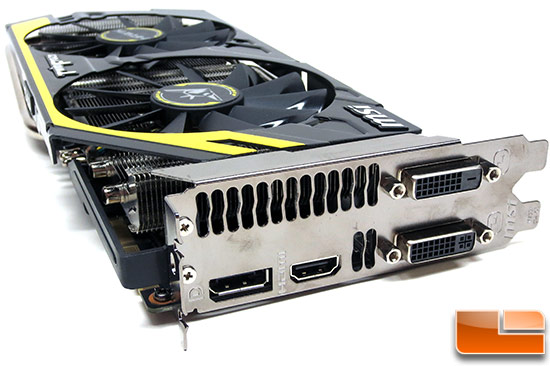 Here we can see the video output connectors for the MSI N760 HAWK video card. It has a pair of dual-link DVI connectors, the bottom is a DVI-I while the top is DVI-D. Display Port is at the bottom left and HDMI is in the middle. The design looks is identical to the NVIDIA GeForce GTX 760 reference card, so the video outputs are the same.
Let's take a look at the retail box and bundle!
MSI N760 HAWK Retail Box and Bundle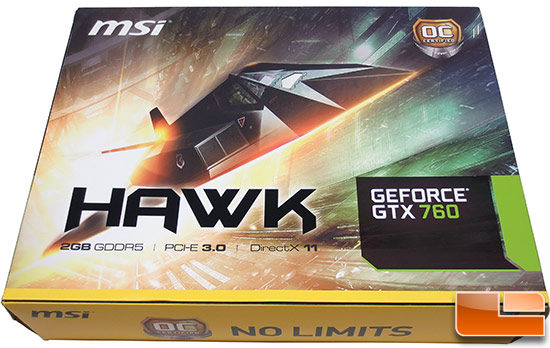 MSI has a sharp looking retail packaging with the Lockheed F-117 Nighthawk on the front that is coming right at you. Besides the 'OC Certified' logo in the upper right hand corner of the box you wouldn't know that this card is something truly special. On the long sides of the box it again says 'OC Certified' along with the phrase 'No Limits'.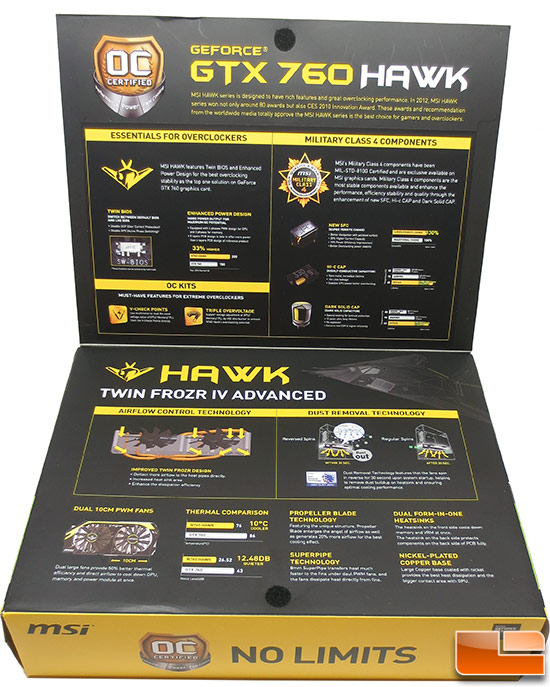 When you flip open the lid of the box you'll find tons of information about the key features of this card. Here you'll find details on overclocking essentials, military class 4 components, OC kits, airflow control technology, dust removal technology and much more.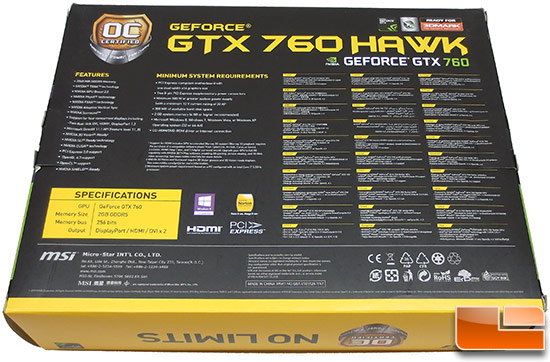 The back of the retail box lists some of the key features and touches on some of this cards selling points.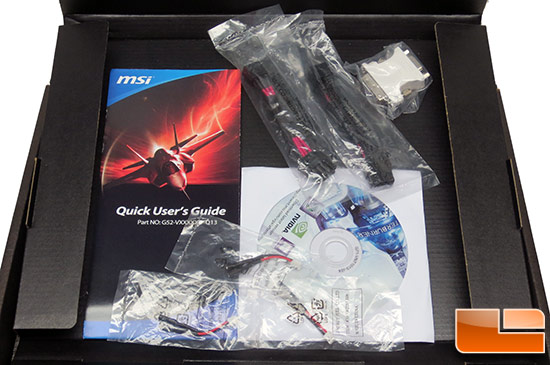 When it comes to the accessory bundle you get a pair of 8-pin PCIe power to dual 4-pin Molex power adapters, a DVI-to-VGA adapter, three multi-meter adapters for the V-Check points, a quick setup guide and the driver disc.
Test System
Before we look at the numbers, let's take a brief look at the test system that was used. All testing was done using a fresh install of Windows 7 Ultimate 64-bit and benchmarks were completed on the desktop with no other software programs running.
Video Cards & Drivers used for testing:
NVIDIA GeForce 320.18 & 326.41
AMD Catalyst 13.6 Beta 2
Intel X79/LGA2011 Platform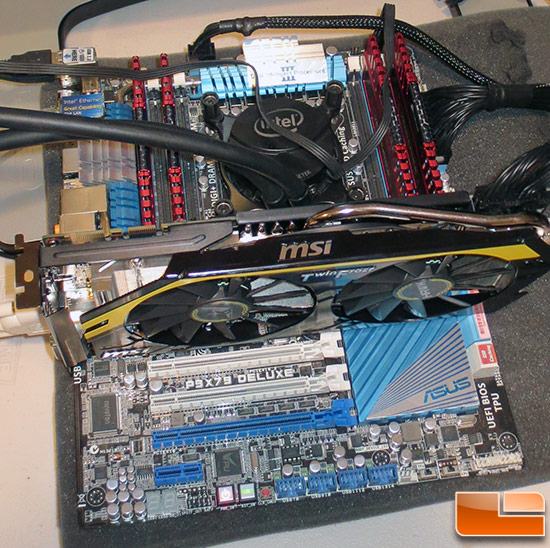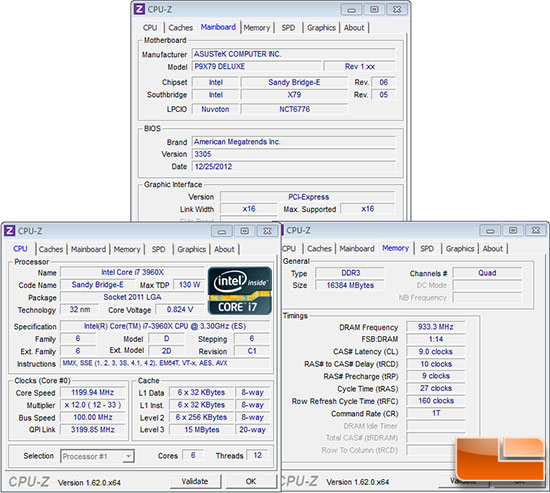 The Intel X79 platform that we used to test the all of the video cards was running the ASUS P9X79 Deluxe motherboard with BIOS 0305 that came out on 12/25/2012. The Corsair Vengeance 16GB 1866MHz quad channel memory kit was set to 1866MHz with 1.5v and 9-10-9-27 1T memory timings. The OCZ Vertex 3 240GB SSD was run with firmware version 2.25.
The Intel X79 Test Platform

Component

Brand/Model

Live Pricing

Processor

Intel Core i7-3960X

Motherboard

ASUS P9X79 Deluxe

Memory

16GB Corsair 1866MHz

Video Card

Various

Solid-State Drive

OCZ Vertex 3 240GB

Cooling

Intel RTS2011LC

Power Supply

Corsair AX1200

Operating System

Windows 7 Ultimate 64-bit
MSI N760 HAWK 2GB Video Card GPU-Z Information: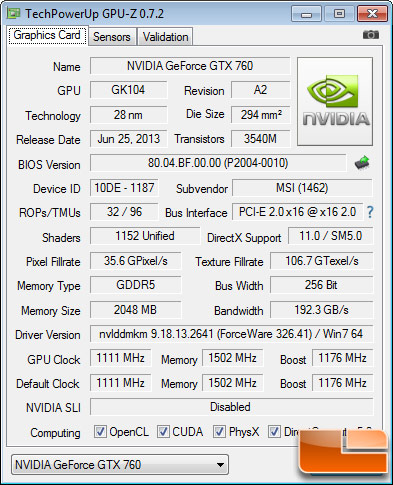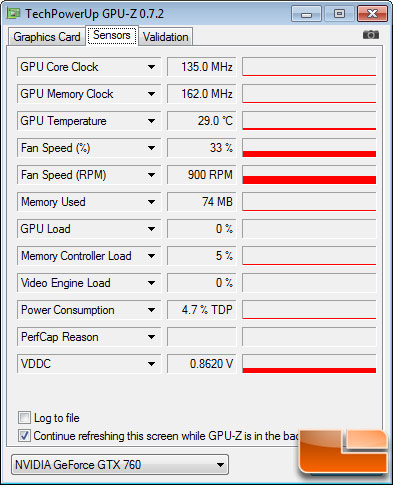 Battlefield 3
Battlefield 3 (BF3) is a first-person shooter video game developed by EA Digital Illusions CE and published by Electronic Arts. The game was released in North America on October 25, 2011 and in Europe on October 28, 2011. It does not support versions of Windows prior to Windows Vista as the game only supports DirectX 10 and 11. It is a direct sequel to 2005's Battlefield 2, and the eleventh installment in the Battlefield franchise. The game sold 5 million copies in its first week of release and the PC download is exclusive to EA's Origin platform, through which PC users also authenticate when connecting to the game.
Battlefield 3 debuts the new Frostbite 2 engine. This updated Frostbite engine can realistically portray the destruction of buildings and scenery to a greater extent than previous versions. Unlike previous iterations, the new version can also support dense urban areas. Battlefield 3 uses a new type of character animation technology called ANT. ANT technology is used in EA Sports games, such as FIFA, but for Battlefield 3 is adapted to create a more realistic soldier, with the ability to transition into cover and turn the head before the body.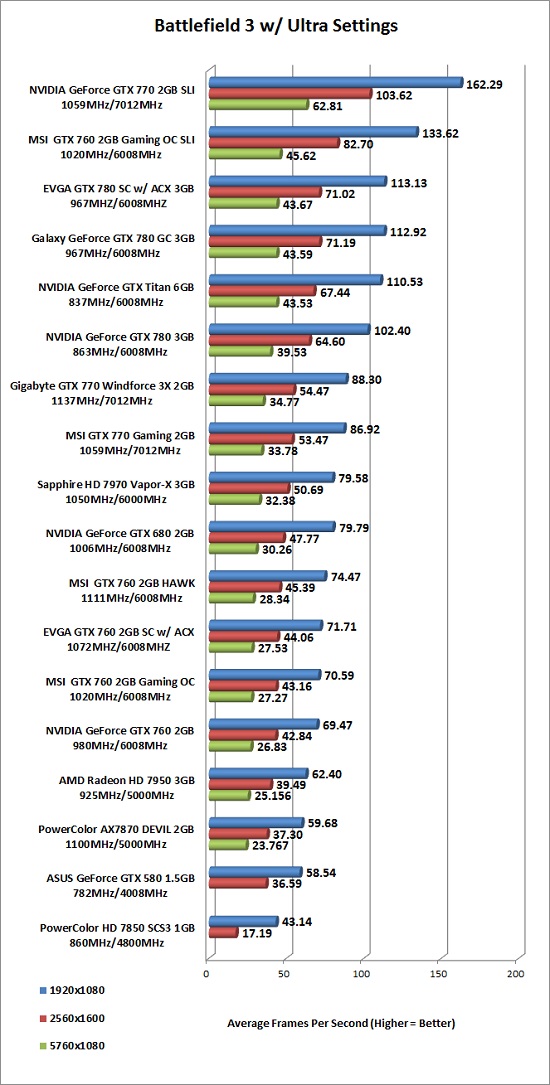 Benchmark Results: The MSI N760 HAWK is a monster compared to the NVIDIA GeForce GTX 760 reference design. The MSI N760 HAWK was able to play Battlefield 3 with Ultra settings at 2560x1600 at 45.4 FPS on average, which is 6% faster than the reference card! At 1920x1080 it was found to be 7% faster than the NVIDIA GeForce GTX 760 reference card and just about 7% slower than the NVIDIA GeForce GTX 680 reference card.
Bioshock Infinite
BioShock Infinite is a first-person shooter video game developed by Irrational Games, and published by 2K Games. BioShock Infinite is the third installment in the BioShock series, and though it is not part of the storyline of previous BioShock games, it does feature similar gameplay concepts and themes. BioShock Infinite uses a Modified Unreal Engine 3 game engine and was released worldwide on March 26, 2013.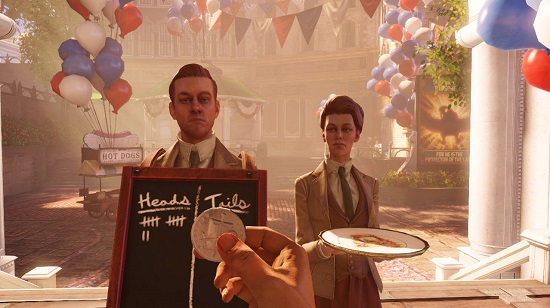 We tested BioShock Infinite with the Ultra game settings.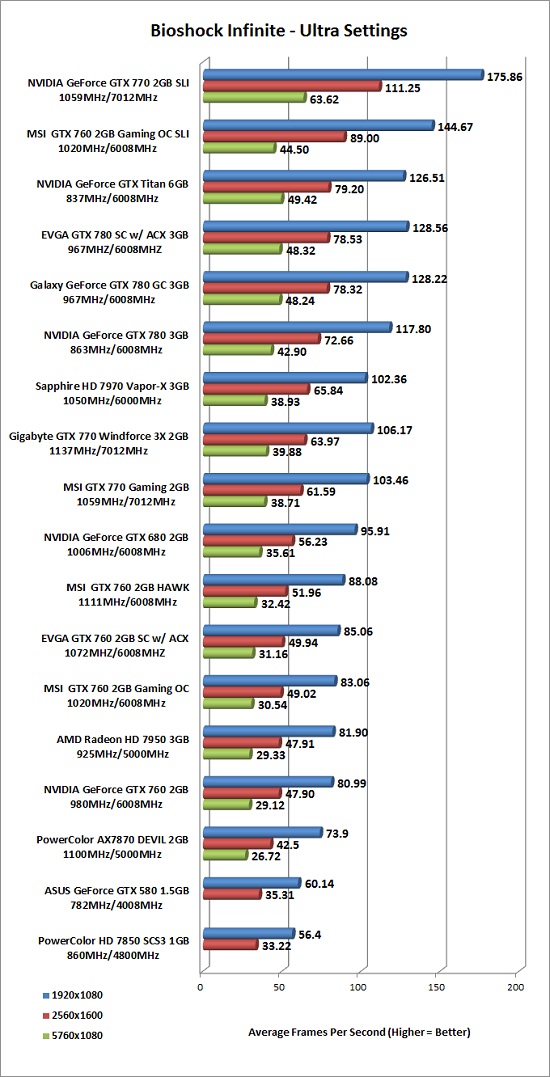 Benchmark Results: The MSI N760 HAWK was faster than the EVGA GeForce GTX 760 Superclocked w/ ACX cooling and is the fastest GeForce GTX 760 that we have tested yet. 

Far Cry 3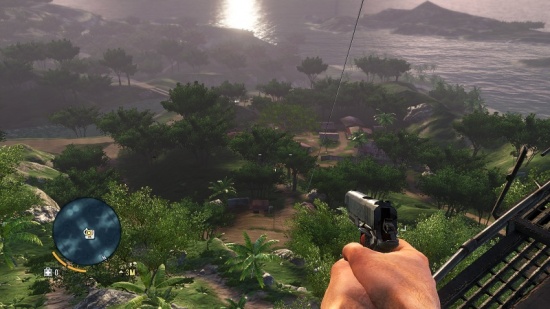 Far Cry 3 is an open world first-person shooter video game developed by Ubisoft Montreal and published by Ubisoft for Microsoft Windows, Xbox 360 and PlayStation 3. It is the sequel to 2008's Far Cry 2. The game was released on December 4th, 2012 for North America. Far Cry 3 is set on a tropical island found somewhere at the intersection of the Indian and Pacific Oceans.[11] After a vacation goes awry, player character Jason Brody has to save his kidnapped friends and escape from the islands and their unhinged inhabitants.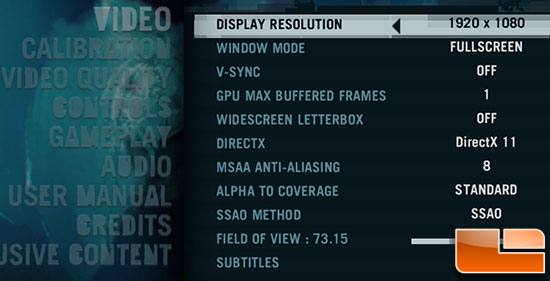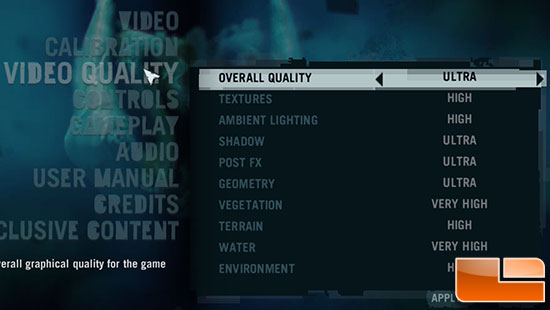 Far Cry 3 uses the Dunia Engine 2 game engine with Havok physics. The graphics are excellent and the game really pushes the limits of what one can expect from mainstream graphics cards. We set game title to 8x MSAA Anti-Aliasing and ultra quality settings.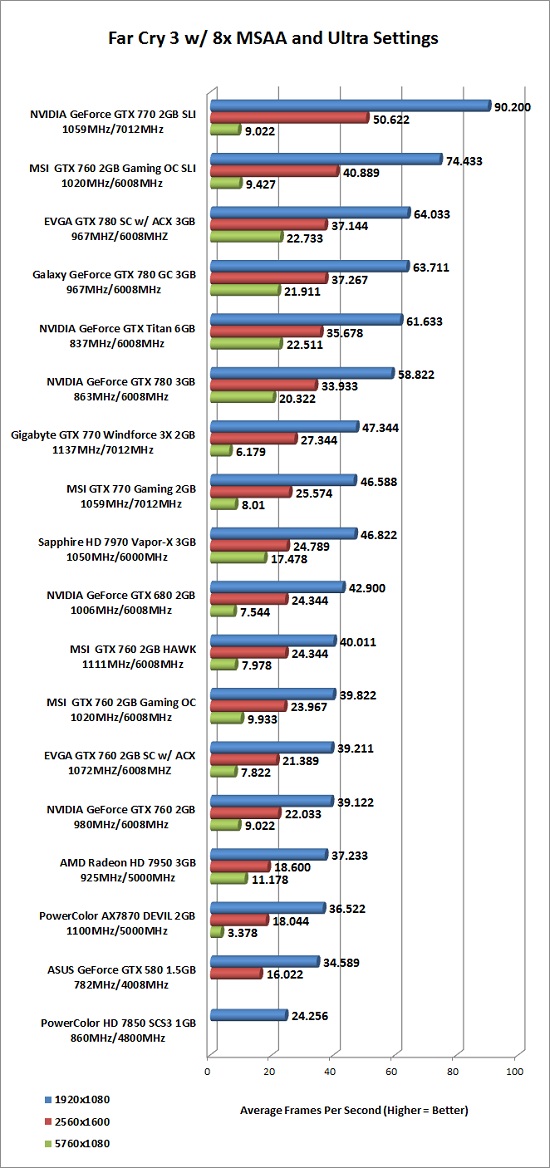 Benchmark Results: The NVIDIA GeForce GTX 760 reference card was able to run Far Cry 3 w/ at 1920x1080 with High settings at 39.122 FPS and the MSI N760 HAWK was at 40.011.  This isn't a huge difference, but any performance improvement is nice to see on this hard to render game title.

Metro Last Light
Metro: Last Light is a first-person shooter video game developed by Ukrainian studio 4A Games and published by Deep Silver. The game is set in a post-apocalyptic world and features action-oriented gameplay with a combination of survival horror elements. It uses the 4A Game engine and was released in May 2013.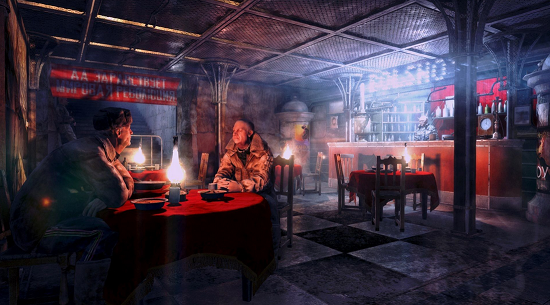 Metro Last Light was benchmarked with Ultra settings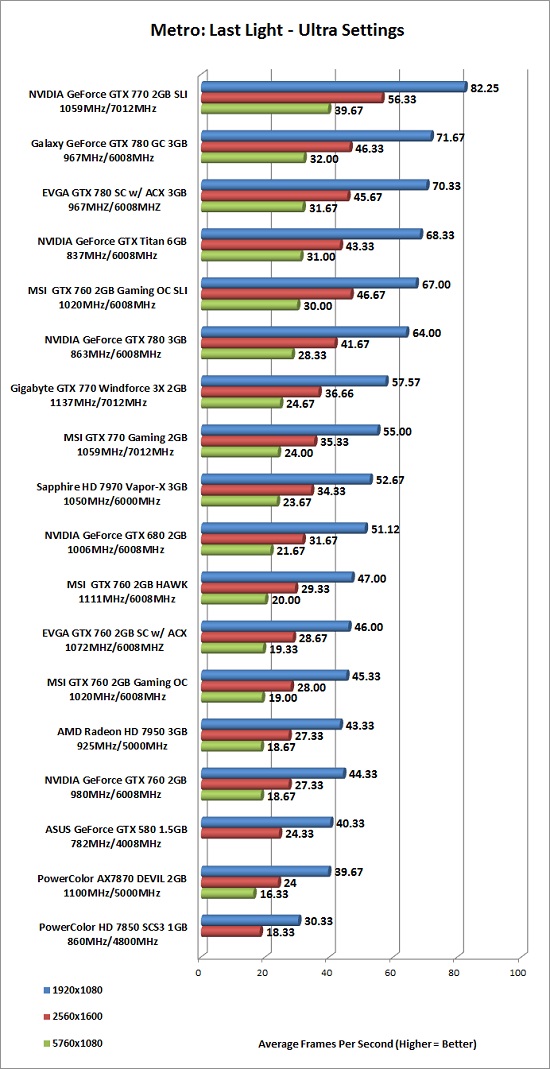 Benchmark Results: The MSI N760 HAWK was again faster than any other GeForce GTX 760 card in Metro: Last Light and it wasn't too far behind the NVIDIA GeForce GTX 680.

Tomb Raider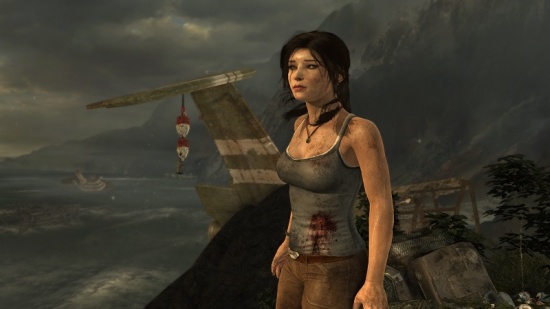 On March 5th, 2013 Square Enix released Tomb Raider, billed as a reboot of the franchise. In Tomb Raider, the player is confronted with a much younger Lara Croft who is shipwrecked and finds herself stranded on a mysterious island rife with danger, both natural and human. In contrast to the earlier games Croft is portrayed as vulnerable, acting out of necessity, desperation and sheer survival rather than for a greater cause or personal gain.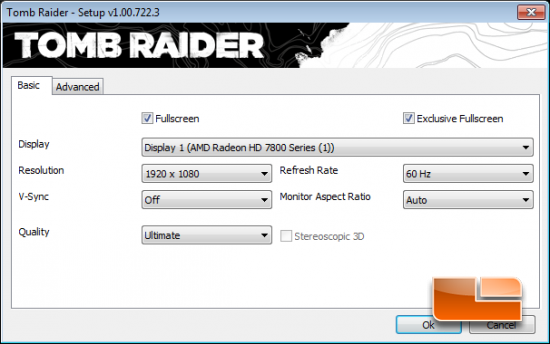 The game has been built on Crystal Dynamics's game engine called the "Crystal Engine" and the graphics look fantastic. AMD and Crystal Dyanmic's worked on a new technology called TressFX Hair, which AMD describes as "the world's first in-game implementation of a real-time, per-strand hair physics system" for this game title. We set the image quality to ultimate for benchmarking, but we disabled TressFX Hair under the advanced tab to be fair to NVIDIA graphics cards that don't support the feature.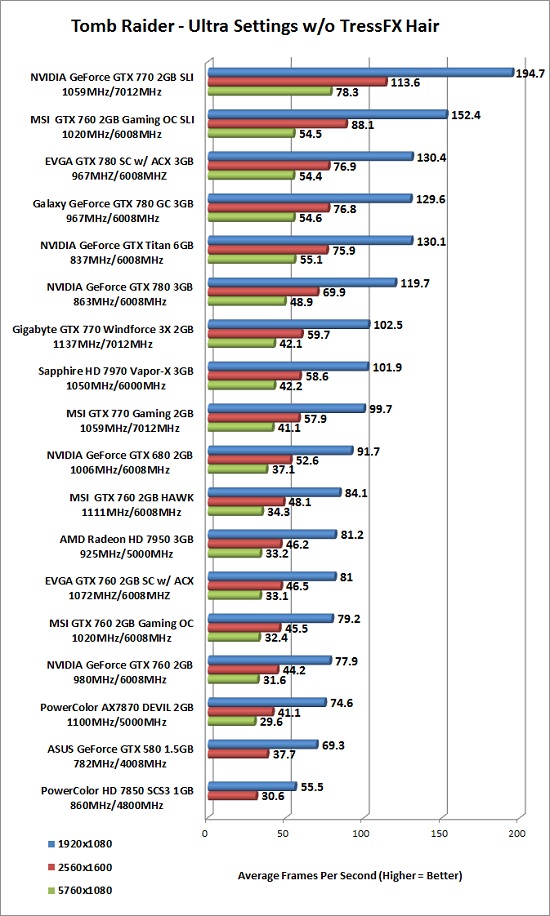 Benchmark Results: The MSI N760 HAWK was able to perform faster than the AMD Radeon HD 7950 in this game title and was again just slightly slower than the NVIDIA GeForce GTX 680.

3DMark 2013
3Dmark Fire Strike Benchmark Results - For high performance gaming PCs

Use Fire Strike to test the performance of dedicated gaming PCs, or use the Fire Strike Extreme preset for high-end systems with multiple GPUs. Fire Strike uses a multi-threaded DirectX 11 engine to test DirectX 11 hardware.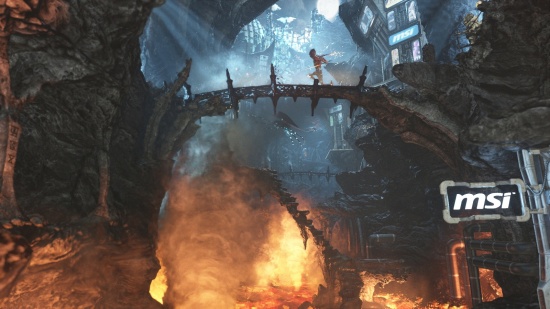 Fire Strike Benchmark Results: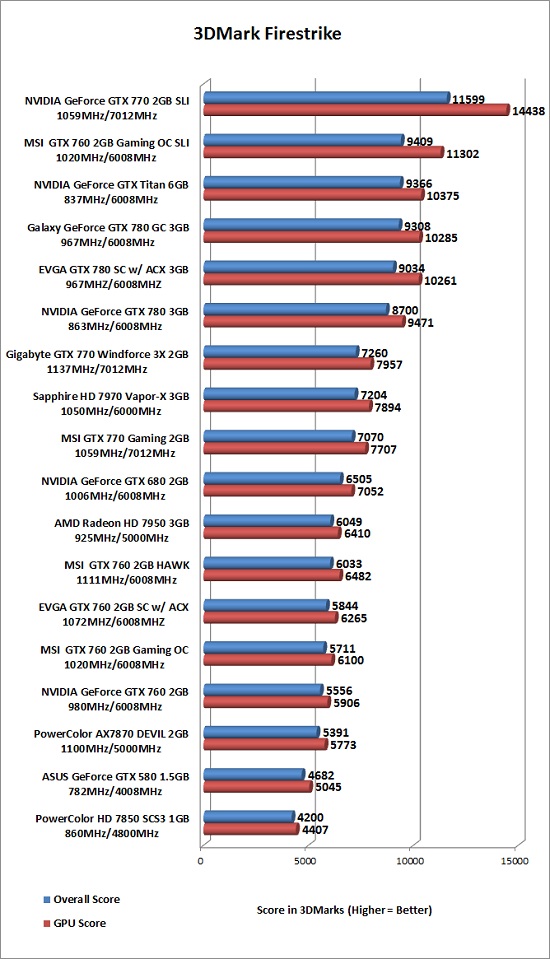 Benchmark Results: The 3DMark Fire Strike benchmark has the MSI N760 HAWK scoring 6033.
Fire Strike Extreme: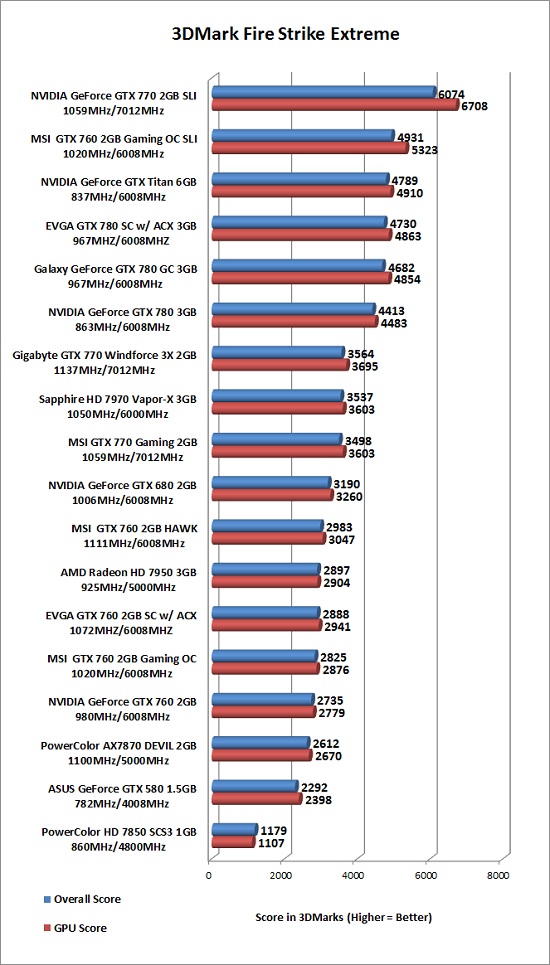 Benchmark Results: 3DMark Fire Strike Extreme benchmark found the MSI N760 HAWK scoring 2983.
Catzilla
Catzilla is a relatively new benchmark that is made the Polish demoscene group Plasticis. something we are using for that reasonis being produced in collaboration with Polish post production company, Plastige. Plastige is the company that worked on Witcher 2 Enhanced Edition and some of the developers there were behind the PlayStation Network game Datura. The benchmark uses a parallel graphics engine that takes advantage of multi-core CPUs. This isn't a benchmark being made in some kids basement and it doesn't appear to be bought off by any companies yet, so it should be a good benchmark to use.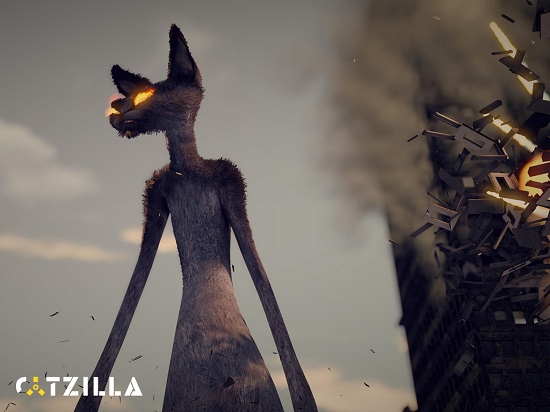 While this benchmark is in beta phases, we still have found that Catzilla is a good cross-API benchmark. You also can't go wrong with a benchmark that has a giant animated cat nuke cities with its laser eyes as you do. You can watch a video of the benchmark in action below.
We purchased Catzilla Advanced and ran the full Catzilla benchmark at 2560x1440.  This 1440p benchmark is designed for high-end computers, which is perfect as that is where these video cards are going to end up!
Benchmark Results: The MSI N760 HAWK scored 5012 points in the 1440P Catzilla benchmark.
Temperature & Noise Testing
Temperature & Noise Testing
Temperatures are important to enthusiasts and gamers, so we took a bit of time and did some temperature testing on the MSI N760 HAWK video card.
MSI N760 HAWK 2GB Video Card Idle Temperature: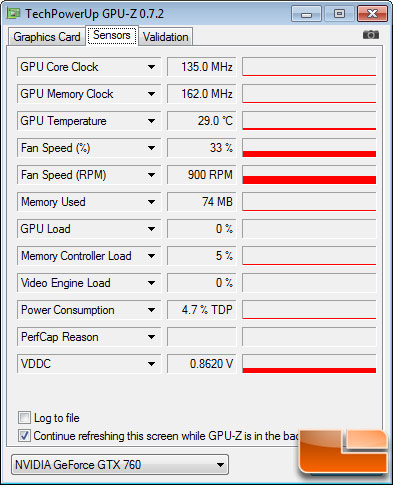 The MSI N760 HAWK had an idle temperature of 29.0C in a room that was 22.0C (72F) and the fans were spinning at 900 RPM.
MSI N760 Hawk 2GB Video Card Gaming Temperature: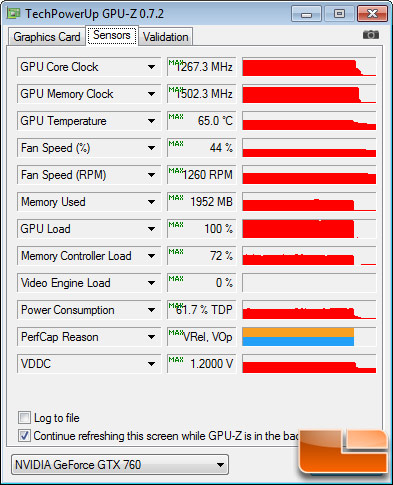 When playing Far Cry 3 and Battlefield 3 for about 30 minutes each, we hit 65C on the GPU and did not get any hotter than this.  Notice the fan speed went from 900RPM at idle to 1260RPM when gaming. You really can't hear the card with it in your system at idle, but when you start gaming you can hear the fan a bit.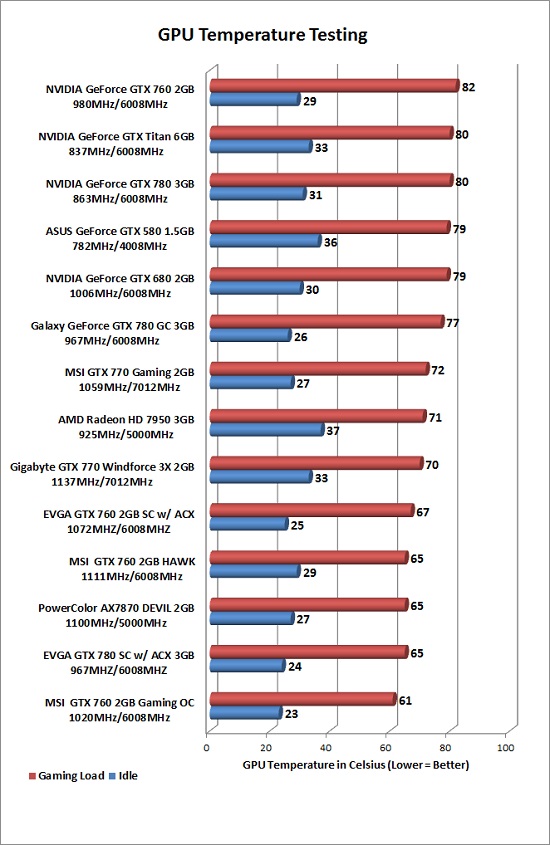 The MSI N760 GAMING card had lower idle and gaming load temps than the MSI N760 HAWK, which came as a shock to us since the MSI N760 HAWK has an extra heatpipe and the idle clock speeds and GPU voltage is the same.
MSI N760 Gaming - 23C w/ fan running 990RPM and 0.862V
MSI N760 HAWK - 29C w/ fans running 900RPM and 0.862V
The only difference at idle was the fact that the MSI N760 GAMING had the fans running about 100 RPM faster than the MSI N760 HAWK.
We asked MSI why the MSI N760 GAMING runs so much cooler despite the extra heatpipe and they replied with this statement.

The MSI 760 HAWK has a higher clock speed.  I wouldn't recommend comparing our GTX760 GAMING. the Hawk default setting is 1111 MHz. GTX760 Gaming core clock 1020MHz (gaming mode)  There is a big gap between these 2 skus during idle. Higher clock means there is more power consumption. GTX760 Hawk around 180W v.s 760 Gaming 165W.  That's why there is temp. difference. If you were to clock  the GAMING at same speed, you probably can see the difference.

So, MSI didn't dispute our numbers and just said that the higher clock speeds was the cause. This makes sense for our gaming load results, but not for our idle testing.
Sound Testing
We recently upgraded our sound meter to an Extech sound level meter with ±1.5dB accuracy that meets Type 2 standards. This meter ranges from 35dB to 90dB on the low measurement range, which is perfect for us as our test room usually averages around 36dB. We measure the sound level two inches above the corner of the motherboard with 'A' frequency weighting. The microphone wind cover is used to make sure no wind is blowing across the microphone, which would seriously throw off the data.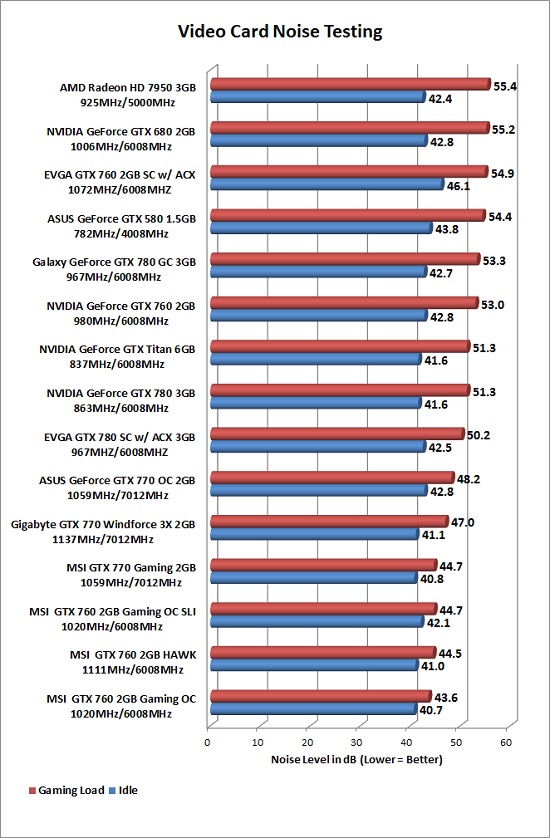 When it comes to noise levels the MSI N760 HAWK and MSI N760 GAMING are nearly identical and are very quiet cards as you can see the load noise levels are better than all of the other cards that we have tested.
Power Consumption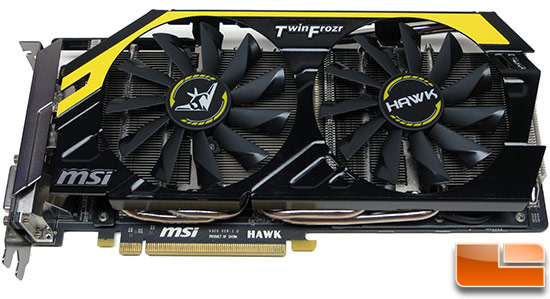 For testing power consumption, we took our test system and plugged it into a Kill-A-Watt power meter. For idle numbers, we allowed the system to idle on the desktop for 15 minutes and took the reading. For load numbers we ran three games at 1920x1080 and averaged the peak results seen on the power meter.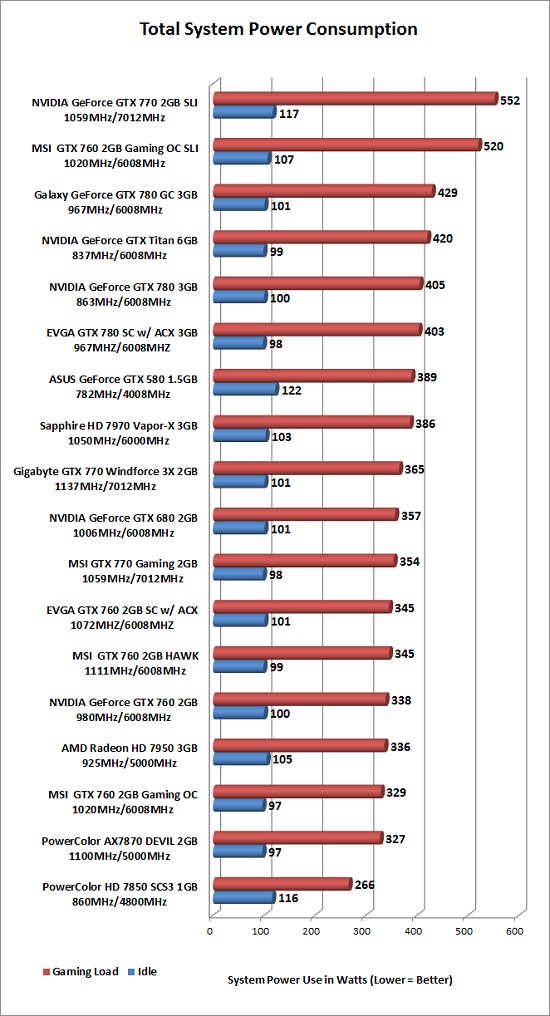 Power Consumption Results: With the MSI N760 HAWK installed the entire system would idle at 99W and peaked at 345W when gaming. The MSI N760 GAMING peaked at 329W in games, which confirms MSI claim that the MSI N760 HAWK has a 15W higher TDP than the MSI N760 GAMING card as we measured a 16 Watt difference at the wall.
MSI GeForce GTX 760 HAWK Overclocking
We installed the MSI AfterBurner v3.0.0 Beta 11 software utility to see how the MSI N760 HAWK 2GB video card could be overclocked! You can use whatever software utility you like for overclocking and we used this one since we are familiar with it and it was already installed on our test machine.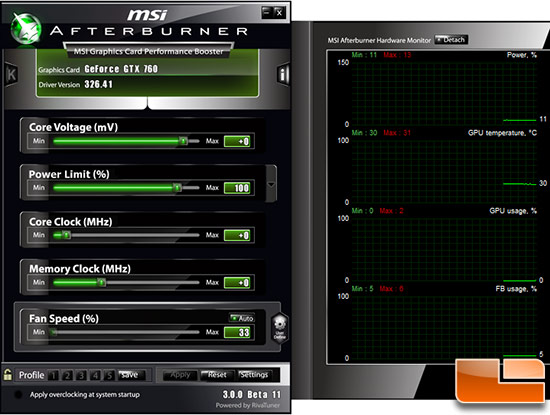 MSI Afterburner lets you adjust the voltages, clock speeds and the fan speeds on the MSI N760 HAWK. The MSI N760 HAWK has a base clock of 1111MHz, a boost clock of 1176MHz and the memory runs at 6008MHz.  Let's see how much more we can get out of this factory overclocked card!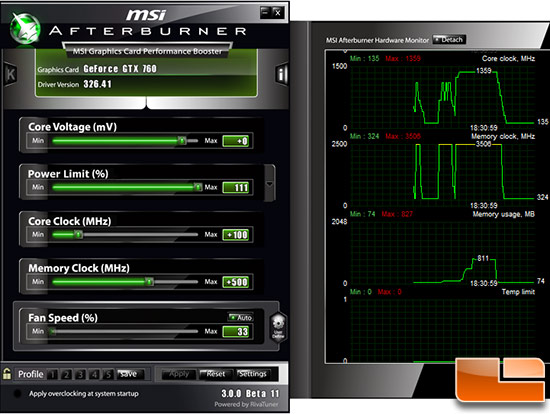 To see how much higher we could get we increased the power limit percentage to 111% and bumped up the core clock to +100MHz and the memory clock to +500MHz. Anything higher than this and the card would become unstable.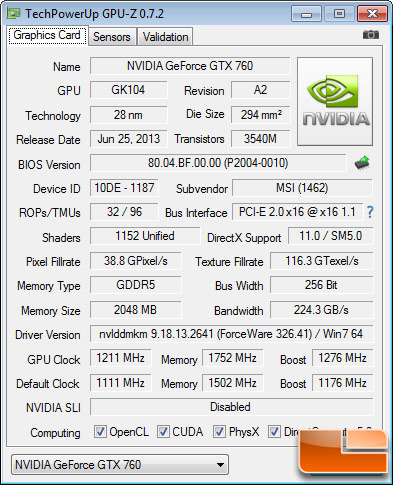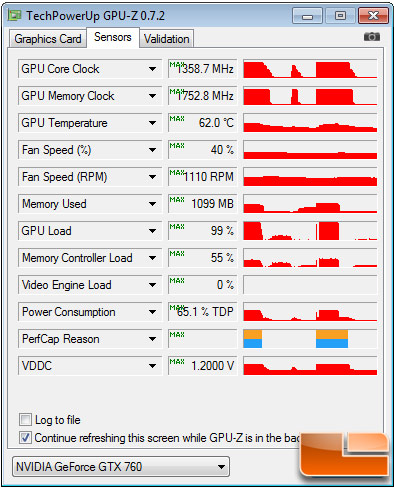 This overclock was found to be 1211MHz base and 1276MHz boost on the core clock and 1752.8MHz (7011MHz effective) on the 2GB of GDDR5 memory. In game titles we saw the card hitting 1358.7MHz thanks to GPU Boost on the core. This is the highest overclock that we have ever reached on the GK104 GPU with air cooling and no extra voltage!
NVIDIA GeForce GTX 760 2GB at 980MHz core and 6008MHz memory: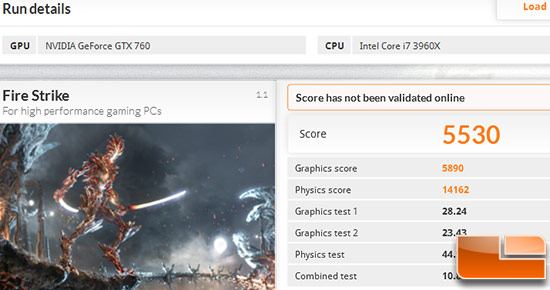 MSI N760 HAWK 2GB at 1111MHz core and 6008MHz memory: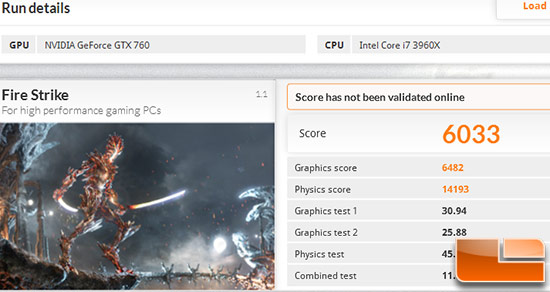 MSI N760 HAWK 2GB at 1211MHz core and 7011MHz memory: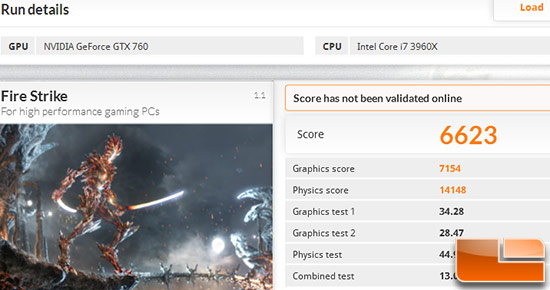 In 3DMark Fire Strike the NVIDIA GeForce GTX 760 2GB reference card scores 5530. The MSI GeForce GTX 760 HAWK boosts performance by ~9% as the overall score jumps up to 6033. By overclocking the MSI N760 HAWK 2GB video card as far as we could we were able to get an overall score of 6623, which is a ~20% performance gain from the reference card and ~10% from the factory clock speeds on the N760 HAWK.  We'll take double digit performance gains all day long!
Final Thoughts and Conclusions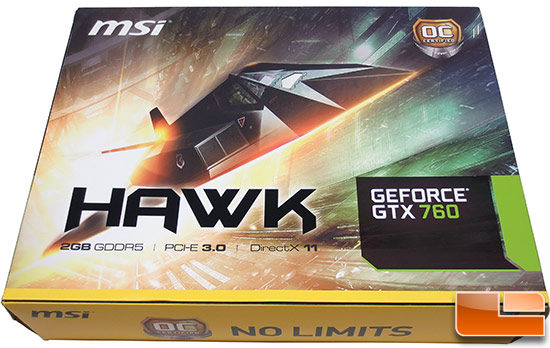 The MSI N760 HAWK is hands down the fastest NVIDIA GeForce GTX 760 video card that we have yet to test. MSI designed this card from the ground up for overclockers and it looks like they did it right. The performance of this card was stellar and it overclocked faster than any other GeForce GTX 760 that we have tested before. Reaching nearly 1400MHz on the NVIDIA GK104 Kepler GPU is impressive and the MSI N760 HAWK was able to easily keep up with a GeForce GTX 680 reference card when manually overclocked.
If you are looking for a custom card that has all the bells and whistles on it, the MSI N760 HAWK could be just the card you are looking for. At first glance we thought it was just an MSI N760 GAMING video card with a new color scheme and a BIOS flash, but we couldn't have been more wrong. MSI has beefed up the power management system, included dual BIOS's, improved the GPU cooler and entirely redesigned the PCB. Currently, MSI is the only company to offer an NVIDIA GeForce GTX 760 video card with many of these features.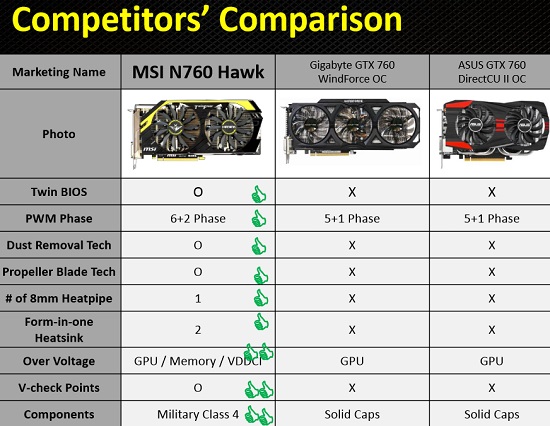 When it comes to pricing we aren't exactly sure what the MSI N760 HAWK will run for. MSI told us that the MSRP on the N760 HAWK is $299. The MSI N760-2GD05/OC is $254.99 shipped and the MSI N760 TF 2GD5/OC GAMING edition card is $264.99 shipped, so you can be certain that it will cost more than both of those.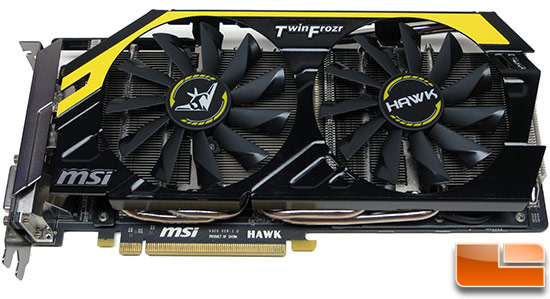 At the end of the day the MSI N760 HAWK is a great card, but you'll be paying an extra $30-$40 to get a fully tricked out GeForce GTX 760 video card. If you want something special and plan on overclocking it is certainly something to consider. This card stands out from the crowd and has been built to take a punishment. It also just happens to be the fastest GeForce GTX 760 that we have ever benchmarked!
Legit Bottom Line: The MSI N760 HAWK was built for overclocking and is currently the fastest GeForce GTX 760 video card that we have ever tested!