The CM Storm Pulse-R Gaming Headset
Step back a year ago and you would be hard pressed to find an illuminated headset. Even today, there aren't that many choices, most notably the Afterglow headset and a few Steelseries Siberia V2 "colors." It's a product niche that hasn't been heavily exploited yet and Cooler Master is taking notice with the soon-to-be released Pulse-R headset.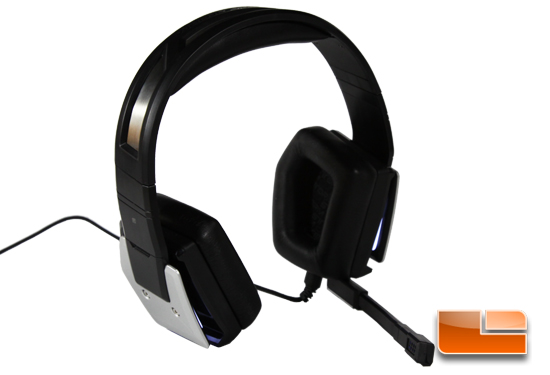 Despite the Pulse-R's heavily stylized appearance and laundry list of features and specifications, Cooler Master doesn't try to make this headset the king of the hill. At $81.99 shipped on Amazon, it's a modest asking price for what that price could be. The generous use of aluminum in the headband, detachable microphone, and earcup lights give an aggressive aesthetic that could fools others into thinking the Pulse-R was a top-the-line gaming headset. Instead, underneath all that is a 40 mm driver in each earcup for stereo audio connected to the PC by 3.5 mm analog jacks – no surround sound. That's fine by me since I prefer my audio coming out analog since it provides the option of using a dedicated sound card.
While I mention audio, the Pulse-R headphones don't sound perfect, but they don't sound terrible either, which I cover in much greater detail in further in this review. It's incredible how much Cooler Master was able to deliver without making too many compromises.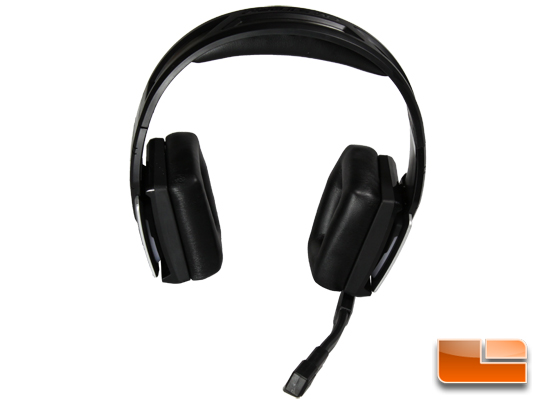 CM Storm Pulse-R Features and Technical Specifications:
Optimized for gaming – clear highs and powerful bass
Durable aluminum plating can be removed and customized
Cushioned ear cups and headband for noise cancellation and maximum comfort during long gaming sessions
Convenient in-line remote with volume slider and mic mute switch
Detachable microphone arm with noise-canceling mic system for clear in-game team chats
Stylish white illuminated earcups and mic (USB powered)
Headphones

42mm driver
20HZ-20KHz frequency response
50Ω (ohm) impedance
3.5mm headphone jack
3m removable cable
Microphone

Removable mic

Mic mute on in-line remote
Omni-directional pick-up pattern
100 Hz-1000Hz frequency response
-42 ± 3dB (0dB = 1V/pa.1KHz)
60dB or more signal to noise to ratio

2 year warranty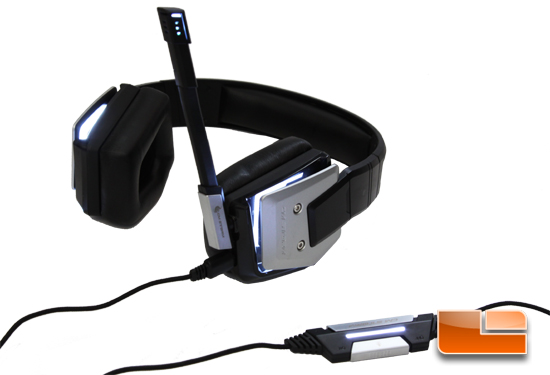 Looking around the Pulse-R Headset
During the time frame we received our pre-release review sample, Cooler Master had yet to finalize the product packaging. As a result we can't show the retail box simply because we don't have it. What is for certain is that the headphones, detachable microphone, detachable cable, and user guide should be included.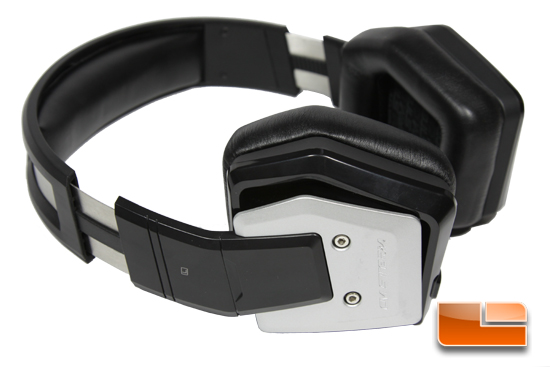 The Pulse-R's headphone is not huge, but it is decently heavy as a result of the aluminum construction and white LED electronics. Generous padding along the headband and earcups help to tolerate the weight.
The aluminum plates at the ends of the headband are removable and Cooler Master claims that custom designs can be mounted to give the earcups a custom look.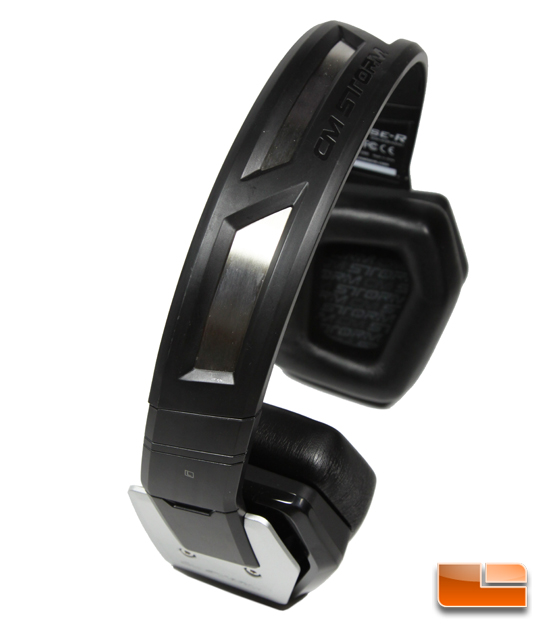 A wide aluminum headband provides a strong clamping force. The full-sized earcups rest on the head and are padded and covered in plastic leather that provide traction. Overall, the headphones are reasonably comfortable.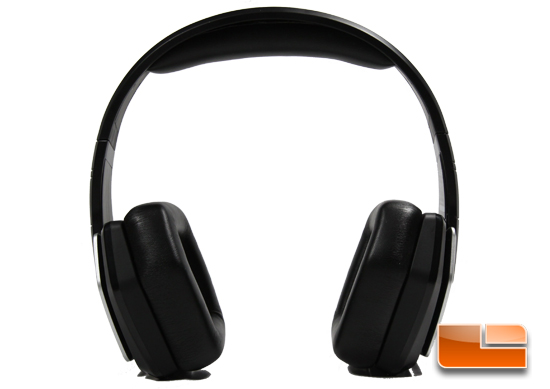 Each earcup is attached to the headband by a ball joint to make it easier to adjust the headphones on the head. However, such a design poses a mechanical weak spot and owners should take care not to subject the earcups to excessive force.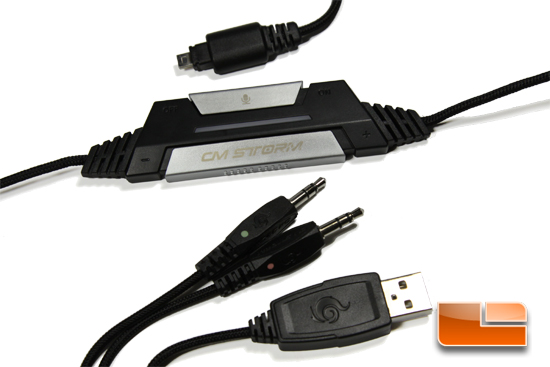 The detachable braided cable is connected to the headset by a proprietary interface that loosely resembles a mini USB plug. Two 3.5 mm analog inputs provide headphone and microphone connectivity and the USB line provides electrical power to the white LEDs in the in-line remote and on the earcups. The only way to turn off the LEDs is to unplug the USB cable; the headphone, microphone, and in-line remote will not have any reduced functionality without the USB cable plugged in.
The headphone cable terminal runs 22 inches to the in-line remote and then another 85 inches to the input terminal end for a total cable length of about 9 feet.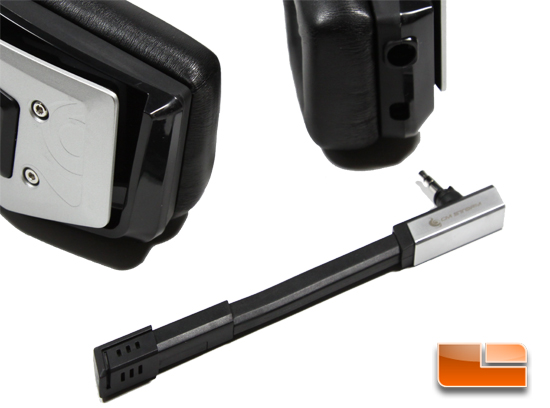 The detachable microphone plugs securely into the underside of the left earcup. The microphone can be rotated in its socket as well as bent along its length. Turning the microphone on and off with the inline remote will also turn on and off the white LED at the microphone tip.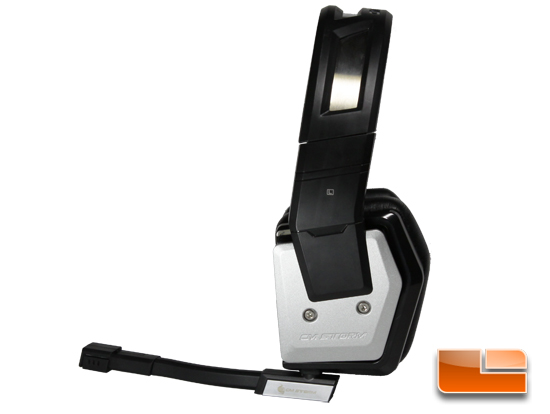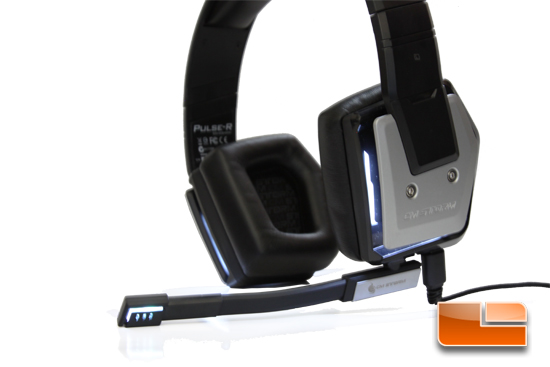 Subjective Listening: Music, Movies, and Games
The Pulse-R has a sound signature tuned primarily for gaming, which unfortunately weakens it in every other category. This should be far less noticeable if you're not picky as I am. Otherwise, the headphone sound quality is certainly more than passable.
Music
The Pulse-R isn't a well-rounded music headphone because of the emphasis for gaming environmental sounds. The headphone sound signature has a strange pattern in the mids and highs. Bass is present though mildly sloppy. Generally, the headphone does very well with song tracks that don't have many things going. Most if not all top 40 songs regardless of genre sound absolutely fine.
However, it's a different story with busy songs such as those with multiple instruments. Vocal frequencies sound weak in relation to accompanying melodies and the problem is exacerbated with technically complex tracks. Heavy metal in particular took on a peculiar characteristic - vocals were harder to follow and bass guitar sounds were overemphasized. Swedish House Mafia's Don't You Worry Child was a surprise candidate for revealing this audio weakness – the backbeat and synthesizer is clear and detailed, but John Martin's vocals sound incredibly muffled.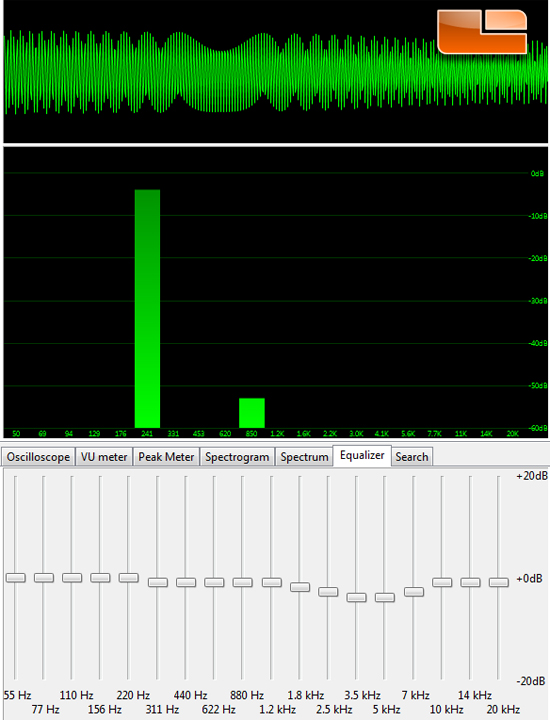 It was impossible to repair this weakness in the headphone's sound signature despite my efforts at equalization with pink noise and sine sweeps.
Movies
While the problematic side of the Pulse-R's sound signature manifested itself again with movies, it was far less noticeable than while listening to music. Environmental sound effects are still relatively louder than spoken dialogue, but it was rare for any movie to have both at the same time. No movie dialogue was rendered inaudible by the Pulse-R's tuning pattern.
The headphone's positional recreation is reasonably good and sound effects that move from one ear across to the other are very audible. Virtual 5.1 and 7.1 surround yielded positive results with films that feature spectacular scenes with surround sound engineering. However, the headphones were unaffected by home theater emulation such as Dolby Headphone, a feature found on some ASUS sound cards.
Gaming
The Pulse-R is no slouch at gaming audio. Most sound effects are impactful and clear though bass heavy tones can sound unrefined. Game vocal audio presence is still mildly reduced by the headphone's tuning though it's not bothersome. VOIP users and multiplayer gamers will definitely be fine. Finally, the headphones benefit from virtual surround sound though it's not noticeable if you don't listen for it or lack the hardware or software to output virtual surround sound. The direction of positional sounds for each ear can be determined in an arc from in-front to a bit behind the ear.
Microphone
Multiplayer games are a big deal these days and team communication is important. The Pulse-R's microphone is of acceptable quality and picks up voices with plenty of detail for others to understand. However, it's imperfect recording quality adds a robotic sounding distortion that can create difficulty in being identifiable by voice in a group chat.
Final Thoughts and Conclusion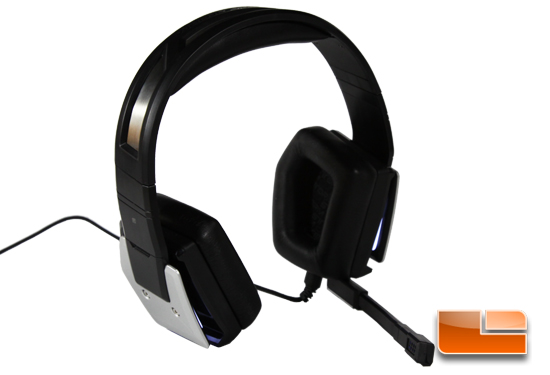 Cooler Master's Pulse-R is by no means a perfect headset, but it's promising. Many gaming headsets force compromise in the form of overpriced features or poor construction. Unfortunately, the Pulse-R at $81.99 shipped is still costly for budget gamers and there's a mechanical weak spot at each ball joint that connects the earcups to the headband. Still, a good amount of thought was put into the Pulse-R and it shows. The industrial design looks good and the headphones are comfortable enough to be worn for a few hours. Compared to the only name two other illuminated headsets I can think of, the Pulse-R is much better constructed than the Afterglows and cheaper than the extremely well-received Steelseries Siberia V2.
Listening with the Pulse-R was a reasonably acceptable experience. For one, gaming audio was impressive as the Pulse-R is tuned to exemplify sound effects and stereo surround. Movies were also enjoyable as far as a $80 stereo headphone goes. On the other hand, music was at times a mixed experience. Good audio detail and strong bass lead gave energy to mainstream songs. However, the game focused tuning resulted in lackluster sessions with more complex tracks.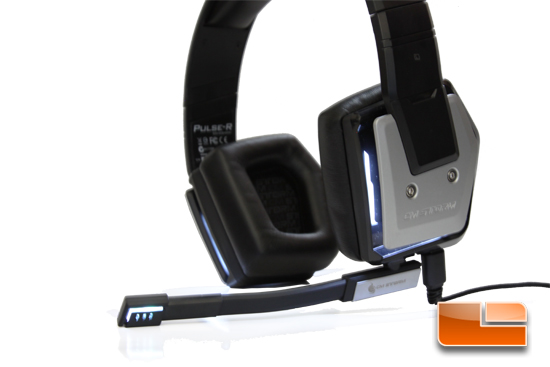 Though it falls far short of audiophile expectations, there's much to like about Pulse-R. Had the sound signature been tuned for music, this could have a complete all-around headphone. Instead, it's an impressive and aggressive gaming focused headset that puts excitement in immersive gaming with casual music listening on the side. Plus, if flashy white LEDs are your thing, then you won't find much else in the way of an illuminated headset.
Legit Bottom Line: Cooler Master's Pulse-R effectively blends style and substance with few outstanding flaws.