Introduction To My Old System
We all love doing computer upgrades, but sometimes we have to ask ourselves if a full system upgrade is worth it or necessary. There are times that you may only gain a small percentage of a performance boost, where there are other times that you gain significant increases. Today I am going to compare my original Intel Kentsfield CPU and X38 motherboard to a shiny new Haswell CPU and Z87 motherboard. I didn't have a complete goal on how much I was going to spend, but I had my limits, too. I wanted something faster for gaming, photo editing, and the occasional HD video encoding.
Here is the short story about how I came into my old system and the upgrades that came along the way…
So back in Fall 2007, I was eager to build a new desktop gaming system once again and get off of my laptop. I mean, I couldn't complain about the laptop that I was using, as it was the sister to the Dell XPS (The E1705) with a 7800 Go in it, dual core CPU, and what was then loads of RAM (2GB). I desired something quite a bit more powerful and upgradable, so I went on an adventure to find out what I could get for my money in the Desktop PC market. I've been building custom computers since the ATi Radeon 9800 Pro came out, so of course for me, a prebuilt system was absolutely out of the question.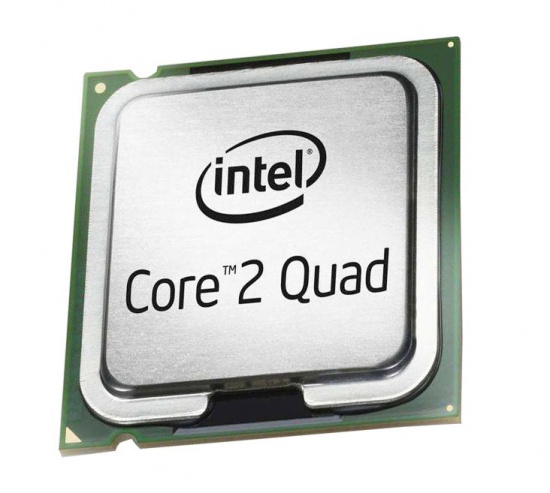 Starting off my research, I stumbled upon the Intel Core 2 Quad Q6600 'Kentsfield' processor. This CPU was getting really good reviews and lots of people were having success overclocking it. I made this a "must have" item, and then searched for a compatible motherboard. I honestly don't recall what made me choose this board, but I picked up the ASUS P5E, which I am happy to say has proved to be a very nice, stable, and reliable board to work with. Video card wise? I'm a gamer. I HAD to go with the 8800GTX, as this was the top dog on the market at the time. I picked up an EVGA flavor, as I always liked their products previously.
I didn't want to jump onto the Vista bandwagon right away, since I tried out Longhorn prior and wasn't too thrilled at first. With that said, I ended up only picking up 4GB of Mushkin PC8500 DDR2 RAM. RAM wasn't exactly cheap then, so 4GB sounded like more than enough anyway! Eventually I did jump onto the Vista bandwagon, but I highly disliked how things performed with it, and upgraded to Windows 7 when it came out.
Over the years I yearned for more performance, as I noticed my system was falling pretty far behind in performance compared to other new systems. I couldn't afford a completely new system again, since I dropped a ton of cash on the system that I built in 2007. I started off upgrading my video card to an EVGA GTX 275 Superclocked and that was a nice bump in performance. I could once again play my games with stable frame rates and pull in more detail at the same time. I was happy!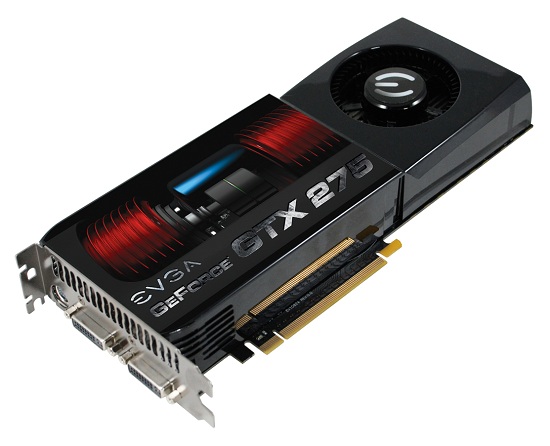 Some time passed and SSDs were making a big presence in the PC enthusiast market. I had to check out what these were all about, and if I could afford it, pick one up for myself. I ended up settling on an OCZ Agility 2 (60GB) to drop my OS and a few other items on. This definitely helped my system boot up much faster. I even threw a (note that I said "A" and not multiple) game onto the Agility 2 and I noticed these responding nicely. When I was done with one, I'd delete it and move another over. That's where I wished I could afford a larger drive, but oh well.
As more time passed, I still couldn't afford a full system upgrade, and trying to play some modern games got really annoying. The NVIDIA GeForce GTX 275 couldn't keep up with the demands I threw at it much anymore. Sure it was a great card, but it was choking with higher settings in modern games. I knew at this point that my GPU and CPU needed to be replaced soon, so I just opted to overclock them to defer upgrading. This definitely worked, but I still wanted more graphics performance.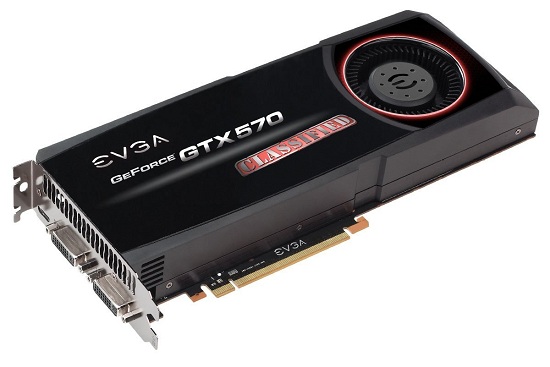 That brings us to another video card upgrade. I picked up an EVGA (I told you I love my EVGA!) GTX 570 Classified edition and THIS was the power that I was looking for! But am I completely satisfied? Never!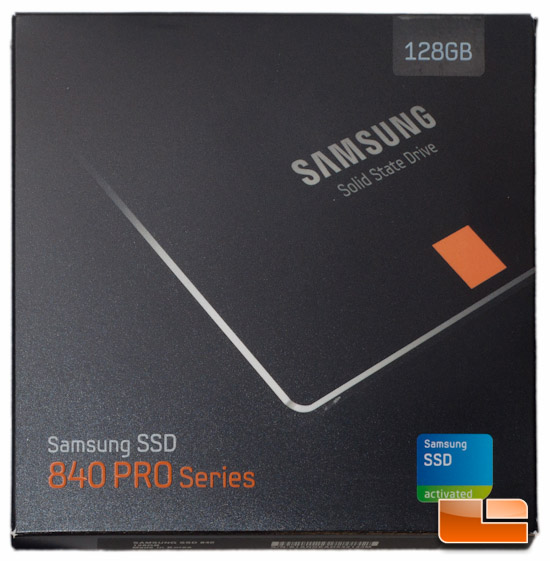 More recently I ended up getting my hands on a 128GB Samsung 840 Pro SSD. This was a nice improvement over the OCZ Agility 2, but it's still running on SATA 2. At this point, and Haswell just being released, I knew I had to pick up more parts for a new system. I wanted USB 3.0 functionality, SATA 3, and More Power!! The Intel Core i7-4770K 'Haswell' processor along with a solid Intel Z87 Express chipset based motherboard.
For this review, a good chunk of the parts that are in my new system were purchased by myself, whether purchased new or reused from my old system. One part that I am gracious to have in here, which was provided by GIGABYTE for this article, is the Z87X-UD4H motherboard. I've had good luck with GIGABYTE products in the past, so I was quite thrilled to have this as part of my system.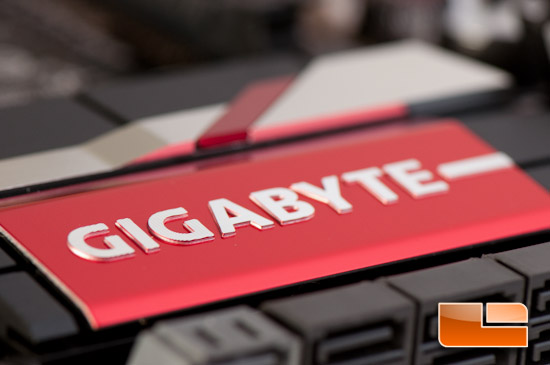 Continue reading and I will take a deeper look into my new Haswell system, looking closer at the features that the GIGABYTE Z87X-UD4H board has to offer first, and then compare the two setups.
GIGABYTE Z87X-UD4H ATX Motherboard
The Z87X-UD4H is a new socket 1150 motherboard, designed to work with the Haswell line of Intel processors. This board is part of GIGABYTE's Ultra Durable series, which is designed to provide great performance, cool and efficient operation, and an extended lifespan of the board.
GIGABYTE's Z87X-UD4H board features the latest Intel Z87 chipset. With this chipset you get all of the latest and greatest features with the 4th gen Intel processors. Along with this chipset, you get up six USB 3.0 ports and six SATA 3 6.0Gb/s ports, which the Z87X-UD4H maxes out those onboard numbers. This board can be had for as low as $189.99 plus $8.99 shipping on Amazon, and carries GIGABYTE's 3 year warranty.
Z87X-UD4H Retail Packaging & Bundle
Starting off with the retail packaging of the Z87X-UD4H, you can find a nice catchy package. The color scheme follows that of the board inside, which I really liked. GIGABYTE's name is also flashy in your face. On the front of the packaging are some quick feature references, though if you flip it over, you'll find even more details and a diagram outlining key features.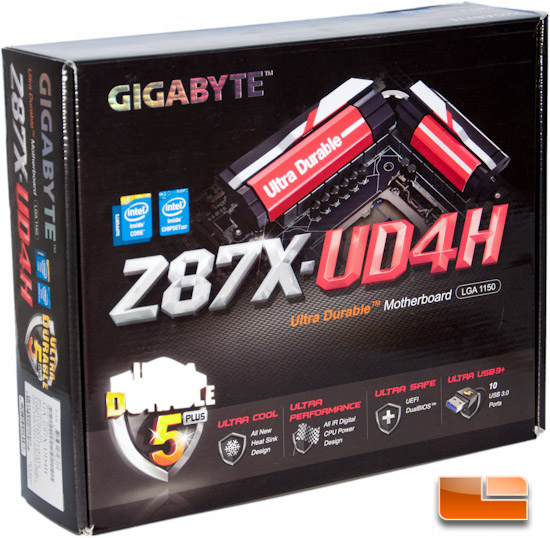 On the inside, the board was wrapped in the usual anti-static bag and the cardboard supporting the board was sturdy. Underneath, I found all of the included accessories, which included: four SATA cables, an SLI bridge, I/O shield, driver/software installation disc, user's manual, and a GIGABYTE case badge.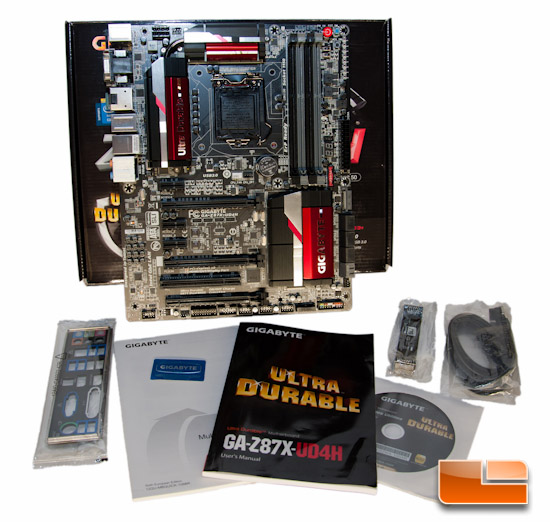 Z87X-UD4H Layout & Features
Taking a look at this board's appearance, I honestly must say I love it. Red and black is always a great combination, and this board's color scheme will run nicely with the case that I am going to use it in! But is it really the appearance that will make you want to buy the board, or is it the features? I know I've seen a few awesome boards that are quite ugly, but I'd still buy them because they're simply awesome, so for me, it's all about the features!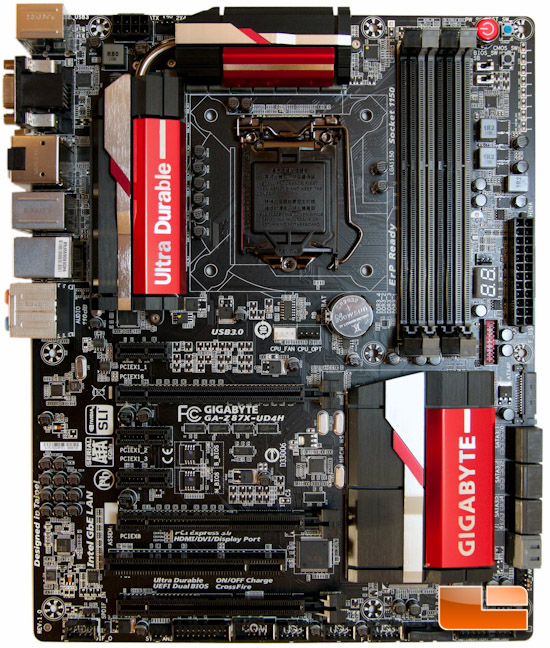 Starting with the top left corner of the board, you can't help but notice the beautiful red Ultra Durable heat sinks that surround the CPU socket. Speaking of the CPU socket, GIGABYTE equips their 8 Series boards with a 15µ gold plated CPU socket, to provide reliability and longevity of the socket without having to worry about bad contacts or corroded pins. Positioned below the CPU socket are two fan headers, one being designated for the CPU fan. Right next to the top left mounting hole is the 8-pin ATX power connector and another fan header.
Moving over to the top right, you will find four DIMMs, which support up to 32GB of DDR3 RAM, which do support XMP modules. There are an assortment of buttons, which include onboard power, reset, CMOS reset, dual BIOS dipswitch, and voltage read points. Just below these is a debugging display and the main ATX power connector. Intermingled with these is the header for front panel USB 3.0 connectors. This header supports GIGABYTE's on/off charge technology, which lets you charge devices (IE: cell phone) while your computer is not powered on. Finally, there is another fan header snuck in here.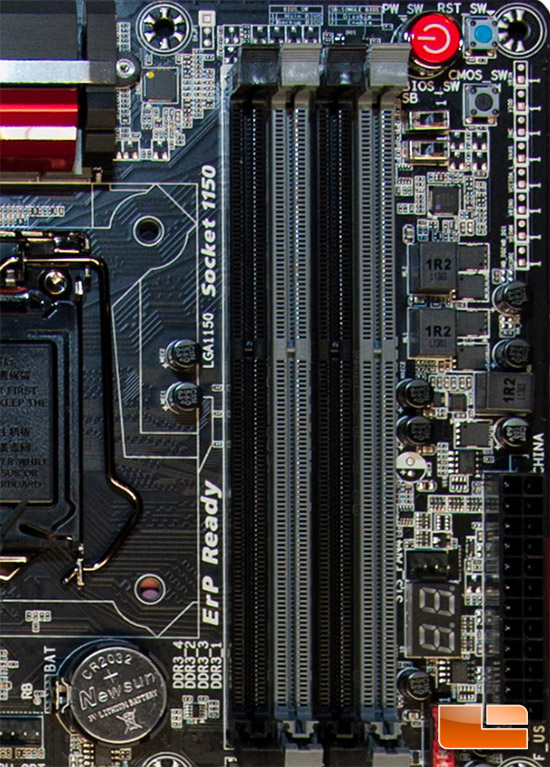 Jumping over to the bottom left you can find your expansion slots. There are a total of three PCIe x16 slots, which you can utilize the top two for SLI or Crossfire, and the three ports will run in (top to bottom) 16/8/4x respectively. Finally you can also find three 1x PCIe slots and one legacy PCI slot. Here is also the 5th of 6 fan headers.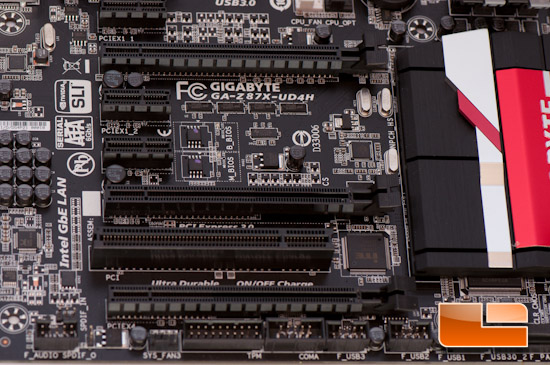 Also over here you can find a nice grouping of GIGABYTE's solid state capacitors, which are designed to give you a piece of mind when pushing your hardware to the limits, providing reliability and stability.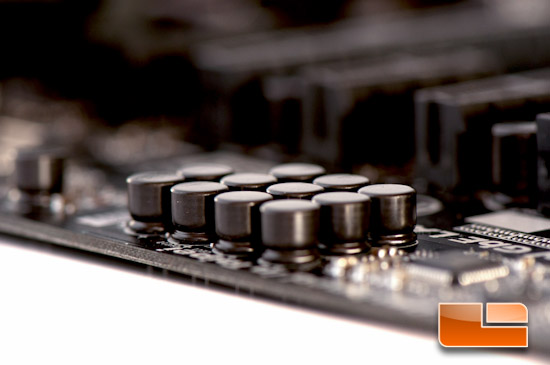 Finally on the bottom right and bottom edge, is where you'll find your SATA and front I/O connectors. The SATA connectors consist of six SATA 3 6Gb/s connectors powered by the Intel Z87 chipset, and two SATA 3 6GB/s connectors powered by the Marvell 88SE9172 chip. The Z87 ports will support RAID in 0/1/5/10 configurations, while the ones powered by the Marvell chip only support 0/1. One last thing to point out with the connectors is a SATA power connector. This power connector will be used to give extra power to your PCIe lanes when using multiple demanding graphics cards.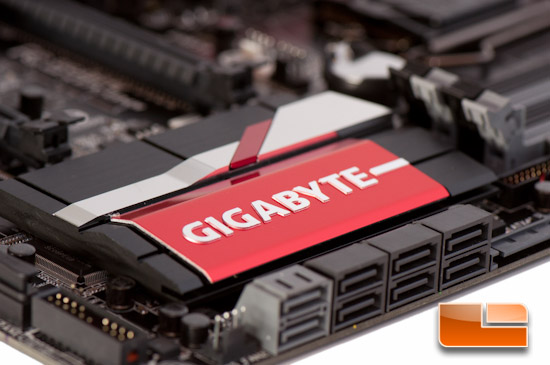 The bottom edge you'll find audio, USB, and the case power/reset/etc. button header and the 6th fan header next to the Marvell SATA ports.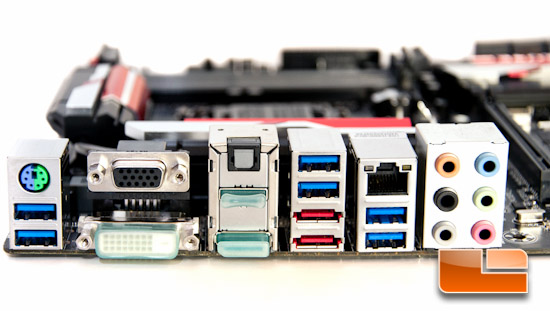 Equipped on the rear I/O panel, you can find the following ports:
1x Intel GbE Gigabit LAN
1x PS/2
6x USB 3.0
2x eSATA (Powered by the Marvell 88SE9172 chip)
1x VGA
1x DVI-D
1x HDMI
1x Display Port 1.2
1x SPDIF Optical Out
6x Audio Jacks for use with the Realtek ALC898 codec (7.1 surround)
That about wraps up the GIGABYTE Z87X-UD4H motherboard. This board looks very promising from the specs and I'm pretty confident it will deliver. Before we take a look at how well everything performs together, let's take a quick look at the two setups and see what hardware I have inside.
GIGABYTE Z87X-UD4H vs. ASUS P5E
Here is a quick comparison of the features of both old and new motherboards:
 
GIGABYTE Z87-UD4H
ASUS P5E
CPU Support
4th Generation Intel Core processors
Intel Core 2 and Socket 775 Variants
CPU Socket
LGA1150
LGA775
Chipset
Intel Z87 Chipset
Intel X38 Chipset
Graphics Interface
1x PCIe 3.0 x16 + 1x PCIe 3.0 x8 (1x16/2x8 Bandwidth)
2x PCIe x16
Memory Type
2 Channel DDR3
2 Channel DDR2 
Memory DIMM
4x DDR3 - 32 GB Max
4x DDR2 - 8 GB Max
Expansion Slots
1x PCIe x4 + 3x PCIE x1 + 1x PCI
3x PCIe x1 + 2x PCI
SATA Connectors
8x SATA3 (6 Gb/s)
6x SATA2 (3 Gb/s)
SATA RAID
RAID 0,1,5,10
RAID 0,1,5,10
USB
10x USB 3.0 + 6x USB 2.0
12x USB 2.0
Audio
8-Channel HD
Integrated
(Realtek ALC898 Codec)
8-Channel
SupremeFX II Audio Card
(ADI AD1988B Coded)
LAN
Intel GbE LAN
Marvell88E8056 PCIe Gigabit LAN
1394
--
2x 1394a VIA VT6308P Controller
Video Output
HDMI, DVI, D-Sub, DisplayPort
--
Features & Software
Ultra Durable 5 Plus, All IR digital power design, Durable black solid capacitors, 2-Way SLI, 2-Way Crossfire, CFOS, On/Off charge 2, 110dB
Power Saving Solutions, Intelligent Overclocking Tools, ASUS AI Booster Utility, 2-Way Crossfire
Form Factor (mm)
ATX (305x244)
ATX (305x244)
System Comparison and Cost
This is just a quick overview of what parts are being utilized with each system, and how much each part cost. For grins, I am only going to provide the prices that I paid for my Q6600 system from back in 2007, or any upgraded parts along the way will also be the then price, while the new i7 system will be today's prices. I also cannot find that I ordered a power supply, so my initial PSU must have been reused from an old build. I did eventually purchase a new one and will list it under the upgrade section.
Old PC
 
Component
Model
Cost
Processor
Intel Q6600
$279.99
Motherboard
ASUS P5E 
$229.99
Memory
2x Mushkin PC2 8500 2GB Kit 
$199.98
Video Card
EVGA 8800 GTX
$549.99
Case
Cooler Master Cosmos 
$189.99
ROM Drive
ASUS DVD-ROM 
$20.99
Storage 
Seagate 500GB 7200RPM HDD 
$119.99
Initial Cost
$1,590.92
Upgrade - Video Card 
EVGA GTX 275 Superclocked 
$269.99
Upgrade- Storage 
OCZ Agility 2 60GB SSD 
$119.99
Upgrade - Power Supply 
OCZ ModXStream Pro 600w 
$74.99
Upgrade - Video Card 
EVGA GTX 570 Classified 
$349.99
Upgrade - Storage 
Samsung 840 Pro 128GB SSD 
$139.76
PC Cost Total
$2,545.64
 New PC
 
Processor
Intel i7 4770k
$339.99
Motherboard 
GIGABYTE Z87X-UD4H 
$197.98
Memory 
Corsair Vengeance Pro PC3-15000 16GB Kit 
$150.46
Video Card 
REUSED - EVGA GTX 570 Classified
--
Case 
Fractal Design Define XL R2 
$119.99
ROM Drive 
REUSED - ASUS DVD-ROM 
--
Storage 
REUSED - Samsung 840 Pro 128GB SSD 
--
Power Supply 
REUSED - OCZ ModXStream Pro 600w 
--
Total
$808.42 
As you can see, my old system originally netted me a cost of $1590.92. Mind you, too, that the power supply was reused from a different system that I had, so that saved me a decent amount of money. I did a bunch of upgrades along the way, which also netted me an additional cost of $944.95. So overall, I spent $2535.87 on my Q6600 system! That's a lot of money! In case you're wondering, I also did not include the cost of the case that I worked with my system in for this review, as that was a case that I reviewed and I only recently transported my system over to it. That one is the Corsair Carbide Air 540, which is absolutely wonderful to work with. If you're interested in picking up that case, you can grab it on Amazon for $139.99 shipped. I did include the cost of the new system's case, the Fractal Design Define XL R2, as I needed a case to permanently install the components in.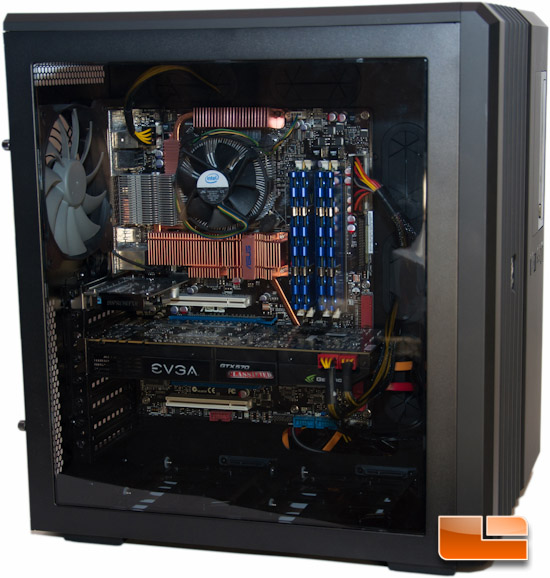 The new system had a couple reused parts, so with that said, this system cost a total of $808.42 to put together. I did reuse one of the most expensive components in a PC, the video card, so if I were to upgrade that, I could probably figure roughly another $350-400, depending on what flavor video card I opt to go with again. Right now my GTX 570 seems to run most modern games to a level that I can accept, so I do not have plans on upgrading that.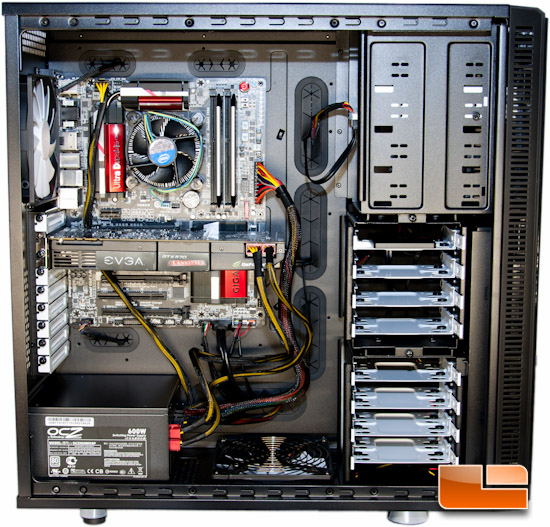 Should you include the cost of everything inside this system, the total cost to build would have cost a total of $1514.14. Not bad for a sweet system, in my opinion! What's more interesting, though, is I'm right around the same ballpark of my original system's cost.
The Test Setups
For my testing, I used the same video card, PSU, and SSD. I did remove the 500GB HDD, as that was only used for storage purposes and was irrelevant to my testing. I also ran Windows 7 Professional on both systems, as ASUS does not have any Windows 8 driver support for the P5E motherboard. All of these choices will make things easier to work with and will show you a more true representation of what a motherboard, memory, and CPU upgrade can do for you if you reused some old components.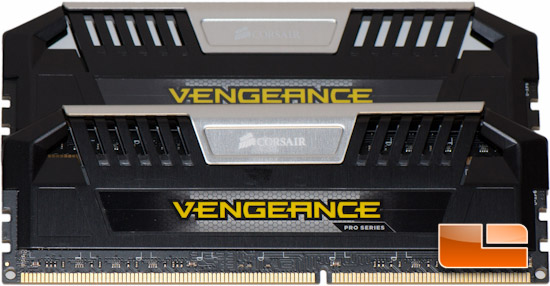 If you scroll back up a bit, you can see the various components that I used in each setup.
Anyway, let's get into the meat of this review and see how well the old Q6600 system pits against the i7 4770k system!
Futuremark 3DMark 2013
3Dmark Fire Strike Benchmark Results - For high performance gaming PCs
Use Fire Strike to test the performance of dedicated gaming PCs, or use the Fire Strike Extreme preset for high-end systems with multiple GPUs. Fire Strike uses a multi-threaded DirectX 11 engine to test DirectX 11 hardware.  I will be using my EVGA GTX 570 Classified for both system tests.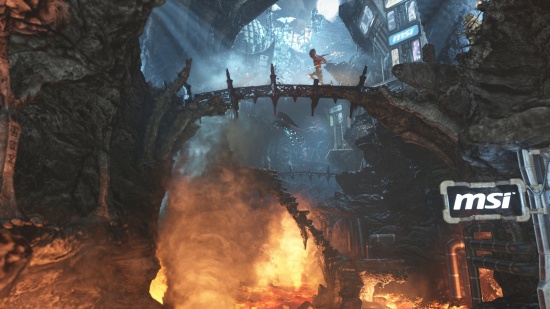 Focusing mainly on the Fire Strike Score, below are my results for all three tests on the new PC, which is using a GIGABYTE Z87X-UD4H motherboard and an Intel i7 4770k CPU: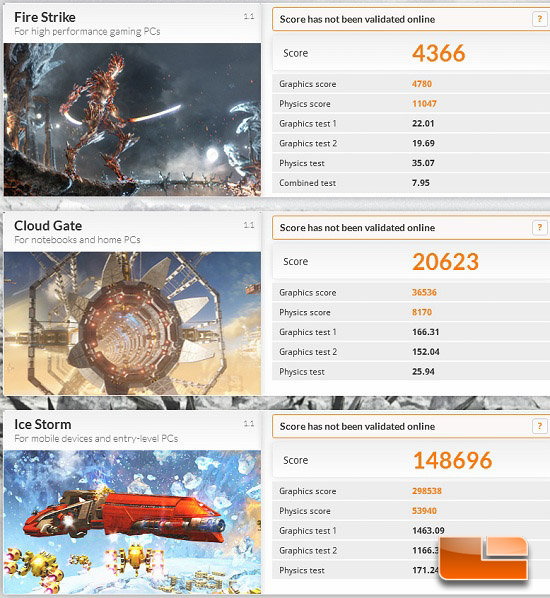 Here are the same test results with the old PC using the ASUS P5E motherboard and Intel Q6600 CPU.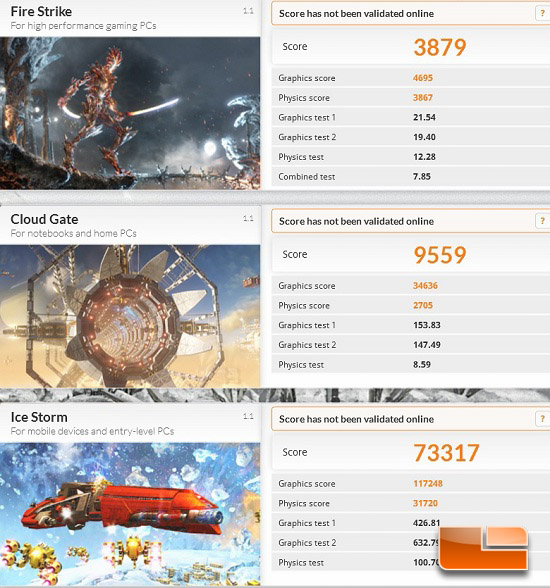 Benchmark Results: Being that the Fire Strike demo focuses heavily on your GPU, my results didn't change too much.  I wasn't too surprised by this, but a point gain of 12.5% is more than welcome.
SiSoftware Sandra 2013 SP3a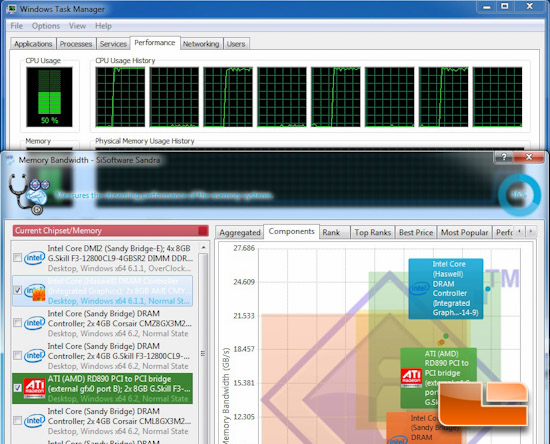 The SiSoft Sandra 2013 SP3a benchmark utility measures pretty much all of your system components, but we'll be using it to focus on memory and CPU performance!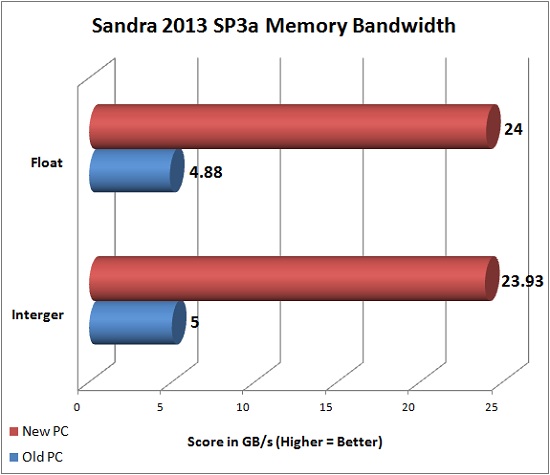 Performance Results: I was not at all surprised by the 4770k system's memory bandwidth. Using Corsair Vengeance Pro DDR3 RAM clocked at 1866MHz, this system was able to hit an aggregate throughput of 23.97 GB/s, while the Q6600's 1066MHz DDR2 RAM only hit an aggregate of 4.94 GB/s.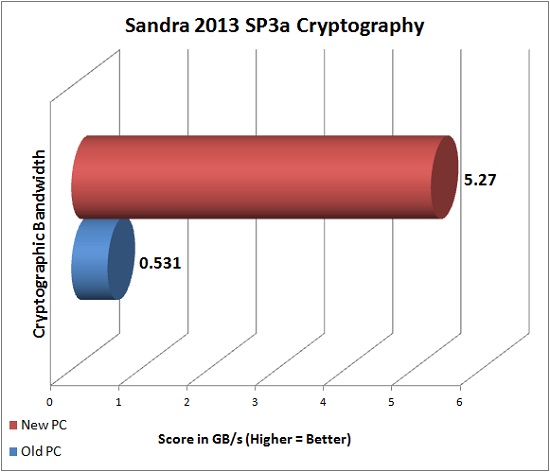 Performance Results: You can tell the 4770k has some cryptographic power behind it for this test. Supporting AES-NI, it came in at 5.27 GB/s vs. the Q6600's measly 0.531 GB/s.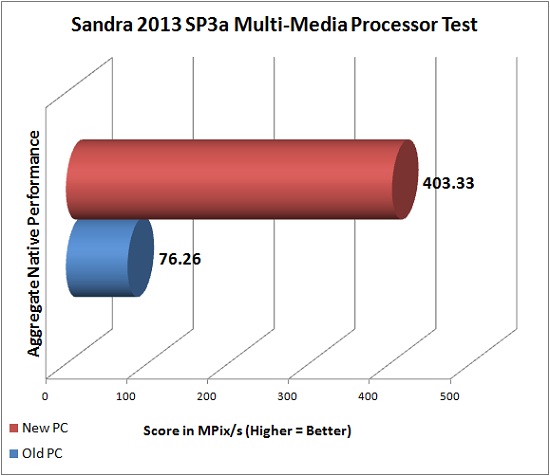 Performance Results: The 4770k was able to nail an aggregate score of 403.33 Mpix/s, which is a whopping 429% faster than the Q6600's 76.26 Mpix/s.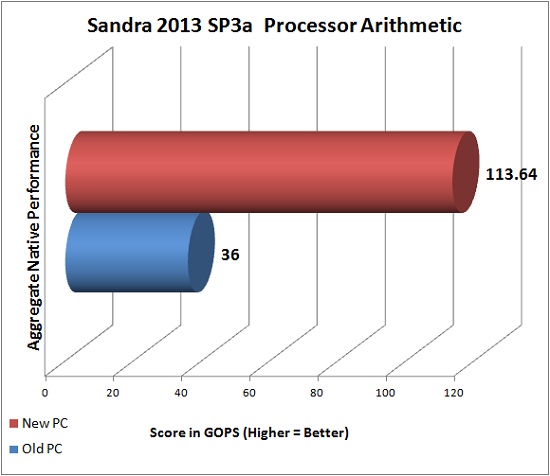 Performance Results: In the Processor arithmetic benchmark, the 4770k pulled in 216% faster than the Q6600.
PCMark 8 Professional
PCMark 8 was recently released and includes five new benchmark tests, each designed around a specific scenario. Each benchmark produces a score you can use to compare systems as well as detailed results from the individual workloads.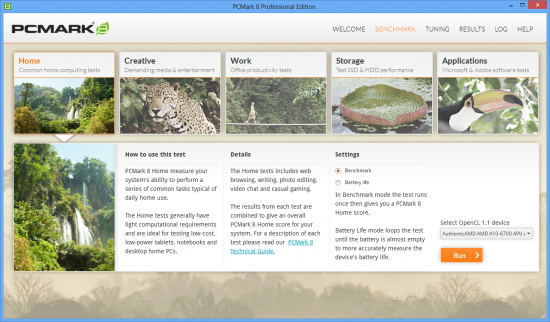 PCMark 8 Home, Creative, and Work benchmark tests
These three benchmark tests reflect the most common computer usage patterns - light home use, demanding media and entertainment activities, and typical office productivity tasks. Choose the benchmark that best matches the intended audience for the device being tested, or run all three for a complete picture of the device's performance.
PCMark 8 Storage test
PCMark 8 Storage benchmark is ideal for testing the performance of SSDs, HDDs and hybrid drives. Using traces recorded from Adobe Creative Suite, Microsoft Office and a selection of popular games, PCMark 8 Storage highlights real-world performance differences between storage devices.
New Adobe and Microsoft application tests
One of the most exciting new features in PCMark 8 is the Applications benchmark which measures system performance using popular applications from the Adobe Creative Suite and Microsoft Office. You can choose which tests to run based on the applications installed on your system.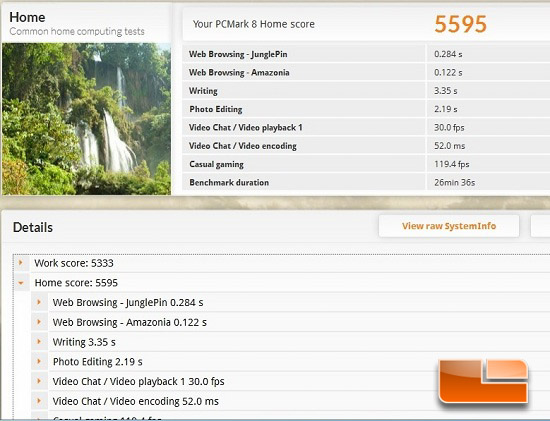 With PCMark 8, I just ran the default tests and I chose my video card for OpenCL workloads.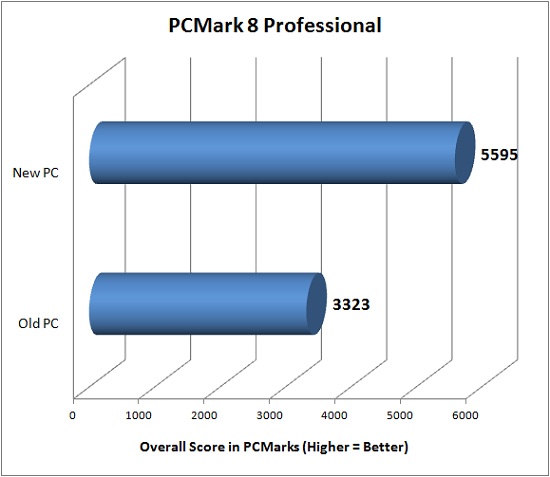 Benchmark Results: The PCMark 8 "Home" score was used here. As expected, the new system dominated the old, with a 68.4% increase in performance!
Metro Last Light
Metro: Last Light is a first-person shooter video game developed by Ukrainian studio 4A Games and published by Deep Silver. The game is set in a post-apocalyptic world and features action-oriented game play with a combination of survival horror elements. It uses the 4A Game engine and was released in May 2013.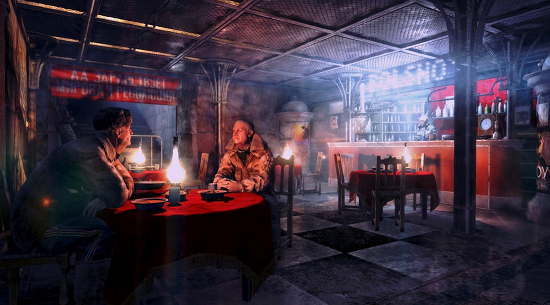 Like Metro Last Light's predecessor, Metro 2033, this is a very demanding game. We set the resolution and increased all of the settings to the highest allowed. Though we did leave NVIDIA PhysX disabled.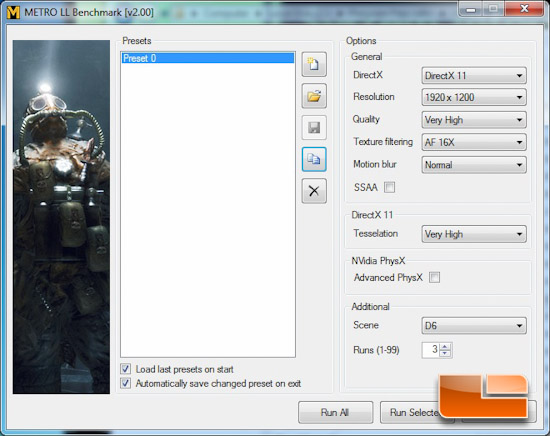 I chose to run two common resolutions, just for comparison purposes, to see how much the new setup influences video performance. I ran with 1920x1200 instead of by 1080, because the former is the native resolution of my monitors. Just as a reminder, to keep things consistent, I used the same GTX 570 in both computers.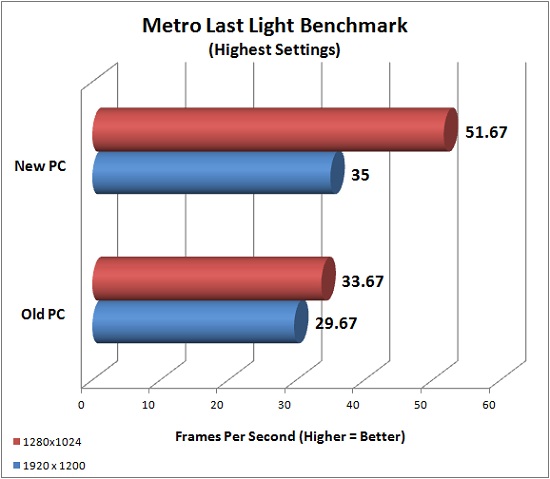 Benchmark Results: The new 4770k system was able to assist with pulling in an additional 18% increased performance here. What's more impressive is the lower resolution and how much the new setup influenced the average frame rate.  I definitely am GPU limited with the 4770k setup, since I only averaged approximately 5 FPS more on the same high resolution settings.
Just to see how CPU or GPU limited I was, I ran the same benchmarks on Medium settings: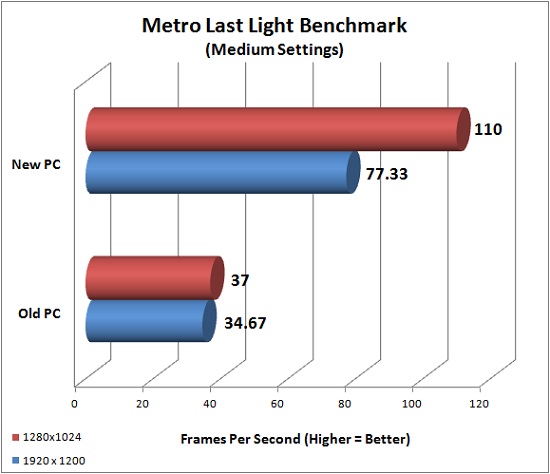 Benchmark Results:  As you can see, my old PC was definitely CPU limited, as the frame rate barely increased by lowering the settings.  I was astonished how many more frames per second I got on Medium on the new PC!
Battlefield 3
Battlefield 3 (BF3) is a first-person shooter video game developed by EA Digital Illusions CE and published by Electronic Arts. The game was released in North America on October 25, 2011 and in Europe on October 28, 2011. It does not support versions of Windows prior to Windows Vista as the game only supports DirectX 10 and 11. It is a direct sequel to 2005's Battlefield 2, and the eleventh installment in the Battlefield franchise. The game sold 5 million copies in its first week of release and the PC download is exclusive to EA's Origin platform, through which PC users also authenticate when connecting to the game.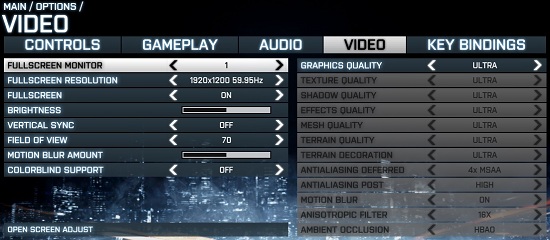 Battlefield 3 debuts the new Frostbite 2 engine. This updated Frostbite engine can realistically portray the destruction of buildings and scenery to a greater extent than previous versions. Unlike previous iterations, the new version can also support dense urban areas. Battlefield 3 uses a new type of character animation technology called ANT. ANT technology is used in EA Sports games, such as FIFA, but for Battlefield 3 is adapted to create a more realistic soldier, with the ability to transition into cover and turn the head before the body.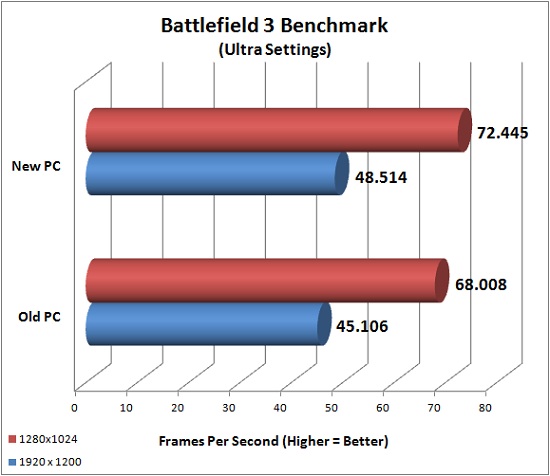 Benchmark Results: With the settings at Ultra for both the new and old setups, I was quite surprised how little the new system affected frame rates in BF3. I netted just 7.5% more frames per second with 1920x1200 and a 6.5% increase with 1280x1024.  Can you tell I reached the limits of my GPU here?
Like Metro Last Light, I wanted to see how CPU or GPU limited I was, so I ran BF3 in Medium settings.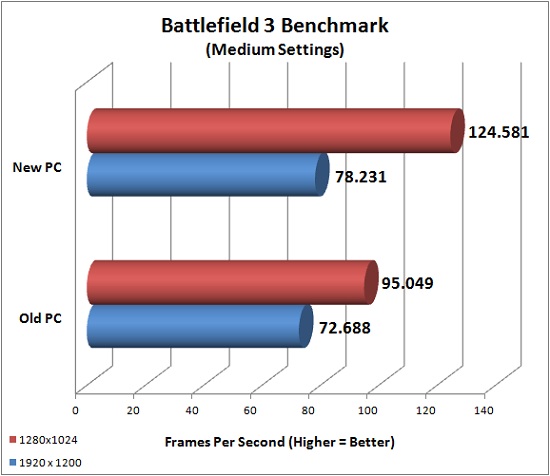 Benchmark Results:  This game definitely goes to show that I'm getting GPU limited here.  With only a 7.6% difference at 1920x1200, I think it's time for a different video card if I wanted even more out of it, even on Medium.
Cinebench 11.5
MAXON recently released CINEBENCH Release 11.5, an advanced hardware testing suite that assesses a computer's performance capabilities. CINEBENCH is based on the same powerful technology as MAXON's award-winning animation software CINEMA 4D, which is used extensively by studios and production houses worldwide for 3D content creation. The new version of CINEBENCH includes the ability to more accurately test the industry's latest hardware, including systems with up to 64 processor threads, and the testing environment better reflects the expectations of today's production demands. A more streamlined interface makes testing systems and reading results incredibly straightforward. Again, higher Frames/Second and point score equal better performance.
Here's a quick look at the OpenGL test results in Cinebench: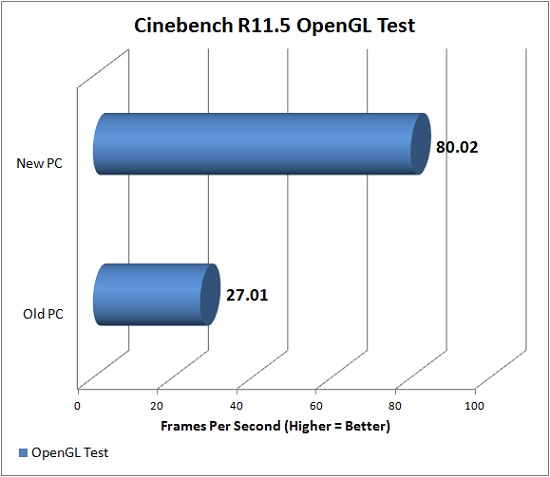 Finally, here are the CPU test results: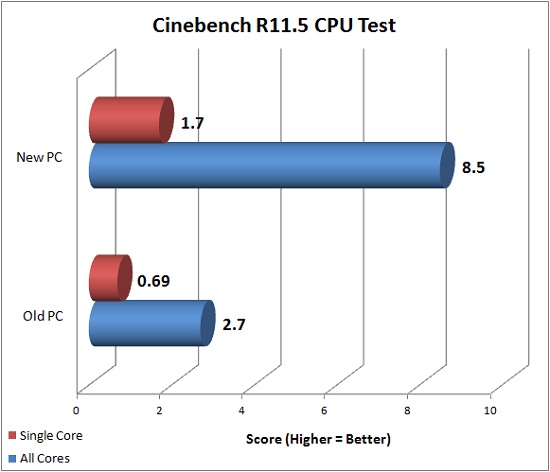 Benchmark Results: As you can see, the 4770k absolutely destroyed the competition in all tests. I pretty much expected this with this test.
x264 HD Video Encoding Benchmark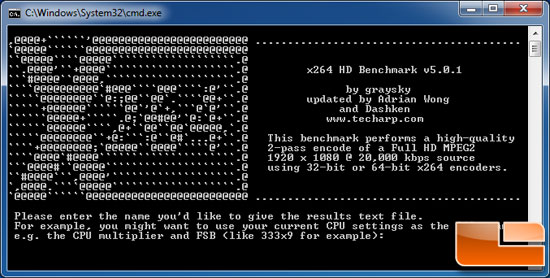 Simply put, the x264 HD Benchmark is a reproducible measure of how fast your machine can encode a short HD-quality video clip into a high quality x264 video file. It's nice because everyone running it will use the same video clip and software. The video encoder (x264.exe) reports a fairly accurate internal benchmark (in frames per second) for each pass of the video encode and it also uses multi-core processors very efficiently. All these factors make this an ideal benchmark to compare different processors and systems to each other. We are using x264 HD v5.0.1 for this test.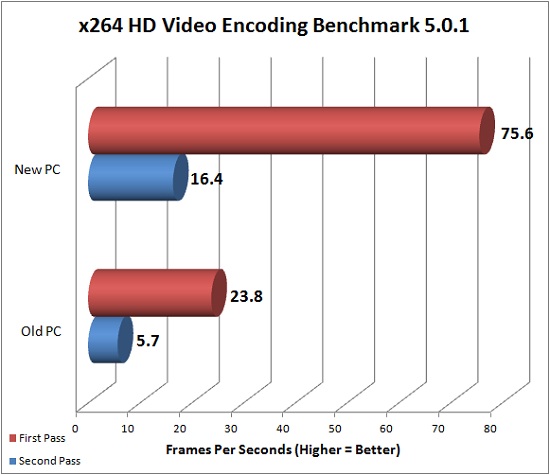 Benchmark Results: Coming in at 218% faster on the first pass and 188% faster on the second, you can really see how the 4770k dominates the Q6600 with video encoding.
POV-Ray 3.7 beta
The Persistence of Vision Ray-Tracer was developed from DKBTrace 2.12 (written by David K. Buck and Aaron A. Collins) by a bunch of people (called the POV-Team) in their spare time. It is a high-quality, totally free tool for creating stunning three-dimensional graphics. It is available in official versions for Windows, Mac OS/Mac OS X and i86 Linux. The POV-Ray package includes detailed instructions on using the ray-tracer and creating scenes. Many stunning scenes are included with POV-Ray so you can start creating images immediately when you get the package. These scenes can be modified so you do not have to start from scratch. In addition to the pre-defined scenes, a large library of pre-defined shapes and materials is provided. You can include these shapes and materials in your own scenes by just including the library file name at the top of your scene file and by using the shape or material name in your scene. Since this is free software, feel free to download this version and try it out on your own.
The most significant change from the end-user point of view between versions 3.6 and 3.7 is the addition of SMP (symmetric multiprocessing) support, which, in a nutshell, allows the renderer to run on as many CPU's as you have installed on your computer. This will be particularly useful for those users who intend on purchasing a dual-core CPU or who already have a two (or more) processor machine. On a two-CPU system the rendering speed in some scenes almost doubles. For our benchmarking we used version 3.7 RC5, which is the most recent version available. The benchmark used all available cores to their fullest extent to complete the render.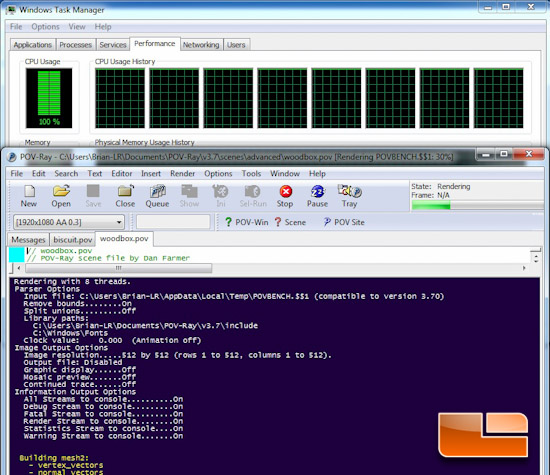 Once rendering on the object we selected was completed, we took the elapsed time from the dialog box, which indicates the exact time it took for the benchmark to finish the benchmark. A lower time indicates faster system performance. This benchmark used all 8 threads and loaded each one up at 100% load!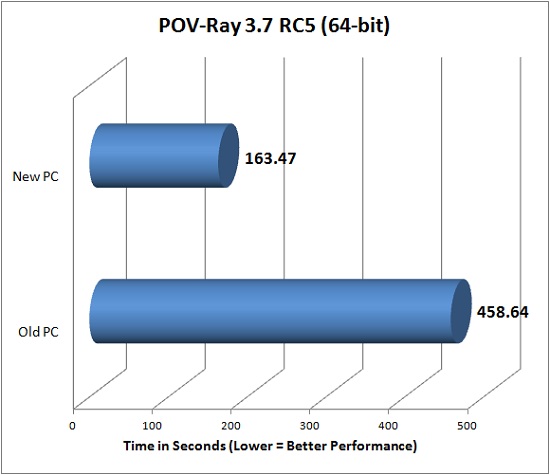 Performance Results: It took a whopping 458.64 seconds for the old Q6600 system to complete this benchmark. The new 4770k system literally ran circles around the Q6600 and completed the benchmark in 163.47 seconds!
Rightmark Audio Analyzer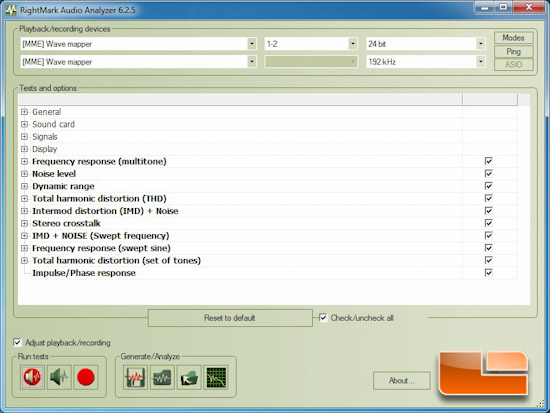 The RightMark Audio Analyzer suite is designed for testing quality of analog and digital paths of any audio devices, be it a sound card, an MP3 player, a consumer CD/DVD player or an acoustic set. The results are obtained by playing and recording test signals passed through the tested audio path by means of frequency analysis algorithms. The latest version of RightMark Audio Analyzer can be found here.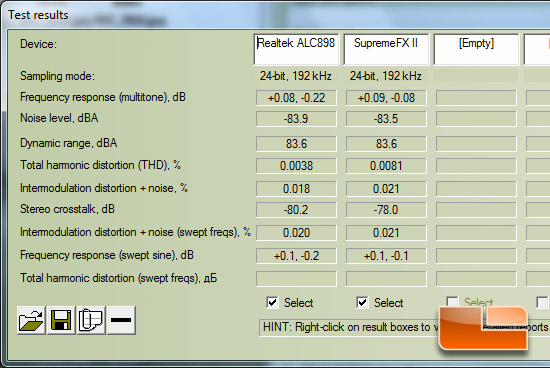 Rightmark Audio Analyzer Comparison Chart at 16-bit Sampling Mode: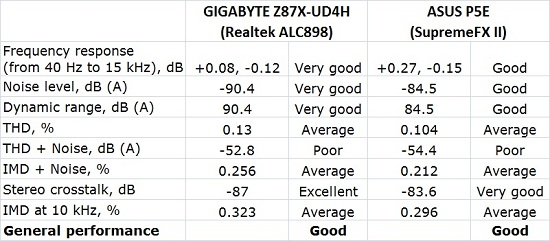 Rightmark Audio Analyzer Comparison Chart at 24-bit Sampling Mode: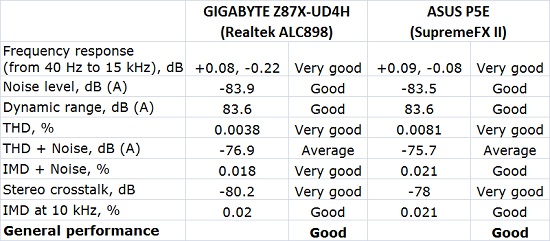 As you can see from the chart above, the general audio performance is good on both systems, but most of the individual tests have been greatly improved in the 16-bit sampling tests. What you need to realize, too, is the Supreme FX II audio solution that is used on the ASUS P5E motherboard is on a dedicated PCIe sound card and not built-in like the GIGABYTE board. To see fully integrated audio performing this much better than a dedicated card just goes to show that we have come a long way in recent years!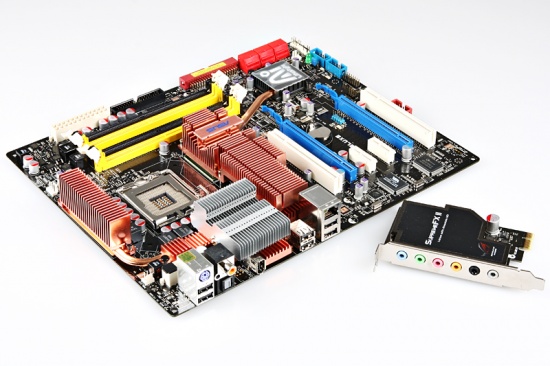 LAN Speed Test
Both motherboards have integrated gigabit LAN adapters. Just for the fun of it, I wanted to see if any one performed better than the other. My entire home is wired with Cat5e which terminates to a patch panel, and then hooks up to a gigabit Netgear switch.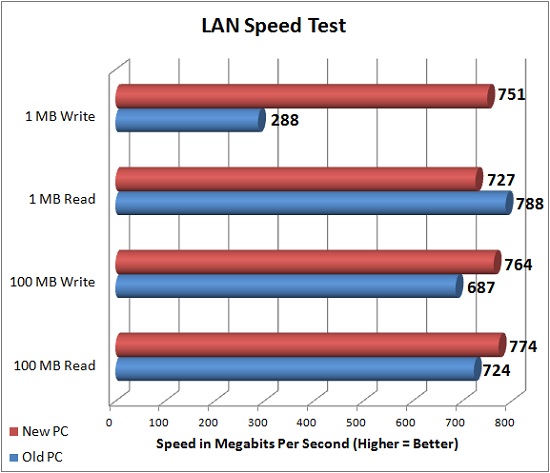 Benchmark Results:  The ASUS P5E's Marvell88E8056 PCIe Gigabit LAN adapter seemed to fall on its face with the 1 MB writes, but it showed its true performance with a larger packet size.  It was definitely a bit slower than the GIGABYTE Z87X-UD4H Intel GbE LAN adapter.
Temperature Testing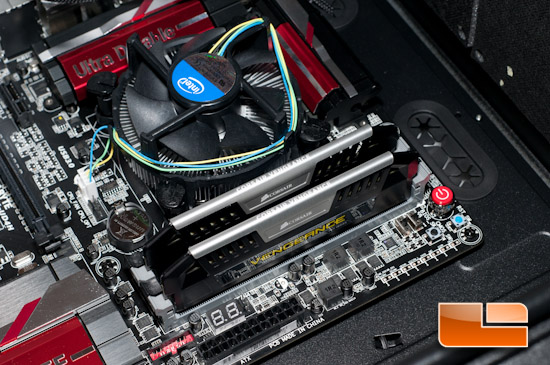 For this test, I used the stock HSF that came with both CPUs. Since my Q6600 system has had all kinds of changes done to it over the years, I opted to put new thermal paste in place for both processors. For this test, I used just a bit larger than a BB sized dab of Arctic Silver 5. I understand this paste is not 100% cured, but right out of the tube I know AS5 performs quite well.  Ambient temperature was 74*F (about 23*C)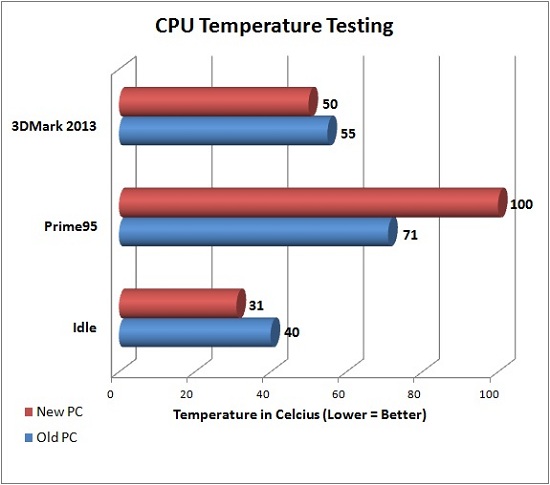 At idle, the 4770k hovered around 31*C with the stock HSF, which I was quite happy about. The same idle test with the Q6600, I saw a temperature of 40*C, which isn't too bad, either.
Just to see how things were with pushing video, I decided to watch the temperature of the CPU while running 3DMark. The 4770k sat at 50*C, while the Q6600 was at 55*C.

To max out the CPU and see how hot things got, I wanted to run Prime95. Here I saw the 4770k peg 100*C and then the CPU started throttling to be sure it didn't self destruct. I was quite disappointed with how the stock HSF performed here, but that seems to be the nature of Haswell; my Q6600 hit 71*C running the same test.
Editor's Note: Prime95 and OCCT both are known to cause overheating on Haswell processors due to Haswell's Fully Integrated Voltage Regulator (FIVR) and the way it operates. These aren't real world workloads and overheat how they tax the processors. When running the x264 HD benchmark the Intel Core i7-4770K 'Haswell' processor topped out at 90C and was not throttling. This is a better example of load temps and this page will be updated soon.
Power Usage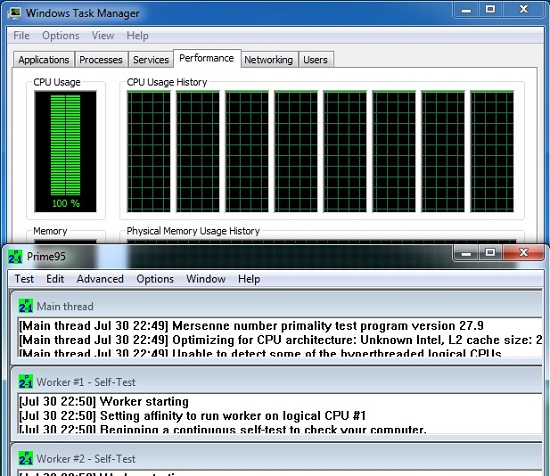 Since power consumption is a big deal these days, we ran some simple power consumption tests on our test beds. The systems ran with the power supplies, case fans, video cards and hard drives. Measurements were taken from the wall using a P3 Kill A Watt meter. To measure idle usage, we ran the system at idle for one hour on the desktop with no screen saver and took the measurement. For load measurements, Prime95's in-place large FFT's were run on all cores to make sure each and every processor was at 100% load for maximum power consumption and heat. Curious about real world scenarios, we decided to drop Furturemark and ran 3DMark 13 on the performance preset and took the maximum power consumption during the first GPU test.
While there are a number of settings in the BIOS that can affect the power consumption, including the BCLK, Multiplier, C States, and the voltage, the only setting that was adjusted for our testing was the XMP profile. The XMP Profile was enabled for all of our testing as this is the only setting that many users will change.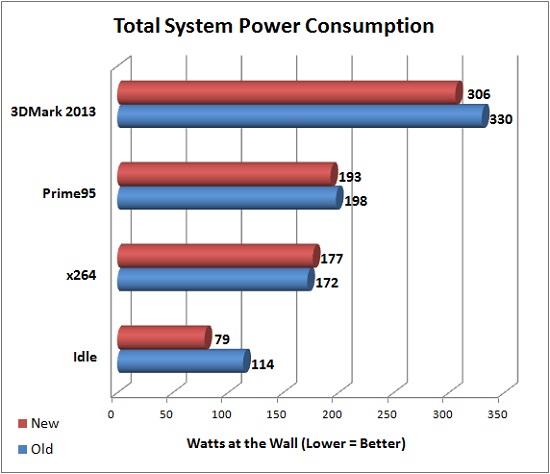 Benchmark Results: Between the two setups, I saw pretty similar numbers for both, with the 4770k setup always using less power than the Q6600 setup. The one that impressed me the most was the idle power consumption. A reduction of 35 watts at idle is quite nice, considering I leave my computers on 24/7.  I also ended up watching my power consumption during x264, because Prime95 was maxing out the CPU's temperature by increasing voltage for no reason.
Conclusion: Was It Worth It?
So the question you have to ask yourself, "Was the upgrade worth it?" Well, from my personal standpoint, ABSOLUTELY! I use my computer for video encoding, photo editing, and gaming, and I was getting quite frustrated with my old system. The video card could keep up no problem in games, but the CPU was starting to lack and things took longer to do than I wanted. Not only was this bottleneck frustrating, but the SATA 2 interface is old and I wanted to take advantage of the Samsung 840 Pro's SATA 3 speeds.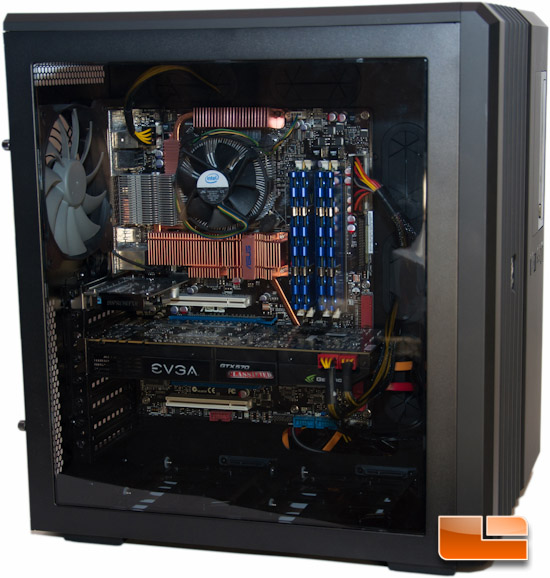 When I finally got to upgrade my system, having the GIGABYTE Z87X-UD4H to back up my components felt like a winner from the get-go. I knew GIGABYTE products were great from past experiences, and I had no doubts that this board could deliver. With this board running $197.99 shipped on Amazon, and it has a 3 year warranty, I couldn't go wrong. It had everything that I was looking for: SATA 3, USB 3.0 ports, and some good overclocking options for future use. Right now I need to find a way to tame my 4770k, as running Prime95 made the CPU max out in temperature with the stock HSF, and I was not fond of that.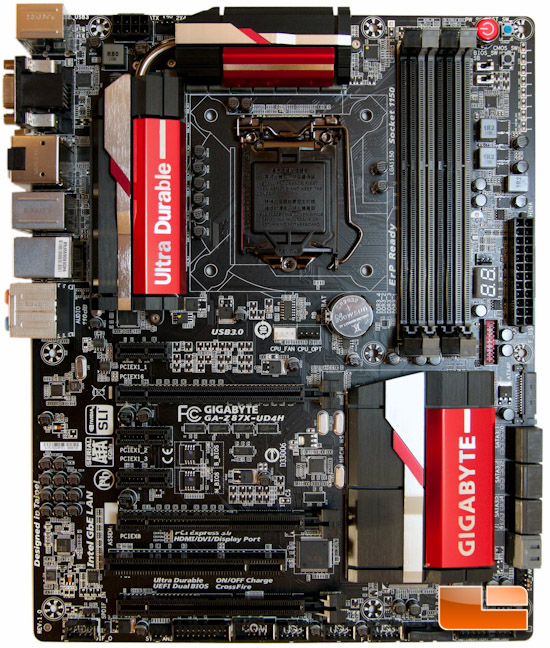 Having 8 SATA 3 6Gb/s ports is a huge win for me, since I will eventually bring some local redundant storage and general storage to this system. I do also plan on picking up another Samsung 840 Pro in the future, to see how well they perform in RAID 0.
So for the serious gamer, photographer, videographer who is looking to speed things up: Was it worth it? Absolutely!!! I can say without a doubt, this is one huge upgrade over the old Q6600 system, even when utilizing a bunch of the same components. I opted to grab the i7 4770k (priced at $334.53 shipped on Amazon) over the i5 4670k (priced at $219.00 shipped on Amazon) just because of hyperthreading and the work that I do on my system. Either processor should be a great choice!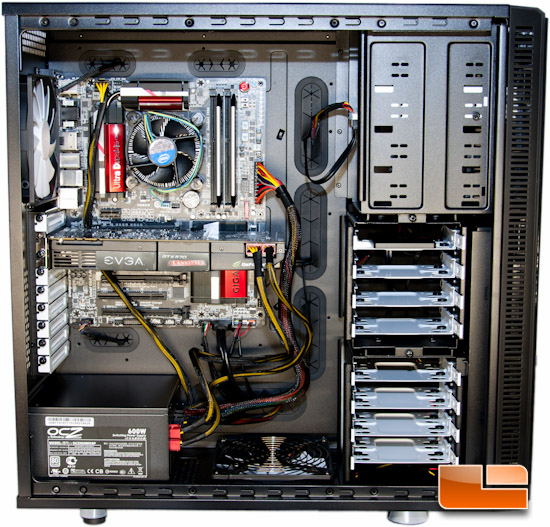 Now for the average Joe, was this upgrade worth it? In all honesty, if you aren't doing any serious gaming, photo editing, video encoding, or something quite demanding, you might have to sit back and think about it for a bit. The power savings are definitely nice with the new 22nm architecture with Haswell (84 watt TDP with 4770k), over the 65nm with Kentsfield (105 watt TDP with Q6600), plus all of the new power saving features. Now another kicker, for your Average Joe, is if you got rid of the discrete video card and just used the IGP, I know you'll save a ton of juice. This is also where you could step down to something like the i5 instead of the i7, too. Is it still worth it with all of this in mind? I would say you could absolutely lean towards YES on this one. Don't forget, you gain a lot of huge performance increases with USB 3.0 and SATA 3 support, too!
So what am I saying? Was it worth it to go from a Q6600 to an i7 4770k?
Enthusiast: Absolutely!! Get out and build your Haswell system as soon as possible!!
Average Joe: I would have to lean towards YES, due to power savings and overall speed enhancements.