SanDisk Extreme 64GB microSDXC Card
In June 2012, SanDisk announced the world's fastest microSDHC mobile memory card with the introduction of the SanDisk Extreme Pro microSDHC UHS-I card series. The cards were available in just 8GB and 16GB capacities, but made up for the rather small sizes by being incredibly fast. We are talking up to 95 MB/s read and 90 MB/s write, so it was ideal smartphone and tablet users who wanted to boost their device's storage capacity while enjoying the fastest mobile experience. Over the past year the need for larger capacity memory cards have increased, so it shouldn't come as a surprise to anyone that SanDisk announced new 32GB and 64GB microSDXC UHS-I memory cards that are part of the SanDisk Extreme Pro series.
The SanDisk Extreme microSDHC/microSDXC UHS-I series is available in 16GB, 32GB and 64GB capacities. The MSRP ranges from $59.99 for the 16GB card to $199.99 for the 64GB card, but the street pricing is significantly lower and ranges from $30 to $102 shipped.
The 32GB/64GB cards are rated up to 80 MB/s read and 50 MB/s write, but the 16GB card is a tad slower with speed ratings of up to 80 MB/s read and 30 MB/s write. These speeds aren't as fast as the SanDisk Extreme Pro microSDHC cards that were released last year, but they are still very fast. So fast, that SanDisk says that this is the world's fastest 64GB microSDXC memory card!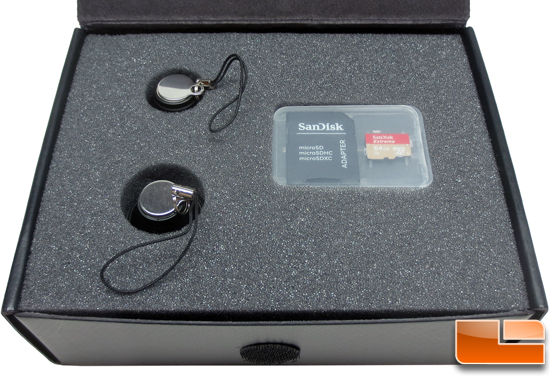 The card that we were sent to review was the 64GB version that is sold under part number SDSDQX-064G. This card is class 10 and UHS Speed Class 1 rated (UHS-104). We weren't sent a retail package, but rather a reviewers kit that came with the SanDisk memory card and a pair of ocular lenses for smartphones and cameras. This was a nice gesture and something to try out on our smartphones, but sadly they attach magnetically. Our Apple iPhone 5, Samsung Galaxy S4 and Galaxy Note II all don't have any metal around the lens, so they won't stay attached. The retail packaged cards will come with the SanDisk Extreme microSDXC UHS-I Memory Card, SD adapter, jewel case, and RescuePRO Deluxe software (download).
SanDisk Extreme microSDXC UHS-I 64GB Card Features:
Get unparalleled performance for your smartphone or Tablet
Fastest transfer speed at 80 MB/s read and 50 MB/s write
Featuring Class 10 for 3-D and Full HD video (1080p)
Superior Photo, Full HD Video and App Performance
Engineered with UHS-I bus architecture
Water-proof, temperature proof, X-ray proof, shock proof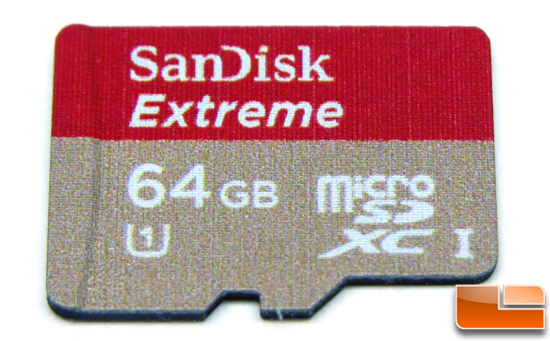 The SanDisk Extreme microSDXC card is compatible with any microSDHC or microSDXC-slotted device, so you can us it on thousands of devices without any issues. If you use it on older devices you might be speed limited by the host device, but one is usually always limiting the other.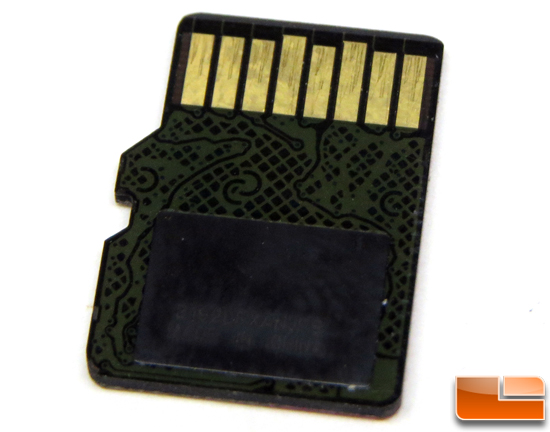 Flipping the SanDisk Extreme micro-SDXC UHS-I card over you can see some of the trace routes on the black PCB and then the eight pins needed for operation. As we already mentioned this is a Ultra-High Speed (USH) memory card. We were told by SanDisk that this UHS-I card UHS-104 interface, which means it supports a clock frequency of 208MHz. Let's take a look at how this card performs!
Speed Testing w/ USB 3.0 Card Reader
Testing The Sandisk 64GB Extreme microSDXC UHS-I Card w/ USB 3.0
To try out the SanDisk Extreme microSDXC 64GB memory card we will us using the SuperSpeed USB 3.0 interface on the ASUS Zenbook Priime UX31A. We used Intel USB 3.0 driver version 1.0.5.235 for testing. This Intel Ultrabook comes with a built-in SD card reader, but it uses the USB 2.0 bus and doesn't give us the performance we are looking for.
To get the best performance possible we used the Kingston MobileLite G3 card reader. This is an inexpensive multi-card reader that can be picked up for $11.58 with free shipping. We have a review on the Kingston MobileLite G3 here if you are interested in knowing more about that product.
CrystalDiskMark 3.0.2f x64:
CrystalDiskMark is a small benchmark utility for drives and enables rapid measurement of sequential and random read/write speeds. Note that CDM only supports Native Command Queuing (NCQ) with a queue depth of 32 (as noted) for the last listed benchmark score.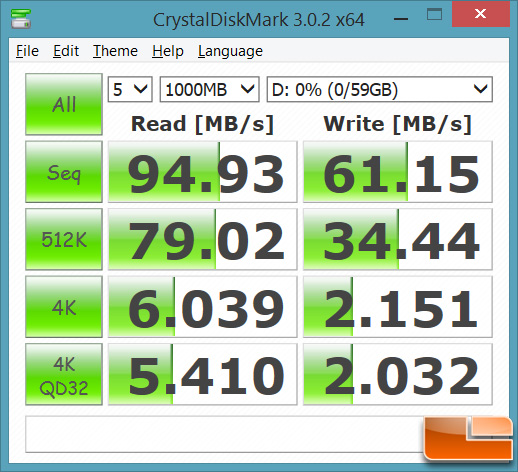 Benchmark Results: CrystalDiskMark showed that we hitting 95MB/s read and 61MB/s write on the sequential test! The SanDisk card is speed rated at 80MB/s read and 50MB/s write, so you can see we are well beyond those speeds here.

ATTO v2.47:
ATTO is one of the oldest drive benchmarks still being used today and is still very relevant.. ATTO measures transfers across a specific volume length. It measures raw transfer rates for both reads and writes and places the data into graphs that can be very easily interpreted. The test was run with the default runs of 0.5kb through 8192kb transfer sizes with the total length being 256mb.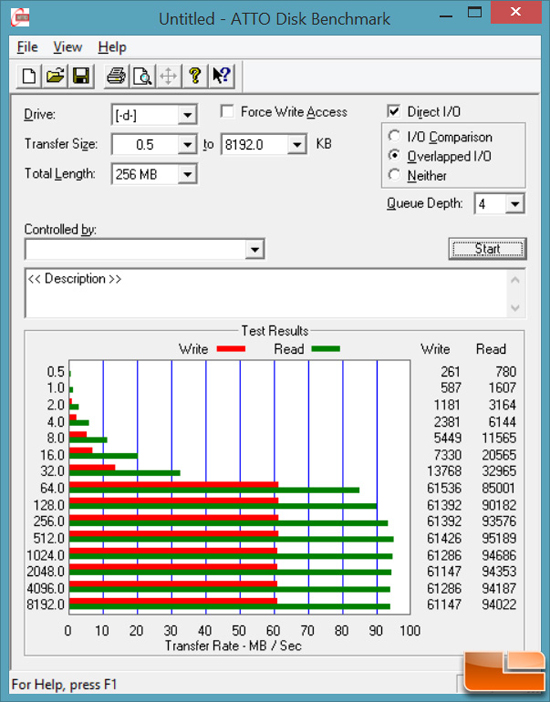 Benchmark Results: The Sandisk 64GB SDXC card was able to reach 95MB/s read and 61MB/ write speeds in ATTO with the default benchmark settings.

Check Flash v1.16.2:
Check Flash is a multi-purpose flash drive testing and maintenance tool. This utility allows for error checking, speed tests, and much more.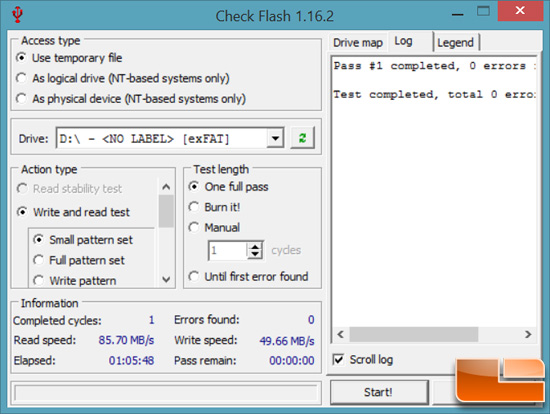 Benchmark Results: Check Flash took just over an hour to check the card for errors and none were discovered after scanning the entire card. The average read and write speeds observed by the utility were 85.70 MB/s read and 49.66 MB/s write.
Speed Testing in the Samsung Galaxy S4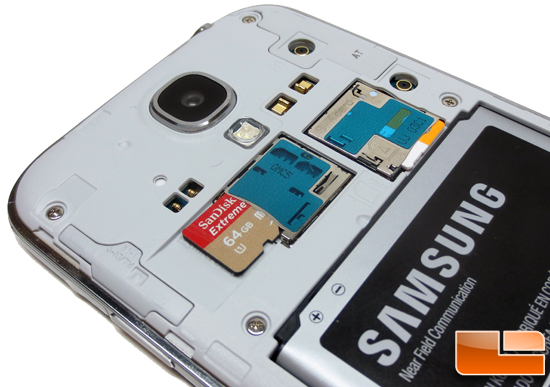 We also wanted to check out the speed on a mobile device, so we fired up the SD Tools v 3.0 App on our Samsung Galaxy S4 smartphone and gave it a shot.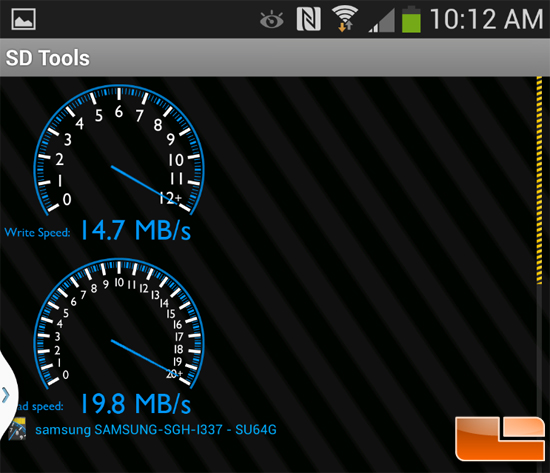 SD Tools showed that we were hitting 19.8 MB/s read and 14.7 MB/s write speeds with the SanDisk Extreme 64GB microSDXC Memory card.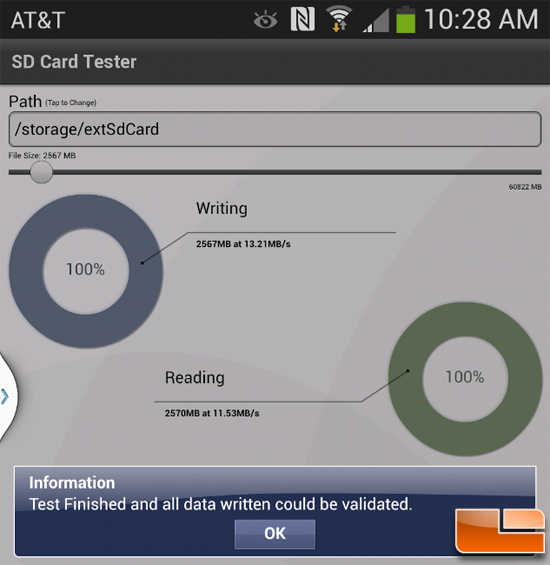 We later tried running the free SD Card Tester v1.0.5 App and found that it worked on the Samsung Galaxy S4 Smartphone. With the file size set to 2567MB the benchmark showed write speeds at 13.21 MB/s and read speeds at 11.53 MB/s on the smartphone. These speeds are slower than what the SandDisk Extreme microSDXC 64GB card are capable of, so the Sasmsung Galaxy S4 is clearly causing the bottleneck.
The SanDisk Extreme microSDXC UHS-I 64GB memory card worked great in all the mobile devices that we tried it in, but we were unable to utilize the cards full speed in any smartphone we tried it on.
"Most high-end smartphones are now driven by high-speed quad-core processors, which deliver Full HD content and applications to large, high-resolution external displays," said Stuart Robinson, director, handset component technologies service, Strategy Analytics. "Such applications require high memory bandwidth which is ideal for the SanDisk Extreme microSDXC card, the world's fastest microSDXC memory solution."
This statement made in the press release for this product could be true, butwe haven't run across a high-end smartphone that needs such high memory bandwidth for delivering full HD content.
Final Thoughts and Conclusions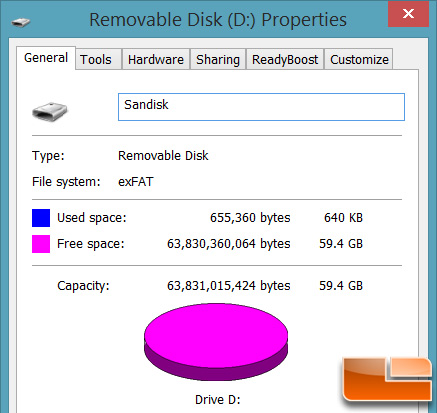 The total useable capacity of this 64GB card shows up at 59.4GB in Windows due to the conversion from physical GB to the virtual GiB. (1 GB=1,000,000,000 Bytes. Within a computer operating system, this number will be displayed as: 1,000,000,000Bytes/1024/1024/1024 = 0.93GB) You can see that the SanDisk Extreme microSDXC 64GB memory card uses the exFAT file system.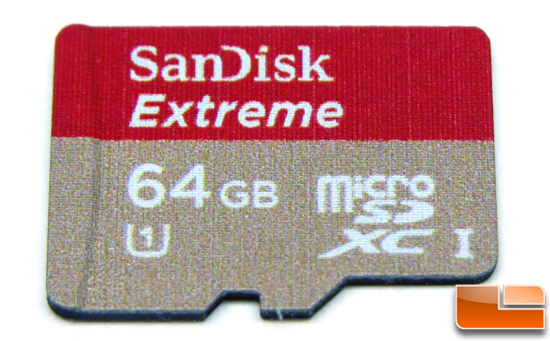 Final Thoughts and Conclusions:
If you are looking for are looking for a 64GB microSDXC memory card for your camera, smartphone or tablet you have a plethora of choices available to you. Newegg alone currently sells 42 different 64GB microSDXC cards and of those 29 are USH Speed Class 1 rated. The SanDisk Extreme microSDXC 64GB card that we reviewed today is special because it is the fastest of all of them! No other 64GB card on the market today offers up to 80MB/s read and 50MB/s write speeds, let alone the 95MB/s read and 61MB/ write speeds we observed in benchmarking.
When it comes to pricing the SanDisk Extreme runs $102.22 shipped. That makes it by far the most expensive 64GB microSDXC on the market, but you get what you pay for. For example the SanDisk Ultra 64GB microSDXC UHS-I card can be purchased for $50.47 shipped and has up to 30MB/s read and 10MB/s write speeds. For double the price you get nearly 3x more read performance and a massive 5x boost to write performance. If you are moving over a ton of data on a frequent basis, the added time savings from the SanDisk Extreme microSDXC series alone can justify the higher cost.
At the end of the day the SanDisk 64GB Extreme microSDXC memory card was found to be to be the fastest 64GB microSDXC card that we have ever tested and is ready for the future. If you want a memory card that can handle cameras with continuous burst mode and deliver Full HD5 and even 4K HD video recording and playback, look no further. We just need more smartphones and tablets than can fully utilize all this memory bandwidth! All SanDisk microSDXC cards are also backed by a limited lifetime warranty.
Legit Bottom Line: The SanDisk Extreme microSDXC 64GB card is the fastest 64GB microSDXC card on the market and should be able to handle anything your smartphone or tablet can throw at it!