Stepping up to Wireless-AC1200
As more and more devices choose to embrace the latest 802.11ac standard, there is a growing number of PCs and laptop devices where upgrading is not straightforward. A while back, we looked at a couple of different solutions to make your home or office computers faster – namely by using an internal card and antenna array for your desktop computer. Today, we look investigate a way to upgrade your laptop or notebook, this time using an USB-compatible device.
ASUS has been on the forefront of AC-enable networking devices and their router, so we are expecting great things out of the ASUS USB-AC53 Dual-band Wireless-AC1200 Adapter. The ASUS USB-AC53 adapter was designed to deliver the 802.11ac to any "legacy" device looking for a boost in speed. You can get the ASUS USB-AC53 for less than $50 right now from vendors like Amazon.com.
The AC53 works over an 802.11ac WiFi network so we expect to see a lot more speed out of it than we do our normal 802.11n devices. In fact, the speed rating for the 5GHz channel is 867Mbps, and 300Mbps for the 2.4GHz channel. Thus, the device is being marketed as a Wireless-AC1200 device (as opposed to our ASUS RT-AC66U Wireless AC1750 which gives a maximum of 1300Mbps on the 5GHz channel and 450 on the 2.4GHz).
The USB-AC53 is about half the size of a sharpie marker and comes with a USB extension cradle and cable so that you can easily attach it to your computer.
Featured Specifications:
Interface
Antenna
Operating Frequency
Product Segment
AC1200 ultimate AC performance; 300+867Mbps
Data Rate
802.11ac : downlink up to 867Mbps, uplink up to 867Mbps (20/40MHz)
Utilities
Wireless setting, Site survey, WPS Wizard
Security
64-bit WEP, 128-bit WEP, WPA2-PSK, WPA-PSK, WPS support
Certificates
CE, FCC, C-Tick, IC, IDA, NCC, PCT
Dimensions
9.6 x 2.6 x 1.24 cm (WxDxH)
Weight
OS Support
Windows® 8 , 32bit/64bit
Windows® 7 , 32bit/64bit
Windows® Vista , 32bit/64bit
Windows® XP , 32bit/64bit
Package Content
Support CD
USB Extension cable
Warranty card
Let's take a look at what ASUS gives us in the box and configure the USB-AC53 for use!
ASUS USB-AC53: Setup and Configuration
ASUS ships the USB-AC53 in a nice little box that contains the AC-Adapter, an Extension USB Cradle, a Notebook NetClip, an Extension USB Cable, Warranty card, Quick Start Guide, and Support CD. There is a WPS button on the top of the unit so that you can easily connect to your secure network with a touch of a button. There is also a blue indicator light on the middle of the front face of the AC53. This lights illuminates and flashes depending on the state of the adaptor. Other than that, there are no other buttons or lights on the unit.
We start with the Support CD that has an electronic manual, Windows-compatible drivers, and the ASUS Adapter WLAN Utility program to help connect to you network of choice.
Installing the driver and utility software was very straightforward. We used our took our Alienware M17XR4 gaming laptop and finished the upgrade within 5 minutes. ASUS shipped version 2.0.1.7 of the WLAN Control Center Utility. The driver version for the USB-AC53 is 6.30.145.9 which is the latest software available from ASUS's Support Page.
The only hiccup we had was that the ASUS software didn't have a signature and was flagged by Windows Security. We aren't exactly sure why we were getting this notification, but it might throw off people who are cautious about installing software.
After getting the drivers an utility program installed, we were able to connect to our 802.11ac wireless router. Actually, we could connect to any number of routers since the ASUS Utility pulled up all the networks in the area. As you can see from Window's Wireless Network Connection display, the ASUS USB-AC53 connected at the maximum speed of 867Mbps on the 5GHz channel.
Now let's see if that connection rate translates into real-world speed.
ASUS USB-AC53: Wireless-AC Speed Tests
To test the throughput of the ASUS USB-AC53, we paired it with a Netgear R6300 Dual-Band 802.11ac wireless router that is our current Legit Reviews' Editor's Choice. We wanted to see a real-world application so we took our Alienware M17XR4 gaming laptop and installed the ASUS USB-AC53 to conduct our speed tests. The Alienware M17XR4 is already one of the best laptops on the market today in part because it features an Intel i7-3610QM CPU with 6GB RAM running Windows 7 64-Bit, and an NVIDIA GeForce GTX 660M. More importantly it is outfitted with a Qualcomm Antheros Killer Wireless-N 1103 Network Adapter already. The Killer 1103 is a three-antenna network adapter that connects at up to 450Mbps over 802.11n. We have written about the Killer NIC technology in recent years and there is no doubt that this 3-antenna solution will give us the best possible wireless-n throughput for our test.
Using the ASUS 802.11ac adapter should give us a nice comparison to what a user can expect in terms of performance step up.
As we have with our other wireless networking tests, we took our Alienware laptop connected to the ASUS USB-AC53 Dual-Band Adapter and moved it 25-feet away from our Netgear R6300 802.11ac router. We didn't tell the client anything more than the 5Ghz SSID name for the router and let it automatically choose the channel to connect to. For more of a comparison to everyday laptops, we took a Dell Latitude E6410 laptop with an Intel Centrino Advanced-N 6200 AGN Wireless Adaptor and tested it against our Killer NIC and ASUS USB-AC53. The Intel Centrino 6xxx series has been one of the most widely used mobile networking solutions ever.
We set the router to "Unsecure Mode" (for fastest data throughput), and with WMM / QoS turned ON. After connecting, we ran the PC application LAN Speed Test (LST) to measure file transfer and network speeds.
LST builds a file in memory and then transfers the packet without the effects of windows file caching. It then reports the time and calculates the network speed. We repeated the test 2 more times rotating the AC adapter 90 degrees after each test to make sure that the speed wasn't affected adversely by its orientation.
Benchmark Results: For our 1MB test, we used 45 packets of data to measure the throughput to get a more stable measurement. We see here that the ASUS USB-AC53 gives a 95% increase in Average Read Speeds over the Intel Centrino (N300) Wireless-N adapter which is fairly significant. On the other hand, the ASUS USB-AC53 is outperformed by the internal 3-antenna Killer Wireless-N 1103. The ASUS definitely has some speed behind it, but it seems that the 1MB packet size just doesn't give the adapter room to stretch out. Of course, if you don't have a 3-antenna wireless-n adapter in your laptop, you will only be able to achieve speeds about half those of the Killer 1103.
Benchmark Results: We use the 100MB packet size in our throughput tests because this data size simulates multimedia data better than that of smaller packets. We tested 10 packets per test here and found what we expected going into these speed measurement tests – namely, the ASUS USB-AC53 is outperforming the Wireless-N solution. The performance of the Intel Centrino 6200 AGN actually gets worse with the larger packet sizes. The ASUS USB-AC53 Wireless-AC improves more than 225% over that of the Centrino's Wireless-N. You can clearly see why so many have been frustrated with viewing an HD video on your laptop equipped with an N300 wireless adapter. Both the Killer Wireless-N 1103 and ASUS USB-AC53 adapter turn in acceptable throughput numbers. With the ASUS's Average Read Speeds of 281 Mbps, you can really turn your laptop into a device that can stream HD Movies to without fear of stuttering or pauses.
ASUS USB-AC53: Final Thoughts & Conclusions
After installing and using the ASUS USB-AC53 for everyday use around the house and office, we found the adapter to be a very capable replacement for our built in 3-antenna wireless-N network adapter. If you are currently running a 2-antenna (N300) wireless adapter, you will see significant (almost 200%) improvement in speeds. For a street price of $49.99 shipped, you definitely get a lot of bang for your buck.
The upgrade from a Killer Wireless-N 1103 (N450) is not as breathtaking. Does it get you Wireless-AC speed? Sure, but in the real world, how much of an improvement is that? Our test numbers show that is sort of a push. There is an improvement in speed with larger packet sizes, but for the most part, the Killer NIC's performance is about even with that of the 867Mbps USB-AC53.
But really, most mobile laptop users aren't running a Killer Antheros three-antenna rig and are reading this review to see if the step up to Wireless AC via ASUS USB-AC53 adapter is worth it. Clearly the answer is yes, this adapter does make a HUGE difference in the speed of your laptop – especially if you aren't running an exotic wireless adapter.
When using the ASUS USB-AC53 in 5GHz mode, we did notice we had significantly less range than we did with our Wireless-N. Of course this is to be expected but since the Killer 1103 is such a good device, the difference was magnified. We did try the 2.4 GHz signal and while it improved our total range, throughput speed was reduced tremendously.
After viewing the results of our real-world speed tests, we started to wonder if we were actually hitting the USB 2.0 cap of 480 Mbps (effective throughput up to 35 MB/s or 280 Mbit/s). While we observed peak measurements around 37-38MBps during our various tests, so this indicates that we are pretty much saturating the High-Speed USB 2.0 controller. The 8021.11ac Wireless AC standard can reach speeds of more that 1Gbps, so ASUS will be releasing the USB-AC56 AC Adapter which is a SuperSpeed USB 3.0 version of the USB-AC53 to help mitigate the USB interface bottleneck.
The ASUS Wireless Utility proved to be very handy for identifying the network you try to connect to initially. After that, we didn't open the utility at all unless it was to check signal strength or connect to a different wireless network.
One of the problems with the ASUS USB-AC53 comes because of the sheer size of the device. With the device plugged directly into our laptop, there is no room to plug an additional USB device next door. For many laptop users, this will be essentially take out two (or more) USB ports.
Even though the ASUS USB-AC53 is a bit bulky to hang off of your laptop computer, ASUS does provide you with a couple of different options to make the best out of the form factor. First of all, the cable and cradle they use is perfect for people who use their laptop as a desktop replacement and it wont take up multiple USB slots. The cable is a little too short to be used with a traditional desktop PC that sits on the ground. Of course you can always replace the cable with a longer USB cable so that really isn't a deal breaker.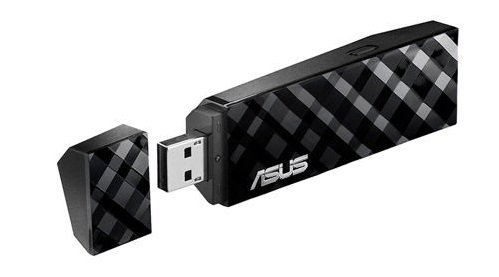 One other thing to note on this ASUS adapter: There were many early releases of this AC adapter which claimed that the Wireless-AC1200 adapter was MacOS compatible, this is not the case. The ASUS Utility software that is shipped with the ASUS USB-AC53 only works on Windows-compatible devices. (At press time, we were still not sure if it worked under Linux or other Open Source environments. Our assumption is that it does not.)
Even through all of the different 'quirks' of this network adapter, we still think ASUS has delivered a pretty strong product to give users an easy – and economical – way to upgrade to Wireless-AC. ASUS ships the USB-AC53 Dual-Band Adapter with a 2-year Limited Warranty depending on the region of the world you are in.
Legit Bottom Line:
The ASUS USB-AC53 Wireless-AC Dual-Band Adapter is a great way to upgrade your legacy network connection on your current laptop PC. We were hoping for faster overall speeds, but at this price point ASUS has delivered an excellent way of stepping into the Wireless 802.11ac world.