Are C6 and C7 Power States Worth Enabling on Haswell?
Intel's 4th Generation Core series processors have been out for a couple weeks and we have had a chance to better look at Haswell's C6/C7 low-power states. One of the many new features that comes with Haswell is the introduction of new C6 and C7 power states that offer a greatly reduced idle power consumption with a minimum of 0.05A on 12V2, down from 0.5A on previous generation Ivy Bridge and Sandy Bridge CPUs. This is a power saving feature that will help reduce temperatures and lower power consumption, but sadly most motherboard vendors have chosen to disable C6/C7 by default in the BIOS as there are simply too many old or low-cost power supplies on the market that don't support the power-saving feature.
The Intel Desktop Board DZ87KL-75K was sent out to all the hardware review sites with BIOS KL.0328 installed, which had the new C6/C7 power states enabled in the BIOS by default. On BIOS version KL.0334 and newer we have learned that Intel has disabled the C6/C7 power states to help ensure the Intel Z87 based board will power on with older power supply models. We don't know of any board that ships with the new power states enabled, so we are going to show you how to enable it and what happens to your CPU temperature and power draw at idle.
One would think that there would be an easy to find setting in the BIOS for enabled the C6/C7 power states, but right now it is rather buried and not labeled C6/C7. When you first turn on the Intel Desktop Board DZ87KL-T75K you need to hit F2 to enter the Intel UEFI Visual BIOS. Once you do you'll see the screen above or at least that is what is shown when using BIOS version KL.0341, which is what we are using right now. From this main menu you need to go to the 'Advanced' tab.
Once you are in the Advanced menus you then need to go to the 'Power' tab. In the 'Primary Power Settings' menu you'll see two drop down menus with the first being Intel Dynamic Power Technology. If you clock on the drop down arrow you can enable, disable or set it to custom. You'll want to select custom.
Once you select custom you'll see four new check box values appear and one is not enabled. That is called 'Lowest CPU Idle Power Setting' and that is the check box to enable the new Intel Haswell C6/C7 idle power states. You need to check the box and then hit F10 in order to save and exit the BIOS. Once this is enabled you should be running the new idle power state on the desktop.
Let's take a look and see if we can notice a difference when it comes to CPU temperature and overall platform power consumption with our Intel Core i7-4770K CPU powered LGA1150 platform.
Test System
Before we look at the numbers, let's take a brief look at the test system that was used. All testing was done on a fresh install of Windows 8 Enterprise 64-bit and benchmarks were completed on the desktop with no other software programs running. We completely overhauled our test setup for the Intel Core i7-4770K processor launch and this system is cutting edge with a digital power supply, 1.50V memory and an SSD with 19nm MLC NAND Flash.
The Intel Z87 platform that we used to test the Intel 1150 processors was running the Intel DZ87KL-75K motherboard with BIOS KL.0341 that came out on 5/30/2013. The Corsair Dominator Platnium 8GB 2133MHz memory kit was set to XMP 1.3 memory profile settings, which is 1.5v and 9-11-10-27 1T memory timings. The Corsair Neutron GTX 240GB SSD uses 19nm NAND and was using M310 firmware. The Intel HD Graphics 4600 iGPU was running 9.18.10.3165 graphics drivers.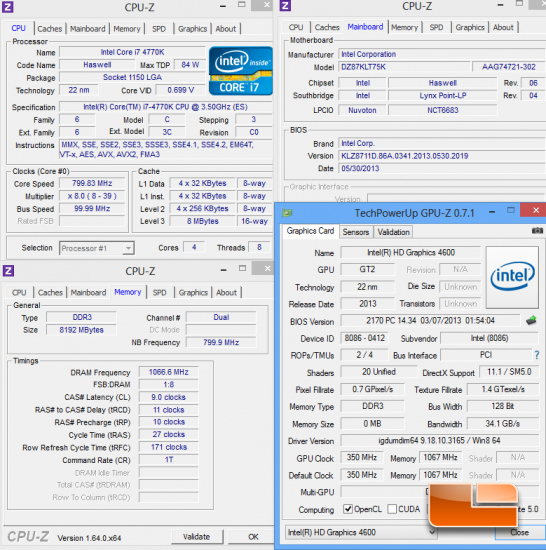 Here is a quick look at the CPU-Z information for our main test system that we'll be doing the testing on.
Intel LGA1150 Test Platform

Component

Brand/Model

Live Pricing

Processor

Intel Core i7-4770K

Motherboard

Intel DZ87KL-75K

Click Here

Memory

8GB Donimator 2133MHz

Click Here

Video Card

N/A

Click Here

Hard Drive

Corsair Neutron GTX 240GB SSD

Click Here

Cooling

Intel Retail Boxed

Click Here

Keyboard

Corsair K90

Click Here

Mouse

Corsair M95

Click Here

Power Supply

Corsair AX860i

Click Here

Operating System

Windows 8 64-Bit

Click Here
C6 and C7 Power States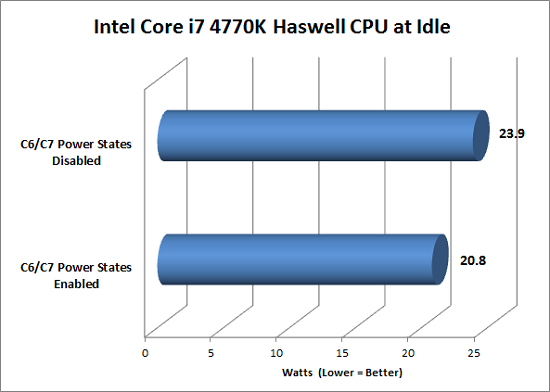 On our Windows 8 test platform we were able to quickly see the benefits of running with the C6 and C7 power states enabled. We found that with C6/C7 disabled that the system would idle between 23.7 and 24.1 Watts, but with them enabled we were seeing between 20.5 to 21.2 Watts. Both numbers are impressive as you have to keep in mind that the whole system is being measures here with a Kill-A-Watt power meter at the wall outlet. The Intel Core i7-4770K 3.5GHz quad-core processor might be the fastest LGA1150 processor that money can buy, but it also happens to be really efficient and by enabled C6/C7 low power states we were able to get ~3 Watts or nearly 13% power savings at idle!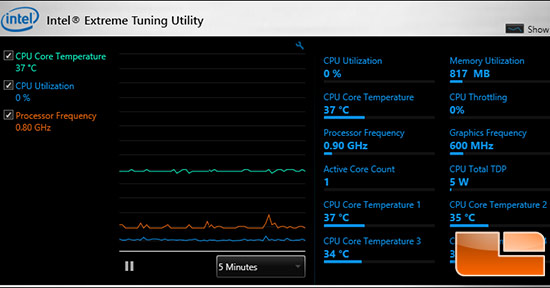 With the Intel Desktop Board DZ87KL-T75K running optimal settings, meaning C6/C7 power states are disabled, the Intel Core i7-4770K was bouncing around 36-38C with the average being 37C. The Intel Extreme Tuning Utility shows that the CPU Total TDP is 5 Watts. Many people have complained about how hot Intel Haswell processors run, so it will be interesting to see if enabling C6/C7 will lower processor temperatures at idle.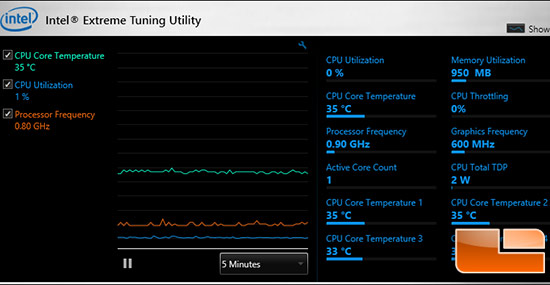 Sure enough! By enabling 'Lowest CPU Idle Power Setting' in the BIOS the C6/C7 power states helped lower the CPU Core Temperature down to 34-36C with an average of 35C. This is a solid two degree Celsius temperature drop, which is rather impressive. Notice that the CPU Total TDP is now just 2W instead of 5W. This also coincides with the ~3 Watt performance difference that we noted at the wall.
Final Thoughts and Conclusions:
4th Gen Intel Core Processors C6/C7 low-power states are a feature that many people are going to miss out on since the vast majority of motherboard manufacturers have disabled it by default and that is a shame. Our testing showed a 13% reduction in power consumption and a measurable drop in the CPU Core temperature. If you have a high-end modern power supply that supports C6/C7 then you should most certainly turn it out and see what it does for your "Haswell" based system. The motherboard makers have it disabled as they don't want to deal with the tech support calls that are sure to happen when someone tries to plug in a $15 generic power supply they bought off ebay six years ago and their computer crashes at idle.
Intel has released a PSU Selector to help people figure out if their power supply supports C6/C7 power states. The list is far from complete, but does show that some models from Corsair, InWin, Seasonic and FSP are working properly with C6/C7 power states. When you go look at Intel's PSU Selector you are looking for support in the "12V2 Min-load 0A" column. Why must Intel be so confusing? They call them 'C6/C7 low-power states' on the marketing slides, in the BIOS it is called 'Lowest CPU Idle Power Setting' and then on the PSU support list they are called "12V2 Min-load 0A". WTH? If it confuses us, then it is going to really confuse the layman that is most certainly not a PC enthusiast!
Legit Bottom Line: If you have a modern high-quality power supply that supports C6/C7 power states then you should try enabling it as it lowers your idle power consumption and even your CPU temperature!