Passive Cooled Radeon HD 7850 - Silence?
PowerColor has been one of the very few add-in board manufacturers that continually releases enthusiast class, silent graphics cards in the companies SCS3 (Silent Cooling System) product line. When we learned that PowerColor would be building a passive AMD Radeon HD 7850 1GB video card with stock clock speeds we were dumb founded. How could PowerColor built a totally silent version of this mid-level gaming graphics card?

The 28nm Pitcairn Pro core has 1,024 stream processors clocked at 860MHz and 1GB GDDR5 memory at 1200MHz (4,800MHz effective). The AMD Radeon HD 7850 2GB reference card has a typical board power of around 130 Watts. It is safe to assume that the PowerColor HD 7850 SCS3 1GB would have a slightly lower TDP than that since it has half the frame buffer and no cooling fan. It is interesting to see that PowerColor didn't downclock this card in order to make it passive, so it should perform the same as any other reference clocked Radeon HD 7850 1GB card, but without making any noise. That doesn't sound too bad and the $219.99 Suggested Retail Price, doesn't sound half bad either.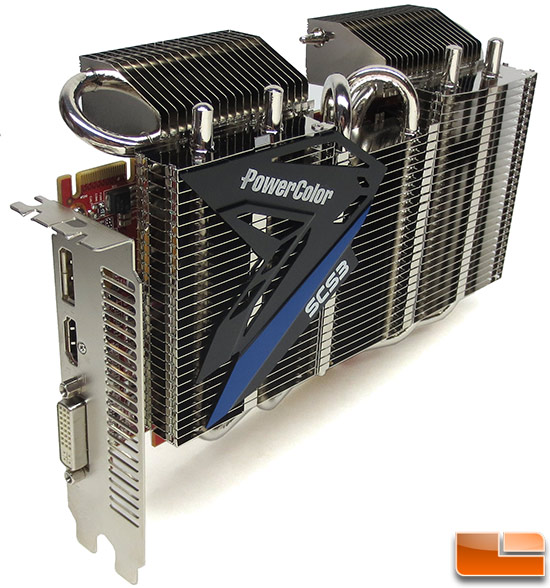 PowerColor uses a rather large aluminum finned heatsink with six heat-pipes to keep the AMD Radeon HD 7850 core running without the need for direct active cooling.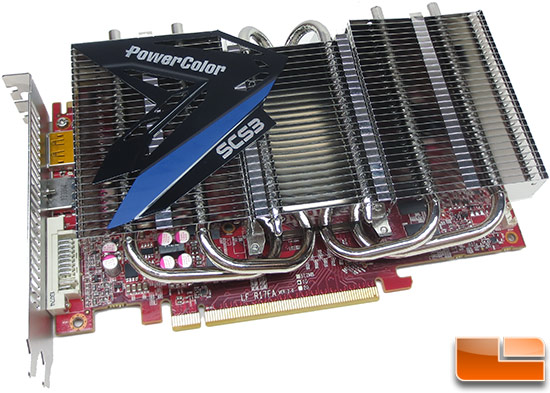 The heatsink is so larger that it covers the entire front of the card and actually extends over the end and up and over the top of the PCB (Printed Circuit Board). PowerColor says that this SCS3 GPU Cooler has a patented G-Shape heat-pipe design.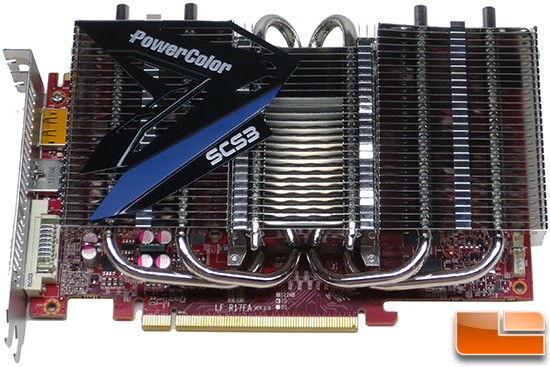 Here is a look at the front of the PowerColor 7850 SCS3 1GB that clearly shows the cooler hangs over the right side of the PCB. When it comes to dimensions, you are looking at 8.25" in length and nearly 5.25" in height! On our card the 1GB of GDDR5 SGRAM is made up of SK Hynix H5GQ1H24BFR memory IC's.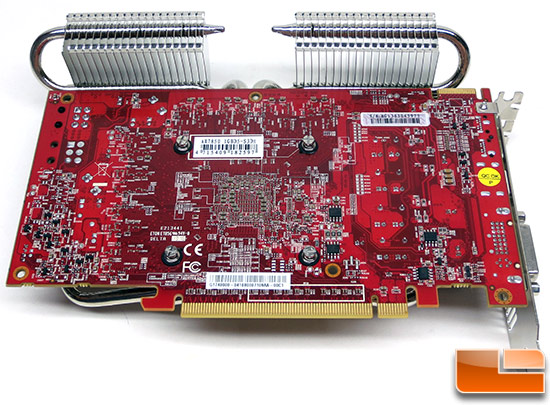 The back of the PowerColor HD 7850 SCS3 1GB GDDR5 video card shows off the red PCB and that is about it. Notice that this card has one AMD CrossFire interconnect, so it supports dual-GPU Crossfire setups.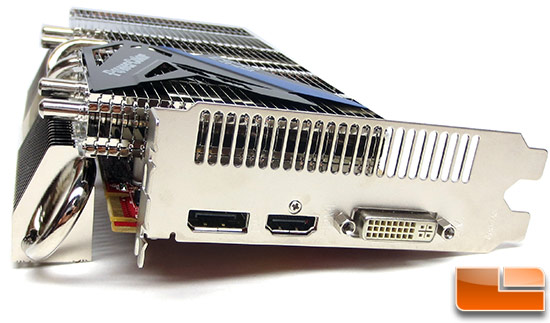 When it comes to video outputs on the PowerColor HD 7850 SCS3 1GB GDDR5 video card you have a DisplayPort 1.2, HDMI 1.4a and a Dual-Link DVI-I.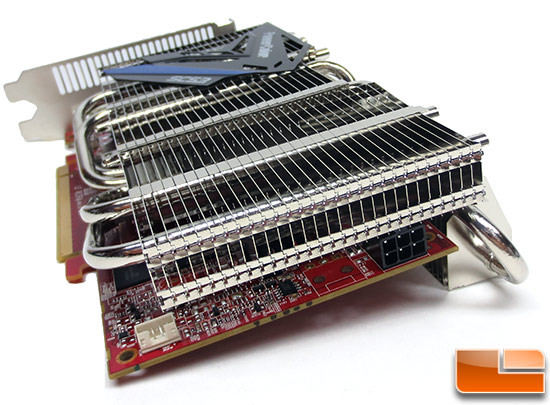 The PowerColor Radeon HD 7850 SCS3 1GB features a 6-pin PCIe power header that is located at the end of the card under the heatsink. This makes it tricky to get to, but it works. Notice that PowerColor left the 4-pin video card fan header, so if you wanted to add a GPU cooling fan down the road you have the ability to do so. PowerColor suggests that you use a 500 Watt or greater power supply with one 75W 6-pin PCie video card connector for proper operation.
When we connected the 6-pin PCIe power connector to the header we noticed that it made contact with the heatsink. PowerColor didn't leave you much room here at all, but there is just enough to ger the job done.
Retail Box and Bundle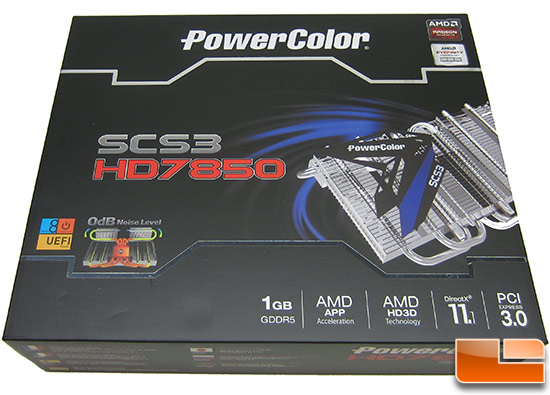 The PowerColor HD7850 SCS3 comes in a nice looking black retail box that lists some of the key features of the card. For example it supports DirectX 11.1, PCI Express 3.0, AMD HD3D Technology, AMD App Acceleration, Windows 8 UEFI Bios' and that it has 1GB GDDR5 256-bit memory along with a 0dB noise level. The box has a nice clean look to it and even shows the passive SCS3 color on it.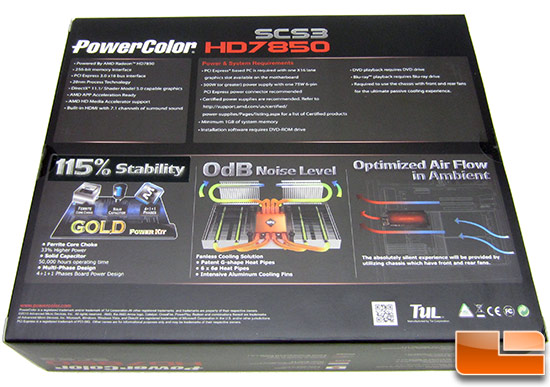 The back of the box goes into more details about the card and more details on the fanless cooling solution. For starters, it mentions that an 'absolutely silent experience will be provided by utilizing chassis which have front and rear fans'. That means that this card WILL NOT run properly in a totally passive system or in one with poor airflow. We contacted PowerColor USA and was told that you must have good air circulation in the chassis. We'll cover this more in-depth on the temperature testing page.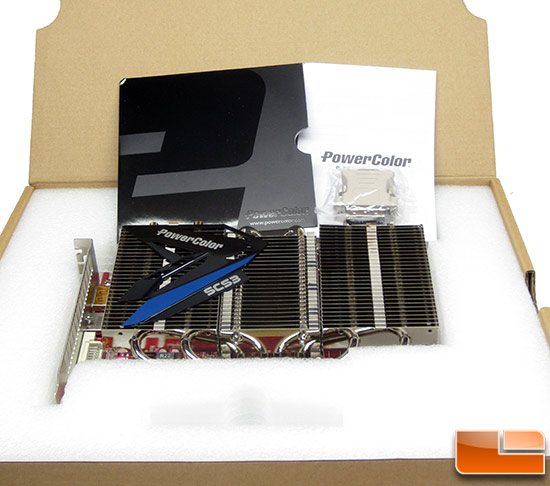 When it comes to the accessory bundle you get a DVI-to-VGA video adapter, owners manual and a driver disc. Right now there is also a limited time offer taking place that gives you a very nice gaming bundle courtesy the folks over at AMD. When you buy this card right now you'll get Far Cry 3 Blood Dragon, Bioshock Infinite and Tomb Raider! This game bundle has a retail value of $109.99, so to get it for free with a $219.99 video card is awesome.
Test System
Before we look at the numbers, let's take a brief look at the test system that was used. All testing was done using a fresh install of Windows 7 Ultimate 64-bit and benchmarks were completed on the desktop with no other software programs running.
Video Cards & Drivers used for testing:
NVIDIA GeForce 320.18
AMD Catalyst 13.6 Beta 2
Intel X79/LGA2011 Platform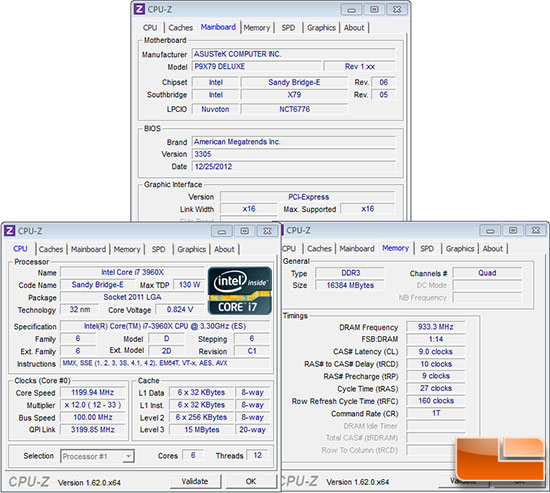 The Intel X79 platform that we used to test the all of the video cards was running the ASUS P9X79 Deluxe motherboard with BIOS 0305 that came out on 12/25/2012. The Corsair Vengeance 16GB 1866MHz quad channel memory kit was set to 1866MHz with 1.5v and 9-10-9-27 1T memory timings. The OCZ Vertex 3 240GB SSD was run with firmware version 2.25.
The Intel X79 Test Platform

Component

Brand/Model

Live Pricing

Processor

Intel Core i7-3960X

Motherboard

ASUS P9X79 Deluxe

Memory

16GB Corsair 1866MHz

Video Card

Various

Solid-State Drive

OCZ Vertex 3 240GB

Cooling

Intel RTS2011LC

Power Supply

Corsair AX1200

Operating System

Windows 7 Ultimate 64-bit
PowerColor 7850 SCS3 1GB GPU-Z Information:
Temperature Testing
Temperature & Noise Testing
Temperatures are important to enthusiasts and gamers, so we took a bit of time and did some temperature testing on the PowerColor 7850 SCS3 1GB Passive video card.
PowerColor HD7850 SCS3 1GB Video Card Fanless: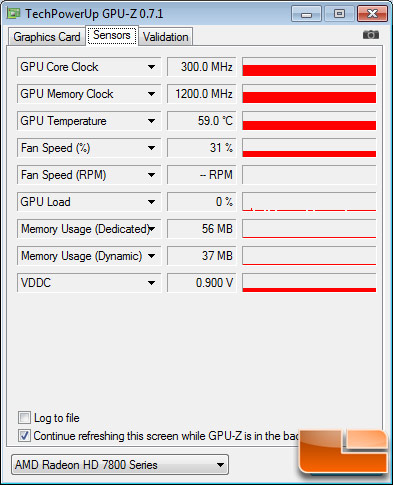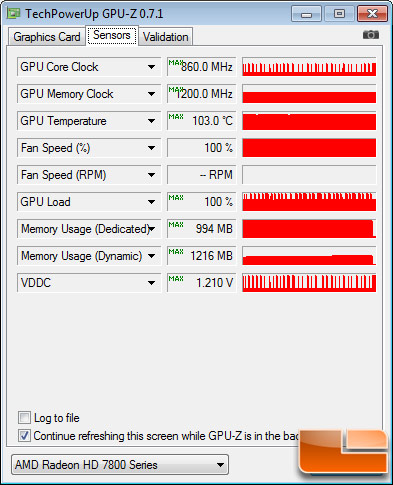 The PowerColor HD7850 SCS3 1GB video card had an idle temperature of 59.0C in a room that was 22.0C (72F). When we fired up some games we quickly found the card at 103C and was heavily throttling. Running the PowerColor HD7850 SCS3 1GB video card on an open test benchmark showed that the card was not getting enough fresh air and performance took a drastic hit.
Our solution was to take a single Thermaltake DuraMax 12 120mm Dual Ball Bearing fan to blow across the PowerColor 7850 SCS3 1GB card.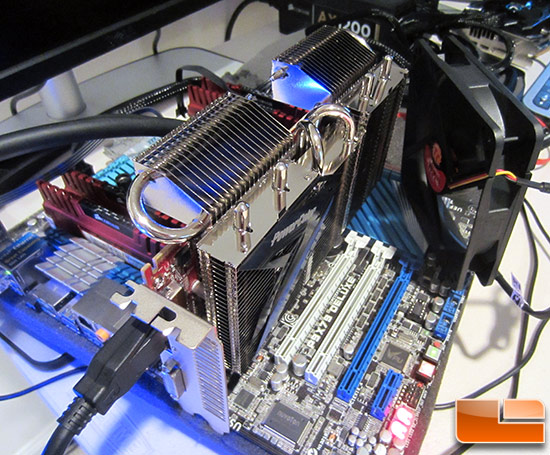 PowerColor HD7850 SCS3 1GB Video Card w/ Fan: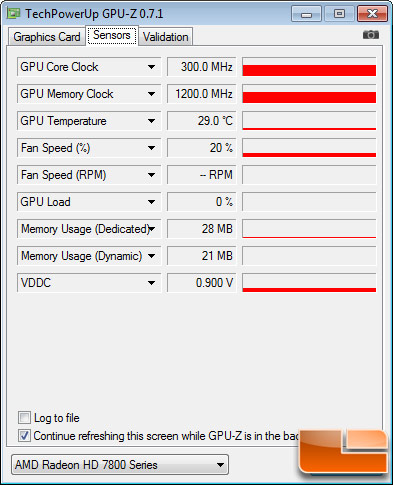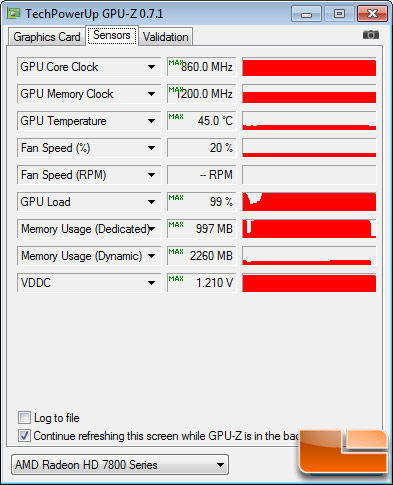 With the 120mm case fan blowing across the large passive cooler, we found dramatic temperature differences. For example, the idle temperature went from 59C to 29C and the load temperature went from 103C to 45C. This meant that the card was no longer throttling and that made gaming much more enjoyable. Since the PowerColor Radeon HD 7850 SCS3 1GB needs really good airflow, we aren't too sure that we'd call this card entirely passive. Yeah, it's passive with case fans blowing across it, but you take the fans away or put it in a fanless system and you got a card that is running 103C when you try to game with it!
Here are the benchmark results as found with FRAPS for 90 seconds of Battlefield 3 at 1920x1080 with Ultra image quality settings. One run is done with no 120mm fan in front of the PowerColor HD7850 SCS3 1GB card (passive) and the other is with the 120mm case fan (active). As you can see for the first 35 seconds the performance is nearly identical, but after that the setup without the 120mm fan starts to throttle due to being too hot and the frame rate drops severely. The end result of the benchmark run was 38FPS on average versus 43FPS, but looking at the frame rate per second in a chart like this really shows what is going on. We left the Thermaltake DuraMax 12 case fan in front of the Power Color HD7850 SCS3 1GB card for testing.
Battlefield 3
Battlefield 3 (BF3) is a first-person shooter video game developed by EA Digital Illusions CE and published by Electronic Arts. The game was released in North America on October 25, 2011 and in Europe on October 28, 2011. It does not support versions of Windows prior to Windows Vista as the game only supports DirectX 10 and 11. It is a direct sequel to 2005's Battlefield 2, and the eleventh installment in the Battlefield franchise. The game sold 5 million copies in its first week of release and the PC download is exclusive to EA's Origin platform, through which PC users also authenticate when connecting to the game.
Battlefield 3 debuts the new Frostbite 2 engine. This updated Frostbite engine can realistically portray the destruction of buildings and scenery to a greater extent than previous versions. Unlike previous iterations, the new version can also support dense urban areas. Battlefield 3 uses a new type of character animation technology called ANT. ANT technology is used in EA Sports games, such as FIFA, but for Battlefield 3 is adapted to create a more realistic soldier, with the ability to transition into cover and turn the head before the body.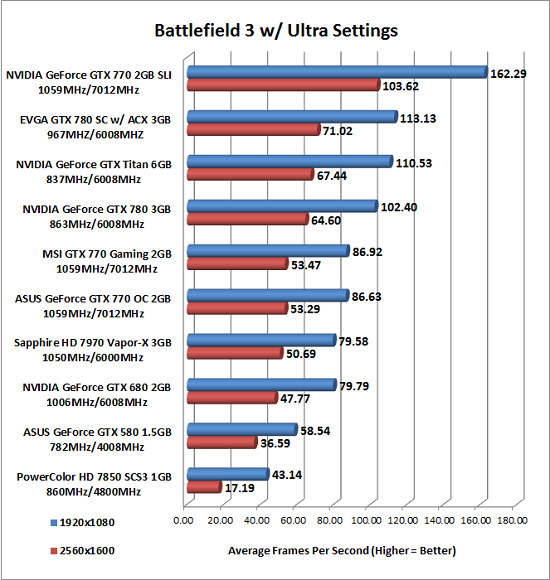 Benchmark Results: The PowerColor HD 7850 SCS3 1GB GDDR5 graphics card runs Battlefield 3 with Ultra settings great at 1920x1080, but doesn't do too hot at 2560x1600 since it doesn't have the horse power needed and the 1GB frame buffer is lacking. The AMD Radeon HD 7850 1GB cards are best played at 1920x1080 and lower, but we'll be including 2560x1600 numbers for those that are curious. We are done benchmarking under 1920x1080 as we don't know any desktop gamer with discrete graphics that plays games under 1920x1080 these days. A nice 1920x1080 widescreen LED monitor can be found online for as low as $109.99 shipped, so we expect that you have at least that since you are reading a review on a $220 mid-range gaming graphics card!

Bioshock Infinite
BioShock Infinite is a first-person shooter video game developed by Irrational Games, and published by 2K Games. BioShock Infinite is the third installment in the BioShock series, and though it is not part of the storyline of previous BioShock games, it does feature similar gameplay concepts and themes. BioShock Infinite uses a Modified Unreal Engine 3 game engine and was released worldwide on March 26, 2013.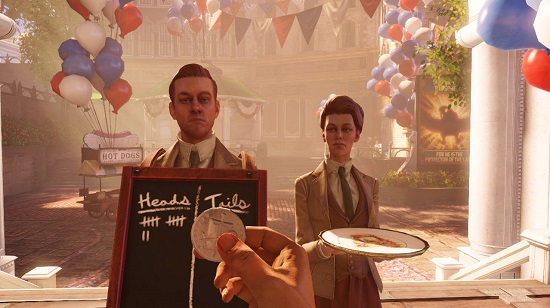 We tested BioShock Infinite with the Ultra game settings.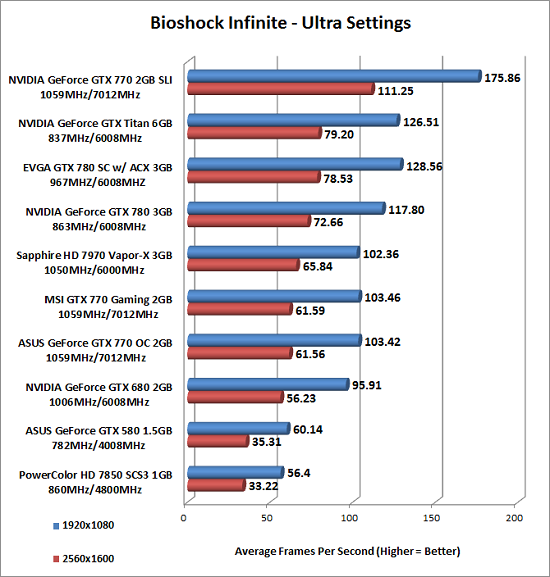 Benchmark Results: The PowerColor HD 7850 SCS3 1GB card did surprisingly well in Bioshock Infinite and was able to play the game title at 1920x1080 with an average frame rate of 56.40 FPS! At 2560x1600 we found the game would get choppy in some parts, but averaged 33 FPS on the benchmark!

Far Cry 3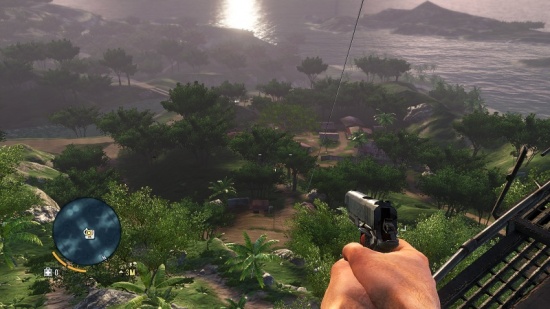 Far Cry 3 is an open world first-person shooter video game developed by Ubisoft Montreal and published by Ubisoft for Microsoft Windows, Xbox 360 and PlayStation 3. It is the sequel to 2008's Far Cry 2. The game was released on December 4th, 2012 for North America. Far Cry 3 is set on a tropical island found somewhere at the intersection of the Indian and Pacific Oceans.[11] After a vacation goes awry, player character Jason Brody has to save his kidnapped friends and escape from the islands and their unhinged inhabitants.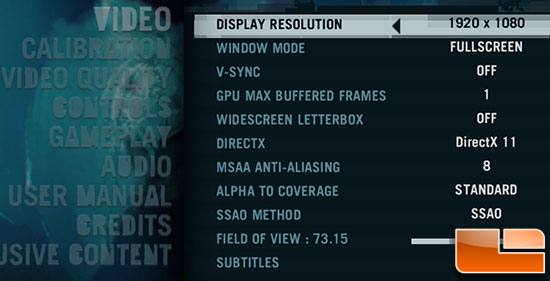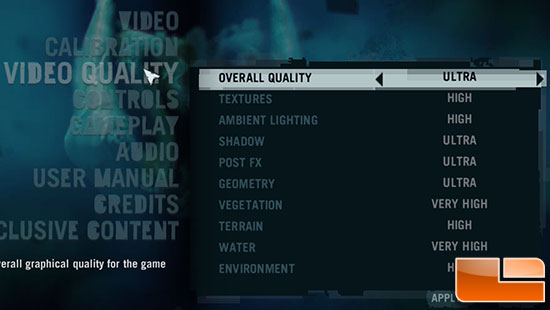 Far Cry 3 uses the Dunia Engine 2 game engine with Havok physics. The graphics are excellent and the game really pushes the limits of what one can expect from mainstream graphics cards. We set game title to 8x MSAA Anti-Aliasing and ultra quality settings.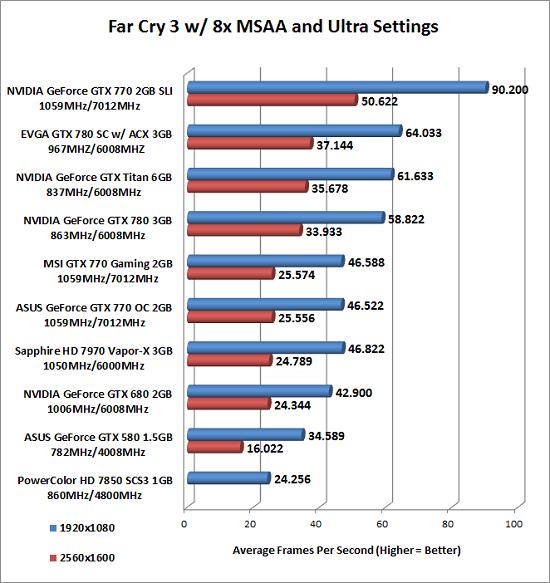 Benchmark Results: The PowerColor HD 7850 SCS3 1GB card was having a tough time playing Far Cry 3 with 8x MSAA and the Ultra preset as you can see. We were getting just 24 FPS on average at 1920x1080 and when we tried 2560x1600 we were getting under 3 FPS and the game was entirely unplayable. If you reduce the image quality settings down to Very High or High it is playable on the Radeon HD 7850 1GB at 1920x1080. You just can't crank up the image quality here on mid-range cards.
Hitman: Absolution
Hitman: Absolution is an action-adventure stealth DirecX 11 video game developed by IO Interactive and published by Square Enix. It is the fifth entry in the Hitman game series, and runs on IO Interactive's proprietary Glacier 2 game engine. This game title uses the Glacier 2 game engine and was released on November 20th, 2012.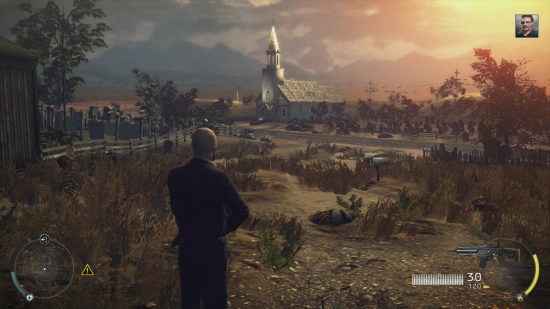 We benchmarked Hitman: Absolution with Ultra Settings.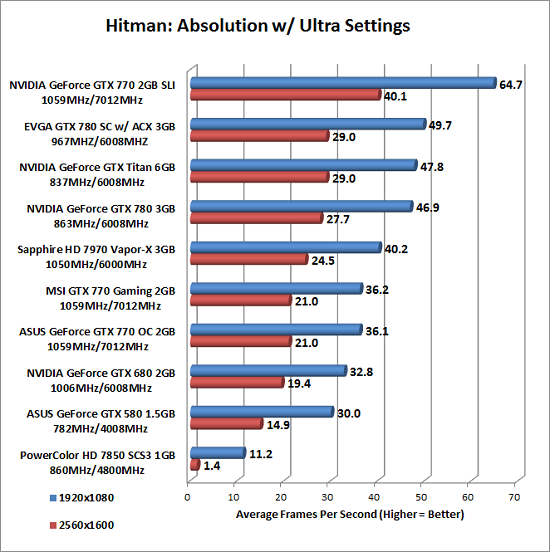 Benchmark Results: Hitman: Absolution is a pretty tough game title on graphics cards with the Ultra setting and the PowerColor HD 7850 was getting spanked pretty hard here. This is one of those game titles where it would have run fine with High IQ settings, but unfortunately we can't test at every preset as there just isn't enough time in the day to do it all!
Metro Last Light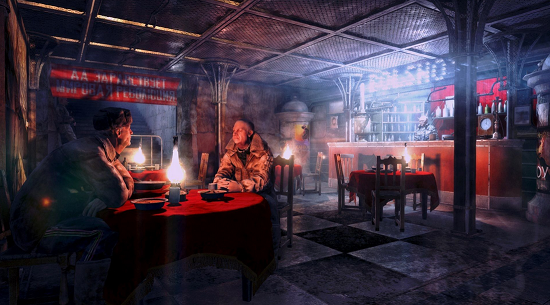 Metro: Last Light is a first-person shooter video game developed by Ukrainian studio 4A Games and published by Deep Silver. The game is set in a post-apocalyptic world and features action-oriented gameplay with a combination of survival horror elements. It uses the 4A Game engine and was released in May 2013.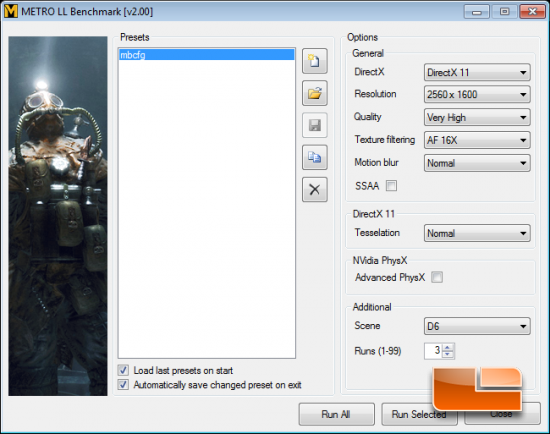 Metro Last Light was benchmarked with the games built-in benchmark with Very High quality settings, 16x AF, normal motion blur and DX11 tessellation set to normal. Advanced PhysX was disabled.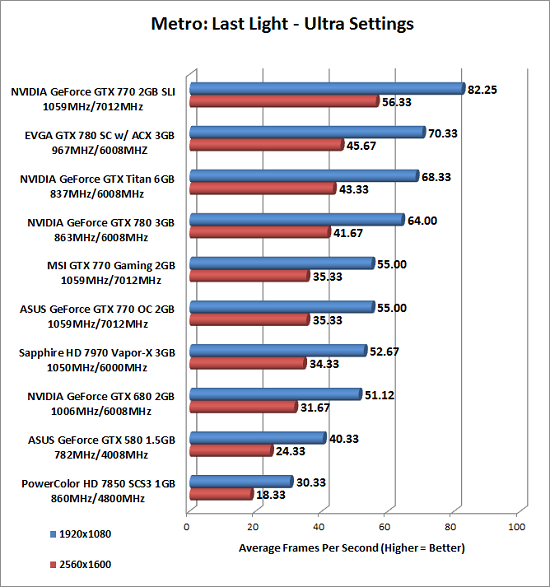 Benchmark Results: Metro Last Light is tough on video cards, but PowerColor HD 7850 SCS3 1GB card was able to average 30 FPS at 1920x1080! This is a very impressive result for what this card is!

Tomb Raider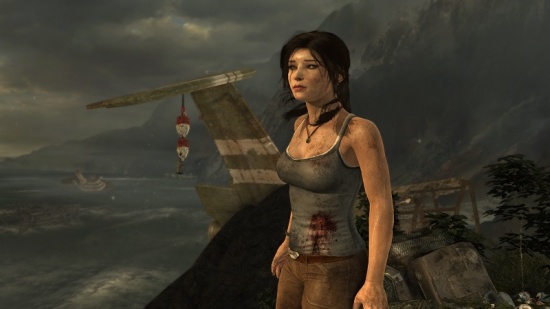 On March 5th, 2013 Square Enix released Tomb Raider, billed as a reboot of the franchise. In Tomb Raider, the player is confronted with a much younger Lara Croft who is shipwrecked and finds herself stranded on a mysterious island rife with danger, both natural and human. In contrast to the earlier games Croft is portrayed as vulnerable, acting out of necessity, desperation and sheer survival rather than for a greater cause or personal gain.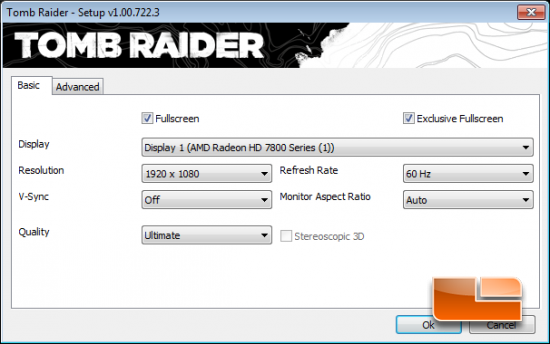 The game has been built on Crystal Dynamics's game engine called the "Crystal Engine" and the graphics look fantastic. AMD and Crystal Dyanmic's worked on a new technology called TressFX Hair, which AMD describes as "the world's first in-game implementation of a real-time, per-strand hair physics system" for this game title. We set the image quality to ultimate for benchmarking, but we disabled TressFX Hair under the advanced tab to be fair to NVIDIA graphics cards that don't support the feature.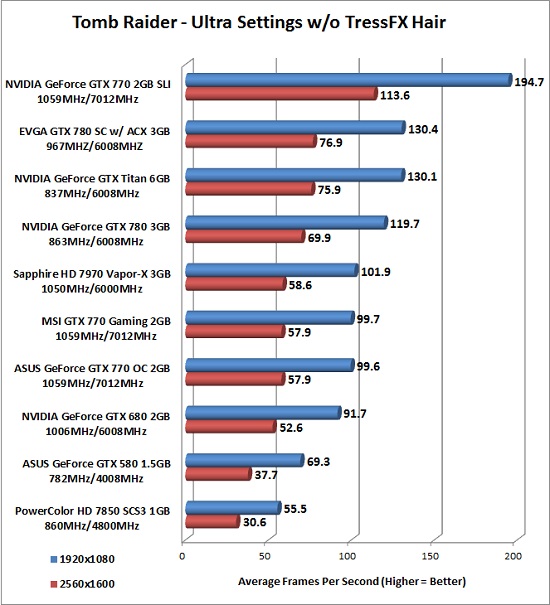 Benchmark Results: The PowerColor HD 7850 SCS3 1GB card did really well on Tomb Raider with the Ultra image quality preset. We discovered that it ran at nearly 56 FPS at 1920x1080 and was able to run over 30 FPS at 2560x1600!
3DMark 2013
3Dmark Fire Strike Benchmark Results - For high performance gaming PCs

Use Fire Strike to test the performance of dedicated gaming PCs, or use the Fire Strike Extreme preset for high-end systems with multiple GPUs. Fire Strike uses a multi-threaded DirectX 11 engine to test DirectX 11 hardware.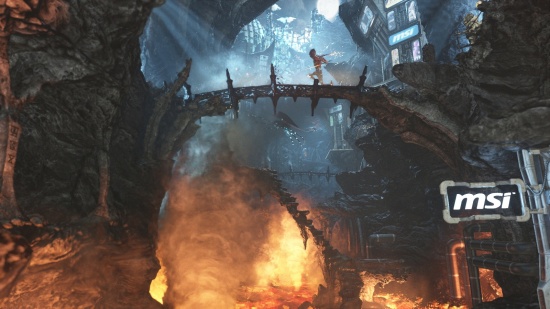 Fire Strike Benchmark Results: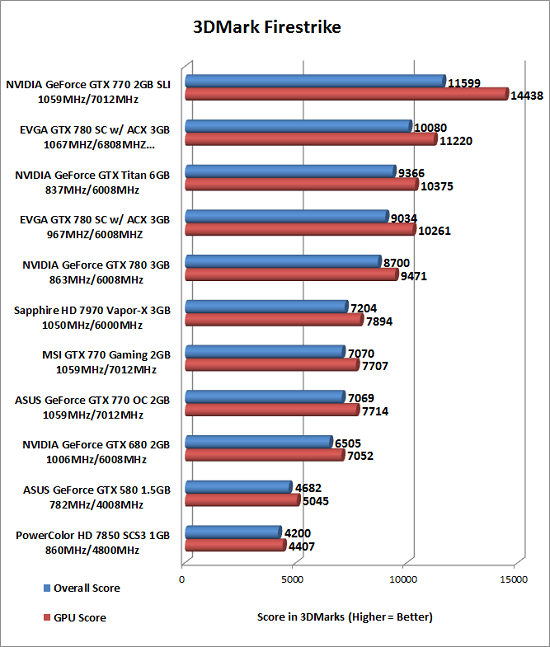 Benchmark Results: The PowerColor HD 7850 SCS3 1GB card had an overall score of 4200 3DMarks in Fire Strike.
Fire Strike Extreme: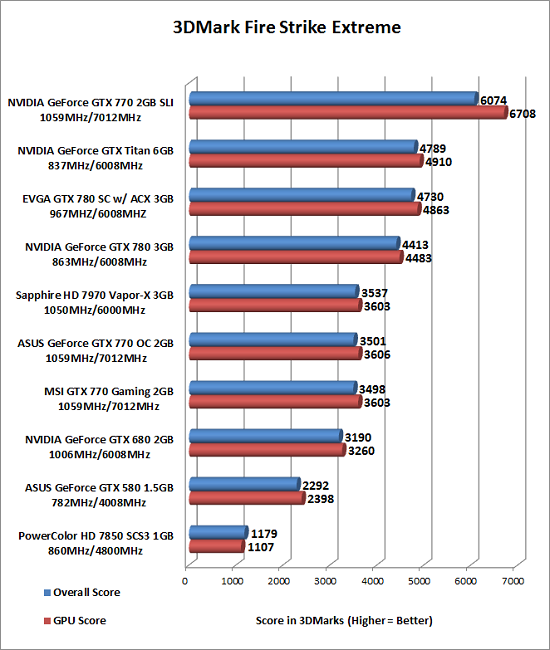 Benchmark Results: When moving up to the 3DMark Fire Strike Extreme benchmark found the PowerColor Radeon HD 7850 1GB had a score of 1179 3DMarks.
Power Consumption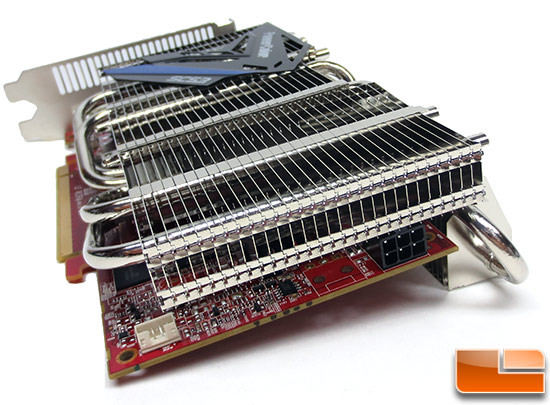 For testing power consumption, we took our test system and plugged it into a Kill-A-Watt power meter. For idle numbers, we allowed the system to idle on the desktop for 15 minutes and took the reading. For load numbers we ran three games at 1920x1080 and averaged the peak results seen on the power meter.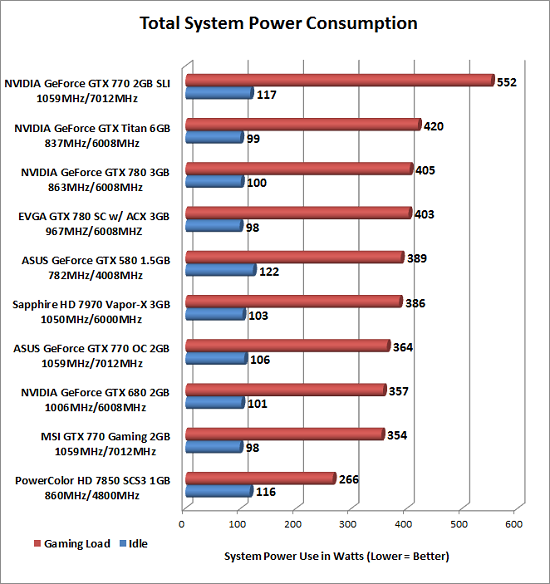 Power Consumption Results: The PowerColor HD 7850 SCS3 1GB used more power than we expected at an idle, but was right where we expected it to be under a gaming load. We did some poking around and it appears that the memory is not being fully clocked down in 2D mode at idle for unknown reasons, so it runs at an effective speed of 4800MHz at all times. This is very strange to us and we've never seen another Radeon HD 7000 series card not power down the memory at an idle power state.

We've been benchmarking a number of high-end cards this past month, so to see a video card down at just 266 Watts when gaming is nice.
Final Thoughts and Conclusions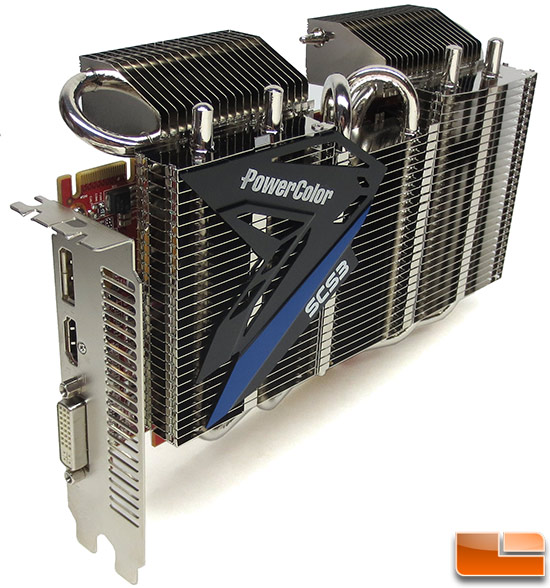 The PowerColor Radeon HD 7850 SCS3 1GB video card is without a doubt an impressive looking card. You don't run across passive cards every day, let alone a mid-range AMD Radeon HD 7850 1GB card with the reference clock speeds left intact! PowerColor was very ambitious with this cards design, but did they hit a home run or a foul ball?
When it comes to pricing the PowerColor Radeon HD 7850 SCS3 1GB GDDR5 video card has an MSRP of $219.99. You can get the XFX Radeon HD 7850 1GB Core Edition for $139.99 after rebate, so you aren't saving money by going fanless. In fact you are spending $80 more to go fanless and when you get to the $210 price range you are talking AMD Radeon HD 7870 2GB video card figures. The XFX Radeon HD 7870 2GB video card for $201.99 shipped AR, so if you are going fanless it means you are willing to sacrifice performance and pay extra.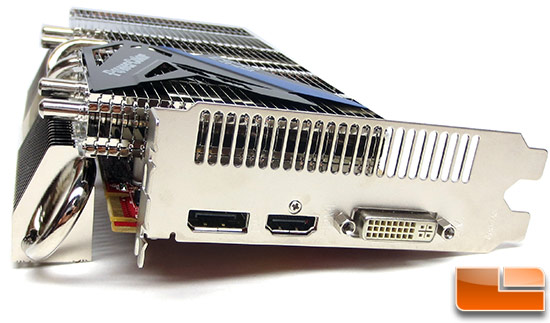 Then there is the whole performance issue. It greatly depends on how the cooling in your chassis is setup. PowerColor mentions on the back of the retail box that the 'silent experience' can only be had in chassis that have front and rear case fans. Our testing showed that you must have air moving across the PowerColor HD 7850 SCS3 1GB cards passive heatsink in order for it not to overheat and throttle down. What is the point of having a passive video card if it requires front and rear case fans right? When we placed a 120mm fan close to the PowerColor HD 7850 SCS3 1GB video card we saw idle temperatures of 29C and peak gaming temperatures of just 45C. These are very good results, but the card basically had a 120mm cooling fan! We'll let you decide the verdict when it comes to cooling as it will greatly vary on the specifications of the case this card is being installed in.
The other oddity with this video card is that we noticed an extremely high idle power draw and then we found that the 1GB GDDR5 memory always runs at 1200MHz (4800MHz effective). For some reason PowerColor does not reduce the memory clock speeds in 2D mode and that means more heat and more power consumption at all times. This is likely something that PowerColor could easily change in the cards vBIOS, but for some reason they have yet to do so.
For us, we find the the high price tag, required front and rear case fans, and the 1GB of GDDR5 memory that always runs at full speed a bit too much. We love the idea of a passive AMD Radeon HD 7850 1GB video card, but you must have active cooling with this card, the card doesn't idle properly and the price versus performance ratio isn't there.
Legit Bottom Line: We love that PowerColor continues to try out new things and that they support the silent PC movement, but they might have pushed the limits a bit too much here.