AMD Releases Richland APUs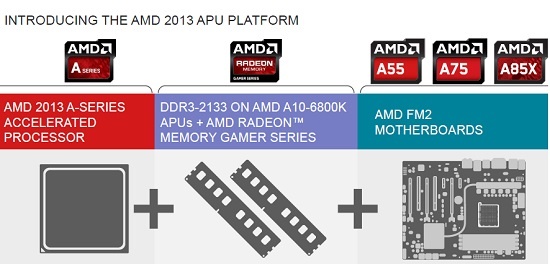 Last week, Intel released 4th Generation Core "Haswell" processors and this week we have AMD releasing the company's 3rd generation of APUs, known as "Richland." AMD "Richland" APUs are said to bring 20-40 percent performance increases over the previous generation of AMD A-Series "Trinity" APUs, so AMD fans have been waiting months for this day to come. The other nice thing about these new APUs is that they don't require a new platform and work in all existing AMD Socket FM2 motherboards after a quick BIOS update.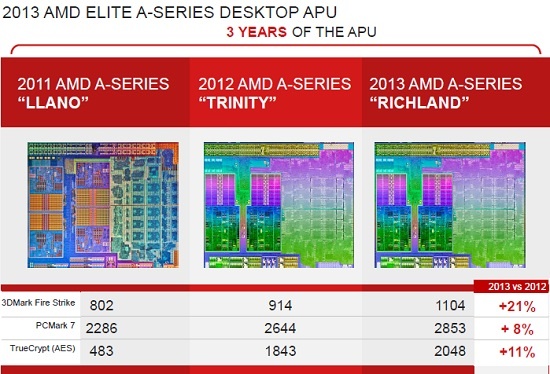 It has been three years since AMD launches the Accelerated Processing Unit (APU) and the they have progressed nicely since a rather bumpy launch. The AMD Llano APU was a nice processor on the FM1 platform, but there was no upgrade path for the platform and the socket was essentially dead from the get go. Last years AMD Trinity APU brought significant performance gains along with the new FM2 platform, which thankfully can support both Trinity and Richland! It's always good when your socket design can last for more than one generation!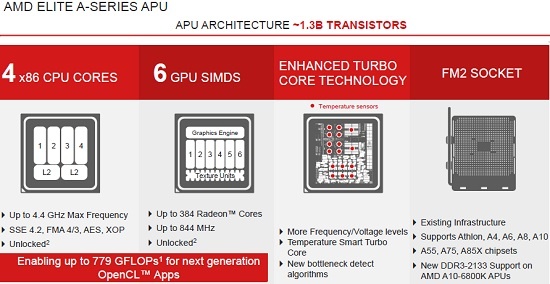 The AMD Richland APU uses "Piledriver" 32nm HKMG process cores (up to 4 cores), up to 128 KB L1 Cache (64 KB Instruction, 64 KB Data), Up to 4 MB L2 and 2 x 128-bit FPUs / compute module. The 32nm processors are available in 65W and 100W configurations and have a die size of 246mm2 with 1.3 billion transistors. AMD Turbo Core 3.0 has taken the increased the boost frequency from 4.2GHz from the last generation Trinity APU to 4.4GHz with Richland. Richland supports the latest ISA instructions including FMA4/3, AVX, AES, XOP. Basically you get the latest Piledriver cores along with VLIW4 GPU architecture. The end result is up to 779 GFLOPS on OpenCL Apps.
2013 AMD A-Series Platform Features:
Turbo Charged x86 architecture featuring "Piledriver" cores

Supports up to 4 cores and support for the latest ISA instructions including FMA4/3, AVX, AES, XOP
Up to 2MB L2 cache per dual-core module (up to 4MB total)
Max Turbo Frequencies up to 4.4 GHz
Configurable via AMD OverDrive

AMD Radeon HD 8000 Series GPU Cores

Featuring VLIW 4 architecture
Up to 384 shaders
Up to 844MHz
Up to 8xAA and 16AF support
Controllable via AMD OverDrive
DirectX11 Support

New DDR3-2133 support on A10 APUs
Enhanced AMD Turbo Core

More Frequency/Voltage levels for CPU and x86 cores
Temperature Smart Turbo Core
New bottleneck detect algorithms
Controllable via AMD OverDrive

UVD and VCE

Video Encode and Decode Hardware to offload CPU
AMD Picture Perfect support with HD Post Processing technologies

Support for latest display technologies

AMD Eyefinity2 technology for 3+1 monitor support
Display Port 1.2 support

FM2 Platform
AMD CrossFire support with AMD A85X motherboards
AMD Memory Profile support (auto select memory timings in select DIMMs)
AMD Dual Graphics support with AMD Radeon HD 6450, 6570, and 6670 graphics cards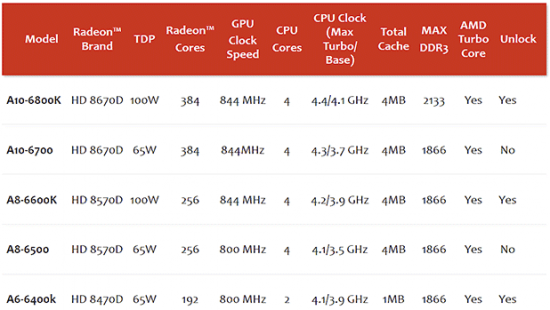 Here are the details of the five Richland APUs that will be available at launch. The AMD A10 series quad-core processors have 384 Radeon cores clocked at 844MHz and 4MB of total cache. Richland has a 44MHz speed bump on the Radeon Cores over the previous Trinity APUs! The AMD A8 series are also quad-core processors with 4MB cache, but have just 256 Radeon cores and the speed on them drops to just 800MHz on the A8-6500. The AMD A6 series consists of the A6-6400K, which is a dual-core part with just 1MB cache and 192 Radeon cores running at 800MHz. Notice that just the AMD A10-6800K, has been validated and certified for use with DDR3-2133MHz memory. The other Richland APUs officially support just 1866MHz memory kits.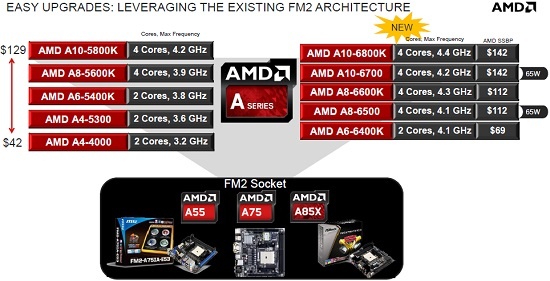 The AMD FM2 platform can now use both Trinity and Richland APUs and there are ten processors to pick from. The AMD A6-6400K is a dual-core part that runs 4.2GHz for $69, the AMD A8-6500 and A8-6600K are quad-core parts that are $112 and the AMD A10-6700 and A10-6800K are $142. AMD is making you pick between lower clocks and a 65W TDP or an unlocked processor with higher clocks and a 100W TDP. Personally, we'd go with the unlocked part and set it up how you want to in your motherboards BIOS!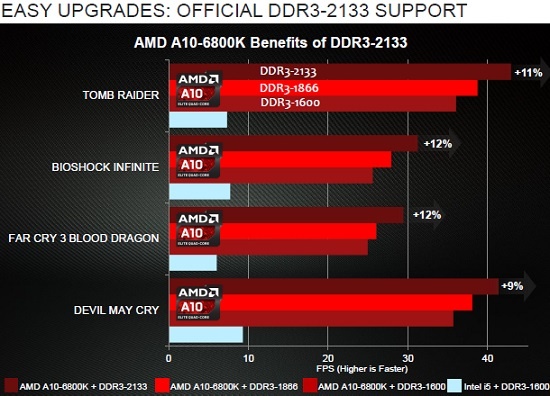 Memory plays a critical role on AMD APU's and can dramatically improve your user experience by using the highest supported memory kit. The AMD A10-6800K Richland APU is the first AMD APU to ever officially support DDR3 2133MHz dual-channel memory. AMD says that you get a 9-12% performance boost in popular game titles when you run 2133MHz versus 1600MHz, so be sure to buy the fastest memory kit possible. For the AMD A10-6800K we recommend 2133-2400MHz. Our AMD A10-6700 Richland APU won't run 2133MHz with full stability, which is odd, so 2133MHz is going to be hit or miss on the A10-6700. It doesn't officially support it, but not every processor is going to be able to run it out of the box.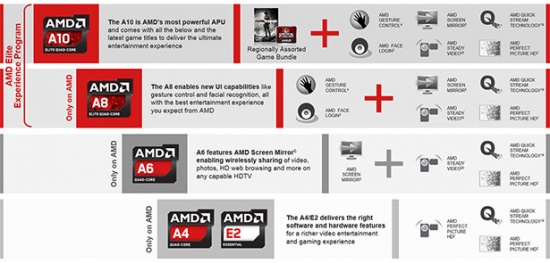 The new AMD APU's also now come with a software bundle thanks to the AMD Elite Experience Program! The AMD A10 APU product line is available with a game title from AMD's Never Settle Game Promotion and a suite of new apps that is being released for the very first time. The game title that will be included with AMD A10 series APU's here in North America is Tomb Raider, so if you spend $142 on the AMD A10-6800K or the A10-6700, you get a game title that normally sells for $40 on Amazon. The other software features are AMD Gesture Control, AMD Screen Mirror, AMD Quick Stream Technology, AMD Face Login, AMD Steady Video and AMD Perfect Picture HD. The summary on those applications are below.
AMD Face Login – Uses facial recognition technology and a webcam to allow for quick log-in to Windows and other browser-based websites that require a log-in, like social networking sites and email services;

AMD Gesture Control – Tracks a user's hand gestures and converts them into commands for basic functions on media players, browsers, e-readers and other popular applications leveraging a webcam, advanced image processing and machine-vision algorithms;

AMD Screen Mirror – Wirelessly shares content like photos, videos, HD media streams and webpages from a PC or tablet based on a 2013 AMD A-Series APU with any supported TV or display with a DLNA receiver, or with other PCs. Available only on select AMD-based devices;

AMD Video Entertainment Features – Make your content look its very best: AMD Steady Video technology gives users push-button control over shaky home video and helps stabilize the images for better viewing; AMD Quick Stream technology enables smooth video streaming and a virtually interruption free streaming experience; and AMD Perfect Picture HD8, creates rich and lifelike color on video entertainment.
AMD sent over the A10-6700 and A10-6800K "Richland" APUs to try out and those are going to be the processors we will be looking at closer today!
Test Systems
Before we look at the numbers, let's take a brief look at the test system that was used. All testing was done on a fresh install of Windows 8 Enterprise 64-bit and benchmarks were completed on the desktop with no other software programs running. We completely overhauled our test setup for the Intel Core i7-4770K processor launch, so we are starting over from scratch when it comes to testing everything. For this review will be comparing Intel Z77, Intel Z87 and AMD FM2 platforms. These platforms are aimed at mainstream users and all feature integrated graphics, so it will be interesting to see how the systems compare. We understand that there is a significant price difference between some of the processors we will be testing, but the platforms are targeted to the same consumer group.
AMD Socket FM2 System:
The AMD A85X platform that we used to test the AMD socket FM2 processors featured the GA-F2A85X-UP4 motherboard with BIOS F4 that came out on 3/13/2013. The Corsair Dominator Platnium 8GB 2133MHz memory kit was set to XMP 1.3 memory profile settings, which is 1.5v and 9-11-11-31 1T memory timings. The Corsair Neutron GTX 240GB SSD uses 19nm NAND and was using M310 firmware.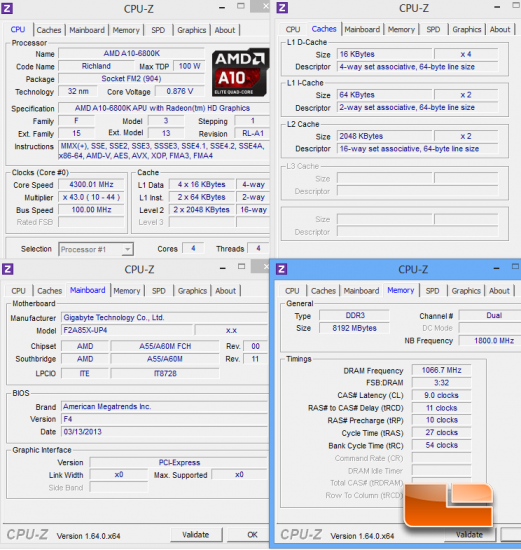 Intel LGA 1150 Test System:
The Intel Z87 platform that we used to test the Intel 1150 processors was running the Intel DZ87KL-75K motherboard with BIOS 1817 that came out on 5/08/2013. The Corsair Dominator Platnium 8GB 2133MHz memory kit was set to XMP 1.3 memory profile settings, which is 1.5v and 9-11-11-31 1T memory timings. The Corsair Neutron GTX 240GB SSD uses 19nm NAND and was using M310 firmware.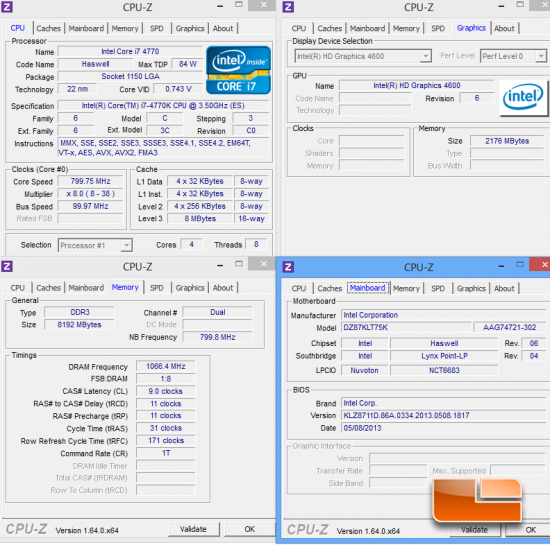 Here is a quick look at the CPU-Z information for our main test system that we'll be doing the testing on.
Intel LGA1150 Test Platform

Component

Brand/Model

Live Pricing

Processor

Intel Core i7-4770K

Motherboard

Intel DZ87KL-75K

Click Here

Memory

8GB Donimator 2133MHz

Click Here

Video Card

N/A

Click Here

Hard Drive

Corsair Neutron GTX 240GB SSD

Click Here

Cooling

Intel Retail Boxed

Click Here

Keyboard

Corsair K90

Click Here

Mouse

Corsair M95

Click Here

Power Supply

Corsair AX860i

Click Here

Operating System

Windows 8 64-Bit

Click Here
SiSoftware Sandra 2013 SP3a
The Sisoft Sandra 2013 SP3a benchmark utility measures pretty much all of your system components, but we'll be using it to focus on memory and CPU performance!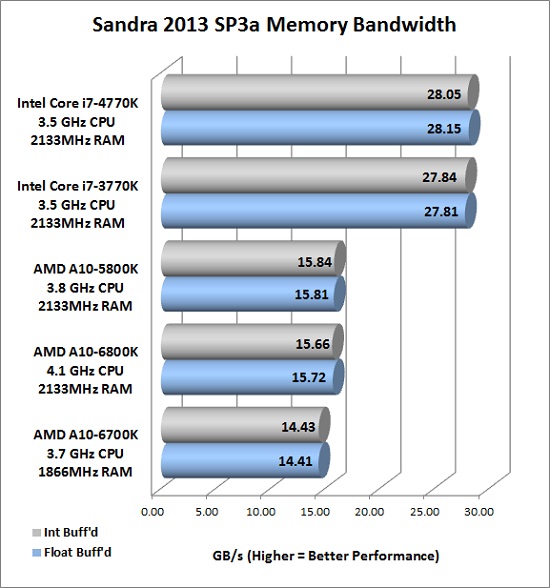 Results: It looks like the AMD A10-6800K may have taken a little bit of a hit to the memory performance since the last gen APU's. The A10-5800K was able to hit an aggregate throughput of 15.83GB/s while the A10-6800K was .14GB/s slower with an aggregate performance of 15.69GB/s.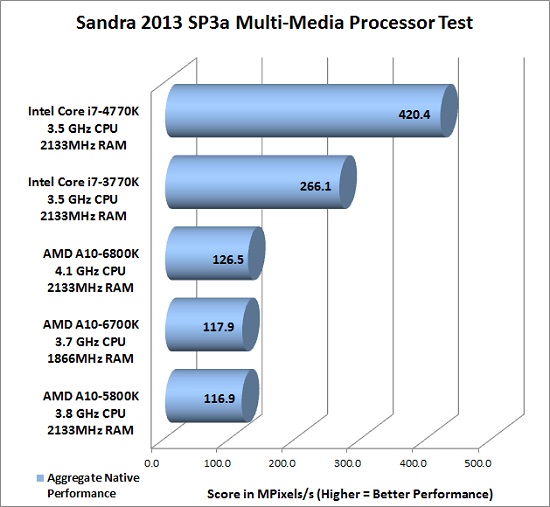 Results: The AMD A10-6800K 'Richland' APU was able to hit an aggregate of 126.5 MPixels/s which is 8.2% faster than the A10-5800K 'Trinity' APU.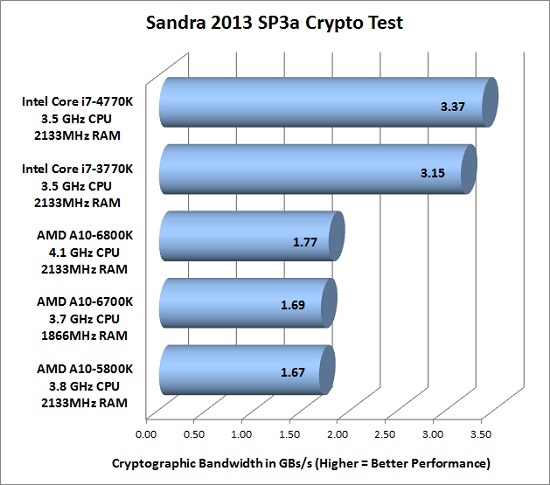 Results: All the new mainstream and high-end desktop processors support AES-NI and have pretty good Cryptographic Bandwidth numbers. The AMD A10-6800K 'Richland' APU was 6% faster than the AMD A10-5800K 'Trinity' APU.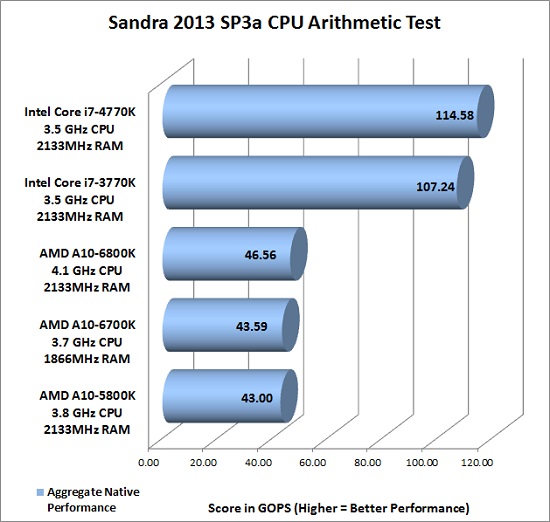 Results: In the CPU Arithmetic benchmark the AMD A10-6800K was 8.3% faster than the A10-5800K APU and 6.8% faster than the A10-6700K APU.


x264 HD Encoding
Simply put, the x264 HD Benchmark is a reproducible measure of how fast your machine can encode a short HD-quality video clip into a high quality x264 video file. It's nice because everyone running it will use the same video clip and software. The video encoder (x264.exe) reports a fairly accurate internal benchmark (in frames per second) for each pass of the video encode and it also uses multi-core processors very efficiently. All these factors make this an ideal benchmark to compare different processors and systems to each other. We are using x264 HD v5.0.1 for this test.
This application did fairly well when run on 12 threads, as you can see from the screen shot above. The first pass was not using all of the processing power available on the cores, but on the second pass all 12 threads were at ~95% load.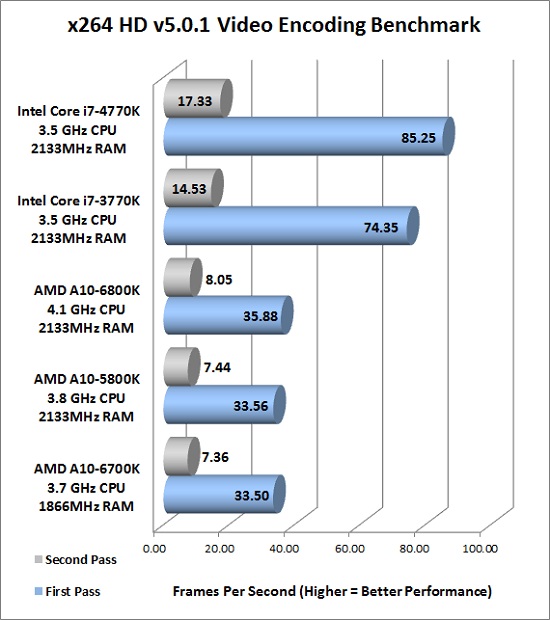 Benchmark Results: In the x264 HD Video encoding benchmark the AMD A10-6800K was 8.2% faster in the second pass and 6.9% faster in the less CPU intensive first pass. The 6800K and the 5800K are both running 2133MHz DDR3 DRAM, the 6700K is running the RAM at 1866MHz and was only a fuzz slower than the A10-5800K.

CyberLink MediaEspresso 6.7
CyberLink MediaEspresso 6.7 is a blazingly fast media universal converter that can transcode your videos, photos and music files and out put them to a huge range of portable devices including mobile phones, portable media players and even game consoles. With technologies like Smart Detect, Direct Sync and CyberLink's TrueTheater video enhancements, you can not only forget about complicated format, resolution and output settings, but your converted file will come out the other side looking better than when it went in! MediaEspresso 6.7 can be used to output your slideshows and videos to mobile devices like an iPhone, iPod, PSP or Zune. Pre-set profiles eliminate the need for any complex settings and you can just drag-and-drop the video files you want to convert straight into the application.
We downloaded a clip that was encoded at 24 frames per second (fps) at a resolution of 1920 x 1080 (1080p). We then used MediaEspresso 6.7 to convert this clip to work on our iPhone 5 with the default mobile phone profile settings.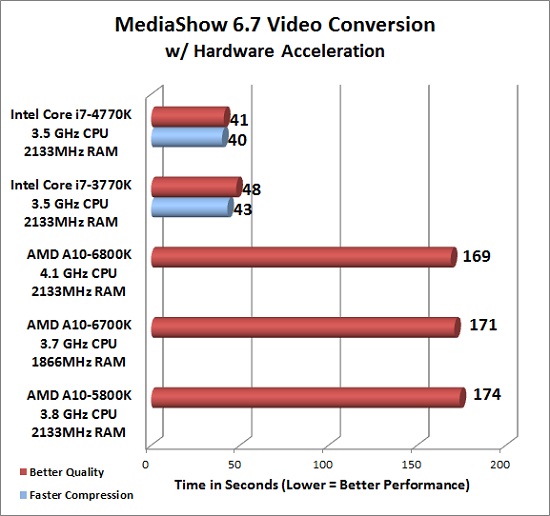 Benchmark Results: The AMD A10-6800K certainly wasn't able to hold a candle to the Intel hardware, but it's not meant to. When we compare the AMD A10-6800K 'Richland' APU to the previous generation AMD A10-5800K 'Trinity' APU there is 5 seconds separating the completion times, which is roughly a 3% performance gain.

It should be noted that we Intel Quick Sync Video was enabled and we had the choice between the faster conversion and better quality profiles. AMD processors do not have these profile options and that it was only run once as there is just one default profile with hardware encoding and decoding enabled.
Handbrake
Handbrake
HandBrake is an open-source, GPL-licensed, multiplatform, multithreaded video transcoder, available for MacOS X, Linux and Windows. It is popular today as it allows you to transcode multiple input video formats to h.264 output format and is highly multithreaded.
This workload is a fibe minute HDV. The input file is encoded in Mpeg format. Video encode parameters are 23.9mbps, 1920x1080, 29.9fps. Audio encode parameters are 384 kbps, 48kHz, 2channel, mpeg audio version 1 layer 2. File size is 128MB. The workload is encoded into h.264 output format using the preset - high profile. HandBrake version 0.9.9 was used for benchmarking.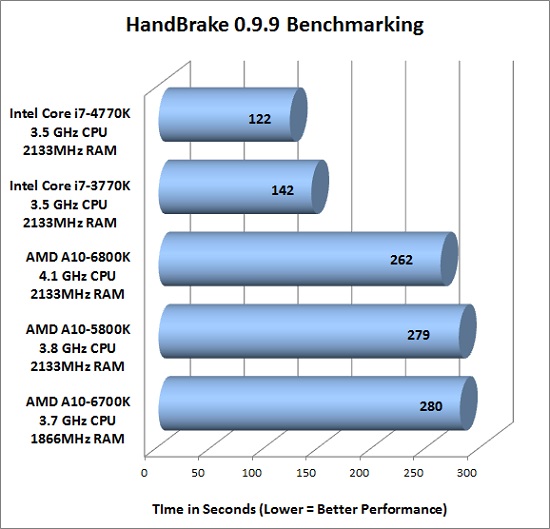 Benchmark Results: The AMD A10-6800K was 17 seconds or 6.1% faster than the AMD A10-5800K, both of which are running the memory at 2133MHz. The AMD A10-6700K was 1 second slower than the A10-5800K, conceivably due to the memory running at 1866MHz.

POV-Ray 3.7 RC7
Processor Performance on Pov-Ray 3.7 RC7:
The Persistence of Vision Ray-Tracer was developed from DKBTrace 2.12 (written by David K. Buck and Aaron A. Collins) by a bunch of people (called the POV-Team) in their spare time. It is a high-quality, totally free tool for creating stunning three-dimensional graphics. It is available in official versions for Windows, Mac OS/Mac OS X and i86 Linux. The POV-Ray package includes detailed instructions on using the ray-tracer and creating scenes. Many stunning scenes are included with POV-Ray so you can start creating images immediately when you get the package. These scenes can be modified so you do not have to start from scratch. In addition to the pre-defined scenes, a large library of pre-defined shapes and materials is provided. You can include these shapes and materials in your own scenes by just including the library file name at the top of your scene file and by using the shape or material name in your scene. Since this is free software feel free to download this version and try it out on your own.
The most significant change from the end-user point of view between versions 3.6 and 3.7 is the addition of SMP (symmetric multiprocessing) support, which, in a nutshell, allows the renderer to run on as many CPU's as you have installed on your computer. This will be particularly useful for those users who intend on purchasing a dual-core CPU or who already have a two (or more) processor machine. On a two-CPU system the rendering speed in some scenes almost doubles. For our benchmarking we used version 3.7 RC5, which is the most recent version available. The benchmark used all available cores to their fullest extent to complete the render.
Once rendering on the object we selected was completed, we took the elapsed time from the dialog box, which indicates the exact time it took for the benchmark to finish the benchmark. A lower time indicates faster system performance. This benchmark used all 12 threaded and loaded each one up at 100% load!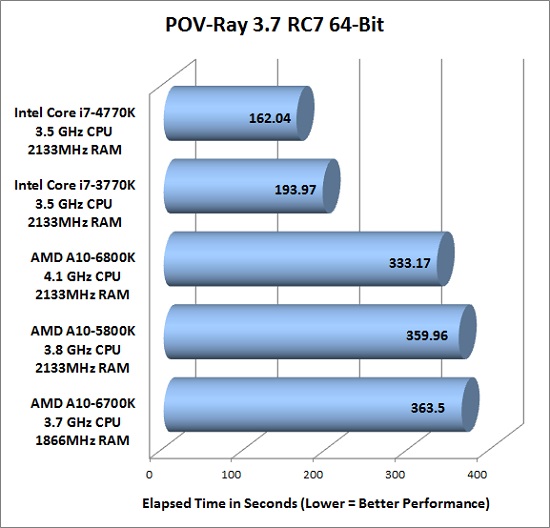 Benchmark Results: The AMD A10-6800K was 26.79 seconds faster than the AMD A10-5800K, this translates to a performance gain of 7.5%.

Cinebench R11.5
MAXON; CINEBENCH R11.5:
MAXON recently released CINEBENCH Release 11.5, an advanced hardware testing suite that assesses a computer's performance capabilities. CINEBENCH is based on the same powerful technology as MAXON's award-winning animation software CINEMA 4D, which is used extensively by studios and production houses worldwide for 3D content creation. The new version of CINEBENCH includes the ability to more accurately test the industry's latest hardware, including systems with up to 64 processor threads, and the testing environment better reflects the expectations of today's production demands. A more streamlined interface makes testing systems and reading results incredibly straightforward. Again, higher Frames/Second and point score equal better performance.
Cinebench R11.5 was able to put a 100% load across all the cores on all of the processors, which makes this a great benchmark to look at multi-core platforms.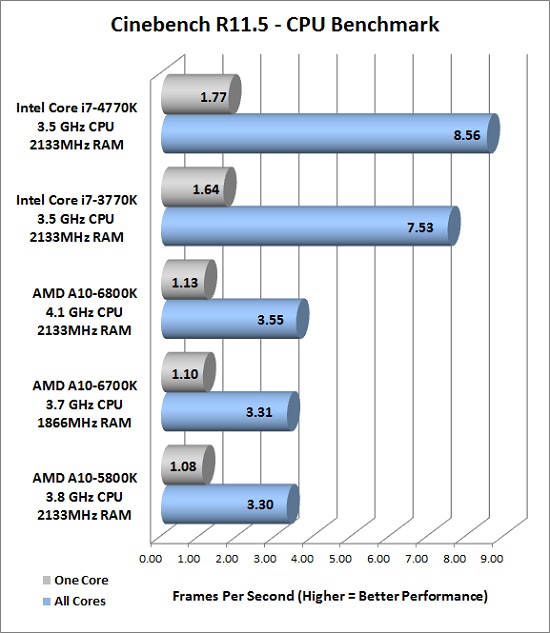 Benchmark Results: The 'Richland' A10-6800K saw a performance gain of 7.6% across all of the cores over the AMD A10-5800K APU. Single core performance of the AMD A10-6800K saw only a 4.6% gain in performance over the A10-5800K.

PCMark 8
We were given an advanced copy of Futuremark PCMark 8 Professional Edition ahead of the public and figured we'd give it a quick test run. PCMark 8 is expected to launch later this month.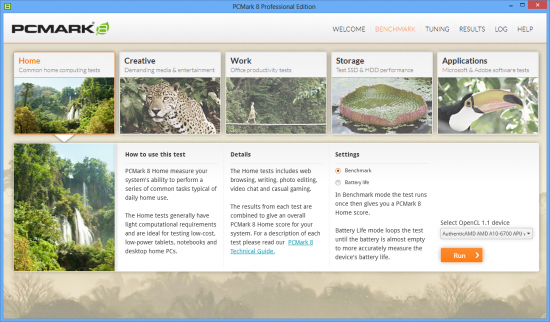 PCMark 8 includes five new benchmark tests, each designed around a specific scenario. Each benchmark produces a score you can use to compare systems as well as detailed results from the individual workloads.

PCMark 8 Home, Creative, and Work benchmark tests

These three benchmark tests reflect the most common computer usage patterns - light home use, demanding media and entertainment activities, and typical office productivity tasks. Choose the benchmark that best matches the intended audience for the device being tested, or run all three for a complete picture of the device's performance.

PCMark 8 Storage test

PCMark 8 Storage benchmark is ideal for testing the performance of SSDs, HDDs and hybrid drives. Using traces recorded from Adobe Creative Suite, Microsoft Office and a selection of popular games, PCMark 8 Storage highlights real-world performance differences between storage devices.

New Adobe and Microsoft application tests

One of the most exciting new features in PCMark 8 is the Applications benchmark which measures system performance using popular applications from the Adobe Creative Suite and Microsoft Office. You can choose which tests to run based on the applications installed on your system.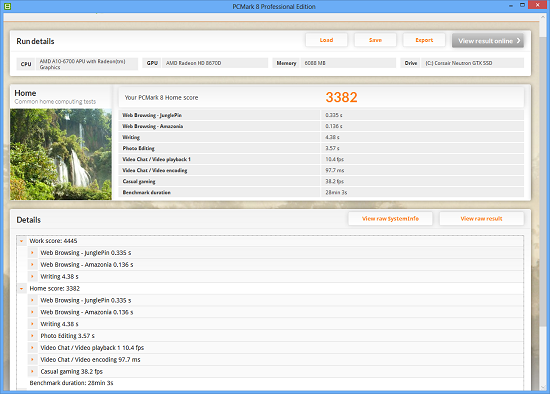 We ran the default test for each CPU and selected the respective iGPU to run the OpenCL workloads.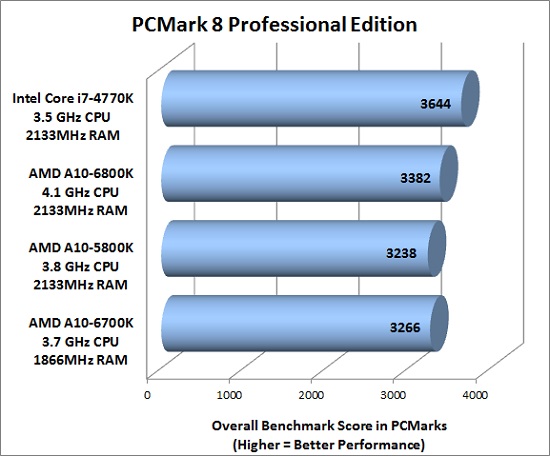 Benchmark Results: The PCMark 8'Home Score' for each processor was fairly close with less than 400 points separating the field. The Intel Core i7-4770K was ahead of the AMD A10-6800K by 7.7%. The AMD A10-6800K was found to be 4.5% faster than the AMD A10-5800K when both processors are running the same 2133MHz CL9 memory kit.
3DMark 2013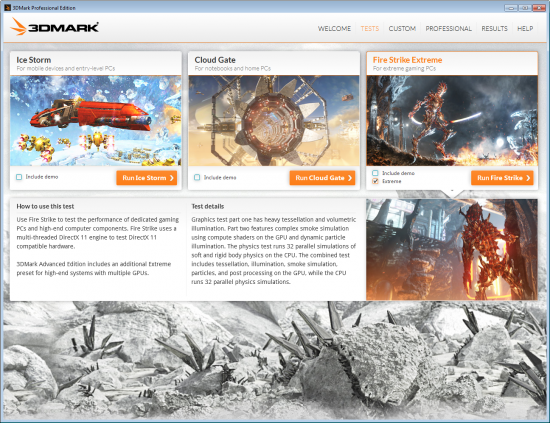 Futuremark 3DMark has three primary benchmark tests that you can run and which test you should be running depends on the system that you are benchmarking on.
Ice Storm - For mobile devices and entry-level PCs
Cloud Gate - For notebooks and home PCs
Fire Strike - For gaming PCs
Fire Strike Extreme - For extreme gaming PCs (extreme mode for those with multiple GPUs)
We ran the Fire Strike benchmark to see how the Intel and AMD processors would perform.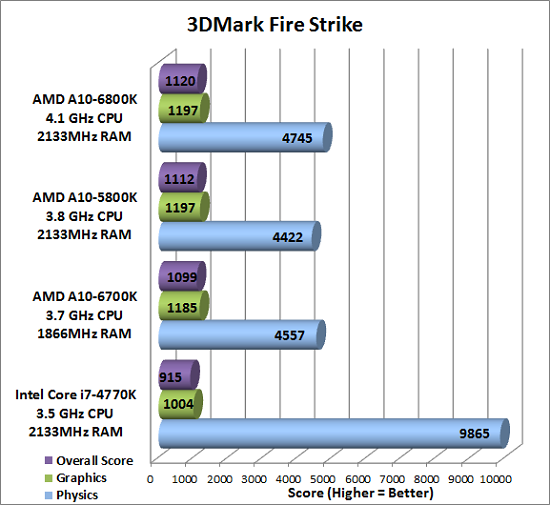 Benchmark Results: The Intel Core i7-4770K scored 915 points in Fire Strike, but the sub system tests shows that it scored the worst in graphics performance and the best in physics performance. The AMD Trinity and Richland APUs have better graphics performance, but just half the physics performance. There really isn't a huge difference between any of the APUs, so let's take a look at some real game titles and look at performance there.
Integrated Graphics Performance
Tomb Raider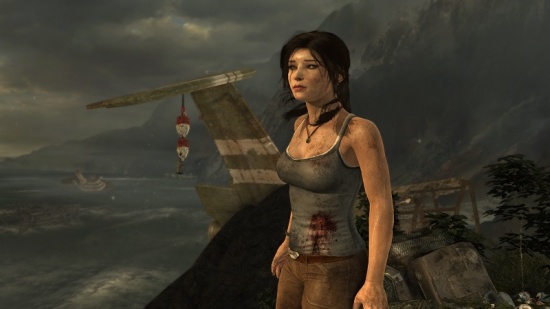 On March 5th, 2013 Square Enix released Tomb Raider, billed as a reboot of the franchise. In Tomb Raider, the player is confronted with a much younger Lara Croft who is shipwrecked and finds herself stranded on a mysterious island rife with danger, both natural and human. In contrast to the earlier games Croft is portrayed as vulnerable, acting out of necessity, desperation and sheer survival rather than for a greater cause or personal gain.
The game has been built on Crystal Dynamics's game engine called the "Crystal Engine" and the graphics look fantastic. AMD and Crystal Dyanmic's worked on a new technology called TressFX Hair, which AMD describes as "the world's first in-game implementation of a real-time, per-strand hair physics system" for this game title. We set the image quality to the low quality and medium quality presets for benchmarking.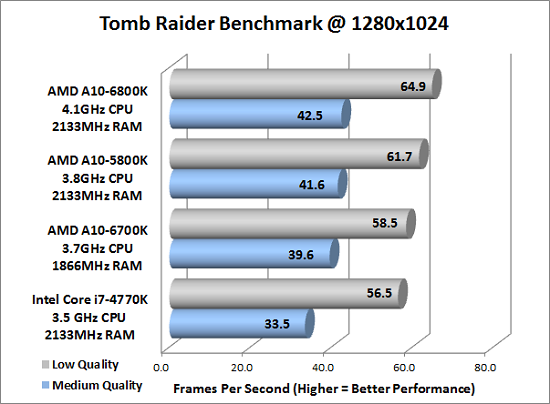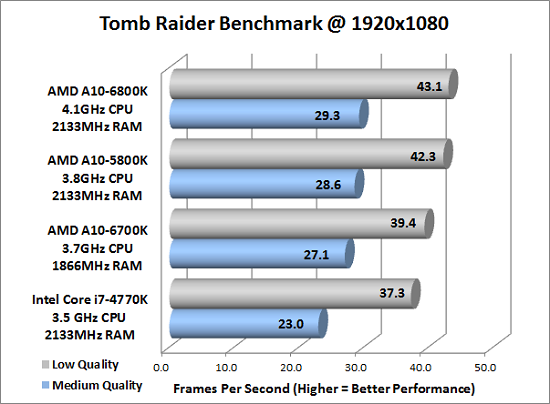 Benchmark Results: The AMD A10-6800K with AMD Radeon HD 8670D graphics was able to lead at both 1280x1024 and 1920x1080 with both low and medium quality presets. This game title doesn't look good at all with the low preset, but it looks pretty good with the medium quality setting. We were shocked to see that with the medium quality setting we were able to play this blockbuster 2013 game title without a discrete graphics card at 1920x1080! We'd get a short stutter every so often, but it was easily playable. It should be noted that we maxed out the dedicated memory to each integrated graphics solution, which means 2GB to AMD and 1GB to Intel. The Intel Core i7-4770K 'Haswell' CPU with Intel HD 4600 Graphics is a huge step forward for Intel in terms of GPU performance, but they still have not caught up to AMD by any means.
Bioshock Infinite:
BioShock Infinite is a first-person shooter video game developed by Irrational Games, and published by 2K Games. BioShock Infinite is the third installment in the BioShock series, and though it is not part of the storyline of previous BioShock games, it does feature similar gameplay concepts and themes. BioShock Infinite uses a Modified Unreal Engine 3 game engine and was released worldwide on March 26, 2013.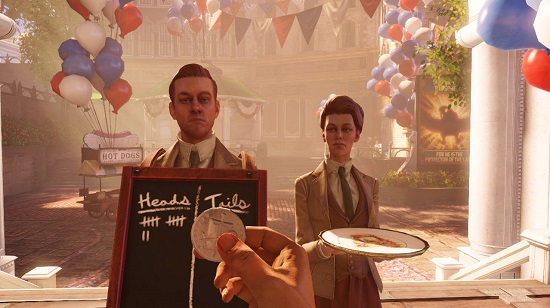 We tested BioShock Infinite with the low and medium game settings at both 1280x1024 and 1920x1080.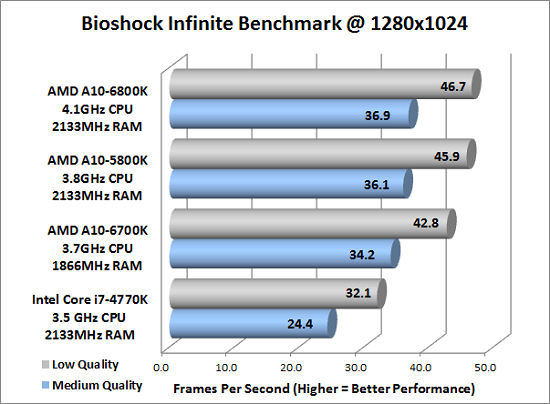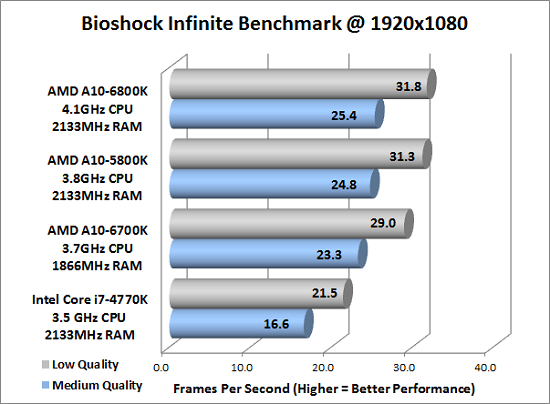 Benchmark Results: The AMD A10-6800K with AMD Radeon HD 8670D graphics was just a hair faster than the AMD A10-5800K APU when both are running 2133MHz. The AMD A10-6800K is roughly 50% faster than the Intel Core i7-4770K at 1920x1080 with the low preset, which is pretty impressive.

Hitman: Absolution
Hitman: Absolution is an action-adventure stealth DirecX 11 video game developed by IO Interactive and published by Square Enix. It is the fifth entry in the Hitman game series, and runs on IO Interactive's proprietary Glacier 2 game engine. This game title uses the Glacier 2 game engine and was released on November 20th, 2012.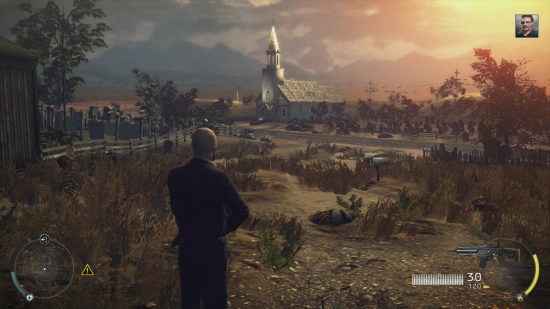 We benchmarked Hitman: Absolution with the low and medium game settings at both 1280x1024 and 1920x1080.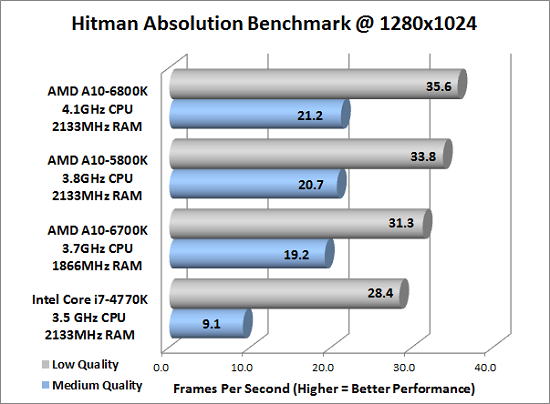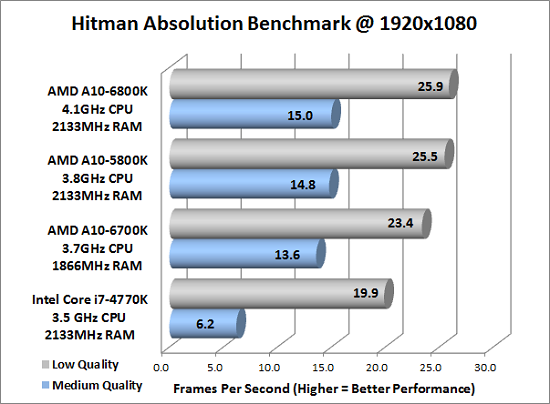 Benchmark Results: Hitman: Absolution is tough on discrete graphics cards, so we knew it would be tough on processor graphics. We were shocked to see that at 1920x1080 the AMD A10-6800K was able to average 26FPS and the game play was pretty good. If you want to run an A10-6800K Richland APU, the sweet spot for this game title and processor is 1680x1050 with the medium preset.
Total System Power Consumption
Since power consumption is a big deal these days, we ran some simple power consumption tests on our test beds. The systems ran with identical power supplies, Solid-Sate Drives, Memory kits and motherboards from the same company. To measure idle usage, we ran the system at idle for one hour on the desktop with no screen saver and took the measurement. For load measurements, Prime95's in-place large FFT's were run on all cores to make sure each and every processor was at 100% load for maximum power consumption and heat.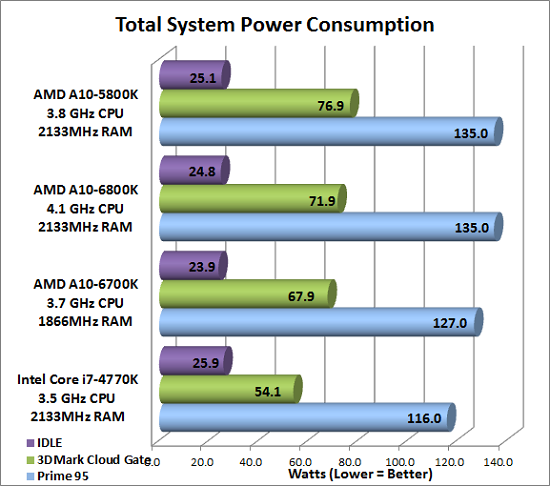 Benchmark Results: Power consumption has really improved these days and with no discrete graphics in the systems all the recent processors idle with the entire desktop platform using about 24-26 Watts of power. Not bad considering this is everything minus the monitor. At full load we hit 135W in Prime 95 on both the AMD A10-5800K and the AMD A10-6800K. At first this might not be impressive, but it is in the sense that the AMD A10-6800K runs at a higher clock speed, performs better and uses the same or less power. Not too shabby and AMD has improved the power efficiency with Richland! Intel's flagship Core i7-4770K is the most power hungry Intel Haswell processor and you can see that it uses less power at load.

Overclocking The A10-6800K
We didn't have the time to overclock both procrssors, so we will take a look at overclocking on the AMD A10-6800K Richland APU. This processor comes with a 4.1GHz base clock with a turbo boost of 4.4GHz. We first wanted to see what kind of an overclock we could hit with no voltage increase, so we jumped into the BIOS and turned off Turbo Mode and raised the multiplier to 45 since we have an unlocked 'K' series APU.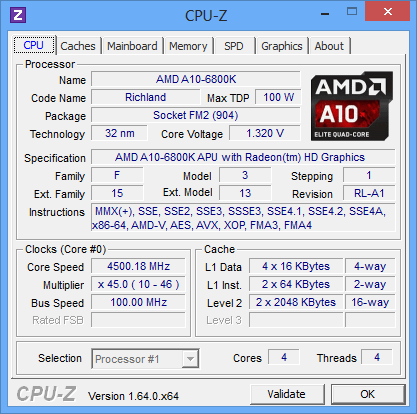 The system booted up and we were running at 4500MHz on all cores, but the overclock was not stable. We had to increased the voltage from 1.325V to 1.350V in order to get it 100% stable.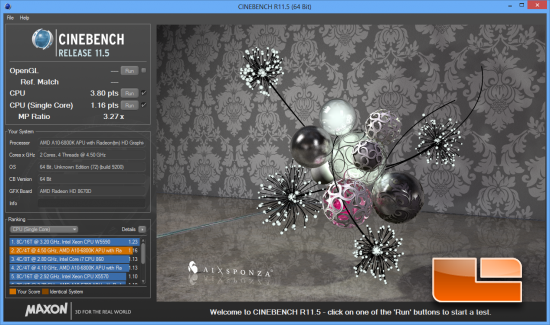 Our Cinebench R11.5 CPU score jumped up from 3.55 to 3.80 points, which is a nice increase thanks to running the cores at 100% at all times and bumping up the frequency 100Mhz. Who can complain with a 7% boost in performance by just raising the multiplier one notch up and bumping up the CPU Vcore by 0.025V.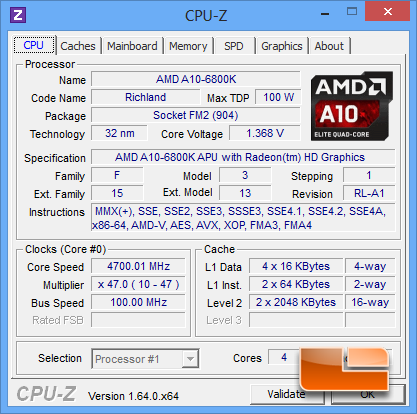 We then kept raising the voltage and multiplier until we hit 1.40V on the CPU and called it a day as we didn't want to push the processor too hard on the retail boxed CPU cooler. Yes, we are using the freebie cooler that comes with the A10-6800K for overclocking! The highest clock frequency we could get with full stability is 4700MHz. We had to run 1.40V in order to reach this, but it was rock solid.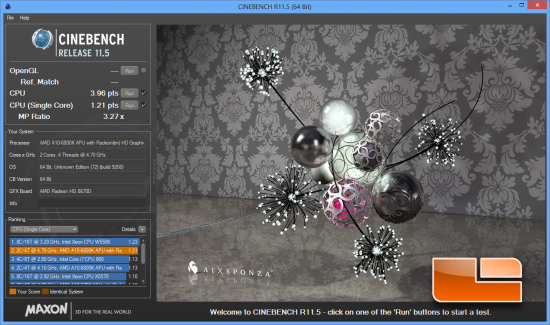 The CPU Score in Cinebench jumped up to 3.96 points when running at 4700MHz on all the cores! This is a nice 11.5% performance increase over the default core clock speeds.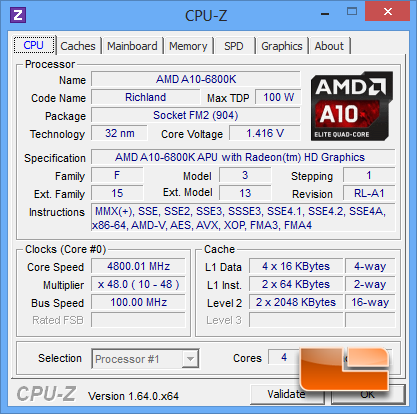 We could hit 4.8GHz, but we needed 1.425V to get to the Windows 8 desktop and 1.45V to get the system benchmark stable. With better than stock cooling you should be able to hit 4800MHz without too much fuss! The AMD A10-6800K appears to be a very overclocking friendly processor and that is great news for enthusiasts.
Final Thoughts and Conclusions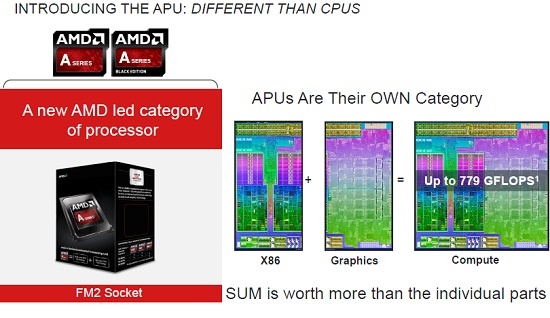 AMD's Richland APU's left us with mixed emotions. The latest AMD Elite A-Series APUs do bring small performance gains and slight power savings to the table, but the gains weren't as large as we were expecting to see. We were expecting to see double digit performance gains across the board, but we were left looking at single digit gains in the vast majority of the benchmarks. Sure, Richland is basically just a refresh of Trinity, but we were hoping to see AMD close the gap between them and Intel on the CPU side. AMD clearly still leads when it comes to graphics.
We contacted AMD about our performance numbers and they said that we did not see huge performance gains since we ran the old AMD A10-5800K APU with 2133MHz memory and not 1866MHz, which is the highest memory clock speeds officially supports on it. We ran both the 5800K and 6800K at 2133MHz to keep the test systems as close as possible and hoped to run it on the A10-6700. Hoped is the key word as we were unable to get the A10-6700 stable with the Corsair Dominator Platinum 2133MHz CL9 1.65V memory kit. AMD specifies that the A10-6800K officially supports 2133MHz memory with 1.50V, so maybe our kit requires too much voltage. Just a heads up to anyone looking to run 2133MHz memory with a Richland APU. Our experience with Richland is that you should run 2133MHz memory to get the most performance out of it, but the A10-6800K seems more receptive to it and we suggest a 1.50V kit.
At the end of the day the AMD FM2 platform is a solid mainstream platform. The boards have been around for a bit and most are rock solid with mature BIOS revisions. The AMD Richland APU feels just as snappy on the desktop as any other and when paired with an SSD and 2133MHz memory kit we had no issues with the platform. It was nice to be able to jump into a game like Bioshock Infinite at 1920x1080 and play it without needing a discrete graphics card. Sure, it would be ideal as a number crunching PC, but for the vast majority of consumers this platform would work perfectly.
When it comes to pricing the AMD A10-6700 and AMD A10-6800K both run $142. That is a very reasonable price for what you get. The AMD FM2 platform is also reasonably priced as you can pick up a quality brand name AMD A85X chipset powered ATX motherboard like the Gigabyte GA-F2A85X-D3H for $76.49 shipped. The last key ingredient is the 8GB (2x4GB) DDR3 2133MHz 1.5V memory kit and that runs as low as $68.99 shipped. So, to build a system like this you are looking at $287.48 shipped without messing with any rebates. The Intel Core i7-4770K processor runs $349.99 shipped before motherboard and memory costs. AMD continues to excel at price versus performance! Here you have a processor that can run games faster than Intel and it costs far less.
Legit Bottom Line: The AMD Richland APUs offer small improvements over the previous version, but continue to excel in GPU workloads and are available at a compelling price.