Corsair Voyager Air Introduction
With a lot of businesses shifting focus to the mobile market, we find all kinds of gadgets to make our lives simpler and wire free. A gadget that Corsair has recently come out is called the Voyager Air, which will help make media and file sharing easier for you.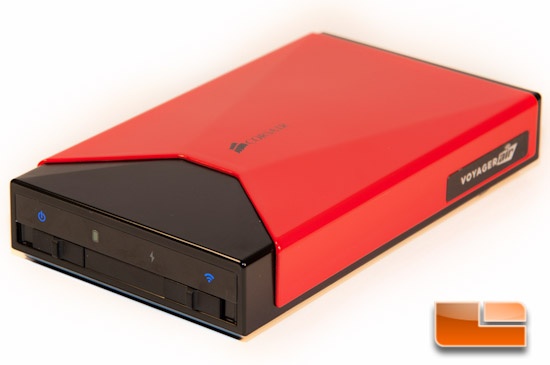 Corsair's Voyager Air is the first all-in-one wireless mobile drive, home network attached storage, USB drive, and wireless hub. Capable of holding up to 1TB of data, you can share or stream movies, music, documents, and more. Sporting a 6200 mAh rechargeable Lithium-ion battery, Corsair claims the Voyager Air can get up to 7 hours of video streaming goodness. You'll also be able to have up to 5 users stream HD content, which should definitely help keep the kids entertained.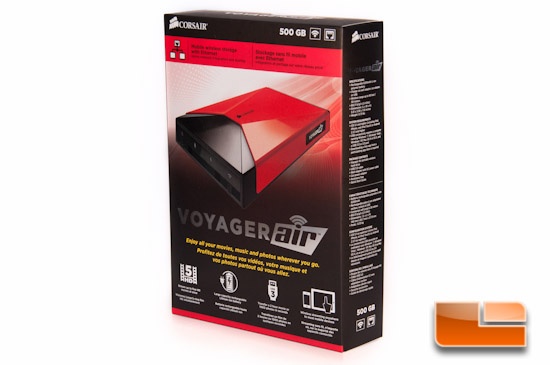 This slick looking unit comes in either black or a red/black scheme. You can also purchase this with a 500GB or 1TB built-in HDD.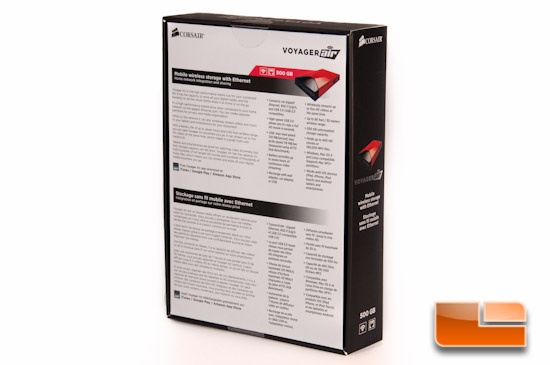 Corsair did a nice job packing up the Voyager Air. The box is very nice looking and presentable. Outside you'll find tons of information about the Voyager Air and its contents. The box is plenty strong enough to protect the contents, while everything was held in place nicely.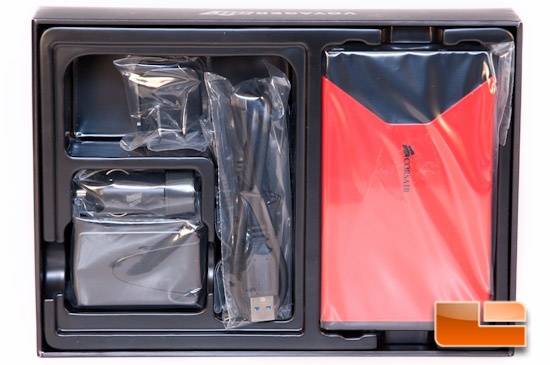 Inside the box, Corsair includes the Voyager Air drive, a 2 foot USB 3.0 cable, wall adapter, plug for your country (either US/Canada, Europe, or UK), power cable, a 2 amp car adapter, and an accessory pouch. Corsair including the car adapter is an awesome thing, as it allows you to bring the Voyager Air to more places without worrying the battery dying. Road trip, anyone?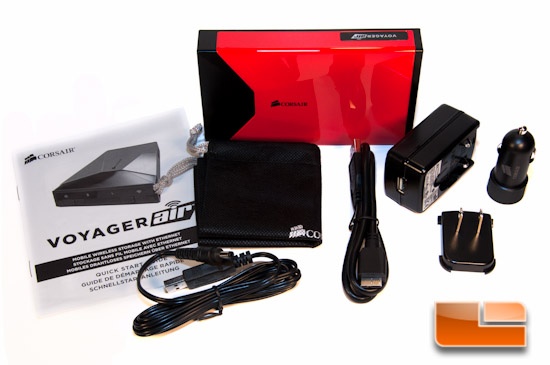 Voyager Air can be connected to a home network for easy access to media from network-enabled smart TVs, Blu-ray players, game consoles, DVRs, and streaming media boxes.
Voyager Air's Technical Specifications:
Max Read (USB 3.0) 120 MB/sec
Max Write (USB 3.0) 119 MB/sec
Direct Connection USB 3.0
Ethernet 10/100/1000
Wireless Network 802.11 b/g/n
Wireless Range Up to 30m / 90ft
Rechargeable Battery 6200 mAh
We are happy to see that Corsair offers a 3 year warranty on the Voyager Air, as it shows they really stand behind and believe in their product.
Today we'll take a look at the red 500GB model (CMFAIR-RED-500-NA), seeing what it has to offer and run a few tests against Corsair's claims. Read on to see what we've found!
A Closer Look At The Voyager Air
Taking a tour around the Corsair Voyager Air, you'll notice that it is a slick looking device. The top is a nice glossy red plastic with matte black plastic everywhere else.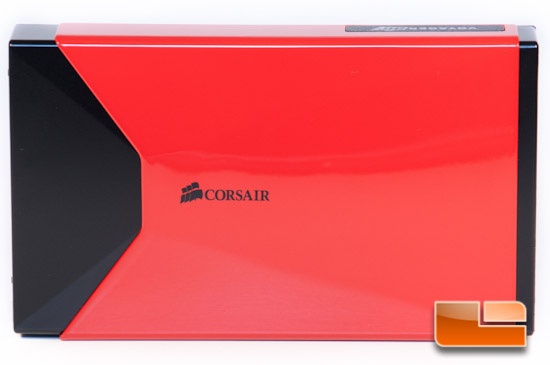 The side that we see holds the power and wireless switches. These switches are accompanied by power, battery, charge, and wireless indicator LED's. The power LED will be green when fully charged, yellow when above 20%, and red when below 20%. I actually found the LED to turn red when I was at 2% charge left. These switches are also pretty easy to slide, which isn't necessarily a good thing.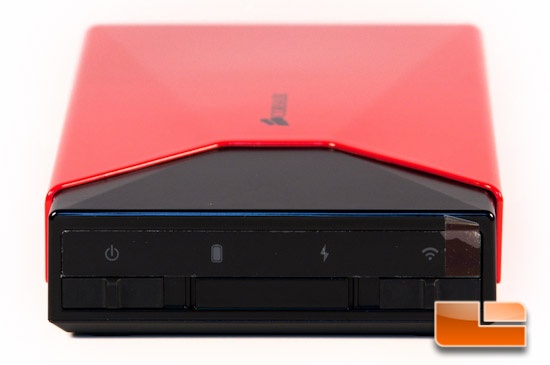 On the opposite end, we see the 5v – 2A DC in port, MicroUSB 3.0 port, and a gigabit Ethernet port. The USB port is backwards compatible with USB 2.0, which is always a good thing.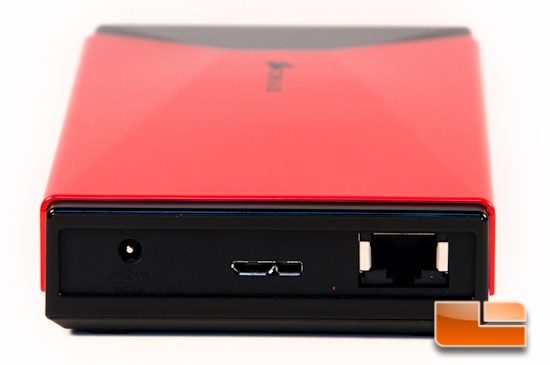 The two long sides show nothing more than the Corsair logo.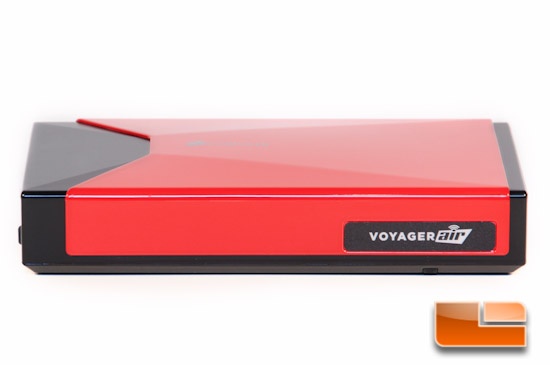 On the bottom we find four nice rubber feet to hold the Voyager Air securely in place, along with a sticker that contains the model and serial numbers. You will also notice the reset button placed on the very edge of the unit (lower right in the below picture).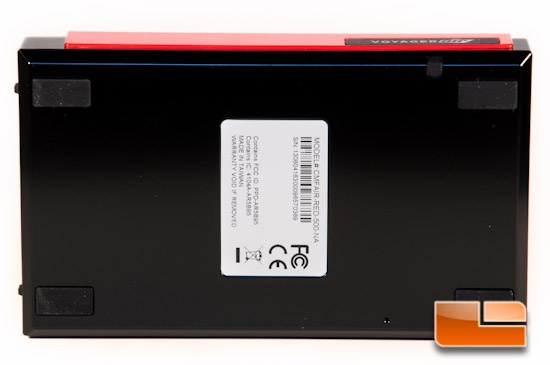 Inside of our Voyager Air, we found a SATA II Toshiba MQ01ABD050 notebook HDD, spinning at 5400 RPM's. These drives retail for $59.99 on Amazon. This drive is formatted NTFS from the factory, but Mac users can reformat it to HFS+.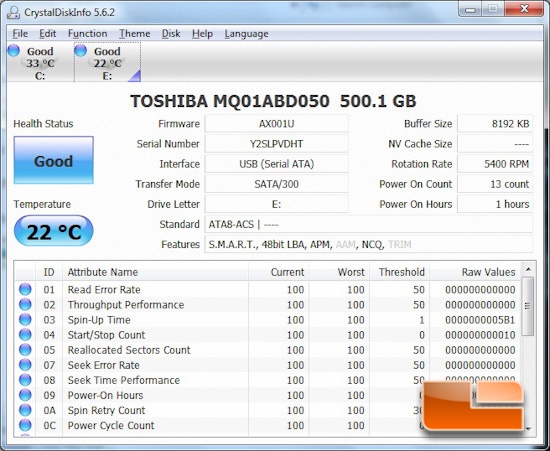 Also inside is the generously sized 6200 mAh Lithium-ion rechargeable battery. As previously mentioned, this battery should allow for up to 7 hours of HD video streaming. The only thing that was surprising
You don't have to use the Voyager Air as a media hub, but instead you can use it as an attached storage device to haul around your files. Whatever you decide to toss on the drive, you can access it via your Android, iDevice, PC, or Mac with ease.
Next up, we'll take a look at the Android flavor of the Corsair Voyager Air application.
Corsair Voyager Air Software and Interface
Corsair has ready a nice looking free application for both Android and iOS devices, that can be downloaded on Google Play or the Apple Appstore. Once you have this downloaded, if you haven't already, you can turn on the Voyager Air and the wireless. After about 50 seconds, you'll finally see the network named VoyagerAir. This network is not secured by default, but fear not, it most definitely can be secured by WPA2 encryption!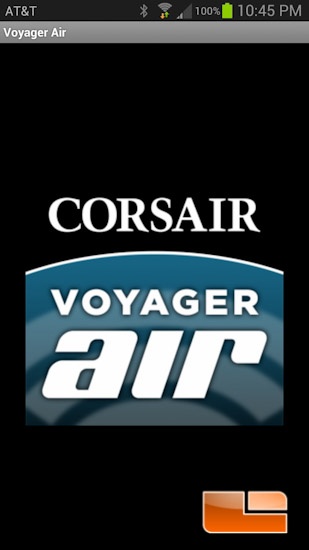 Right away when you open up the app, you'll be able to browse the contents of the Voyager Air, browse your local file system, or check out the settings of the Voyager Air.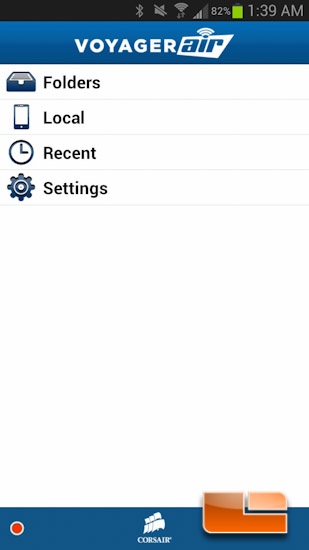 Getting to the Voyager's content was quick, but finding content on your local devices file structure is annoying. The software isn't smart enough to seek out your pictures, videos, or documents; rather you have to put them into the Corsair designated folder. So not only do you have to put these files here, but you cannot even upload the content from the Local folder to the Voyager Air. The only option that you had was to delete the files. After a little hunting and pecking, I noticed the upload icon when I went to the Folders section. Here I could choose to upload content by checking boxes, but you don't get a really good progress bar telling you the status. Once the bar goes to the end, it'll just start over. I'm hoping Corsair fixes the Local folder's inability to both seek out existing content and upload content.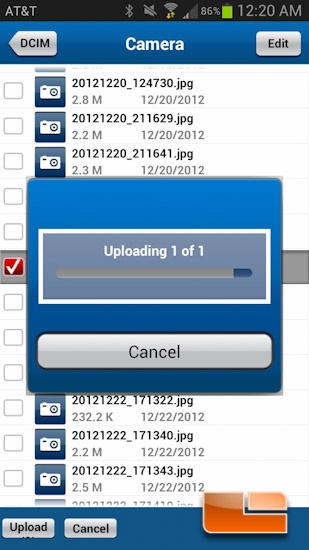 Browsing to the content that I put onto the drive, everything is laid out nicely. When you touch a file, you can choose to open the file, rename, or download the file.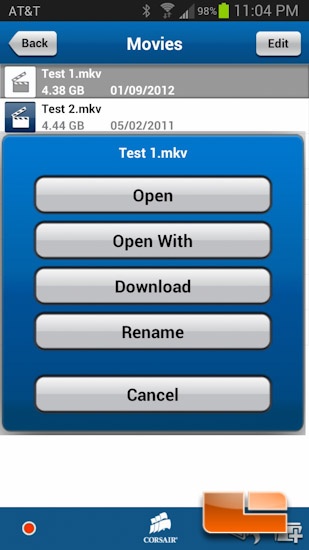 I found that when I hit the Open With on every single video that I added, it would give me a message saying the file is too large and that I should download it instead. If I just hit Open, I would get my normal prompt asking which video player that I wanted. This was rather annoying.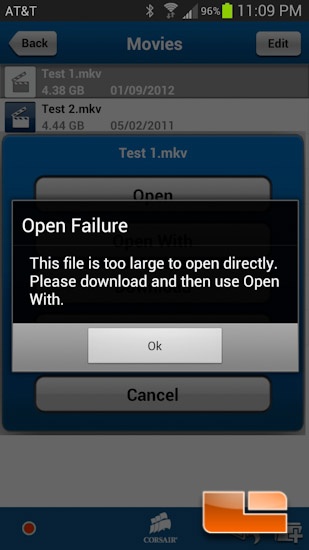 From this screen, you can also hit the Edit button up top, and delete, move, or copy the file(s) selected.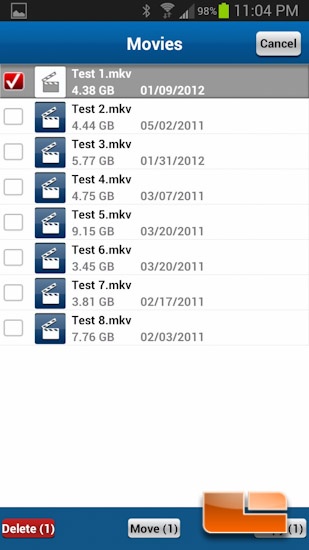 Viewing photos is nice, as it actually builds a thumbnail file. Take note that it'll take a bit to gather the thumbnails in the beginning, but next time you go look, everything will load much faster.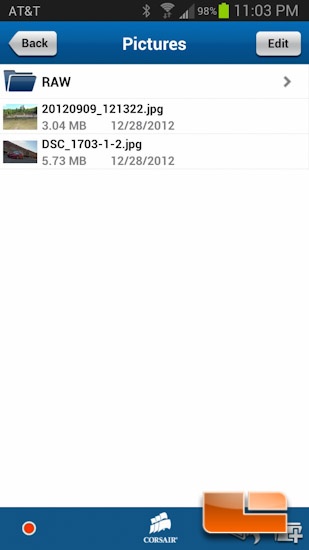 Before moving onto the settings, you may be wondering what the red dot is on the lower left corner. Corsair was generous to provide you with a battery level indicator that shows up all the time. Red, in my case, indicates the battery is below a 20% charge.
Checking out the settings, you can do various things like rename the network, check out the actual battery percentage, see how many people are connected, turn on wireless encryption, and enable the internet passthru mode. The passthru mode is there to allow your Voyager Air to connect to another wireless network, and then allow whatever devices are connected to it the ability get out to the internet. Without that, you're internet crippled.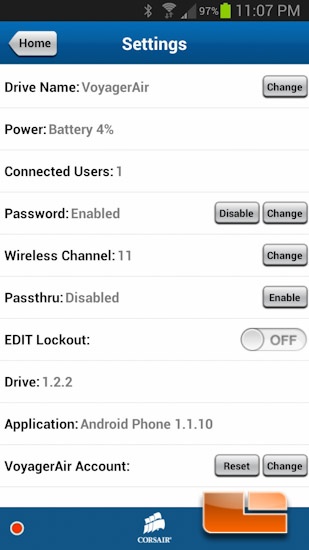 That's about it here, so next up we'll take a look at some quick performance numbers with the Voyager Air
Corsair Voyager Air Testing
The Voyager Air is currently only capable of connecting to Android, iOS, or personal computers. Corsair does advertise that the Voyager Air can connect to network connected smart TV's, Blu-ray players, game consoles, DVR's, and streaming media boxes. Unfortunately the latter half is completely untrue at this point in time. The Voyager Air does not have the ability to connect to anything more Android, iOS, or personal computers, but they do have plans to release a firmware update that supports DLNA. We did reach out to Corsair regarding this, and they plan on having the firmware to support this available soon. So with that said, we were unable to take a look at how the PS3, Xbox 360, or any other device would handle the Voyager Air.
To start off, I wanted to verify the read and write speeds on USB 3.0. Corsair claims 120MB/s read and 119MB/s write.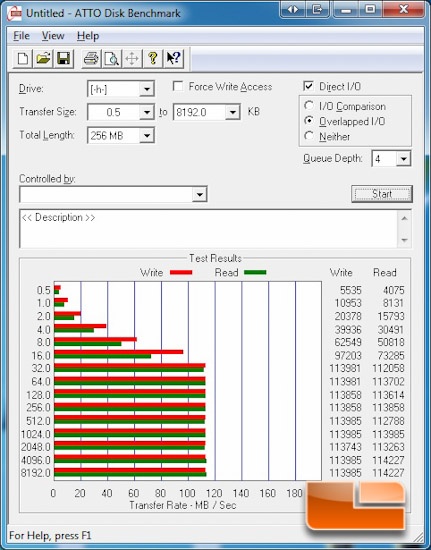 As you see from the ATTO benchmark, we came pretty close. We capped out at just over 114MB/s read and just under 114MB/s write. When I was writing a ton of data to the drive, via the USB 3.0 interface, I was pegging 108MB/s on average each time I tried.
While time consuming, I had to take a look at Corsair's battery claim. The Voyager Air has a 6200 mAh battery, which Corsair claims would give you 7 HD streaming hours. When I ran my test looping a 1080p movie, I got 6 hours and 50 minutes, which is darn close to their claims!
Speaking of claims, Corsair mentions the Voyager Air can go broadcast out up to 90 feet. In my tests, I found that I could approximately 50 feet before I started having troubles. I still think this is a sufficient range, but it sure doesn't hit the claimed 90 feet.
The next thing that I like checking, is how bad of a hit your internet connection takes when using the passthru mode. This happens with all of these types of devices, but some worse than others. My internet is an 18Mbps AT&T Uverse DSL connection, which I was pulling in at 16.8Mbps at the time of testing.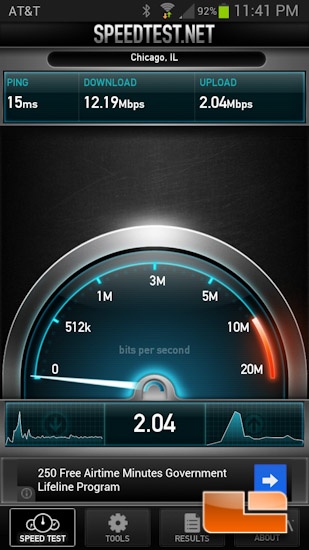 Running a speedtest through the Voyager Air, I pulled in at 12.2Mbps, which is roughly a 28% reduction in throughput speeds. This is unfortunate, but again, I half expected a decrease around this big.
Finally, copying a 102MB file from my Galaxy S3 to the Voyager Air took approximately 1 minute and 55 seconds, which is awfully long. If you want to copy files, you'll probably want to stick to the USB interface.
Corsair Voyager Air Final Thoughts & Conclusion
Corsair's Voyager Air is a sleek wireless media sharing device that I feel nailed this concept down quite nicely. The product itself is quite stylish, while the software is fairly easy to use. Holding a 6200 mAh battery and having a rating of 7 hours of HD streaming, I found this number to be fairly accurate. I was pleased to see that Corsair included a car adapter, which will help ensure you don't run out of a charge while on the road. The other included accessories and pouch were also great.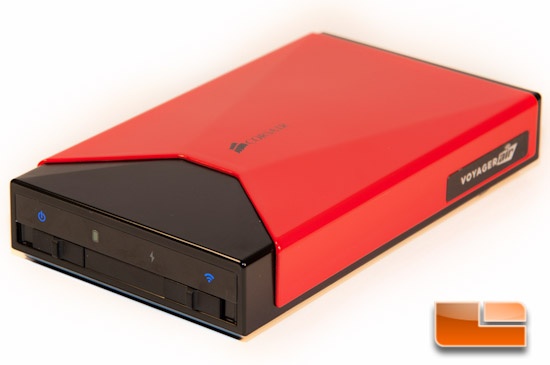 Speaking of accuracy, Corsair's claim of 120MB/s read and 119MB/s write was darn near spot on. We came in at just over 114MB/s read and just under 114MB/s write. My best recommendation if you want to move a lot of files or large files, is to utilize the USB 3.0 interface, because wireless is just too darn slow.
There were a couple quirks with the software that I'd like to see Corsair address. You're unable to upload content to the Voyager Air directly from the Local folder, and that folder is the only place you can view your device's local content. Of course if you went to the Folders section, you could upload no problem. Corsair also really needs to have the software seek out your existing content.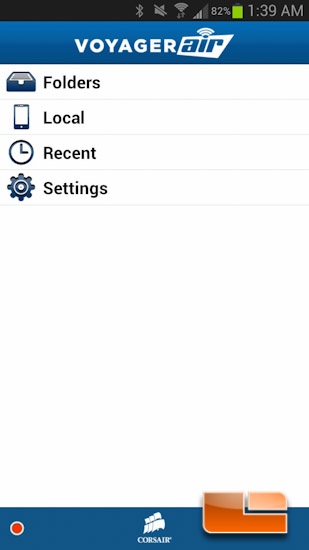 The Voyager Air will run you as low as $149.99 shipped on Amazon for the 500GB model, and $199.99 for the 1TB model. You do also have a choice between red and black, and I must say the red is slick! With the price of the 500GB Toshiba HDD costing $59.99 if you were to buy the 500GB HDD alone. That means the $90 goes to other BOM costs, packaging, software, marketing and profit margins for both Corsair and the retailer. You do get a 3 year warranty, so that has got to at least say something about the quality of the product.
The only other thing that got us was the inaccurate advertising on this product. Corsair's website and literature state that the Voyager Air will work with network-enabled smart TVs, Blu-ray players, game consoles, DVRs, and streaming media boxes. Unfortunately the current firmware on the Voyager Air doesn't support DLNA, however Corsair is working on the firmware that will support it. Until Corsair releases that, this info truly should not be marketed how it is.
Legit Bottom Line: The Corsair Voyager Air is a very slick mobile wireless file sharing device, but boasts a somewhat heavy price tag. It's extremely user friendly, light weight, and small, which will be appealing to many!