Intel Core i7-4770K CPU - The Tock!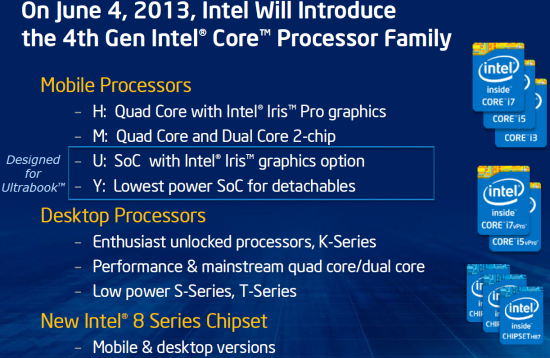 Today Intel officially announced their 4th Generation Intel Core Processor architecture code-named "Haswell." This is the "tock" in Intel's roadmap that many enthusiasts have been waiting over a year for. While the Intel Haswell processors remain on the tried and test 22nm process, they require a motherboard with the Z87 chipset and LGA 1150 socket. The good news is that no changes were done to the HSF mounting holes, so all existing Intel CPU coolers should still work.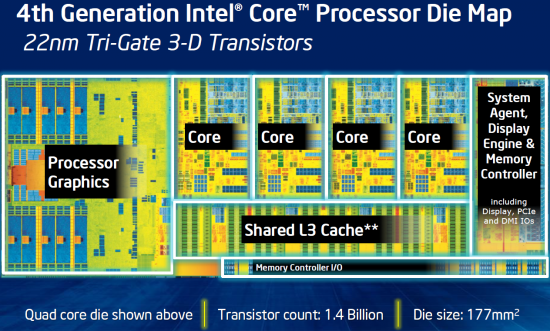 The 4th Generation Intel Core processors are primarily quad-core processors with a transistor count of 1.4 billion and a die size of 177mm2. It also has integrated processor graphics, shared L3 cache, dual-channel DDR3 support up to 1600MHz and all the other usual goodies.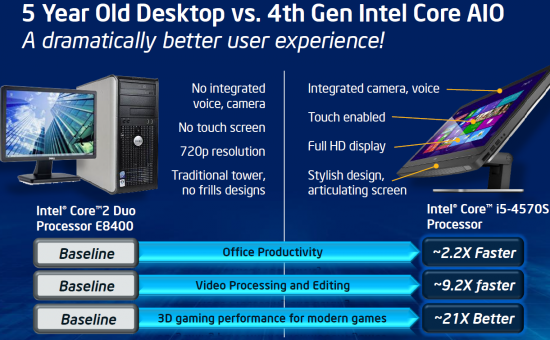 Intel has big hopes for 4th Generation "Haswell" processors and hopes to get people with older desktop systems to upgrade to newer desktop or All-In-One PC. Intel compared a new Core i5-4570S "Haswell" processor to an old Intel Core 2 Duo E8400 "Wolfdale" processor and shows that it is 21x better in games, 9x faster at video processing and more than twice as fast for office productivity. So, if you have an older system they hope that a modern 2013 system will have enough features to get you ordering a new system.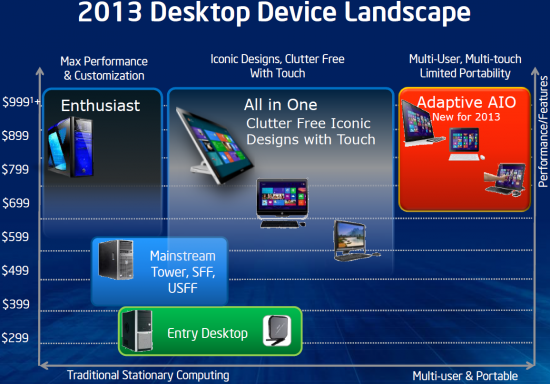 When it comes to the 2013 desktop device landscape the enthusiast desktop PC makes up a small part of the high-end market with All-in-One (AIO) touch screen systems and new convertible hybrid solutions filling up the majority of the $700 and up market. Intel recently announced that they were going to stop producing consumer desktop motherboards and this slide does a great job as showing why. Intel feels the future is with new form factors were BGA processors rule the roost. The good news is that LGA processors are still around and plenty of other companies make desktop motherboards!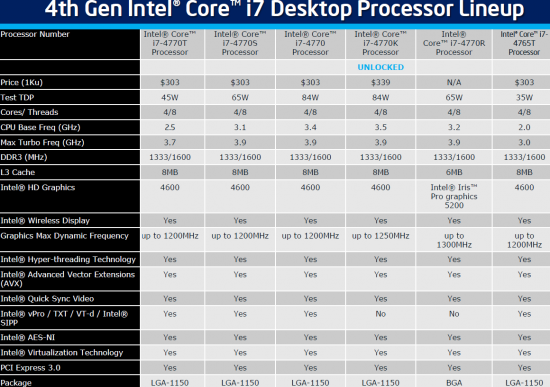 Intel has a a ton of desktop and mobile processors based on the Haswell core architecture, so we'll quickly going over the desktop models as that is the focus of this review. Intel will only be releasing Core i7 and Core i5 Haswell processors for the time being. Intel Core i3 Haswell models might be coming down the road, but not right now. The new Core i7 desktop processors include the Core i7-4770K, i7-4770R, i7-4770T, i7-4770S, i7-4770 and i7-4765T. The Intel Core i7-4770K processor is the flagship LGA1150 offering and on the embedded side the Intel Core i7-4770R will be the top dog. Intel 'K' SKU processors will be offered with an unlocked multiplier and aimed at enthusiasts that want more control over their processors. All the new 'R' SKU processors are for the embedded BGA market (think thin mini-ITX or Intel NUC) and feature Intel Iris Pro graphics. Only embedded 'R' series processors will have Intel HD Iris or Iris Pro graphics, so socketed desktop users do not have the ability to buy a high-end processor with the best graphics available right now. his is a bit of a let down to us, but it is something Intel might address by the end of the year with a new part.The Intel HD 4600 graphics is still a nice improvement over the last generation graphics, so there will be a graphics boost across the board with Haswell.
The 4th Generation Core i7 'T' and 'S' series are aimed at low power LGA-1150 solutions where users would like a 45W or 65W quad-core processor. In order to drop the TDP that much the clock speeds had to be lowered, so the performance goes down and the power savings increase.
When it comes to tray pricing, this is how it breaks down:
Intel Core i7-4770K - $339
Intel Core i7-4770 - $303
Intel Core i7-4770S - $303
Intel Core i7-4770T - 303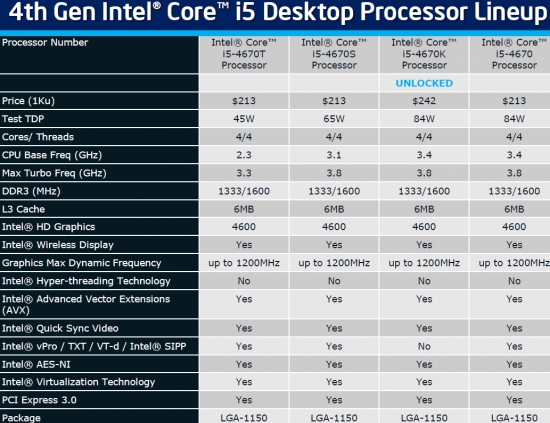 Intel also has seven 4th Generation Core i5 processors that range in price from $192 to $242. The Intel Core i5-4670K 3.4GHz quad-core processor is an interesting part as it is a full fledged "K" series with the unlocked multiplier that overclockers desire. None of the Intel Core i5 quad-core processors feature Intel Hyper-threading technology like the Core i7 processors and have a reduced L3 cache size. The official memory support remains the same at 1333 / 1600Mhz and you still get Intel HD 4600 series graphics, albeit with a sometimes lower Max Dynamic frequency (1150MHz - 1200MHz). The max TDP ranges between 35 Watts to 84 Watts, so no matter what Intel Haswell processor you go with 84W is the max TDP of any LGA1150 processor. This is great news as the HSF mounting system has not changed between LGA1155 and LGA1150, so all platform correct CPU coolers should be able to handle any of these new processors. It's bad enough that you have to buy a new board to be able to run Haswell, but at least you aren't forced to upgrade your CPU cooler if you have one for the last generation platform.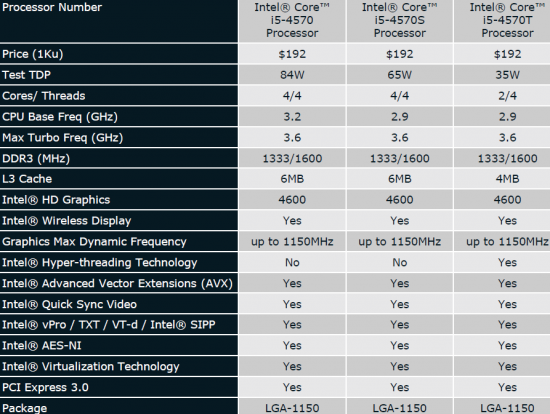 The last processor slide we are going to cover is of the three Intel Core i5-4570 processors offered by Intel. They are each priced at $192 and you get to pick the one that is right for you. The low power/silent PC crowd will like the Core i5-4570T with it's dual-core 2.9GHz processor with Hyper-threading and super low 35W TDP. From there you step up to the Intel Core i5-4570S 2.9GHz quad-core processor that is 65W TDP and then to the Core i5-4570 3.2GHz quad-core processor at 84W TDP. All of the Core i5-4570 processors feature Intel HD 4600 graphics with a max dynamic frequency of up to 1150MHz, so there is no graphics performance difference. Intel is really giving system builders and consumers a wide range of options so they can select the right processor for the power target they are wanting to hit.
We were sent an Intel Core i7-4770K processor for testing. The chip we have is an Intel Engineering Sample processor with batch a number of L252A875. You can also see the S-Spec number QEH6 on the integrated heat spreader (IHS) and that it was made in the country of Malaysia. The Core i7-4770K is a quad-core CPU with a base clock of 3.5GHz and Turbo clock of 3.9GHz. It features Intel HD 4600 series on-die graphics, and since it is a K-SKU, it is fully unlocked!
Now that we know the basics, let's head into some of the changes in Haswell and then get to benchmarking the Intel Core i7-4770K processor that we were sent!
Haswell Processor Architecture Overview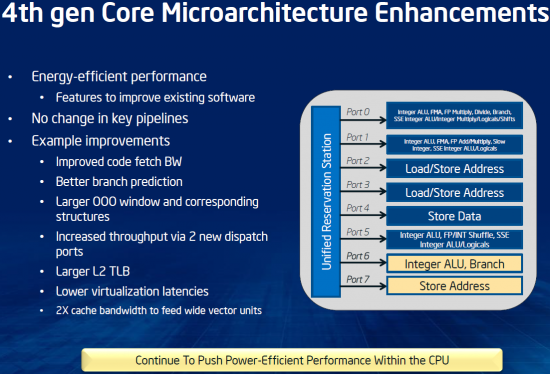 There are some new compute instructions and they should be well received assuming people use software that can take advantage of them. Sandy Bridge's AVX doubled the flops/core in both single and double precision calculations from Nehalem's SSE and Haswell is doing the same with AVX2, doubling Sandy Bridge's flops/core from 16 to 32 flops/core single precision and 8 to 16 flops/core double precision. In addition to that doubling, AVX2 also doubles the L1 and L2 cache bandwidth, up to 96 bytes/clock and 64 bytes/clock, respectively.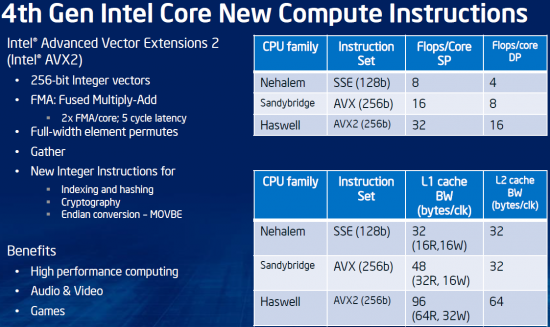 One of the major Microarchitecture enhancements on Haswell is the addition of Advanced Vector Extensions 2 (AVX2) support. AVX2 is an expansion of the new AVX instruction set introduced with Sandy Bridge processors. AVX2 makes the following additions:
Expansion of most integer AVX instructions to 256 bits
3-operand general-purpose bit manipulation and multiply
Gather support, enabling vector elements to be loaded from non-contiguous memory locations
DWORD- and QWORD-granularity any-to-any permutes
Vector shifts 3-operand fused multiply-add support (FMA3)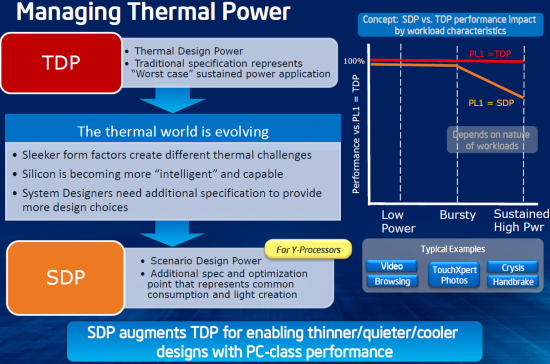 Intel has also put a ton of work into making Haswell more energy-efficient. Haswell processors feature C-states of C0, C1, C1E, C3, C6, C7 and enhanced Intel Speedstep technology.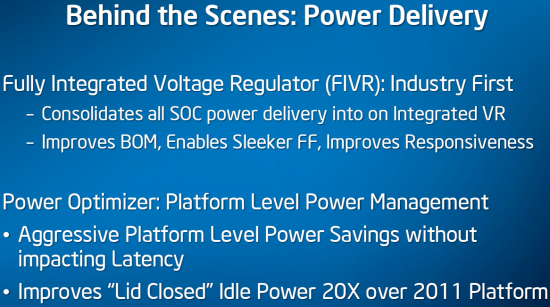 Have you heard about Intel's Fully Integrated Voltage Regulator or (FIVR) for short? Haswell is the first x86 CPU to include an on-die voltage regulator module, or VRM. Intel says that having this directly on the processor improves build costs, lowers voltage ripple, responds quicker and should give you power savings as it is more efficient than your traditional motherboard VRM. The only downside to this is that it puts more heat into the processor, but the power savings and being able to enter and exit power-saving states more quickly should be worth it.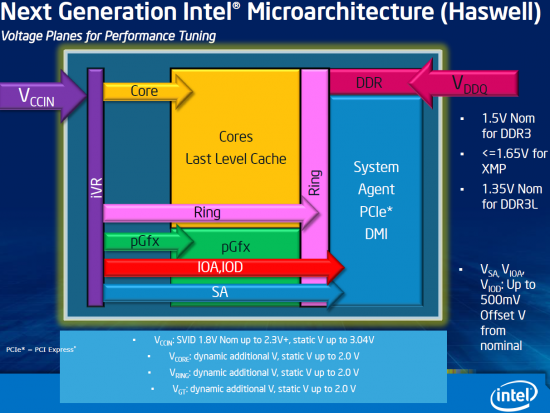 This slide shows you the number of voltage planes that are available on Haswell for performance tuning. There are more platform level power management options than ever. Intel has gone to great lengths to improve the power use on Haswell, but at the same time still give enthusiasts control of a good number of knobs.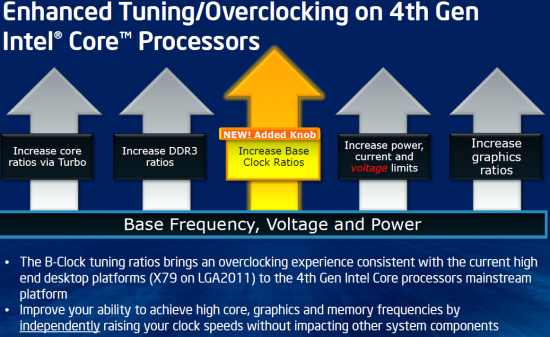 Since we are talking about enthusiast options, you should be happy to hear that Intel has brought back the CPU Strap feature. This allows end users to increase the processors BCLK (base clock) independently without impacting anything else on the Haswell processor.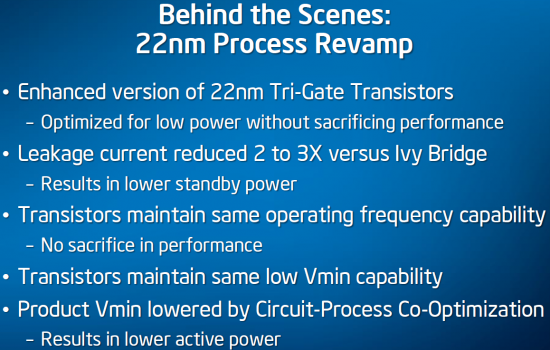 At the end of the day the Haswell microarchitecture looks great and is clearly a step in the right direction when it comes to power savings and performance design. When compared to the previous Ivy Bridge processors, you should see some nice power savings.
Haswell Enhanced Graphics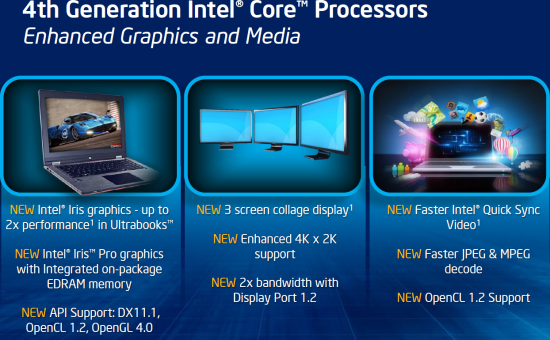 While Intel has certainly beefed up the CPU side of the processor, they have also put a ton of time and effort into making the GPU better. The integrated graphics offer support for the latest versions of the most important APIs, including DirectX 11.1, OpenGL 4.2 and OpenCL 1.2. Haswell's GPU also have new video codecs and are fully DirectX 11.1 compatible.

The hardware decoder supports MPEG4 SVC (an expansion of H.264 which combines streams of varying bitrates) and Motion-JPEG. The video encoder also works with the older MPEG2 codec, so that should really improve editing time on images and photos.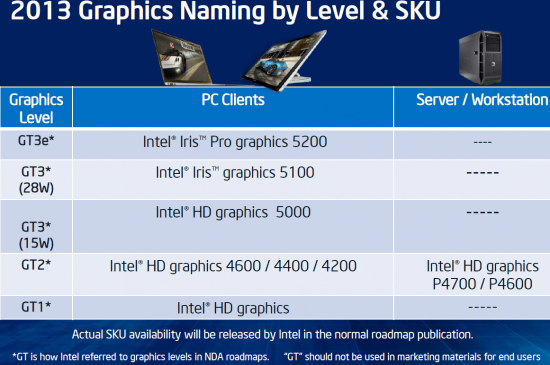 There were two versions of the Intel HD graphics with the Ivy Bridge processors. You either had HD 2500 or the faster HD 4000 graphics solution. Intel has greatly expanded their built-in graphics offerings as you can now find five different levels of graphics. You have old school Intel HD Graphics at the bottom, followed by 4200,400 and 4600 for LGA 1150 processors. BGA (embedded) processors get Intel HD Graphics 5000, Intel Iris Graphics 5100 and Iris Pro 5200.
Most desktop processors will get Intel HD 4600, which has 20 Execution Units (EUs), a 25% increase over Ivy Bridge. The clock speed has also been increased from 1150MHz to 1250MHz, a moderate 9% bump in clock frequency.
The Intel HD Graphics 5000 and Iris Graphics 5100 receive 40 EUs that give them basically twice performance of the new Intel HD 4xxx series graphics solutions. The best graphics part you can get is the Iris Pro Graphics 5200 which have 40 EUs gets a large embedded 128MB DRAM cache to greatly improve bandwidth performance.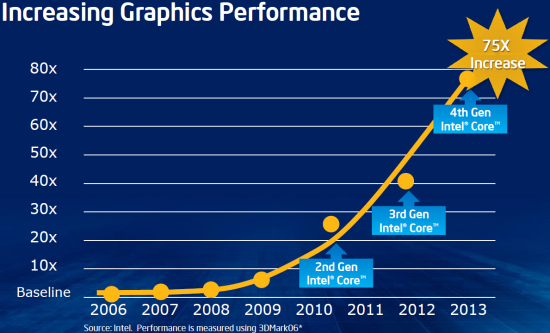 If you are running Intel integrated graphics from years ago, you might be wanting to update and you can see that in recent years Intel has really stepped up the game when it comes to graphics performance. Intel knows that they need to improve their graphics performance and in just a few short years you can see what happens when they put more effort into improving graphics. It is safe to say that at one point in time, integrated graphics was not a priority!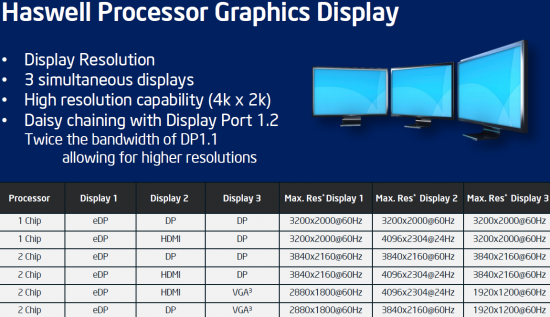 While the 3D performance of the integrated graphics has improved, so has display support. Intel Haswell processors support three simultaneous displays and can even handle Ultra HD 4K monitors. They also support daisy chaining with new DisplayPort 1.2 support in Haswell, so expect to see more motherboards offering DisplayPort on the board.
Intel Z87 Chipset Overview and DZ87KLT-75K Motherboard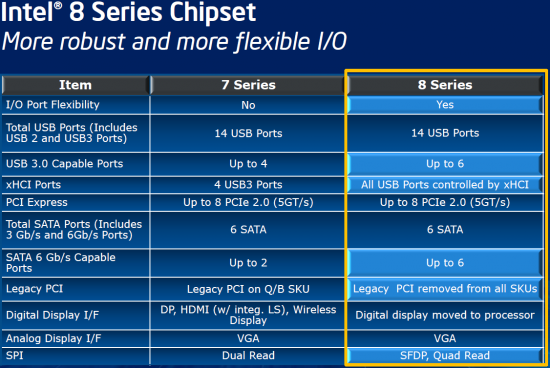 One of the other major changes with The 4th Generation Intel Core 'Haswell' processors is the introduction of the Intel 8 series chipset for the Haswell-required LGA 1150 socket. These chipsets are codenamed Lynx Point and will consist of Z87, Z85, H87, Q87, Q85 and B85 chipsets for both current Haswell and Broadwell processors. That is, if Intel does an LGA 1150 version of those processors as rumor has it they might just be embedded SoC's. If there is a socketed Broadwell processor to be had, these boards would likely just need a BIOS update in order to run the next generation processor after Haswell.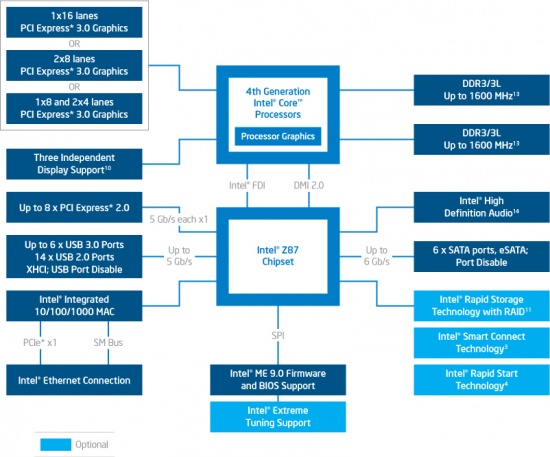 The flagship chipset is the Intel Z87 and that is of course the chipset that is of interest to our enthusiast audience. The diagram above is of the Intel Z87 chipset and its connectivity.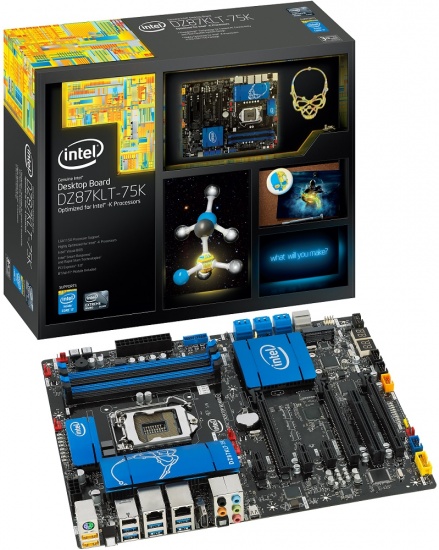 We usually don't spend much time covering Intel motherboards in our processor articles, but this will be one of the last desktop motherboards released by Intel. Intel is the company that came up with the idea of consumer desktop boards, so it will be odd that they will no longer be manufacturing and selling Intel branded boards after the Intel 8 series comes to a close in the years ahead. The board that Intel sent us to look at with Haswell is the Intel DZ87KL-75K desktop motherboard.
The Intel DZ87KL-75K motherboard has a pretty nice layout with tons of high-end features that enthusiasts are looking for in 2013. For starters you have a nice black and blue color theme and some fairly beefy passive coolers covering the components that are known to get hot. When it comes to key features you have eight SATA III 6Gbps ports (two by a third party controller), a mini PCI Express (mSATA) slot, five 4-pin PWM fan connectors and support for NVIDIA SLI and AMD CrossFire graphics card setups.
When it comes to rear panel support you have the usual PS2 connector, eight SupreSpeed USB 3.0 ports, a 800 MBit/s FireWire port, dual Intel Gigabit LAN, otpical S/PDIF and 7.1 audio connectors. When it comes to video outputs you have a full-sized HDMI port and a single Thunderbolt connector that also doubles as a mini-DisplayPort output. If you don't need Thunderbolt you might want to look for another motherboard model called the DZ87KL-70K, as it will not feature the Thunderbolt support, but you still have the mini-DisplayPort.
The DZ87KL-75K motherboard features an 8-phase VRM design along with a single 8-pin EPS power connector to supply more than enough power to the 4th Generation Intel Core 'Haswell' processor of your choosing.
The Intel DZ87KLT-75K motherboard has three PCI-Express 3.0 x16 slots in an x16/x8/x4 configuration, as well as three PCI-Express 2.0 x1 slots. It looks like Intel won't be getting rid of the PCI-slot as they included one of those slots as well, despite the fact that most people no longer use PCI cards for anything.
Here is a closer look at the six blue SATA III ports that connect to the Z87 chipset and the pair of grey SATA III ports that run off a third party controller. You can also see the back of the mini-PCIe slot behind the first set of SATA III ports and to the right of the SATA III ports you can see an internal USB 3.0 header for front panel connectivity.
Test System
Before we look at the numbers, let's take a brief look at the test system that was used. All testing was done on a fresh install of Windows 8 Enterprise 64-bit and benchmarks were completed on the desktop with no other software programs running. We completely overhauled our test setup for the Intel Core i7-4770K processor launch, so we are starting over from scratch when it comes to testing everything. For this review will be comparing Intel Z77, Intel Z87 and AMD FM2 platforms. These platforms are aimed at mainstream users and all feature integrated graphics, so it will be interesting to see how the systems compare. We understand that there is a significant price difference between some of the processors we will be testing, but the platforms are targeted to the same consumer group.
The Intel Z87 platform that we used to test the Intel 1150 processors was running the Intel DZ87KL-75K motherboard with BIOS 1817 that came out on 5/08/2013. The Corsair Dominator Platnium 8GB 2133MHz memory kit was set to XMP 1.3 memory profile settings, which is 1.5v and 9-11-11-31 1T memory timings. The Corsair Neutron GTX 240GB SSD uses 19nm NAND and was using M310 firmware.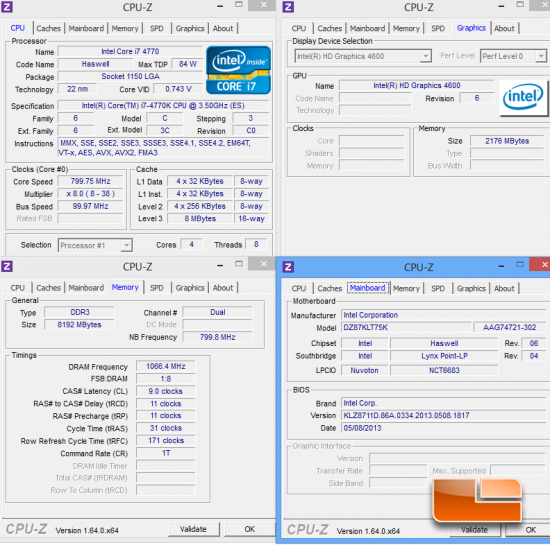 Here is a quick look at the CPU-Z information for our main test system that we'll be doing the testing on.
Intel LGA1150 Test Platform

Component

Brand/Model

Live Pricing

Processor

Intel Core i7-4770K

Motherboard

Intel DZ87KL-75K

Click Here

Memory

8GB Donimator 2133MHz

Click Here

Video Card

N/A

Click Here

Hard Drive

Corsair Neutron GTX 240GB SSD

Click Here

Cooling

Intel Retail Boxed

Click Here

Keyboard

Corsair K90

Click Here

Mouse

Corsair M95

Click Here

Power Supply

Corsair AX860i

Click Here

Operating System

Windows 8 64-Bit

Click Here
SiSoftware Sandra 2013 SP3a
The Sisoft Sandra 2013 SP3a benchmark utility measures pretty much all of your system components, but we'll be using it to focus on memory and CPU performance!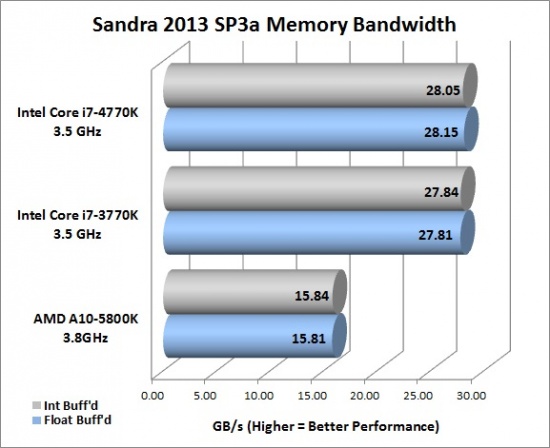 Results: The Intel Core i7-3770K Ivy Bridge processor had 27.8GB/s of memory bandwidth with our Corsair Dominator Platinum 2133MHz memory kit and CL9 timings. This is a solid number, but the Intel Core i7-4770K had 28.1GB/s of memory bandwidth with the same exact kit and XMP 1.3 profile. This is a 1.1% performance improvement, but we will take any improvement right? The AMD A10-5800K APU is also running the same dual-channel 2133MHz memory kit, but has just 16GB/s of memory bandwidth due to architecture differences.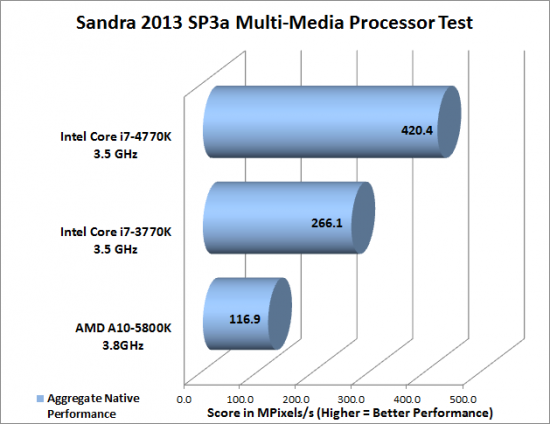 Results: The Intel Core i7-4770K processor was much faster than the Intel Core i7-3770K in the Multi-Media test, which is likely to to the new Intel AVX2 instruction set. This is a large 58% performance improvement.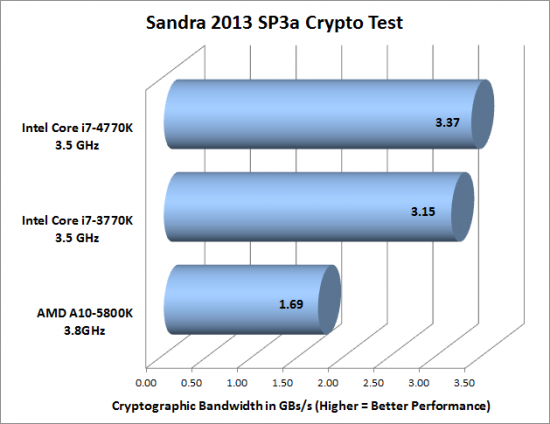 Results: All the new mainstream and high-end desktop processors support AES-NI and have pretty good Cryptographic Bandwidth numbers. The Intel Core i7-4770K was found to be 7% faster than the Core i7-3770K.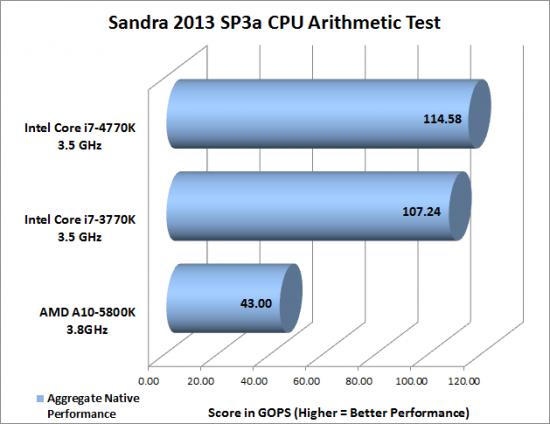 Results: In the CPU Arithmetic benchmark the Intel Core i7-4770K was found to be 7% faster than the Core i7-3770K processor.

So, for the most part the memory bandwidth is the same and general CPU performance is up by about 7% on Haswell compared Ivy Bridge. The only standout benchmark that we saw here on Sandra 2013 SP3a is the Multi-Media Processor test and that is mainly due to the new instruction set.

x264 HD Encoding
Simply put, the x264 HD Benchmark is a reproducible measure of how fast your machine can encode a short HD-quality video clip into a high quality x264 video file. It's nice because everyone running it will use the same video clip and software. The video encoder (x264.exe) reports a fairly accurate internal benchmark (in frames per second) for each pass of the video encode and it also uses multi-core processors very efficiently. All these factors make this an ideal benchmark to compare different processors and systems to each other. We are using x264 HD v5.0.1 for this test.
This application did fairly well when run on 12 threads, as you can see from the screen shot above. The first pass was not using all of the processing power available on the cores, but on the second pass all 12 threads were at ~95% load.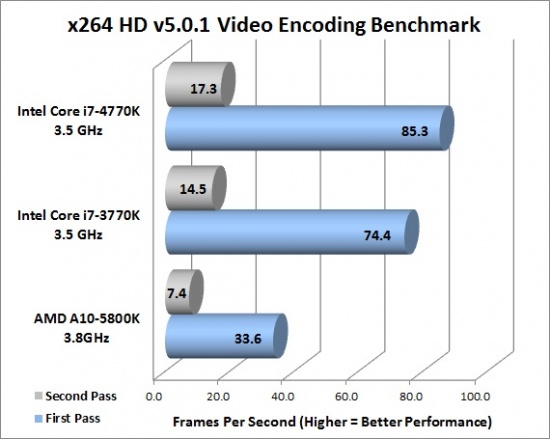 Benchmark Results: The x264 HD benchmark showed the Intel Core i7-4770K had very solid passes with 85.3 FPS on pass 1 and 17.3 FPS on pass 2. This is a performance increase of 19% and that is hard to complain about when the base clock of both processors is exactly the same.

CyberLink MediaEspresso 6.7
CyberLink MediaEspresso 6.7 is a blazingly fast media universal converter that can transcode your videos, photos and music files and out put them to a huge range of portable devices including mobile phones, portable media players and even game consoles. With technologies like Smart Detect, Direct Sync and CyberLink's TrueTheater video enhancements, you can not only forget about complicated format, resolution and output settings, but your converted file will come out the other side looking better than when it went in! MediaEspresso 6.7 can be used to output your slideshows and videos to mobile devices like an iPhone, iPod, PSP or Zune. Pre-set profiles eliminate the need for any complex settings and you can just drag-and-drop the video files you want to convert straight into the application.
We downloaded a clip that was encoded at 24 frames per second (fps) at a resolution of 1920 x 1080 (1080p). We then used MediaEspresso 6.7 to convert this clip to work on our iPhone 5 with the default mobile phone profile settings.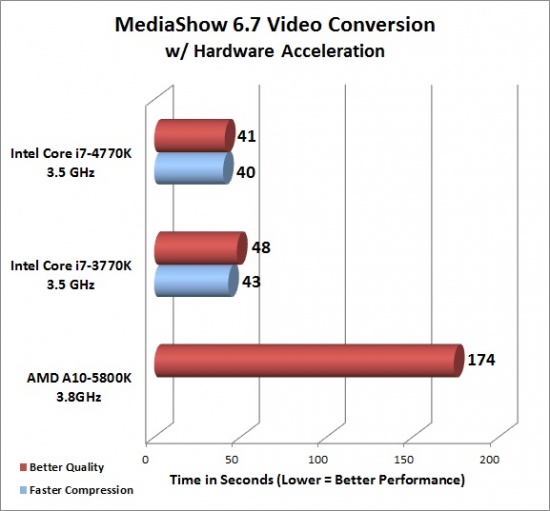 Benchmark Results: With full hardware acceleration enabled we found a seven second difference between the Intel Core i7-4770K and the Intel Core i7-3770K. The AMD A10-5800K finished in just over two minutes.

It should be noted that we Intel Quick Sync Video was enabled and we had the choice between the faster conversion and better quality profiles. AMD processors do not have these profile options and that it was only run once as there is just one default profile with hardware encoding and decoding enabled.
Handbrake
Handbrake
HandBrake is an open-source, GPL-licensed, multiplatform, multithreaded video transcoder, available for MacOS X, Linux and Windows. It is popular today as it allows you to transcode multiple input video formats to h.264 output format and is highly multithreaded.
This workload is a fibe minute HDV. The input file is encoded in Mpeg format. Video encode parameters are 23.9mbps, 1920x1080, 29.9fps. Audio encode parameters are 384 kbps, 48kHz, 2channel, mpeg audio version 1 layer 2. File size is 128MB. The workload is encoded into h.264 output format using the preset - high profile. HandBrake version 0.9.9 was used for benchmarking.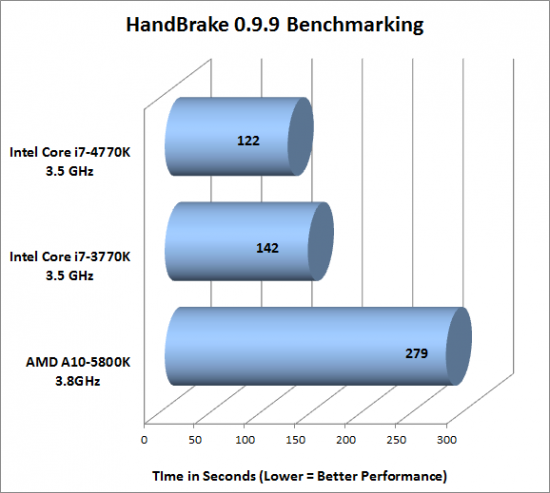 Benchmark Results: HandBrake version 0.9.9 showed that the Core i7-4770K "Haswell" processor was able to complete the benchmark 20 seconds faster than the Core i7-3770K "Ivy Bridge" processor. This is a nice 14% performance improvement doing a task that most desktop PC users do today at home.

POV-Ray 3.7 RC7
Processor Performance on Pov-Ray 3.7 RC7:
The Persistence of Vision Ray-Tracer was developed from DKBTrace 2.12 (written by David K. Buck and Aaron A. Collins) by a bunch of people (called the POV-Team) in their spare time. It is a high-quality, totally free tool for creating stunning three-dimensional graphics. It is available in official versions for Windows, Mac OS/Mac OS X and i86 Linux. The POV-Ray package includes detailed instructions on using the ray-tracer and creating scenes. Many stunning scenes are included with POV-Ray so you can start creating images immediately when you get the package. These scenes can be modified so you do not have to start from scratch. In addition to the pre-defined scenes, a large library of pre-defined shapes and materials is provided. You can include these shapes and materials in your own scenes by just including the library file name at the top of your scene file and by using the shape or material name in your scene. Since this is free software feel free to download this version and try it out on your own.
The most significant change from the end-user point of view between versions 3.6 and 3.7 is the addition of SMP (symmetric multiprocessing) support, which, in a nutshell, allows the renderer to run on as many CPU's as you have installed on your computer. This will be particularly useful for those users who intend on purchasing a dual-core CPU or who already have a two (or more) processor machine. On a two-CPU system the rendering speed in some scenes almost doubles. For our benchmarking we used version 3.7 RC5, which is the most recent version available. The benchmark used all available cores to their fullest extent to complete the render.
Once rendering on the object we selected was completed, we took the elapsed time from the dialog box, which indicates the exact time it took for the benchmark to finish the benchmark. A lower time indicates faster system performance. This benchmark used all 12 threaded and loaded each one up at 100% load!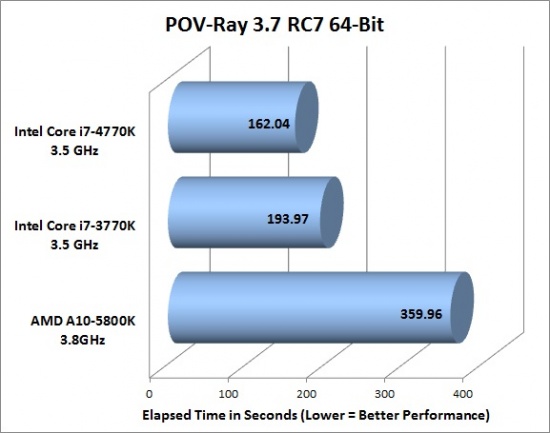 Benchmark Results: The Intel Core i7-4770K finished the POV-Ray benchmark in 162.04 seconds, which is 16% faster than the Intel Core i7-3770K and more than twice the speed of the AMD A10-5800K APU.

Cinebench R11.5
MAXON; CINEBENCH R11.5:
MAXON recently released CINEBENCH Release 11.5, an advanced hardware testing suite that assesses a computer's performance capabilities. CINEBENCH is based on the same powerful technology as MAXON's award-winning animation software CINEMA 4D, which is used extensively by studios and production houses worldwide for 3D content creation. The new version of CINEBENCH includes the ability to more accurately test the industry's latest hardware, including systems with up to 64 processor threads, and the testing environment better reflects the expectations of today's production demands. A more streamlined interface makes testing systems and reading results incredibly straightforward. Again, higher Frames/Second and point score equal better performance.
Cinebench R11.5 was able to put a 100% load across all the cores on all of the processors, which makes this a great benchmark to look at multi-core platforms.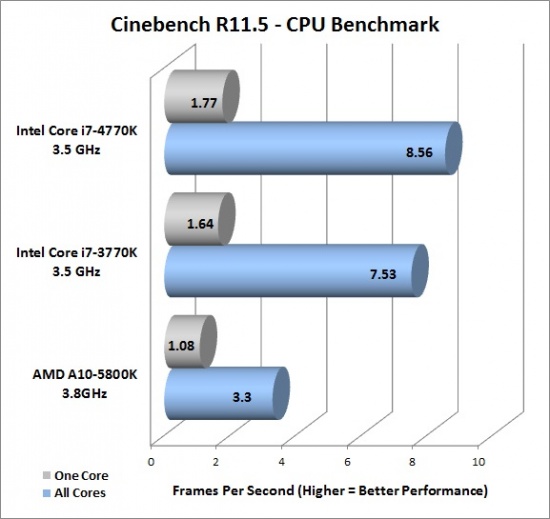 Benchmark Results: The fourth generation Intel Core i7-4770K Haswell processor scored 8.56 points when using all of the available cores and had a score of 1.77 on just one. This makes the 4770K Haswell CPU nearly 14% faster than the 3770K Ivy Bridge processor.

3DMark 2013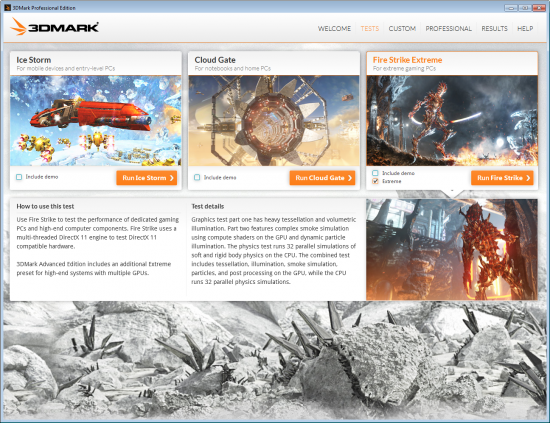 Futuremark 3DMark has three primary benchmark tests that you can run and which test you should be running depends on the system that you are benchmarking on.
Ice Storm - For mobile devices and entry-level PCs
Cloud Gate - For notebooks and home PCs
Fire Strike Extreme - For extreme gaming PCs (extreme mode for those with multiple GPUs)
Since all of the benchmarks can be run on desktop PCs, we will run each of them on our Intel and AMD processors to see how they stack up.
Intel Core i7-3770K w/ Intel HD Graphics 4000: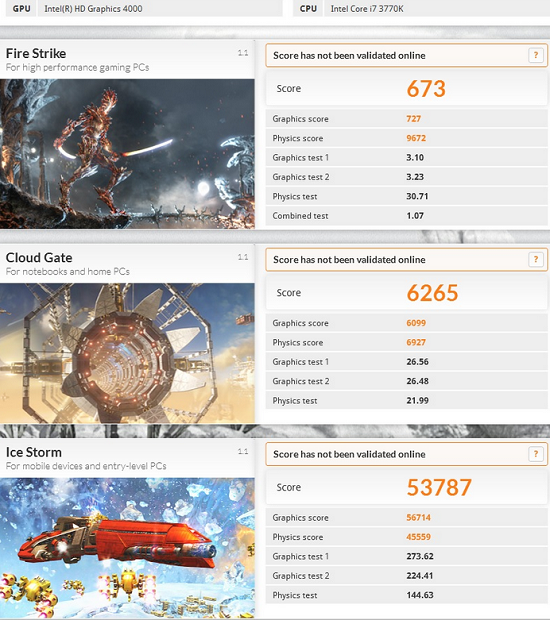 Intel Core i7-4770K CPU w/ Intel HD Graphics 4600: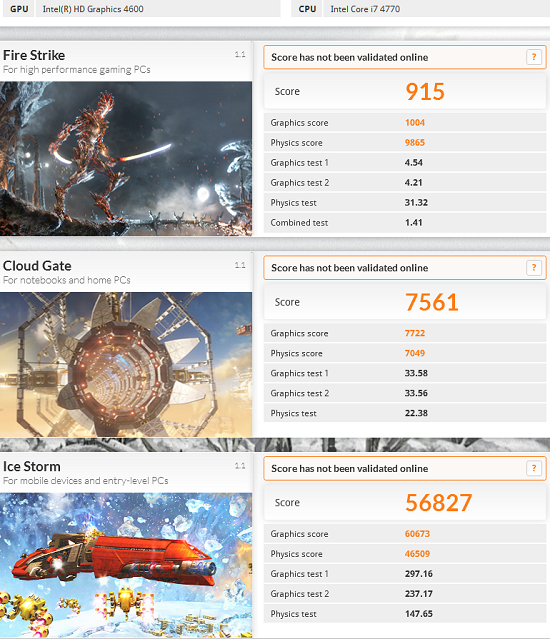 AMD A10-5800K APU w/ Radeon HD 7660D Graphics: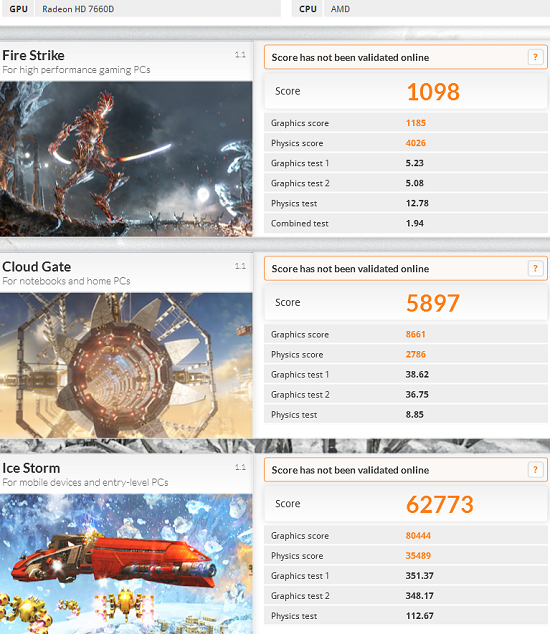 Benchmark Results: The Intel Core i7-4770K scored 915 points in Fire Strike, which is 36% faster than the Intel Core i7-3770K! Seeing a 36% performance improvement between these two desktop processors is impressive to say the least. The AMD A10-5800K APU hasn't been in the lead in any benchmark yet, but here we can see that it excels in graphics and had an overall score in Fire Strike of 1098, which is 20% faster than the new Intel Core i7-4770K processor. Oddly, the AMD A10-5800K APU scored poorly in Cloud Gate and both the Intel Core i7-3770K and Core i7-4770K were able to perform better in that one benchmark. If you look closer at the results for Cloud Gate you'll see that AMD won in the graphics tests, but lost in the Physics test, so Futuremark 3DMark must have more weight on the physics test than the GPU test in this test scenario.
Intel Core i7-4770K CPU Temp Testing
At the very last minute we managed to get our hands on a retail boxed Intel Core i7-4770K, which is great news as we wanted to try out the stock HeatSink Fan (HSF) combo on this new 22nm processor to see how it performs. Intel told us that the HSF has not changed since Ivy Bridge and that appears to be correct.
The retail boxed Intel Core i7-4770K processor that we have came with HSF part number CN2F2066N2 and it uses a Nidec F90T12NS1A7 4-pin PWM fan that uses 0.28A.
The bottom of the cooler has three small strips of Shin-EtsuMicrosi thermal compound applied, so all you need to do is install your CPU into the LGA1150 socket and slap this cooler on it. That is exactly what we did, so let's take a look at idle and load test results.
With the Intel Core i7-4770K processor sitting on the desktop at an idle we observed an average CPU core temperature that bounced around 37-39C. We used the Intel Extreme Tuning Utility to monitor the temperatures. This is a pretty nifty free utility that shows you all sorts of stuff. We enabled some extras, so you can see the total CPU TDP being just 5 Watts at idle and each core temperature.
When it comes to load temperatures we fired up Prime 95 27.7 64-bit and saw the CPU core temperature rise to 86C with a CPU total TDP of around 75 Watts. The CPU temperature rose quickly, but eventually the fan profile kicked in and the fan speed increased enough to compensate for the heavy workload. No CPU Throttling was noted with the stock CPU cooler, but with temperatures hitting 86C, we highly advise aftermarket cooling if you plan on doing any overclocking as these new 22nm processors do run warm.
Intel Core i7-4770K CPU Overclocking
The Intel Core i7-4770K processor starts out life with a 3.5GHz base clock and can boost up to 3.9GHz. We heard that reaching 4.5-4.7GHz should be easy for most platforms with high-end air coolers or water cooling. For this review we wanted to see what we could hit with the stock CPU cooler. Since the voltage regulation has been moved on-package thanks to Haswell's FIVR design, we are interesting to see how this hotter chip does with the same cooler that came with Ivy Bridge processors. Remember the Intel Core i7-3770K was 77W TDP and the Intel Core i7-4770K is now 84W TDP due to this. Intel also still does not solder the heatspreader (lid) to the top of the processor, so this will be interesting.
We used the Intel overclocking assistant on the Z87 motherboard to try running 4500MHz and sure enough the system was up and running. We ran a few benchmarks and the scores were improved, but then we noticed that the CPU was throttling and hitting pretty high temperatures.
For example we fired up Prime95 and within a few seconds we were hitting 100C and the CPU throttled back to prevent certain CPU death. We lowered the overclock to 4.3GHz and it still throttled, so we went down to 4.2GHz.
At 4.2GHz we saw the temperatures hit 90C, but then the fan kicked on and dropped it down into the 80's for the duration of the run. A 300Mhz overclock past the CPUs Boost speed isn't that impressive, but we are CPU cooler limited. If you plan on overclocking a Haswell processor we suggest that you invest in a good closed loop water cooler or a high-end air cooler for better thermal performance. Haswell runs hotter than Ivy Bridge, so be sure your cooling is ready. It should be noted that we are able to hit 4.7-4.8GHz with the Corsair H100i water cooler and there is no throttling, so plan ahead if you want to overclock!
Final Thoughts and Conclusions
The Intel Core i7-4770K is an interesting processor to review from a performance standpoint. When it comes to raw CPU performance it appears that "Haswell" brings a small performance increase to the table over an "Ivy Bridge" processor. Is it a large enough performance gain to make those that just bought an Ivy Bridge system in 2012 to go run out and buy a whole new system? Not likely, but for those with older processors the performance of Haswell should give you nice gains and you'll be able to use the new LGA-1150 platform and reap the benefits of the new Intel Z87 chipset and supporting third party solutions. So, it looks like the Intel Core i7-4770K is a worthy successor to the Intel Core i7-3770K. Some might have expected more out of Intel's "TOCK" level CPU, but this is it.
When it comes to graphics the new 4th Generation Intel Core processors look really good. The Intel HD 4600 series graphics clearly out perform last generations Intel HD 4000 graphics. Getting a good 30-40% boost in 3D graphics performance is much welcomed and needed right now. We wish LGA 1150 processors would get Intel Iris Pro graphics with the embedded memory, but maybe Intel will hear that and release a Core i7-4770KR processor in the future. There are lots of desktop users that would benefit from having twice the graphics power for Quick Sync video transcoding. Many use a desktop for video editing and we've been told that having twice the EUs and large cache really help speed things up! That said, we are still impressed with the graphics performance and hope that Intel keeps up with the quarterly graphics drivers and continues to improve game support. Now that Intel graphics is catching up to AMD's integrated graphics they'll have to ensure game day driver support and things like that in the future.
We knew from the start that Haswell would be hotter than Ivy Bridge due to the higher TDP thanks in part to the fully integrated voltage regulator (FIVR). Our testing showed this to be true, but the thin retail boxed HSF combo did the job and was able to keep the Core i7-4770K processor under control. When we tried out overclocking we found that we could easily hit 4.2GHz with no voltage increases and throttling issues. We've found that to get to 4.3GHz or beyond you need to add a little voltage and that is when you'll see the stock cooler not be able to handle the higher temperatures as a result of the higher voltages and clock speeds. We are pointing this out so enthusiasts know that they need a decent CPU cooler to go along with this platform.
When it comes to pricing the Intel Core i7-4770K processor runs $339 when it comes to tray pricing. Intel Core i7-3770K processors can be found online for $315 shipped, so pricing is reasonable considering the performance between the two processors. One of the nice things about Haswell is the new Z87 platform. There are some really nice boards out there by companies like ASUS, Gigabyte and MSI that we have seen. These boards have much improved audio, LAN, USB 3.0 and SATA III components. If the processor alone hasn't sold you, take a look at some of the Z87 motherboards that are coming out. We have a review up on the Gigabyte Z87X-UD3H motherboard here.
At the end of the day the Intel Core i7-4770K left us impressed. It has great improvements when it comes to graphics and the CPU performance gains are hard to ignore. While Haswell looks good on the desktop we can't wait to see what Intel has done on the mobile side. It's safe to say that Intel built Haswell with mobile platforms and Thin-ITX desktop clients in mind. There should be some really nice battery life and performance gains there as well!
Legit Bottom Line: The Intel Core i7-4770K processor along with the robust features found on Z87 platforms make for a desktop solution that will last for years.