Introduction to the Fractal Design Node 605
Fractal Design is a fairly new company that you may or may not be familiar with. They're based in Sweden, and probably best known for their stylish PC cases. Fractal Design feels they are a great alternative to other similar products, so we'll be taking a look at their latest and greatest HTPC case
The Node 605 (FD-CA-NODE-605-BL) is primarily designed with a media center in mind, but could easily be used for other applications. Unlike the Node 304, which was a shuttle style HTPC case, the Node 604 is traditional in case shape and size, while still being relatively light weight and sturdy.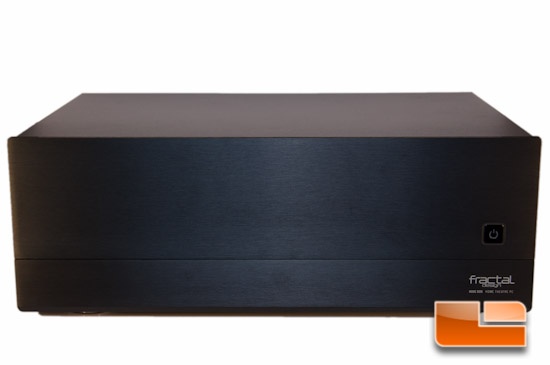 Fractal's Node 605 only comes in black, but it looks extremely sexy, especially with that black aluminum front. This case will set you back $150.47 shipped on Amazon, which is not exactly entry level pricing, but is still fairly affordable.
Node 605 Technical Specifications
ATX, microATX, Mini ITX, DTX motherboard compatibility
7 expansion slots
4 - supports either 2.5" or 3.5" HDD / SSD
1 slim-line ODD (only supported with mATX or smaller motherboards)
PSU compatibility: 180 mm (including any modular connectors) with both hard drive cages mounted or 190 mm (excluding cables and any modular connectors) with one hard drive cage mounted
CPU cooler compatibility: Approx 125mm with side-mounted fans - For coolers with top-mounted fans,
Fractal Design recommends that you add at least 30 mm clearance for decent airflow
Case dimensions (W x H x D): 445 x 164 x 349 mm (17.52 x 6.46 x 13.74 in)
Net weight: 6 kg (13.23 lbs)
As you can see from the specifications, you can run anything from a full sized ATX board to a MicroATX board. This provides a ton of flexibility and helps hit a broad range of different users. One other thing that you will notice between the Node 304 and 605 is the inclusion of an optical disk drive bay (ODD). Unfortunately this bay will require a slim-line ODD, which if you only have a standard sized drive handy, it will force you to spend a few more bucks on your HTPC setup. It's not a huge deal breaker, as you could pick up something like a Panasonic UJ240 on Amazon for $53.98 shipped.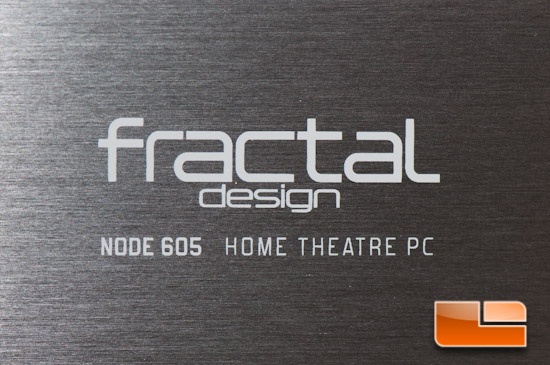 Even though there isn't much in terms of moving parts or things that could break on this case, Fractal Design has a full 1 year warranty on the Node 605, which is a nice piece of mind.
Next up we'll dig into the packaging and see how well Fractal Design accounted for the punishment of shipping companies.
Fractal Design Node 605 Packaging & Unboxing
Knowing how much of a beating some packages can go through via a shipper, it's always a huge concern when it comes to cases as they're so delicate and the centerpiece of your PC; especially when it comes to a media center case.
The outside of the box is just a standard brown colored cardboard box, which is fine as it keeps cost down for Fractal and the consumer. I was quite pleased with how well it held up in the hands of the shipping company. There were a few small dings on it, which only caused a little concern, but nothing major.
On one side of the box, you'll see a simple drawing of the case along with Fractal Design and the product that's inside; the Node 605.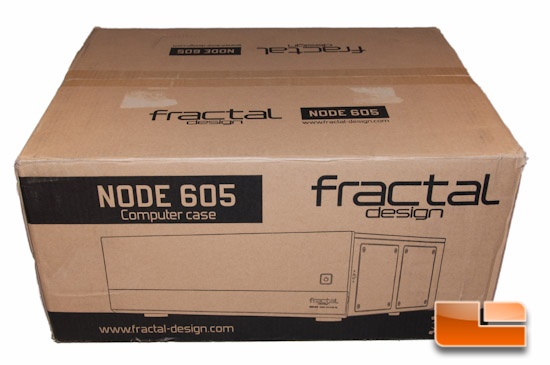 Turning it around, you'll see a nice set of features and specs, which should definitely help you figure out if you want this case or not.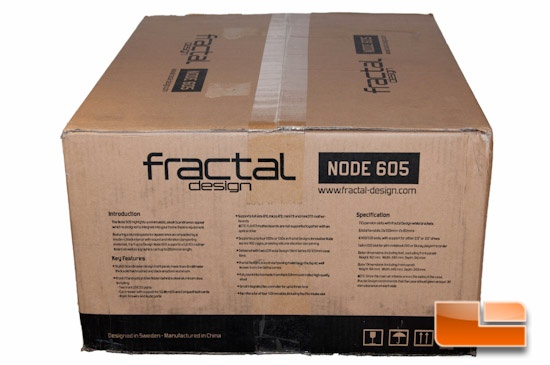 On the next side, you'll catch another drawing of the Node 605 with some key features of the interior and exterior.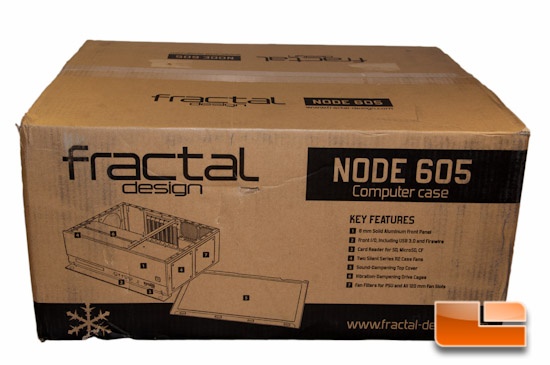 The last side will show you an above perspective drawing of the case opened up and that's it.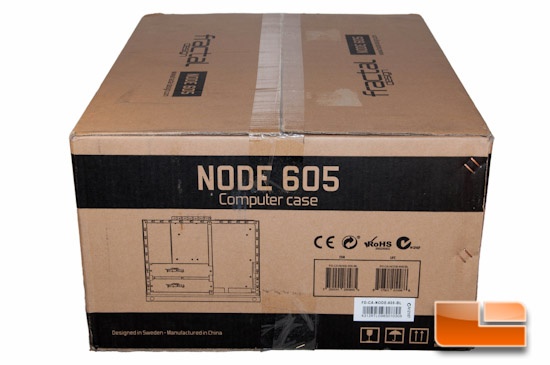 Finally getting to the more exciting stuff and popping the top open, we're presented with the Node 605 with two nice and fat Styrofoam blocks at the ends, with the case being wrapped in a loose plastic bag. The plastic around the case definitely assisted with keeping the case scratch and debris free.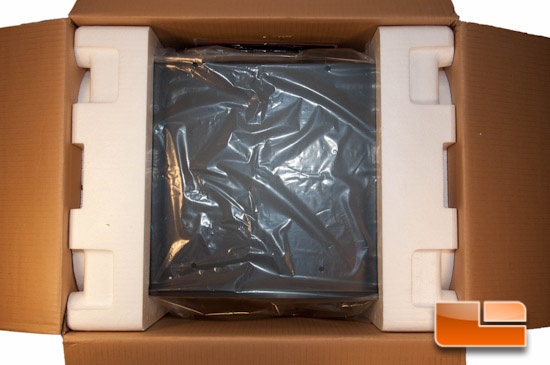 Taking those materials off, we got to see the gorgeous aluminum front bezel with a nice coat of plastic protecting it.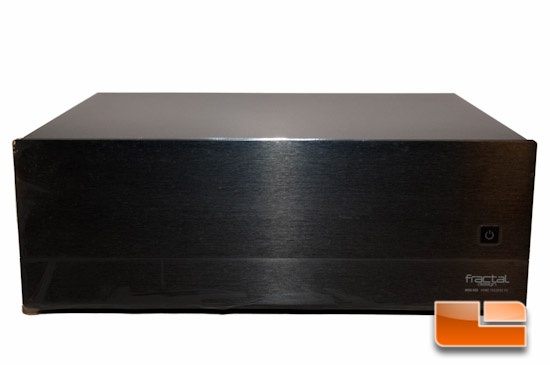 Finally the case came with a standard user manual and a box containing the screws that you need, standoffs, zip ties, and a slim ODD bracket.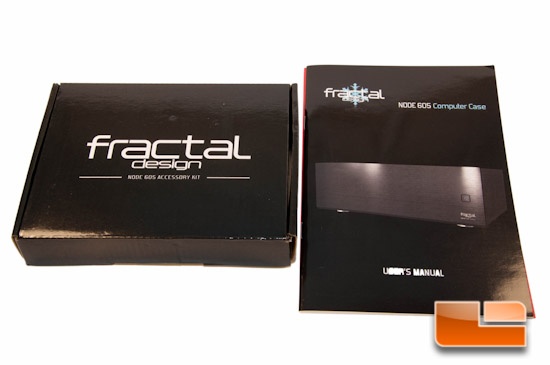 Next up we'll look closer at the Node 605's exterior!
Fractal Design Node 605 Exterior Impressions
Right out of the box, it's hard to not notice the beautiful black solid aluminum face, measuring 8mm thick, and the nicely done black painted steel. The face is covered in a nice protective plastic to keep it from being scratched up, which is much appreciated. It's extremely slick, and even on the bottom, you've got an aluminum flip-down access panel, which drops down in a nice smooth motion. You'll notice the Fractal Design logo, which isn't obnoxious by any means.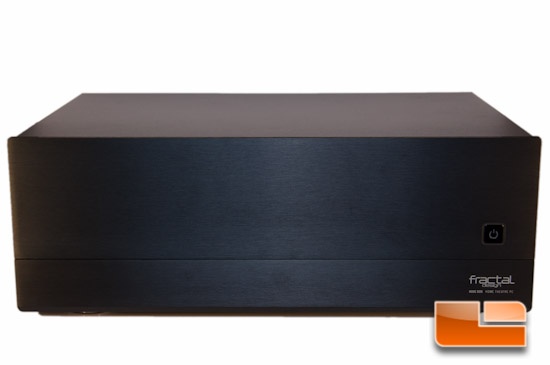 Behind the flip-down panel, moving left to right, you'll find a slim ODD bay, a FireWire port, microphone in, headphones out, 2 USB 3.0 ports, and a card reader that supports Compact Flash, MicroSD, and standard SD. All of these hidden ports provide a ton of added functionality, provided your motherboard supports everything.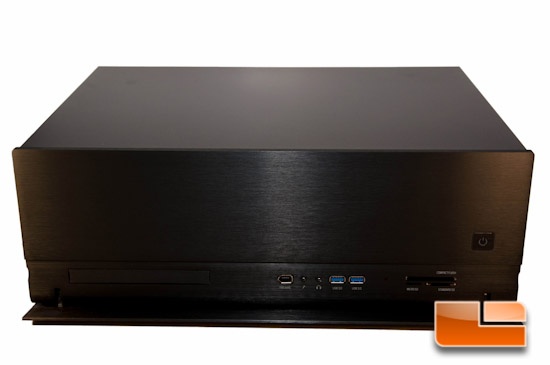 When you're done with the normally hidden ports, the access panel does have two rubber bumpers to prevent it from slamming and scratching up your case when you close it.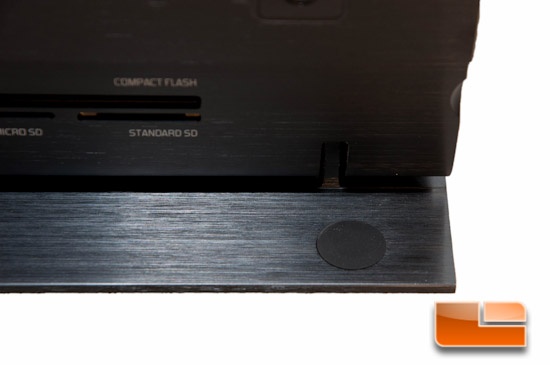 Just above and to the right of this access panel, is the power button that lights up blue.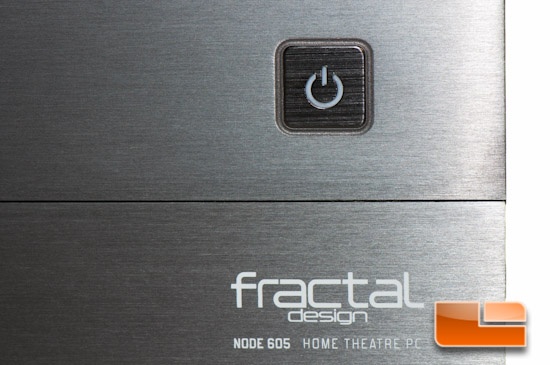 Moving on to the right side of the case, you'll notice the two fan spaces right off the bat.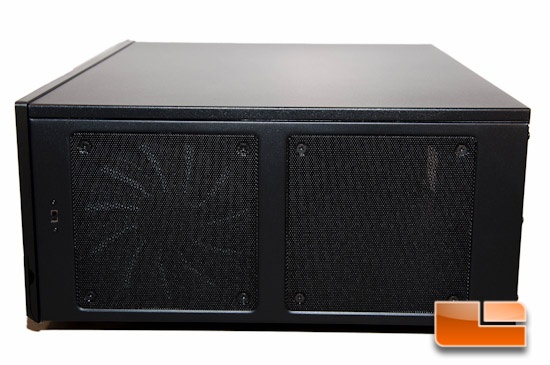 If you look a little closer to the very left hand side, you'll see a switch that will move into three different positions. This is the three-speed fan controller, which is a welcome addition to the case to help accommodate everyone's cooling needs.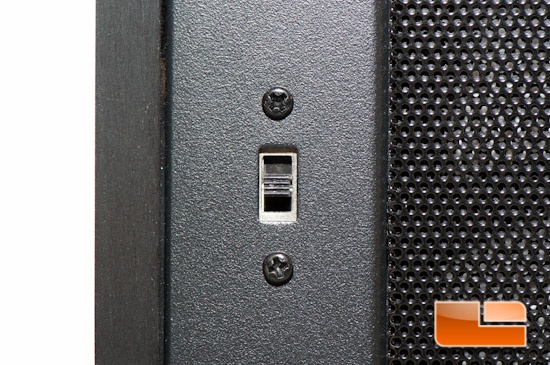 Looking down just a little bit farther on the left hand side, you'll notice a notch out, which is a nice touch when trying to pull down the access panel.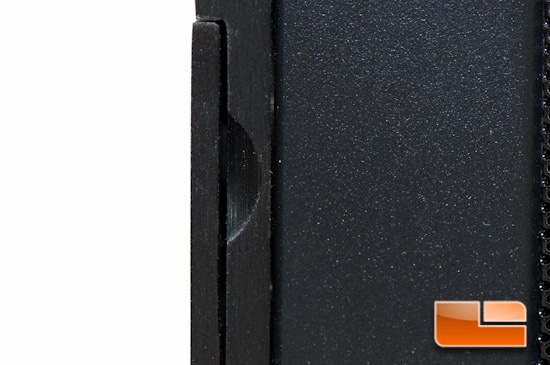 The rear of the case is where you'll find your standard expansion slots, seven in total on this case, and also two spots to have additional 80mm fans. From this view, you'll notice that a full sized ATX power supply will fit in the Node 605, too.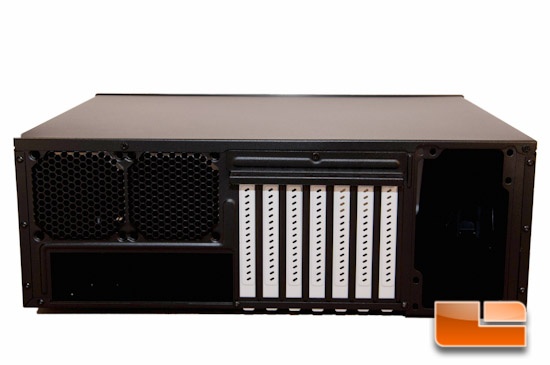 If you want to gain access to the expansion slots, you'll have to remove one screw and flip down a small panel, then remove a screw for each slot you want to utilize. Do take note of these screws, as they require you to use a screw driver for them and literally everything else on this case. There is not a single tool-less screw or feature on this case, which is very unfortunate.
One last turn and you'll see that same notch out to pull the access panel down, along with two fan openings.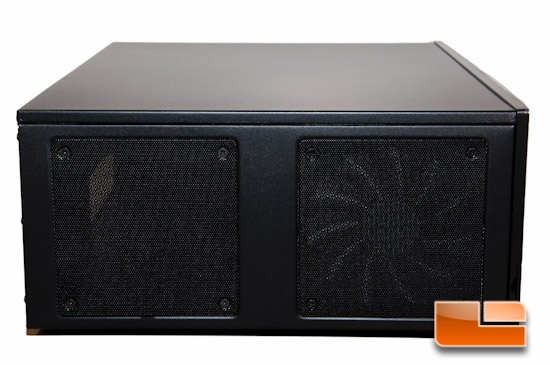 On the bottom we have four nice rubber feet, which will absolutely help keep the case firmly planted.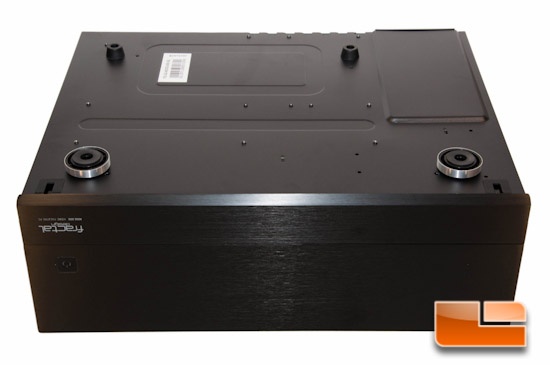 We're going to crack the top of the case and look at the guts, so read on to see what lies inside!
Fractal Design Node 605 Interior Impressions
Cracking the top of the Node 605 is fairly easy, but it could be easier if Fractal provided thumb screws instead of standard sheet metal screws. You take off two screws in total and pull back.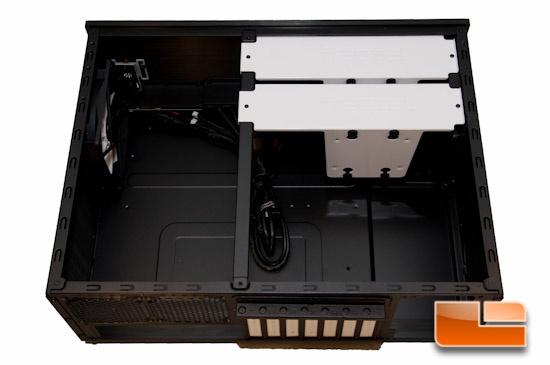 The very first thing that I noticed was the weight of the cover. The cover weighs a bit more than I expected, as it has a sound deadening material attached. This is a very nice touch, as it will indeed help keep everything quiet.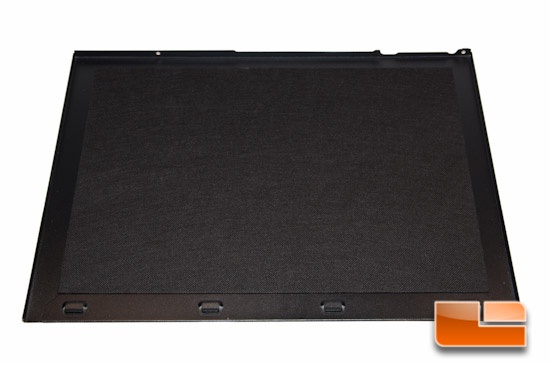 Looking inside the case, you'll likely first notice the bright white HDD cages on the completely black painted interior. They're stamped with Fractal Design's name and they look great! With these cages, you'll be able to fit up to four regular sized drives, so you'll be able to have more than enough local storage.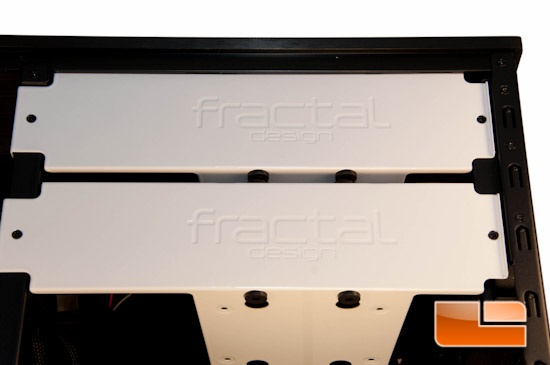 Just below these HDD cages is where you'll mount your slim-line ODD.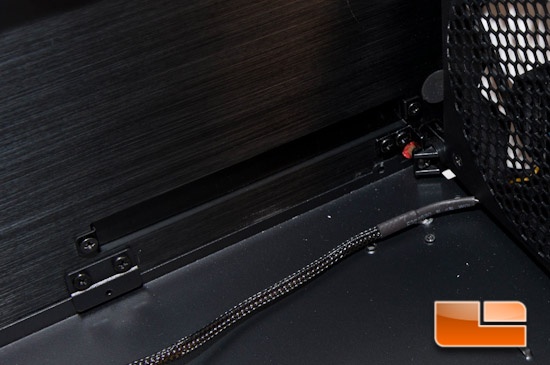 The other accented items would be the fans. There are two 120mm Silent Series R2 hydraulic bearing fans that are included, which sport some slick white blades with a black surround. These are set up to offer a positive pressure flow in the case and are rated at up to 1200 RPM's, pushing up to 40.6 CFMs at 15 dB, which is literally whisper quiet. One is placed right next to the HDD cages, while the other is on the opposite end.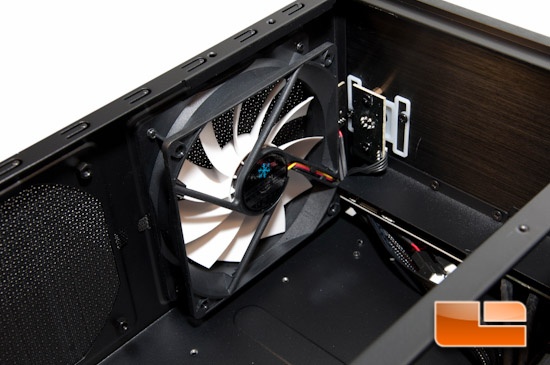 Speaking of fans, you'll remember that you can mount two 80mm fans on the rear, plus there are two other spots for 120mm fans. One of these spots will be taken up by your PSU, while the other can be used with your own fan, or left unused. Each of the four 120mm fan slots has a removable filter, which should filter out most dust particles no problem. Unfortunately the 80mm slots are left bare.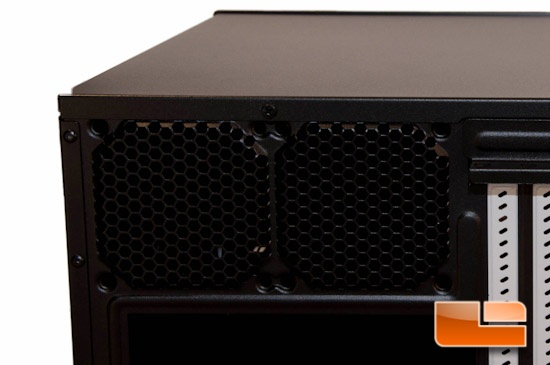 All of the cables that are for the fans or to hook up the front I/O connectors are all sheathed black to match the case. This is a really nice touch!
The motherboard tray can handle MicroATX, Mini ITX, DTX, and a standard sized ATX board. Should you choose to use a board larger than mATX, you will no longer be able to use a slim-line ODD slot.
Inside the Node 605, you'll be able to fit a full sized ATX power supply, measuring either 180mm with both HDD cages attached, or 190mm with only one attached.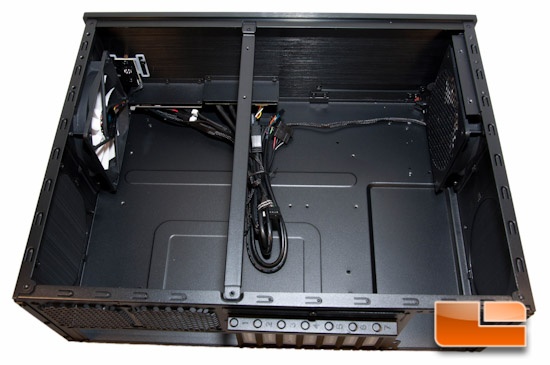 If you want to fit a big fat video card inside, you should have no problem. This case can accommodate a video card measuring up to 290mm, provided you only use the top most expansion slot. Should you need to use a lower slot, you'll either have to use a short 180mm video card, or remove one HDD cage to allow the case to accept a 255mm card.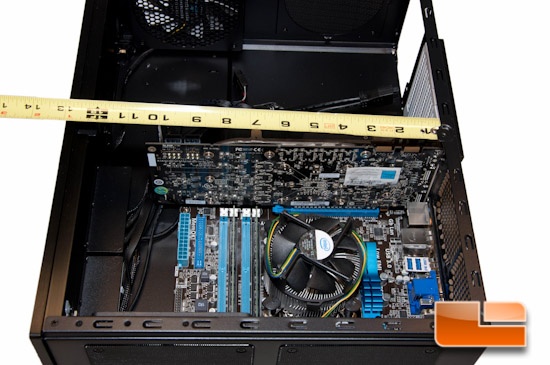 CPU coolers shouldn't be too much of an issue. We were able to use a stock Intel cooler and had plenty of room to spare. Fractal says you'll be able to fit a cooler that stands up to 125mm tall with side mounted fans. If you have a top mount fan, there should be no less than 30mm of space between it and the top of the case for sufficient cooling power.
Hardware Installation Inside the Node 605
Installing your hardware components is pretty simple, but again, it would be really nice if Fractal Design provided a tool-less system.
Starting off with the motherboard, you can place the standoffs where you need. Everything went in with ease and board installation was fairly simple. I only had troubles getting one screw in, which was by the RAM slots, next to the inside wall. This was very cramped here, and for whatever reason the screw always wanted to cross thread. PEBKAC error? Maybe, but it was indeed tight there, though it was easy to get it right. Speaking of errors, yes, I did realize after I took my final picture, that I forgot to hook up the 8-pin next to the processor. Oops!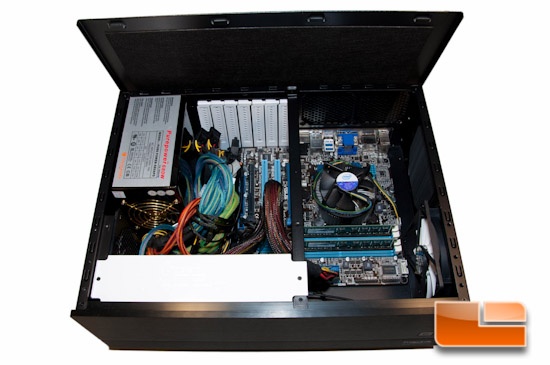 To install the slim-line ODD, you'll need to remove both HDD cages and then remove two screws that hold the filler in place. Fractal did include the mounting brackets for the slim ODD, which is nice.
Mounting your HDD's into the cages is nice and easy with the provided screws.
When dropping in an expansion card, such as a video card, you'll have to remove the single screw on the rear of the case that holds a hinged door in place. When you drop that down, you'll have access to the seven expansion slots and the screws that hold the fillers in place.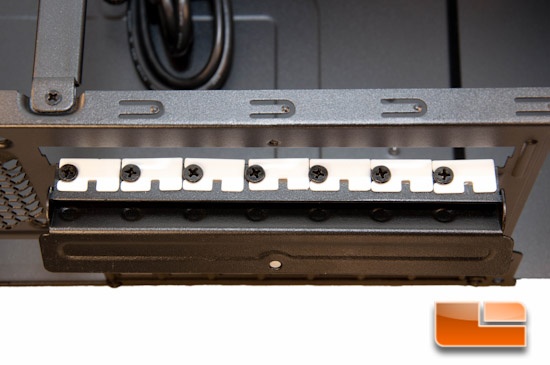 When I popped in my old 8800 GTX, I had plenty of room to spare, and that card isn't small by any means.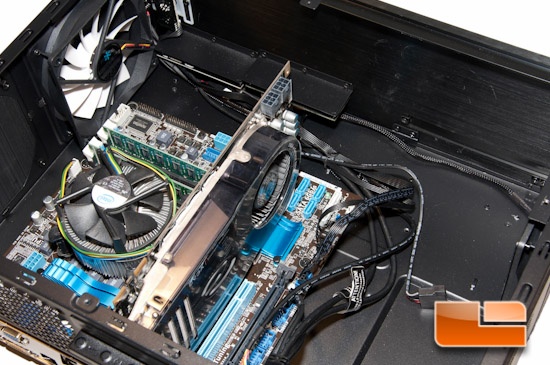 PSU mounting is done via traditional means, using the four included screws. Unfortunately there is nowhere to hide the wires, so you'll have to tuck the wires somewhere or find a place to strap them in with the included zip ties. I would also strongly recommend a modular PSU, unlike what I ended up using. I will be investing into a modular PSU for future use on this HTPC.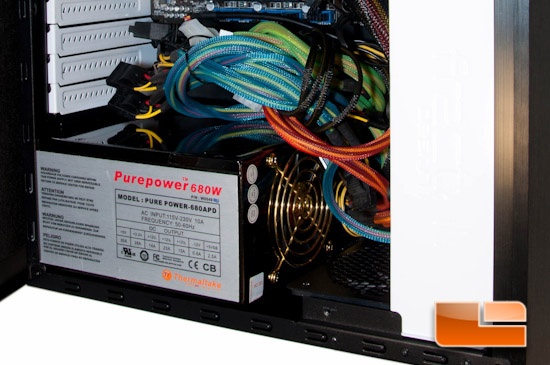 Overall I have to say hardware installation was simple. Should thumb screws or tool-less connectors been provided, it would have made everything that much more simple. There is a ton of room to work with inside this case, so if you ever need to swap in or out components, you won't struggle.
Firing everything up, the fans were very quiet, just as expected.
Node 605 Final Thoughts & Conclusion
Fractal Design really did a great job with the Node 605. The face of the case is a beautiful black aluminum design, which also has a way to keep the front I/O ports hidden in style. The whole HTPC concept may be questionable by some, but others (like myself) see the value and luxury behind it. The Node 605 really will look gorgeous beside your other HTPC components, and it certainly fits in with mine.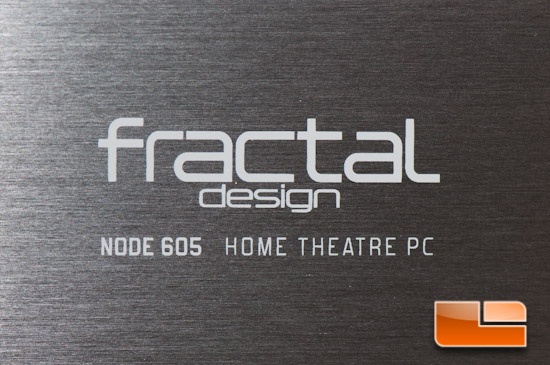 The dust filters for the fans and the sound dampening material on the cover are a very nice touch. I know I certainly do not like listening to my PS3's fan kick in occasionally when watching movies, and the sound dampening material and fan speed controller are wonderful with preventing me from hearing that noise. The included fans were very quiet at full power, which is a plus.
The aesthetics and functionality of the Node 605 are simple, yet gorgeous! If you can't tell, I fell in love with the front of the case, while loving how easy it was to work inside.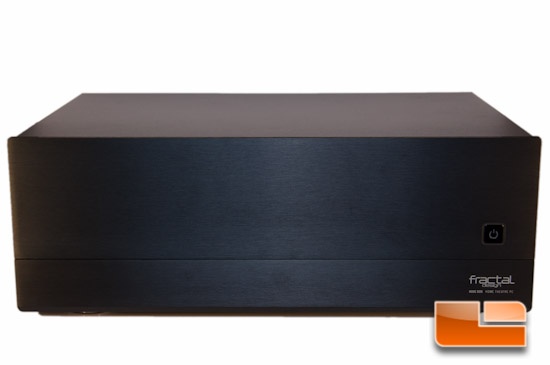 Building inside the Node 605 wasn't at all compact feeling and was relatively easy. The case is plenty large so there is lots of room to work with. Having the ability to mount four HDD's inside is a nice plus if you want a ton of localized storage. When mounting a PSU, I would highly recommend something modular to keep the number of wires down. This case is big, but not that big! The PSU that I initially used had such a large clump of wires, that I ended up having to remove one of the HDD cages.
Having the ability to use DTX, Mini ITX, mATX, or a full sized ATX board provides you a ton of flexibility with this case. The only unfortunate part is, if you use anything larger than mATX, you lose the ability to use the slim ODD bay. Should your motherboard allow for a dedicated GPU to be installed, you can install up to a 290mm card, which gives you yet another large amount of options available to you.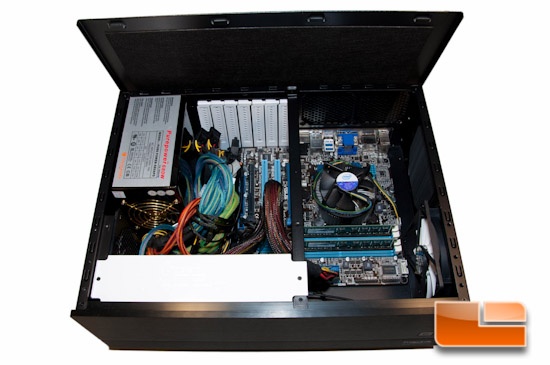 The Fractal Design Node 605 does run you $150.47 shipped on Amazon, which made me half expect some sort of tool-less option on-board somewhere. This was the only real big gripe that I had with this case. With most cases today having some sort of tool-less option, this felt disappointing, but it isn't a deal breaker by any means. The requirement of a slim-line ODD was also not cool, but I'm happy to see a disc drive bay on this case. I feel that these minor issues are easy enough to look past.
Fractal backs up the Node 605 with a full one year warranty, which is a nice piece of mind for your new investment.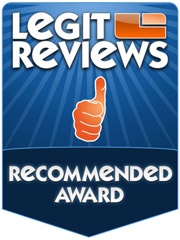 Legit Bottom Line: Fractal's Node 605 is a beautiful and simple HTPC case, and while missing a tool-less option, it is still plenty worthy of being a centerpiece in your home theatre setup.