ASUS PCE-AC66 802.11ac PCIe Adapter
The ASUS PCE-AC66 is a 802.11ac Wi-Fi PCI Express adapter for desktop that allows you to to ditch the Ethernet cords and experience 802.11ac wireless speeds of up to 1.3Gbps through the 5GHz band. This is made possible because the ASUS PCE-AC66 uses Broadcom's new 5th generation Wi-Fi 802.11ac chipset. This is three times faster than what is possible with 802.11n Wi-Fi, which is one heck of an upgrade. At the same time, the ASUS PCE-AC66 is fully backward compatibility with all previous Wi-Fi protocols, so it will easily work with the wireless router you currently own. If you are looking to get the full potential of your 802.11ac router, this is the card to get for your desktop!
The ASUS PCE-AC66 Dual-Band Wireless-AC1750 Adapter runs $93.99 shipped and is the only 3x3 (1300Mbps) draft 802.11ac network adapter card available on the market today. If you want to place a desktop computer in a remote part of a house or can't run a hardwired network connection due to how difficult it would be, this is the solution for you. Most USB wifi adapters are held back when it comes to performance due to the slow USB 2.0 interface and poor signal strength. Having an unreliable internet connection is very frustrating, so that is where the ASUS PCE-AC66 Dual-Band PCI-E Adapter comes in. You just plug this card into an open PCIe slot, use the provided ASUS software to connect it to the router and you are done. The ASUS PCE-AC66 allows for Tx Power adjustment, which means you can set the transmission power of the device! You can adjust the power from 1mW all the way up to 200mW. No wonder ASUS claims that this PCI-E adapter will give you 150% more coverage than generic wireless adapters.
The back side of the ASUS PCE-AC66 Dual-Band Wireless-AC1750 PCI-E Adapter retail packaging highlights some of the key features of the device and shows that it is the best adapter available from ASUS. ASUS shows this card as having the 'ultimate' level of performance and is capable of multiple HD streams on the interference-resistant 5GHz signal.
Inside the retail packaging you'll find three dipole antennas, the external magnetic antenna base, an option low profile PCIe bracket, driver CD, warranty card and the PCIe x1 wireless LAN adapter. Everything you need to get this wireless network adapter is included!
Here is a closer look at the card, antennas and the external antenna base that allows for better adjustments for improved signal reception quality. The detachable antenna base is magnetized, so you can attach it on your PC case if it is steel or on a variety of other items.
The ASUS PCE-AC66 PCIe card uses a red PCB with an anodized red aluminum heatsink to remove heat from the Broadcom 802.11ac chipset. ASUS says that this was done to ensure the best reliability possible in all regions of the world. Lower temperatures translate into a more stable device in all climate conditions, even during hot summers, and greater stability means more consistent connectivity and longer product lifespan. ASUS is using the Broadcom BCM4360KMLG controller that is a 3-stream 802.11ac WiFi System-on-Chip (SoC) in case you are curious.
On the back side of the ASUS PCE-AC66 you'll see some more components, but nothing major or worth talking about. The most interesting thing back here is the serial number sticker, which would come in handy during the 1-year warranty period. The warranty is limited, but ASUS should cover any hardware defects you may be experience during this time.
The ASUS PCE-AC66 needs to be installed into an open PCIe expansion slot in your desktop PCs motherboard. Once you have the card mounted inside your case you just need to attach the cards three antennas. These antennas can be mounted directly to the back of the card or on a magnetic antenna base that comes with a 1 meter long cable.
Here is a look at the ASUS PCE-AC66 with the magnetic base attached to the card and the antennas attached. We tested the card in this configuration with the base sitting on top of our desktop PC case.
ASUS PCE-AC66 WLAN Control Center Software
Once you install the ASUS PCE-AC66 WLAN card you need to start the PC and install the utility/driver for it to start working.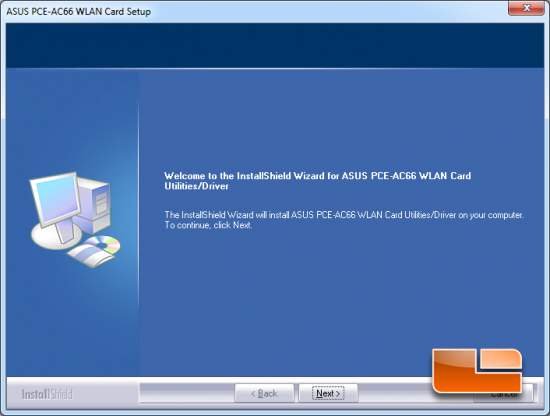 Once you install the ASUS PCE-AC66 WLAN card you need to start the PC and install the utility/driver for it to start working.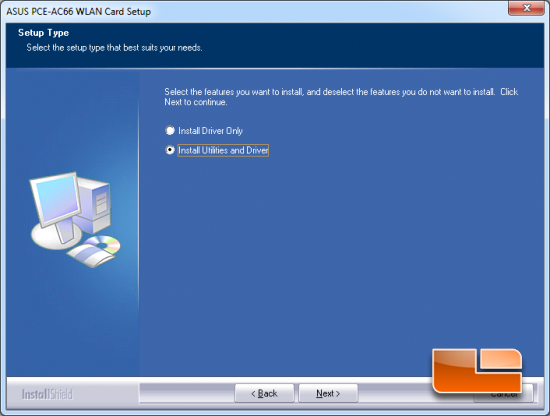 After clicking next through a few menus it will ask you if you'd like to install just the driver or the utilities and the driver. We opted for both as we wanted the ability to adjust the Tx signal power of the antennas.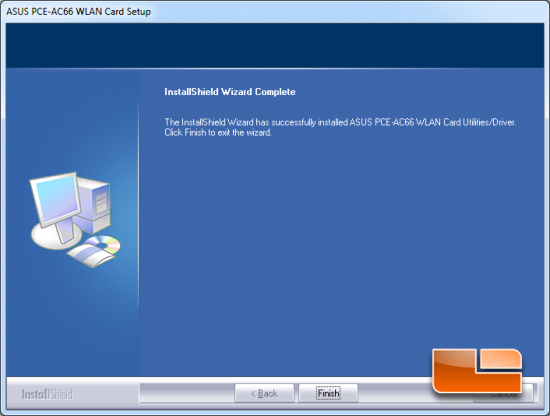 After a few seconds the software was installed and you just need to click finish. The installation time of the software utility and driver took just a couple minutes on our high-end desktop PC with an SSD, so it is very painless and simple.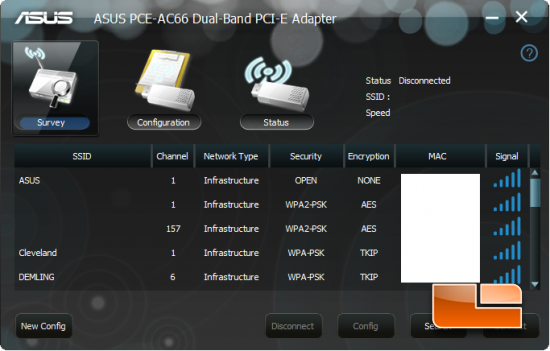 When you fire up the ASUS PCE-AC66 WLAN Control Center Software for the very first time you'll find yourself on the survey menu that shows you all the networks that are within range. We picked up nearly 25, which is far more than we got with the any other network card and many had excellent signal strength!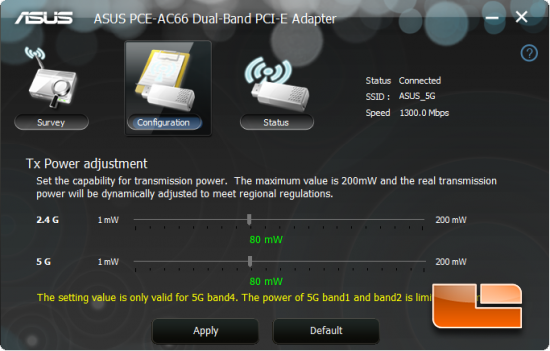 Over on the configuration menu you can tinker with the Tx Power Adjustment, which allows you do dial in the best transmission power for your wireless network and setup. By default everything is set to 80 mW, but you can lower it down to 1 mW or raise it up to 200 mW. We found that increasing the power just 10-20mW did help performance, but going too high would hurt connectivity. If you adjust the power settings be sure to do slowly and run performance tests after each adjustment.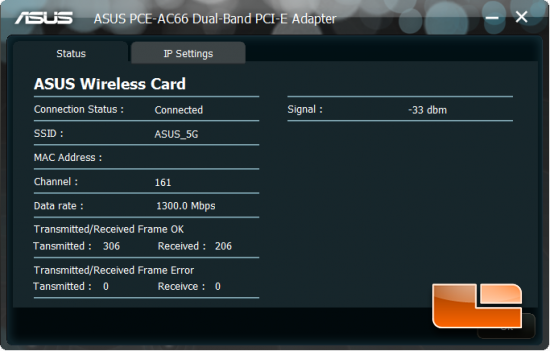 When you are in the status section you'll find out basic information about your wireless setup and are able to see the signal strength.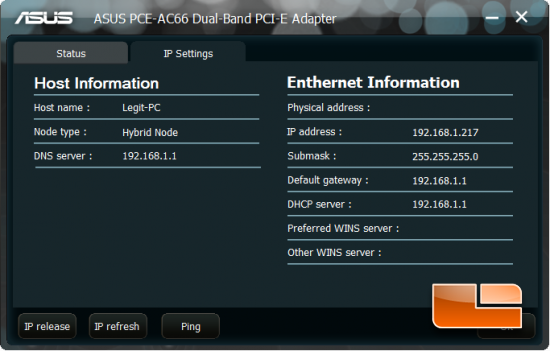 Under status there is a sub menu for IP settings that show you both the host and Ethernet information for your connection. It looks like ASUS has a typo here as we've never heard of Enthernet Information before. At the bottom of the IP Settings menu you'll find that you can go a bit deeper with pages for IP Release, IP Refresh and Ping.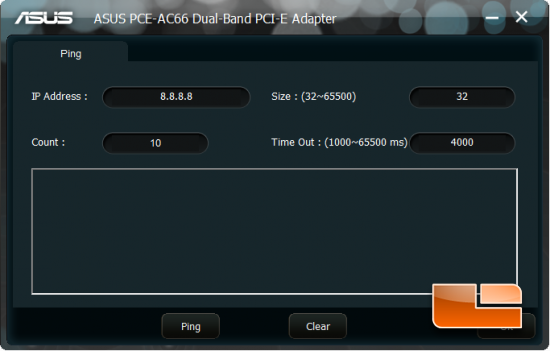 Having the ability to do some basic network checks and tasks from the ASUS software utility for the PCE-AC66 adapter card are nice as you can do it all from just one window.
5GHz Test Results at 15 Feet:
We wanted to test the PCI-E wireless adapter in a real world application so we connected the installed it inside our custom water cooled Mini-ITX PC running Windows 7 64-bit and configured it using "Automatic" settings for both 2.4Ghz and 5Ghz bands. To test the wireless performance we used the Alienware M17x R4 gaming laptop that was directly connected to the ASUS RT-AC66U Dual-Band Wireless-AC1750 Gigabit 802.11ac Router. The Alienware M17x R4 features an Intel i7-3610QM CPU with 6GB RAM running Windows 7 64-Bit, and an NVIDIA GeForce GTX 660M video card.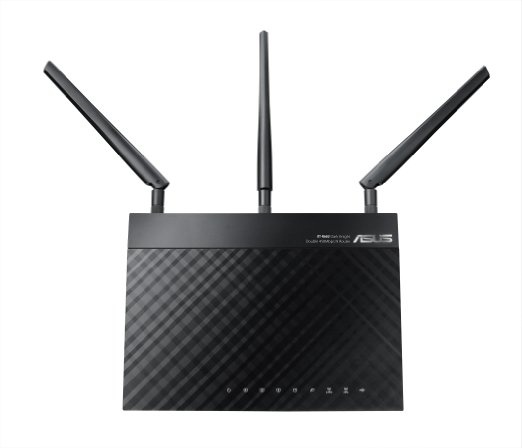 We used the laptop to run LAN Speed Server and then ran LAN Speed Test on the system with the wireless card to test throughput. We took our Alienware laptop and the ASUS RT-AC66U router and moved it 15-feet and then 30-feet away from the test machine to check out performance with both 1MB and 100MB packets.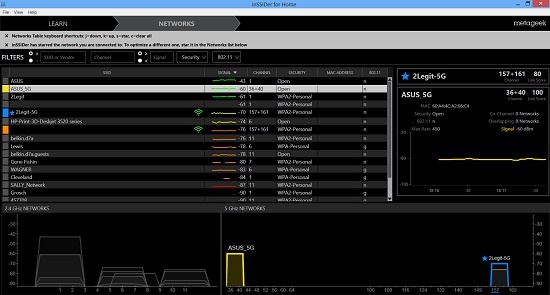 We left the router in default mode, so the SSID name for untouched and we let it automatically choose the channel to connect to. This means that the router was left in "Unsecure Mode" (for fastest data throughput), and with WMM / QoS turned ON. After connecting, we ran the PC application LAN Speed Test (LST) to measure file transfer and network speeds. LST builds a file in memory and then transfers the packet without the effects of windows file caching. It then reports the time and calculates the network speed. We ran inSSIDer to make sure the networks were not overlapping with any of the 20+ surrounding ones and they were not.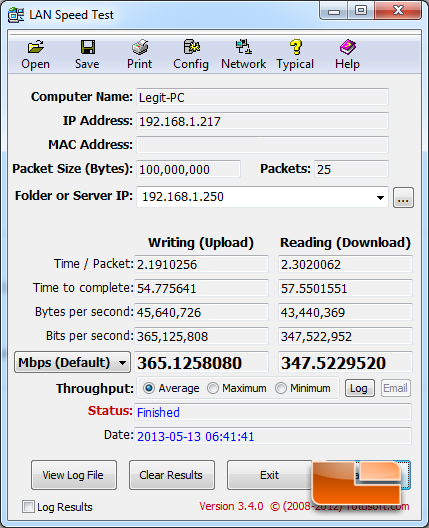 So, now that you know how we tested we can compare the Broadcom 802.11n solution that came integrated on the ASUS P8Z77I-Deluxe motherboard versus the Broadcom 802.11ac solution that is used on the ASUS PCE-AC66 wireless network card. This is a great comparison as both are powered by Broadcom SoC's and are implemented on devices by ASUS. It doesn't get much better than that.
1MB Packets: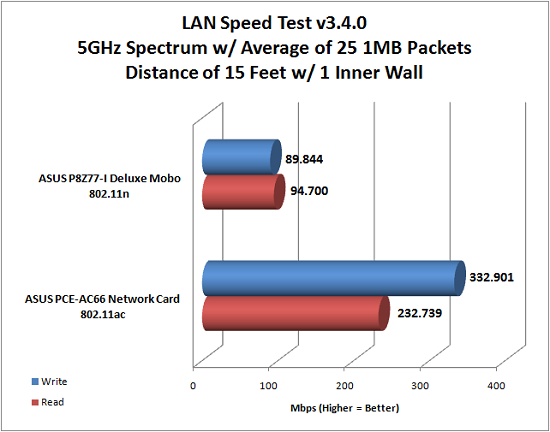 100MB Packets: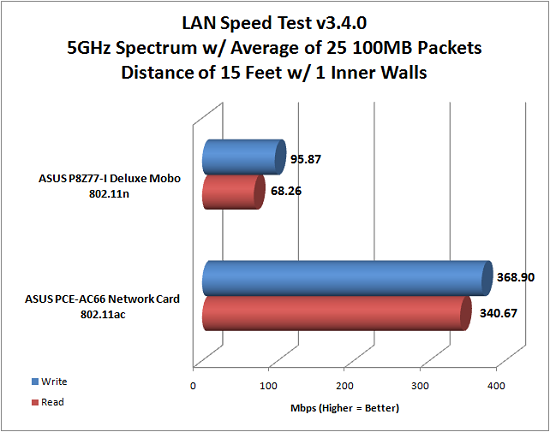 Benchmark Results: As you can the 802.11ac PCIe card absolutely dominated in this benchmark where there is just 15 feet between the desktop PC and the wireless router. We tested this through one inside wall with normal 2x4 construction that half inch drywall on both sides. This is just shy of a 4x performance difference and it's one that we could really tell on the system. For example 95Mbps (11.8MB/s) was keeping us from reaching the true potential of our cable internet service and at 369Mbps (46.2MB/s) we were able to do so. We were also able to stream multiple HD movies with an all 802.11ac network, which is something we were unable to do before on 802.11n.
5GHz Test Results at 30 Feet:
Most people likely have more than 15 feet between their desktop PC and where their wireless router is located, so for this test we spread everything out. This time we doubled the distance to 30 feet, but it put three interior walls between the wireless router and the desktop PC.
1MB Packets: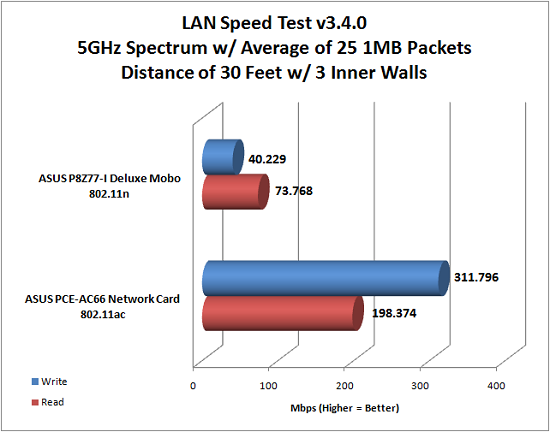 100MB Packets: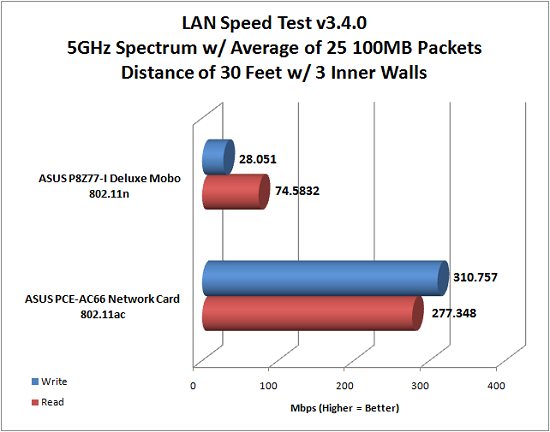 Benchmark Results: As you can see the wireless performance was down across the board, but the 802.11ac router was still ahead by a long shot.
Final Thoughts and Conclusions
If you are wanting more bandwidth from your old wireless network then 802.11ac with the 5GHz WiFi band is pretty hard to beat. The ASUS PCE-AC66 dual-band PCI-E adapter is ideal for anyone with a desktop PC that doesn't have WiFi or needs to be updated to the 802.11ac standard.
We found installation and setup of the ASUS PCE-AC66 to take just 5-10 minutes and then we were experiencing improved WiFi performance. It is really that simple and now we know what ASUS uses the 'FAST Networking Solution' (FAST EASY STABLE) as a tag line for this product! The ability to increase or decrease the power for the antenna with the included software is a nice touch and gives you control over how your wireless network is setup.
When it comes to price the ASUS PCE-AC66 Dual-Band Wireless-AC1750 Adapter runs $93.99 shipped. To our knowledge there is no other 802.11ac PCI Express solution out there rated at 1.30Gbps+450Mbps performance, so if you want this type of performance that is the price you'll have to pay. The ASUS RT-AC66U router runs $192.99 shipped, so you are looking at about $287 to move over to an 802.11AC setup. If you are having intermittent internet and slow speeds due to your current wireless setup then this price might be easy to swallow. Keep in mind that most of the new high-end smartphone comes with 802.11ac and we are happy to report that the HTC One and the Samsung Galaxy S4 both work great on the ASUS RT-AC66U router and had no issues with the ASUS PCE-AC66 wireless adapter running in our desktop PC. We highly recommend using 802.11ac on the 5GHz band if you can afford it as the performance is far better than anything you've used before on 802.11n powered networks or older.
Legit Bottom Line: The ASUS PCE-AC66 Dual-Band Wireless-AC1750 PCI-E Adapter is simple to use and offers great range and performance. If you have a desktop PC that has an open PCIe slot be sure to consider this card as your wireless solution!