Satechi 10-Port USB 3.0 Hub
Ask yourself - How many USB devices do you have in your household? If you answered too many to count or more than ten devices you are in luck as today we are reviewing the Satechi 10-Port USB 3.0 Hub that was designed for those with a ton of USB devices. Recent DisplaySearch research shows that high-speed USB 2.0 shipments peaked in 2012 and that SuperSpeed USB 3.0 devices are on track to surpass 1 billion devices sold in 2014. This means that you'll likely own more devices that support USB in the future and USB 3.0 ports are now the norm. The nice thing about USB 3.0 is that it is fully backwards compatible with USB 2.0 and USB 1.1 devices, so a hub like this has all your devices covered. The Satechi 10-Port USB 3.0 Hub can be purchased online for $59.99 plus $3.75 shipping and is backed by a 1-year warranty.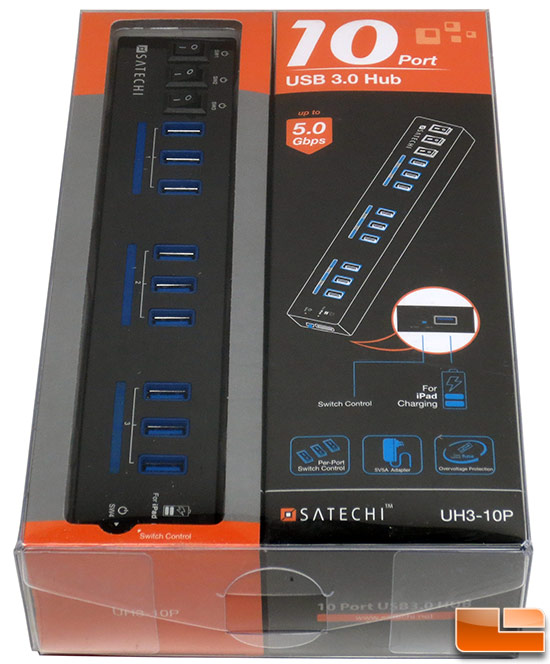 The Satechi 10-Port USB 3.0 Hub has nine USB 3.0 data ports and one high-power 2.1 Amp iPad-charging port. This hub is designed to connect, charge and transfer data from USB devices such as digital cameras, external hard drives, flash drives, printers, and thousands of other USB devices. The Satechi 10-Port USB 3.0 Hub does not require any software or drivers, so it is plug-in-play. That means you won't have to call the IT guy since there is no complicated installation process!
Satechi 10-Port USB 3.0 Hub Features:
Expand your computer's existing USB 3.0 port to nine additional USB 3.0 ports.
Tenth port is capable of charging your iPad.
Testing speeds of up to 5.0Gbps with USB 3.0.
Three switches let you control the power of three groups of USB 3.0 ports.
Attractive blue LEDs and a glossy finish ensure the 10-Port hub looks great on any desk.
1-Year Warranty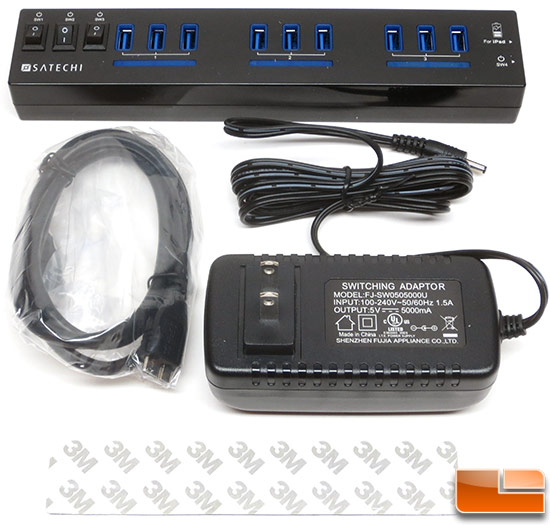 Inside the retail packaging you'll find the hub, USB 3.0 data cable, 5V/5Amp power adapter and double sided 3M adhesive tape. The power adapter features a detachable power cable that is just over five feet long and the USB 3.0 data connection cable measures in at three feet long. The model number on the switching power adapter is FJ-SW0505000U sand is made by a company called FuJia Appliance (Shenzhen) Co. Ltd., over in Shenzhen, China. We searched online for more information on this adapter, but found no search results on Google. How often does that happen?

The Satechi 10-Port USB 3.0 Hub measures in at 8.69" x 1.75" x 1.06" and is very light at just 4.125 ounces. The hub has three sets of three SuperSpeed USB 3.0 ports, and each set of ports can be independently controlled by a power switch on the left side hub. When the ports are switched on, they're lit up blue. You might notice that there are just nine USB 3.0 ports, but that is because there is a "charge only" USB 3.0 port at the end of the unit. It can be used to change a high-power USB device like an Apple iPad or other tablets. There's even a separate switch for this charge port. Just don't forget that this is not a data port.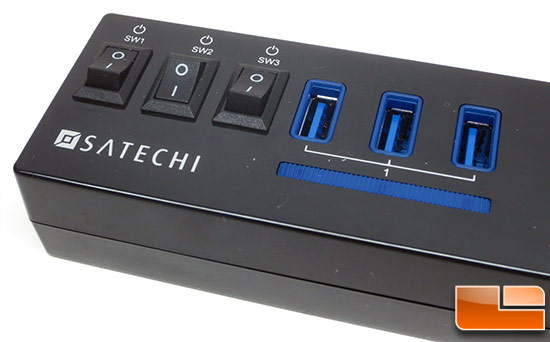 Having power switches will help keep power use down and it reduces the wear and tear of the USB 3.0 ports as you don't have to unplug and replug the USB devices when you are done using them.

The back of the Satechi 10-port USB 3.0 hub has just the product label on it.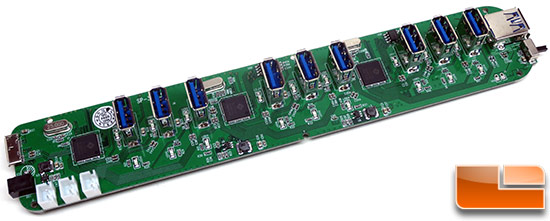 We wanted to see what was inside the Satechi 10-port USB 3.0 hub, so we took our review unit apart to check out the PCB design and more importantly, to see what USB 3.0 controller hub is being used. The PCB design was nicely laid out and we discovered not one, but three USB 3.0 controller hubs on the board.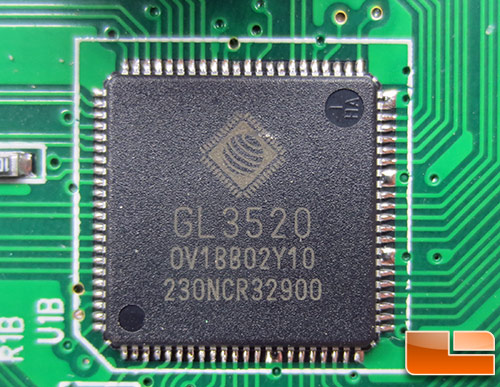 We discovered that Saitechi is using the Genesys Logic GL3520 USB 3.0 Hub Controller inside the 10-port USB 3.0 hub. The GL3520 hub controller was released in Q3 2011 and is Windows 8 hardware certified. Each Genesys Logic GL3520 USB 3.0 hub controller can achieve 0.9W power consumption with four downstream ports connected to SuperSpeed devices. Some of the noteworthy features of GL3520 include built-in 5V to 3.3V regulators, native fast charging, compliance with Battery Charging Sepc. v1.2 and support of Smart CDP.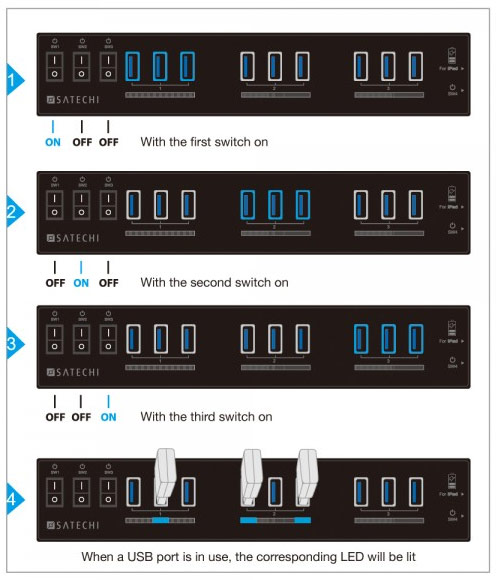 Here is a great diagram that Satechi made that shows how the USB 3.0 zones work when powered up and that there is a small LED light under each port that shows when it is active. There is no way to turn off all the LED lights though unless you open up the unit and do some modifications like electrical tape over the LED's or remove them.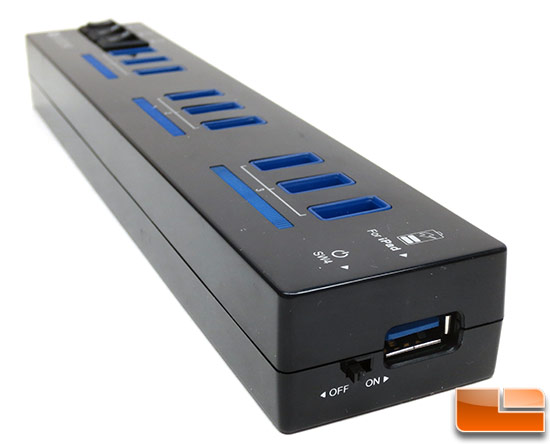 On the right end of the Satechi 10-port USB 3.0 hub you'll find the high power USB 3.0 charging port. This is considered the hubs 10th port and was designed to be an Apple iPad charging port and it is not a data port. This port features its own On/Off switch and has 2.1A of charging power. We found this port able to charge our various power hungry tablets, but we were constantly switching to another port to sync our devices since you can just charge them on this port.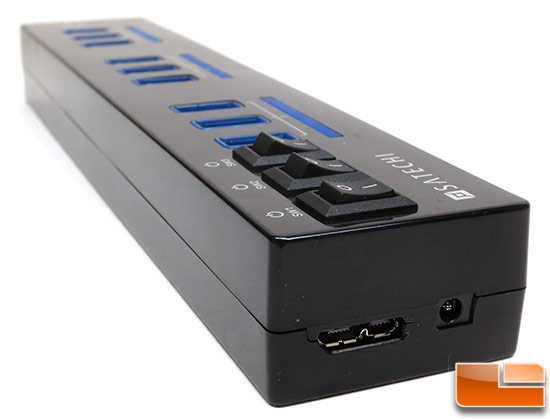 On the left side of the hub you'll find the USB-in and power-in connectors. Both the data and power ports feature removable cords. That is about all there is to talk about here, so let's do some performance testing and wrap this review up!
Performance Testing & Conclusion
CrystalDiskMark 3.0.2e x64:
CrystalDiskMark is a small benchmark utility for drives and enables rapid measurement of sequential and random read/write speeds. Note that CDM only supports Native Command Queuing (NCQ) with a queue depth of 32 (as noted) for the last listed benchmark score. This can skew some results in favor of controllers that also do not support NCQ.
Patriot SuperSonic Magnum 256GB Direct into ASUS UX31A Ultrabook: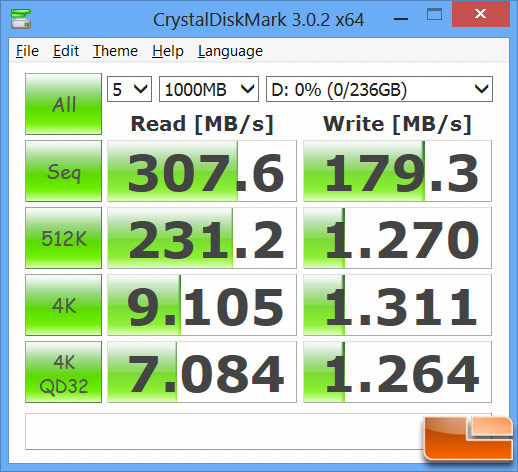 Patriot SuperSonic Magnum 256GB on Closest USB Port (Port 1):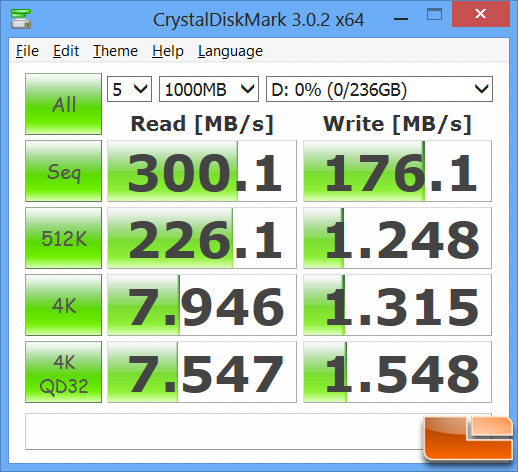 Patriot SuperSonic Magnum 256GB on Furthest USB Port (Port 9):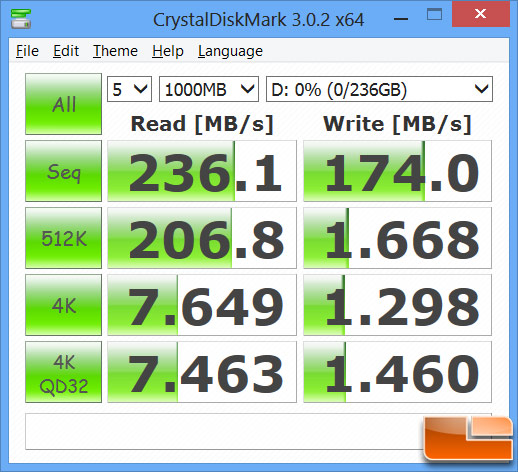 Benchmark Results: CrystalDiskMark showed that we hitting 308MB/s read and 179MB/s write on the sequential test with the USB 3.0 Flash Drive plugged directly into our notebook. With the hub we tested each port and found between 236MB/s and 300MB/s read speeds and 174MB/s to 176MB/s write speeds with the Saitechi 10-port USB 3.0 Hub. This is pretty solid performance across the hub. We did format the drive between runs and did the test multiple times in different orders to be sure we weren't seeing performance decrease due to NAND write states or due to a dirty drive.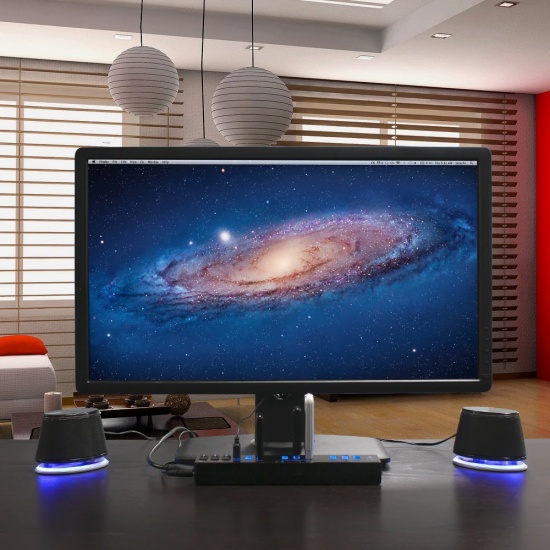 Final Thoughts and Conclusions:
The Satechi 10-port USB 3.0 Hub was found to function exactly like we expected it to and worked great. At first you might think it is crazy to have a 10-port USB 3.0 hub, but If you live in a household with several people it can be easily filled up. This USB hub also works well to charge all your devices each night, so it is rather versatile. The dedicated 2.1 Amp charger on the end of the unit it nice for charging tablets, but it would be nice to have a pair of them so you can charge two iPads at a time.
When it comes to looks the glossy black finish on the Satechi 10-port USB 3.0 hub blends in on most desks since it is similar to the finish on many of today's popular monitors. Since this hub will sit on your desk you'll want it to look good! The blue LED lights are a nice feature as you know when the power is on or off by just a quick glance.
The performance of the Satechi 10-port USB 3.0 Hub was good and we noticed just a slight performance decrease with this hub versus plugging a USB 3.0 directly into the native USB 3.0 port on our Windows 8 powered PC. With the extra controllers and circuit board being added into the mix you can expect increased latency and slower performance, but we didn't find any deal breaking performance loses.
You can find the Satechi 10-Port USB 3.0 Hub online for $59.99 plus $3.75 shipping and it is covered by a 1-year warranty. If you find yourself switching USB devices all the time, do yourself a favor and get a hub!
Legit Bottom Line: The Satechi 10-port USB 3.0 hub will greatly expand how many USB 3.0 devices you can connect to your laptop or desktop PC for a price that won't break the bank.