First Look At The ROCCAT Kone XTD
ROCCAT is a German company, founded in 2007, and is best known for the original Kone gaming mouse. ROCCAT works to develop high quality gaming peripherals and accessories for the PC gamer, including (but not limited to) mice, keyboards, and headsets. They've been known to name their accessories after Finnish words – Kone in this case means Machine. Today we take a look at their latest and greatest, the Kone XTD (Model # ROC-11-810), so let's see what this machine has to deliver!
ROCCAT's Kone XTD can currently be found on Amazon for $89.99 and is eligible for free shipping.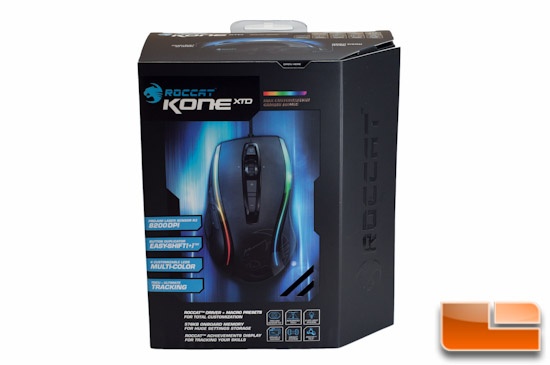 The Kone XTD is meant to be the successor to the Kone[+]. ROCCAT wanted to keep the Kone[+] design in place, while giving it even more, superior functionality. There isn't really much in terms of physical appearance that's different between the two mice, but there are a couple upgrades under the hood. The notable upgrades to the Kone XTD versus the Kone[+], include an upgraded 8200DPI laser sensor vs. 6000DPI, and a slightly better resolution at 10.8 MP capable of 12000 FPS vs. the 10.5 MP resolution sensor capable of 11750 FPS found in the Kone[+]. Short of that, they are pretty much the same.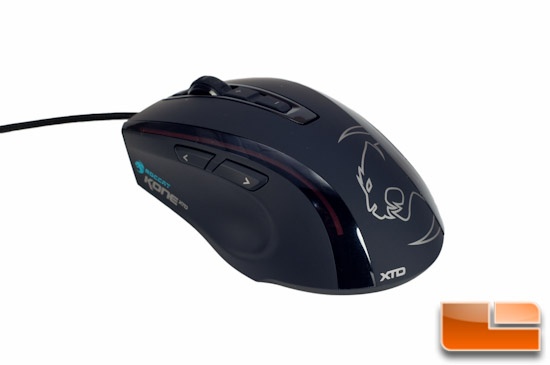 Take a look at some of the features and tech specs:
ROCCAT Kone XTD's Features
FULLY-ADJUSTABLE 8200DPI PRO-AIM (R3) SENSOR
with 41 true DPI setting ranging from 200 to 8200
ROCCAT CLICK MASTER
switch tech powered by Omron for precision button activation
EASY-SHIFT[+] BUTTON DUPLICATOR
with Easy-Aim + Easy-Wheel functions for max command power
32-BIT TURBO CORE V2 PROCESSOR
for lightning-fast computing speed
TRACKING & DISTANCE CONTROL UNIT
for less pick-up flight & more precise gaming
576KB ON-BOARD MEMORY
for storing a wealth of macros and settings
4-LED LIGHT SYSTEM
for customizable colors + effects
8 MOUSE BUTTONS + SOLID 4D WHEEL
for a full complement of command options
4 EASY-TO-CLIP-IN WEIGHTS (4 X 5G)
for customized weight adjustment
ROCCAT DRIVER + MACRO MANAGER
for advanced customization + presets for games & apps
ROCCAT ACHIEVEMENTS DISPLAY
for monitoring gaming performance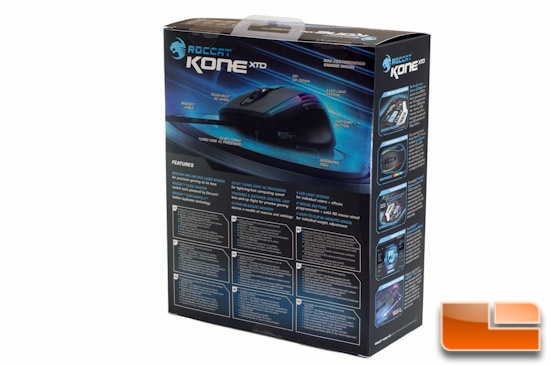 ROCCAT Kone XTD's Technical Specifications
Pro-Aim Laser Sensor R3 with up to 8200dpi
1000Hz polling rate
1ms response time
12000fps, 10.8megapixel
30G acceleration
3.8m/s (150ips)
16-bit data channel
1-5mm Lift off distance
Tracking & Distance Control Unit
72MHz Turbo Core V2 32-bit Arm based MCU
576kB onboard memory
Zero angle snapping/prediction
1.8m braided USB cable
The Kone XTD carries a 1 year limited warranty, should it decide to spill its guts. This is right on par with the warranty on their other mice, but is not as good as some other manufacturers. If you're spending in the neighborhood of $90 for a mouse, some people may prefer a longer warranty.
Read on to see what our impressions of this mouse are, what makes it perfect, and what kind of flaws it may have.
First Impressions And A Closer Look
My first impression of the Kone XTD was, "Wow, this is a great looking mouse!" The packaging certainly presents the mouse nicely. On the outside of the box, you'll see a great deal of information on the front and back, providing you with all the stats that you could ever want to know. If you lift up the magnetic flap on the right side, you'll see even more information! Should you see this in a store, there is such a vast amount of information all over the box, that you'd definitely be able to decide if this was the mouse for you or not.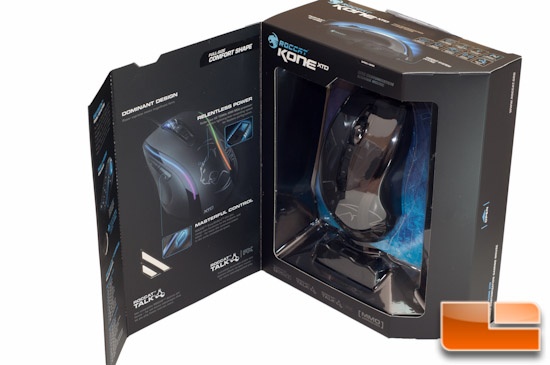 Once you get inside the box, you're given the Kone XTD, a quick installation guide, and the four 5 gram weights in a nice little case.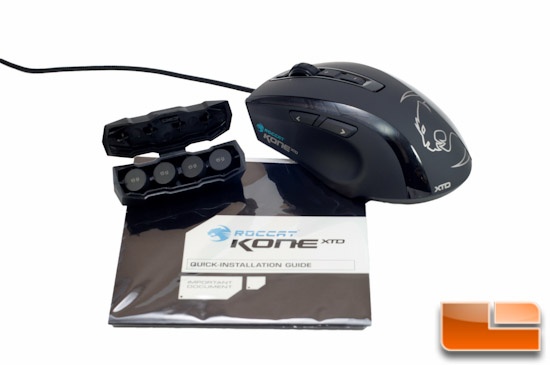 The Kone XTD is actually a rather large and heavy mouse. I do have pretty big hands, so this mouse is rather comfortable in my hands. My wife has substantially smaller hands, in which she said it felt OK, though it was a little big. The Kone XTD measures a max length of 13.5cm by 7.8cm at its widest. It weighs in at approximately 123 grams, and that's not including the four optional 5 gram weights that you can add in. I could see a lefty using this mouse, but they would lose the two buttons on the left side of the mouse. I did try it out in my left hand, and it still felt quite comfortable. With all of that said, this mouse is definitely designed for a right-handed gamer.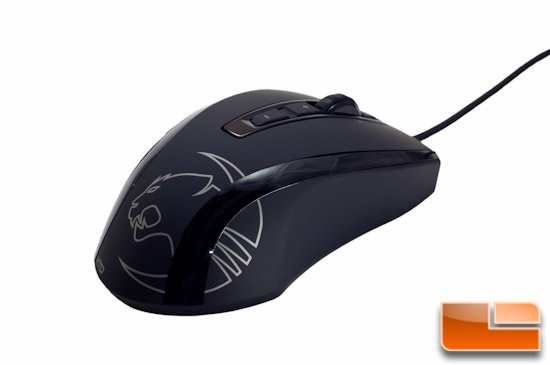 The Kone XTD has what feels like a durable rubberized coating on its shell, while sporting a total of eight physical buttons that offer 12 different functions. You get another 11 functions if you use the Easy-Shift[+] mode, for a total of 23 functions! Looking at these buttons, you have your standard left and right click, two buttons on the side, the scroll wheel – which offers lateral movements, and three additional buttons on top. These buttons are backed by the ROCCAT Click Master switch technology, which ensures that every click registers with extreme precision. I really like these buttons, because I never found myself mistakenly pressing the left or right click, like I have with some other mice. Talk about wasting ammo when in game! The scroll wheel's click is very firm and you can tell that you did it with the distinct click sound.
A quick note on the buttons is the front most button – the one in front of the scroll wheel – is extremely difficult to get to. It is in quite the odd position, that I found myself sometimes inadvertently scrolling the wheel forward when all of my concentration is in my game. I do not think I will find use for this button due to its odd placement.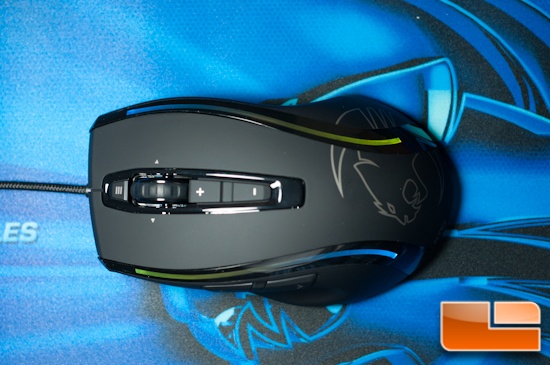 The two left side buttons are also a little small. I did not have much trouble using them, but I have to constantly think about my thumb placement a lot more, since they're smaller than the side buttons on any other mouse that I've used.
If you're unfamiliar, Easy-Shift[+] is ROCCAT's technology which allows you to assign a single physical button to have two different functions. Think of this like the Shift key on your keyboard – You hold Shift and press 2 which gives you the @ symbol. In the case of the mouse, you hold down the Easy-Shift[+] assigned button and press any one of the other buttons, including the scroll wheel up and down, to perform a new function. Some examples where this could be useful would be if you're listening to music, you can quickly and easily change a track, or in World of Warcraft, you can quickly mount up or use a macro. I'll touch more on the button assignments when I check out the ROCCAT software.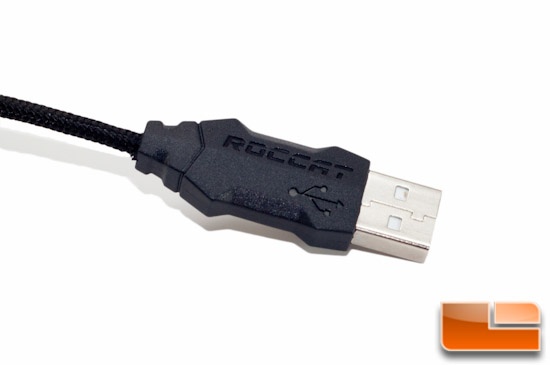 I tried out the Easy-Shift[+] mode, and for me it is honestly really difficult to get used to. I have grown accustom to the default assigned button (Button 5 – the rear thumb button), to being a regular button that goes back a page in my browser or within Windows Explorer itself. Some people may find this easy to get used to, but many may find it difficult, too. This technology does sure beat having 12 different thumb buttons, like you would find on the Logitech G600 mouse, but again, it can still be difficult to use or get used to. The only real unfortunate thing is the fact that you cannot assign this button function to anything other than the thumb buttons. I can understand why they did this, as it makes all of the other buttons easier to reach with your index and middle finger, if you're using your thumb to activate the Easy-Shift[+] functionality. Now if you could bind a key on your keyboard to utilize this function, I feel that would be pretty awesome! I think with time I will get used to this, and I will definitely continue to try it out.
Taking a look at the underside of the mouse, we see the stunning 8200DPI Pro-Aim R3 laser sensor, which offers superior tracking with virtually no lag! This laser polls at 1000Hz with a 1ms response time. That's pretty darn impressive!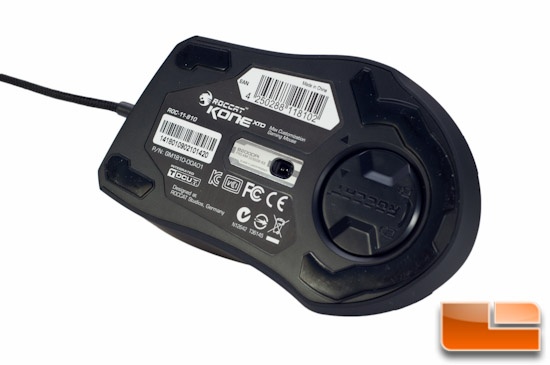 The other notable thing underneath, is the weight system access door. Removing this cap is fairly easy, though it can be tricky since it's fairly low profile. Inside you'll see four spots to place the 5 gram weights that ROCCAT provided. You can adjust the weight as you wish, though to me, the default no-weight added setup was perfect. I tried it with three weights – two on the sides, one on the front most spot, and it felt too heavy to me. Even one weight was just too much for me. To each their own, right? When I discovered that I didn't like the weight in place, I found it extremely difficult to remove. Let's just put it this way, I couldn't do it by hand. I had to whip out my trusty pliers just to get a grip and pull them out. That's a huge deal breaker when you're trying to test out configurations quickly.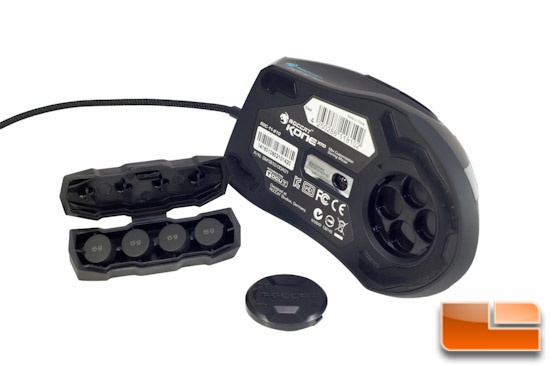 Finally we see the low friction pads on the underside. These pads definitely allow the mouse to glide with ease, but I have used mice that glide even easier, for example my Razer Mamba. Maybe my Razer's pads are broken in and the Kone XTD only needs time, but I will admit, out of the box it wasn't bad at all.
ROCCAT Kone XTD's Highly Customizeable Control Panel
Next I'd like to take a look at the software that drives this beast!

If you take a look at the Quick Installation Guide, ROCCAT directs you to their website to download the drivers. These drivers aren't heavy (24.1MB as of 02/23/13), but it can be slightly inconvenient for some.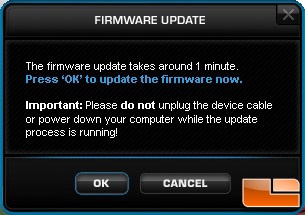 When I got the drivers installed, I was prompted to update the firmware on the mouse. This process was very easy and did not take a long time. If you follow the on-screen instructions, you will definitely have no trouble at all.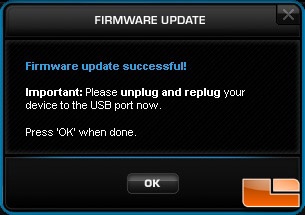 When I got into the control panel for the first time, I was presented with the Main Control options. Under here, you can find all of your sensitivity and DPI options. You will also notice right away, that you can have five custom profiles. These give profiles can be switched on, on-the-fly if you wish, which will make gaming or using normal Windows functions a cinch.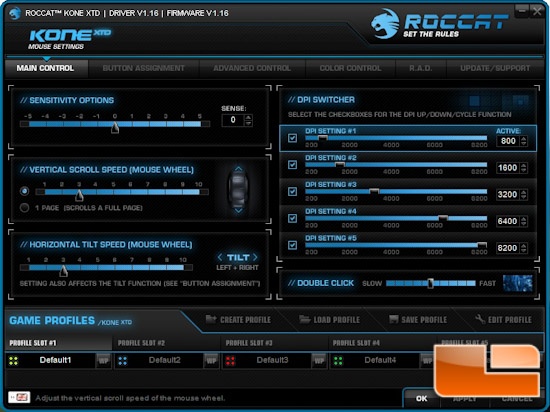 Next we look at the button assignments tab. Here you can modify just about every button. On the standard button assignment, you will not be able to modify buttons 1 and 2, and same goes if you have the Easy-Shift[+] assigned; You will not be able to modify that button on the Easy-Shift[+] profile. On that Easy-Shift[+] profile, you will be able to modify buttons 1 and 2. Here you can assign functions for games, music, browsers, etc. There is a function called Easy Aim, which allows you to hold the button down and it temporarily drops the DPI to one of your already predefined five DPI choices, until you let go. This would be great for FPS games and you're trying to snipe someone.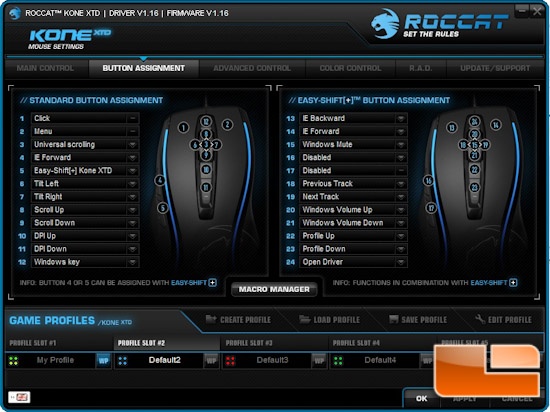 On the third tab, we have the Advanced Control options. This tab has more advanced tracking options, allowing you to set the X-Y axis sensitivity, and even turning the tracking and distance control on. The distance control will essentially let you lift the mouse 1-5mm off of the surface while still tracking your movements. I personally have this off, as I'm used to not having this tech for FPS games, but I do plan on playing with it sometime. The Tracking Control Unit feature will let you calibrate the mouse to various surfaces, to ensure that you get the highest precision possible. This is quite the awesome feature!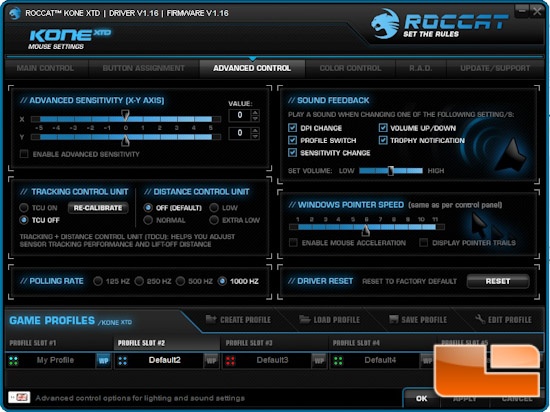 One other note worthy thing under this menu is the Sound Feedback section. You can have a voiceover that lets you know you changed the DPI, your profile, sensitivity, volume up/down, or that you got a trophy (more on that in a bit). This can be more useful , instead of overlays, but could also prove to be a distraction if you need your ears in the game. I found this quite funny, that when you change the DPI, the voiceover gets notably more excited as you turn the DPI up, and bored when you turn it down. Hats off to ROCCAT for throwing a little humor into their software!
On the Color Control tab, you'll see the various colors (33 in total) that you can set the four independent LED's to. You can choose to turn the LED's off, if they're too distracting, or distract yourself more with the various light effects.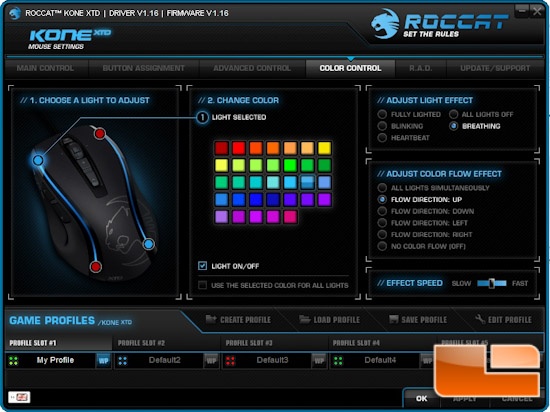 The second last tab is the R.A.D., which stands for ROCCAT Achievements Display. Here you'll find various statistics about your mouse, including the number of clicks, distance traveled, and how many times you used Easy-Shift[+], and trophies. This is just a fun tab to look at if anything. I haven't quite figured out what trophies you get, but we all know it's just fun and games. It's not like you win the lottery for getting them…. Err, I think? I can only assume this is to allow you to brag about the hundreds of thousands of clicks that you've made.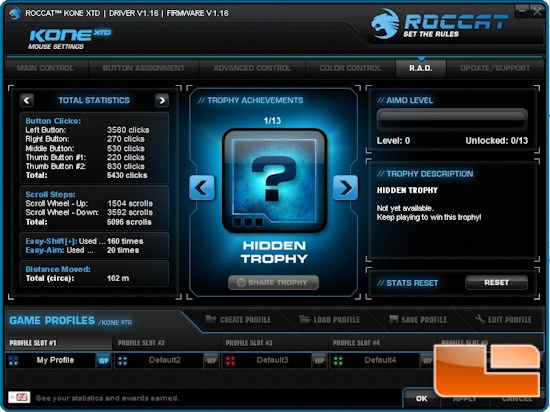 The last tab is self explanatory, in that it shows you your latest software and firmware versions, and also has a link to the driver download webpage and various support related functions.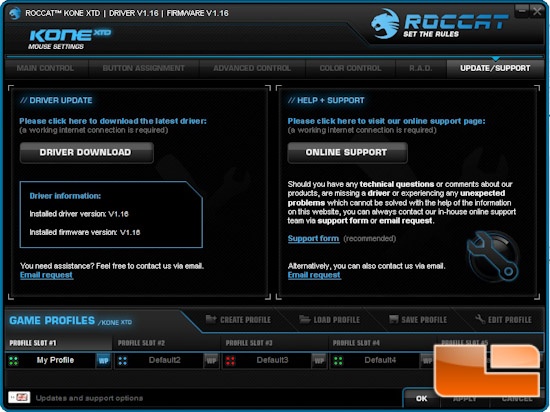 All-in-all, this control panel is laid out very well and is very easy to use. The only unfortunate thing is, when applying settings, it can take a good 20-30 seconds for the mouse to update. Fortunately the mouse is still usable during this period, unlike other mice that I've used that allow changes like these.
A Look At ROCCAT's Sense Mousepad In Chrome Blue
ROCCAT was also nice enough to send along their Sense Series mousepad in Chrome Blue (Model # ROC-13-103). This pad can be found on Amazon for $19.99, and is eligible for free shipping on orders over $25. This is a very respectable price for a mousepad!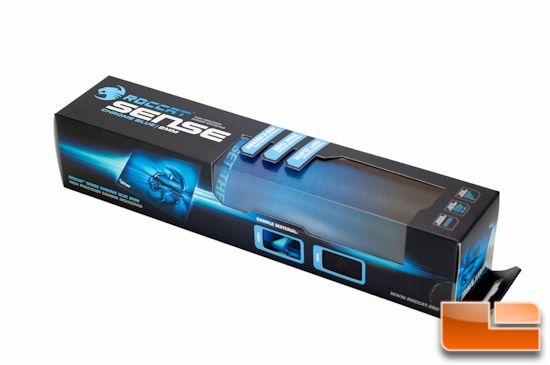 I really like the colors on this pad and I really dig the feel of it, too. This mousepad is a whopping 2mm thick and is huge, measuring 400 x 280mm – Which is roughly 15-3/4 inches by 11 inches. In the picture below, you will understand how large it is, when we already have a fairly large mouse on top of it. This pad is tested to work with gaming mice that have resolutions up to 10,000DPI, which is a perfect match for the Kone XTD.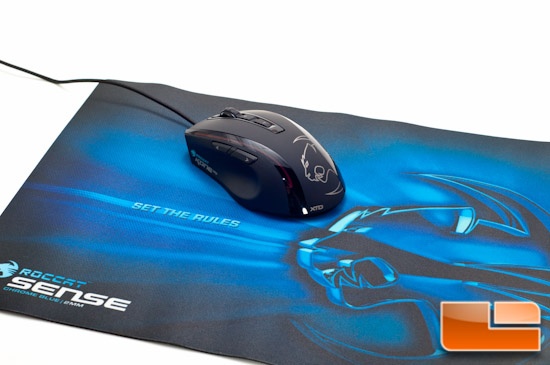 I did have some curls in the pad when taking it out of the box, but after a couple days, they went away. These curls were minor to me, since the pad is gigantic. The only other problem that I had with it, is it smelled like manufactured goods. It had a heavy plastic smell, which is understandable given the composition of the pad, however I'm quite sensitive to these kinds of smells. My hands even smelled like it after using it for a bit. Airing it out for about two days did the job, and I was clear to use it without issue.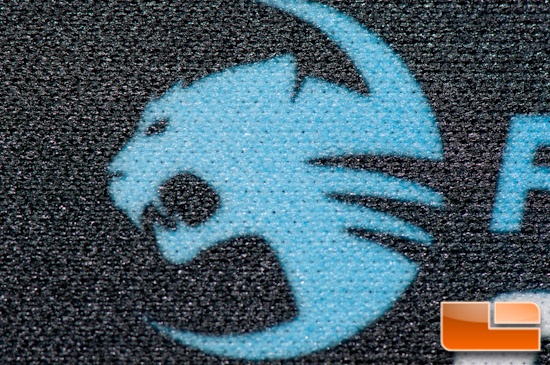 Aside from those two minor issues, I was quite pleased with the pad. The pad doesn't move around at all, thanks to the rubberized backing. The top allows all of my different mice to glide along wonderfully. Time will tell if it gets dirty, since it is a cloth top, but the construction feels slightly plasticized, in that it won't get dirty or wear as bad as your normal cloth pad.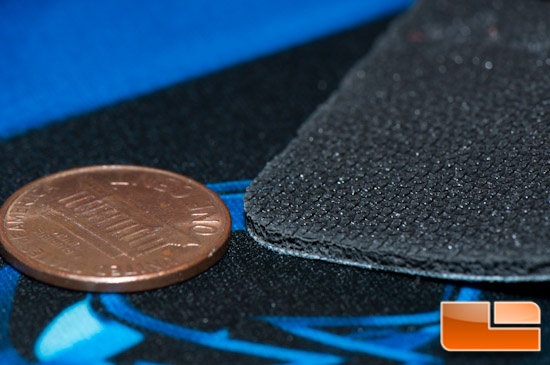 As you can see by the above shot, this mousepad is indeed very thin, being only slightly thicker than a US penny.
This mousepad is also backed by a 1 year limited warranty, should something happen to it, such as fraying.
Final Thoughts & Conclusion
I feel that ROCCAT did a very good job with this mouse. As games get more and more complex, mice like these are needed to give the gamer more power at his/her fingertips, without having to reach for a key. MMO's demand so many macro keys and buttons, it isn't funny. Toss in ROCCAT's Easy-Shift[+] technology, and you have twice the buttons at your fingertips! The layout of the mouse is pretty generic, with exception to the button in front of the scroll wheel, but this generic layout is quite comfortable and welcome. The 8200DPI sensor will absolutely provide superior tracking precision, and a lot of gamers will love that! The construction and quality feels exceptional and will be desirable by many. The ergonomics of the XTD are great for someone with large hands, but not so much for those of you with smaller hands. Lefties, I'm sorry, but this mouse is not designed for you.
The only real issues that I had with the mouse were: The button in front of the scroll wheel being in an awkward spot, Easy-Shift[+] being difficult to get used to and taking over a default button that I've used for over a decade for another purpose, the side buttons being on the small side, and the weight system being useless to do on-the-fly changes, just because you cannot get the weights out easily.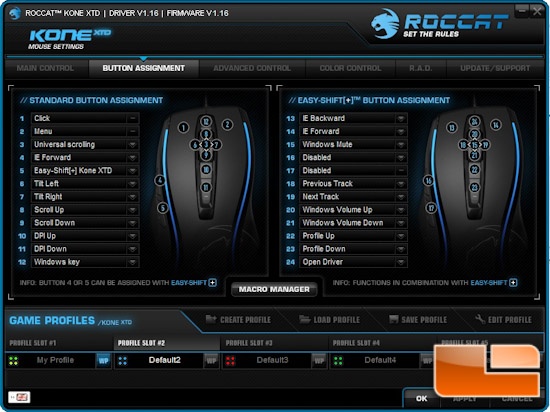 With the few flaws aside, the Kone XTD is definitely a great mouse. This mouse is currently going for $89.99 with free shipping on Amazon, which isn't entirely out of reach for everyone, but is on the high side in terms of cost.
The ROCCAT Sense mousepad is simply fantastic. It is a rather large mousepad, but it glides better than any cloth pad that I've used. It's able to be used with any gaming mouse up to 10,000DPI, which nails everything that I can think of. The pad running you $19.99 and being eligible for free shipping through Amazon, is a no brainer, especially if you're buying the Kone XTD with it!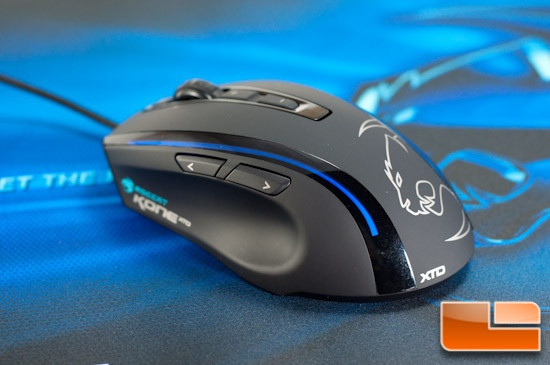 I can truthfully say that I would definitely recommend both the mouse and mousepad to my friends and family, should any of them be in the market for one. I really liked the comfortable feel of the Kone XTD, even though it has a few flaws that were previously mentioned. Being a gamer myself, I really appreciated the responsiveness and customization abilities that this mouse provides. The mousepad, too, is a fantastic addition for all of my mice to use; It allows each and every one of them to glide smoothly.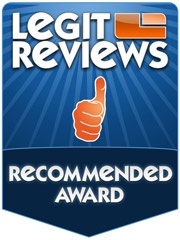 Legit Bottom Line: The ROCCAT Kone XTD is a somewhat high priced gaming mouse, but it is quite the versatile gaming mouse while utilizing ROCCAT's Easy-Shift[+] Technology, to assign just about any button to do whatever function you desire. The ROCCAT Sense mousepad is a great accessory to your new toy.