Introducing the newest WD TV Player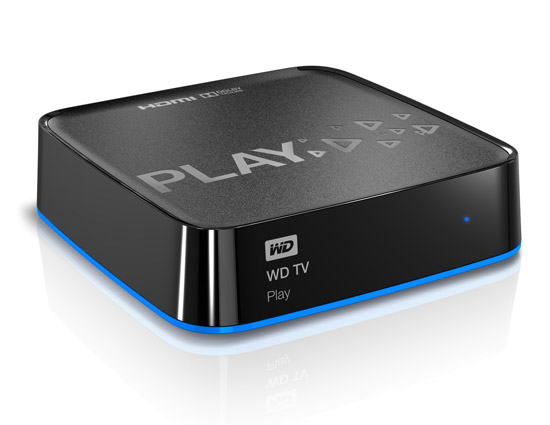 This week, Western Digital has released the WD TV Play Media Player. This player is continues Western Digital's established tradition of providing quality set-top boxes to those looking to get the best out of their home theater. Priced at $69.99 shipped, the WD TV Play is designed to be a very versatile box that streams tons of internet channels, but can also play your personal multimedia that is housed on your network.
In the new day of smart phones, smart TVs, and tablets that are able to grab multimedia from all over the internet, Western Digital allows you to do the same with any Television in your possession making it one of the smartest devices in your home or office. With the WD TV Play's built-in Wi-Fi (Wireless-N), you can set the box up anywhere to stream videos, music, photos, or attached USB storage. Since the player can interface with your DLNA or UPnP shared drives, you don't even need a dedicated server in your house to enjoy your personal media – just a shared drive or folder on your PC, MAC, or smartphone!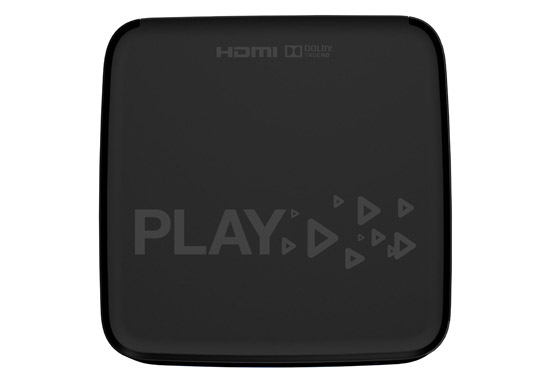 Even if you don't care about viewing grandma's birthday video, you can take advantage of Western Digital's partnerships with Netflix, Hulu, Vudu, and Spotify to stream hit movies and videos all in full-HD 1080p.
Similar to the Netgear streaming media player we reviewed recently, the remote control can let the user access your favorite application or channel with the touch of a button. In fact, you can even use your iOS or Android-based smartphone as a remote control for the WD TV Play by downloading the WD TV Remote app.
Key Specifications:
Easy to set up, easy to use with built-in Wi-Fi
One-touch access using remote control or smartphone
Plays your photos and home videos in Full-HD 1080p
Supported Media Formats:

Video: AVI (Xvid, AVC, MPEG4, VC-1), MKV (h.264, x.264, AVC, MPEG4, VC-1), TS/TP/M2T/M2TS (MPEG4, AVC, VC-1), MP4/MOV (MPEG4, AVC), WMV9, FLV (AVC)
Image: JPEG, GIF, TIF/TIFF, BMP, PNG
Audio: MP3, WAV/PCM/LPCM, WMA, AAC, FLAC, MKA, AIF/AIFF, OGG, Dolby TrueHD

Dimensions: 4.2 x 4.1 x 1.1 inches ; 5.1 ounces
When you put the WD TV play up against some of the more popular set-top boxes on the market today, it looks very impressive – especially when you consider the suggested retail price.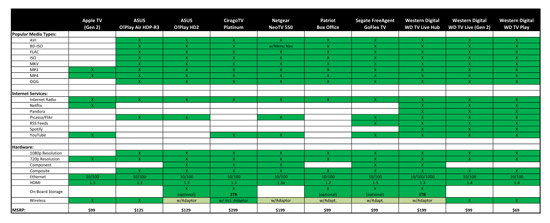 (Click for larger Image)
WD TV Play Box Contents & Set Up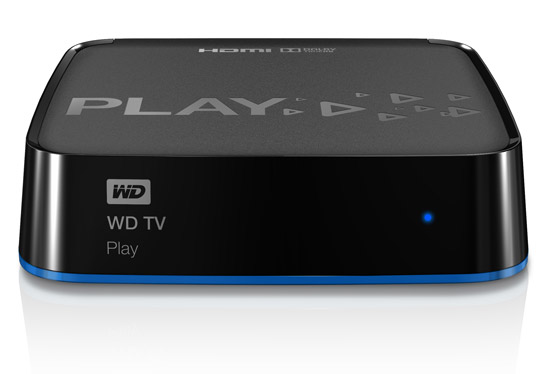 Western Digital packs the WD TV Play media Player with a remote control, composite AV cable, and AC adapter, and a Quick Install Guide. There is no HDMI cable that is packaged with the player so even though there are composite cables there, make sure you have a HDMI cable on hand so that you can get the best possible picture and audio. The box isn't that big measuring 4 inches by 4 inches and just over 1-inch in height.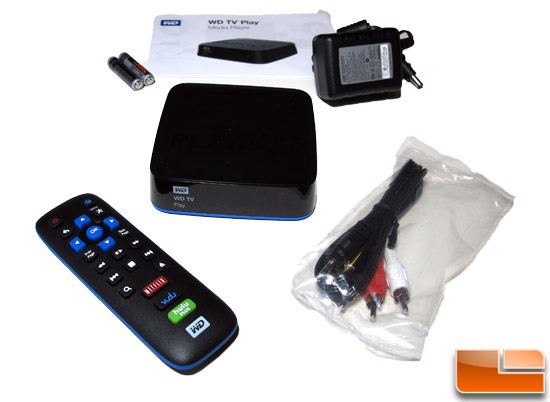 Taking a tour of the box we see no physical buttons on the unit itself and the front of the WD TV Play only illuminates an LED status light in the front. On the side, we find a USB 2.0 port to plug our external storage devices in.
Over on the back, we see the port for the 12V power plug, an AV connector port, HDMI port, an Ethernet port and Optical (S/PDIF) port. On the bottom of the unit, there is tiny hole for where you can reset the unit with a paperclip.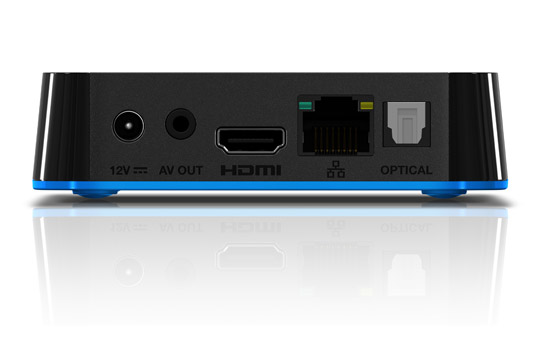 With only one USB port, the Western Digital engineers put a little more emphasis on the networking features and relying on Wi-Fi and Ethernet. The WD TV Play is clearly designed to work primarily as a streamer – especially when you look at the remote control that Western Digital sends with it.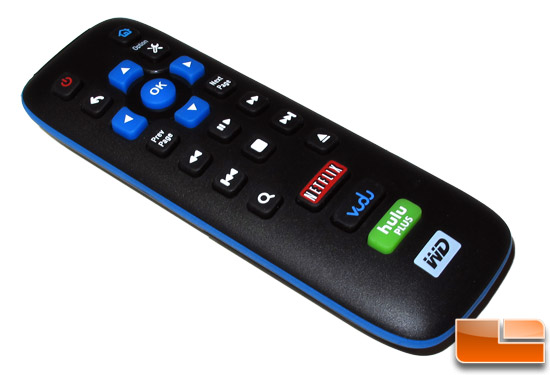 The 22-button remote control unit isn't exactly a full-sized. It is actually significantly smaller than the older WD TV Live Hub remote control, but still holds very good functionality. The remote control has the standard buttons that you would find on any A/V remote control along with three direct-to-application buttons: Netflix, Vudu, and Hulu Plus. Other buttons on the remote include zoom, eject, page forward, page back, options, and home.
We would have liked to see an "audio" button for selecting different tracks during playback, and many users who watch subtitled movies will certainly miss the "subtitle" button. Overall, the functionality of the WD TV Play remote is small but effective. For some, it might be a bit too small, but after using it for a while, you will get used to it.
Setting up the WD TV Play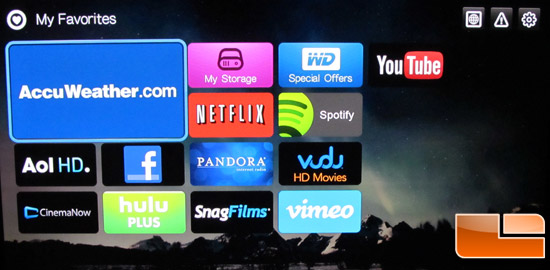 Setting up the WD TV Play was very simple. Western Digital has really made set up very simple and fool-proof. After unpacking the unit from the box, all we did was connect the power cord and HDMI to our television.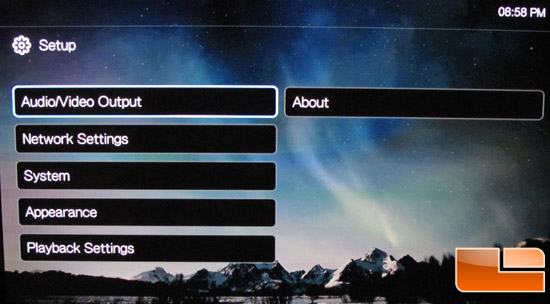 After powering up, the WD TV Play asks what language we wanted to use and then proceeded to search for a wireless connection.
For a small box, the WD TV Play had no trouble finding our Wi-Fi – as well as a bunch in our neighborhood. Even if you have your SSID hidden, the WD TV allows you type out whatever you need. Typing isn't exactly fast, but once you have it set up, you will never have to go back.
Western Digital offers free 30-day support from the date of your first support call so this should ease the minds of those nervous about setting the player up. Even though the set up might be easy, you never know when you need a hand or the help of a friendly customer service professional!
For those familiar with the WD TV Live or WD TV Live Hub, the user interface will look very familiar. Western Digital has taken the latest GUI and tweaked it slightly to make it button or "app"-based. Now when you get into the WD TV Play environment, you are greeted with your "Favorite App" menu. Western Digital has made it so that the user can customize the GUI and display their most used or favorite app. You can move and rearrange the apps as well as set up apps to auto-run when the unit starts.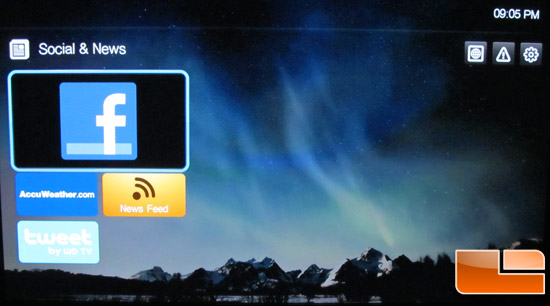 There are certain apps that you can "pin" to the large parking place on the front page – AccuWeather, Facebook, Twitter, Spotify, Picasa, Newsfeed, or a mapped folder from the My Storage app. For those who are family conscious, you can also block apps with a password just to make little Johnny isn't watching the wrong things on Netflix or Hulu.
Here is the full list of applications available to the WD TV Play:
AOL HD
AccuWeather.com
CinemaNow
Comedy Time
Dailymotion
Facebook
Flickr
Flixster
Funspot
Hulu Plus
Launchpad by Flingo
Live 365
Netflix
News Feed (RSS)
Pandora
Picasa Web Albums
Red Bull TV
SEC Digital Network
Shoutcast Radio
SlingPlayer
Snagfilms
Spotify
TuneIn
Tweet by WD TV
Vudu
Viewster
Vimeo
Watch Mojo
XO's College Sports
YouTube
YuppTV
There are a total of 33 apps including the "My Storage" app that lets you access attached storage, and "WD Special Offers" tile that notify a user of certain special offers in their region.
WD TV Play: Final Thoughts and Conclusions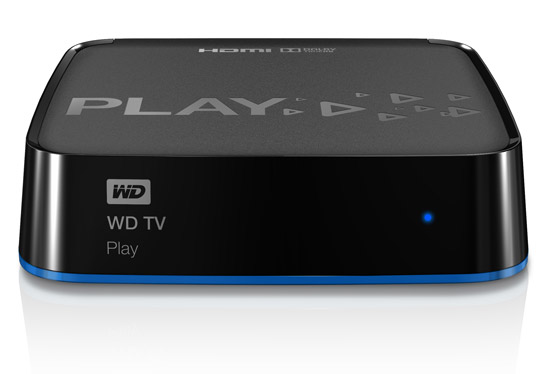 Back when media players were first taking off the ground, it wasn't unusual to see very small set-top boxes with 2-3 USB ports. Designers at the time were expecting users to connect their external USB drives to get their multimedia content. Now, manufacturers are relying on user's network infrastructure to push their content. The WD TV Play picked up our wireless signal well enough that streaming wirelessly a 720p MKV files was possible. As expected, we did get some choppy playback with a variety of 1080p files (both MKV and ISO), but this has happened to every set-top media player that we have tried to use over the years. Hopefully, we will see some media players with Wi-Fi-AC so we can stream 1080p over wireless.
The overall feel of the WD TV Play was very positive. The look of the unit is a positive and should pass any inspection that your significant other might judge. It's small and it's techy-looking and should be a topic of conversation for anyone who sees it in your living room.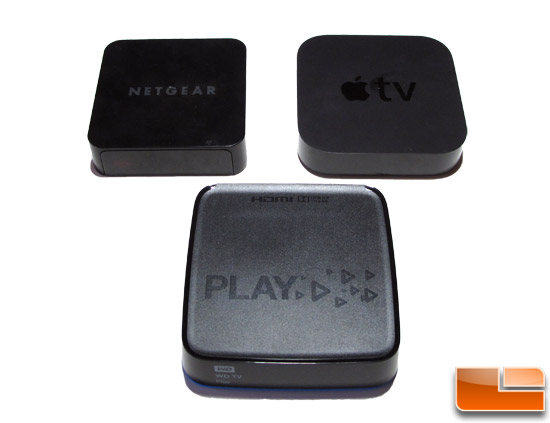 Even though the WD TV Play is very light weighing less than a half of a pound (.32lbs to be exact), the unit packs a nice punch. The big question that most people will want to know is if the $69.99 WD TV Play is better than the Apple TV or any other set top boxes on the market like the Netgear NeoTV Max.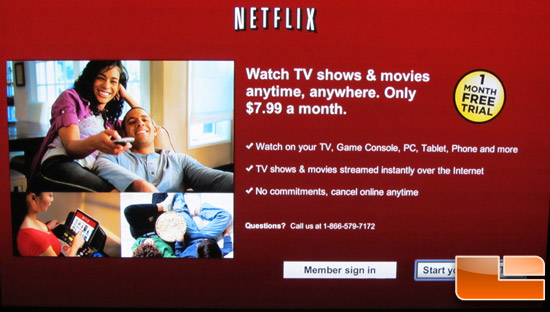 Access to online media was very quick…surprisingly quick to be honest. After the user goes through initial set up (name, password, etc.) with the online service, access to media is quite fast. We setup trial accounts with Netflix, Vudu, Hulu. Personally, I'm not really a fan of these services, but I know many people who are. It is apparent when using the WD TV Play that this player is built for those who use these online services.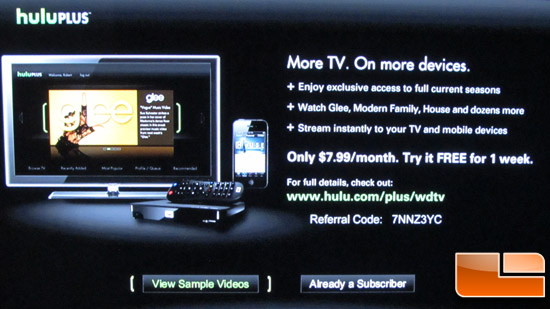 Most of my media is housed on a network attached storage device that has DLNA-enabled shared folders. Many set top boxes don't access these folders easily, but the WD TV Play handled these types folders well. Navigation wasn't that bad using the smallish remote and we were even able to make a shortcut to our favorite folder on our "Favorite Apps" menu.
The answer to the question, "Which is better" really depends on the user that the player will live with. For those "Apple Heads" out there (you know who you are!) who might have a large collection of videos and music downloaded from iTunes, the Apple might be the best choice at this point. For those who have converted their DVD, Blu-ray, and CD collections into AVI, MKV, and MP3 files, you will probably want something that is more versatile like the WD TV Play.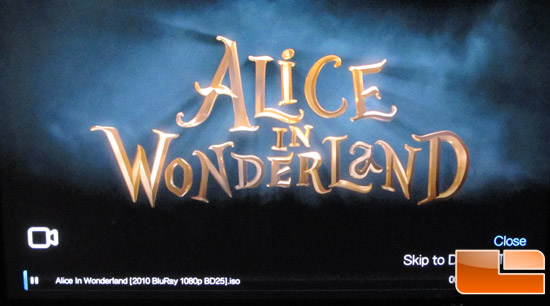 Was the Western Digital TV Play flawless? Not at all. We found that many files that played easily on our older WD TV Live Hub had difficulty with the "Play" unit. Specifically the 1080p ISO files and some MKVs. We found that some ISOs played, but not all – which is normal, but the more exotic the encoding, the less-likely the video would play.
On the plus side, the GUI and playback of files was very quick and responsive. This player actually impressed us with the better-than-average wireless network connection and playback. I thought for sure when I took the unit out of its box that the WD TV Play's size would work against it. I was totally wrong. The "Play" was able to pick up our wireless signal (from our Netgear R6300) better than the Apple TV or even the Netgear NeoTV Max. A stronger signal for us meant better playback of our 720p movies and stutter-free music listening.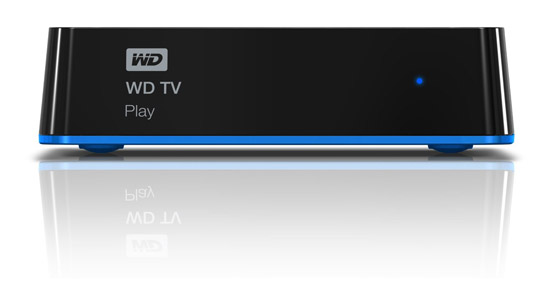 The WD TV Play comes with a 1-year limited warranty in North America, or a 2-year limited warranty in the UK/EU. While our favorite media player continues to be the Western Digital WD TV Live Hub that comes with a 1TB hard drive for just under $200, the newest model in the WD TV line up, the WD TV Play is perfect for those who want to stream from the internet or who don't feel like paying the cable company hundreds of dollars a year for a box that they don't use that much. The $69.99 "Play" unit from Western Digital is so small you can take it on the road with you to play your favorite multimedia in the hotel or at your friend's house.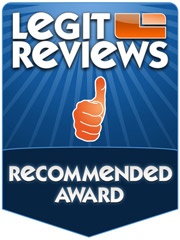 Legit Bottom Line:
Western Digital has introduced a great media player to market that is designed for streaming media from all corners of your house. This economical player is the one to get if you don't want to break the bank.