The Rise of mSATA
As mobile PC's get smaller, even the 2.5" form factor solid state drives are too large to fit inside without making design concessions. Sure, computer makers can embed than NAND into the device but that pretty much kills any upgrade options for the consumer. This where mSATA drives come in. They are small, yet able to carry larger capacities and are easily added or removed assuming they are easily accessible. Until now, there hasn't been a lot of activity in the mSATA SSD space but Intel is pushing the form factor front and center with their 525 Series (Lincoln Crest) line of drives which are mSATA exclusively. We didn't just get the usual single drive to test, they sent over virtually every available model they have which is great to show the differences in performance between differing capacities.
As you can see from above, all of the drives feature a green PCB save for the 30GB drive having blue, otherwise they are are visually indistinguishable so one must refer to the product sticker to discern which is which. Unlike their appearance, the performance varies between drives with the lowest capacity 30GB drive maxing out at 500MB/s and 275MB/s reads and writes respectively and the 240GB version cranking out 550MB/s and 520MB/s. Of course these are maximum specifications using compressible data and as most know by now, the SF-2281 controller does not fare as well as compressibility wanes.
Intel 525 Series mSATA SSD Features and Specifications:
Capacity: 30/60/120/180/240 GB
Components:
Intel 25nm NAND Flash Memory
Multi-Level Cell (MLC)
Form Factor: mSATA full size
Thickness: 3.7 mm
Weight: <10g
MTBF: 1,200,000 hours
SATA 6Gb/s Bandwidth Performance (Iometer Queue Depth 32)
Sustained Sequential Read: up to 550 MB/s
Sustained Sequential Write: up to 520 MB/s
Read and Write IOPS (Iometer Queue Depth 32):
Random 4 KB Reads: Up to 50,000 IOPS
Random 4 KB Writes: Up to 80,000 IOPS2
Latency (average sequential):
Read: 80 μs (TYP)
Write: 85 μs (TYP)
Data Compression
AES 128-bit Encryption
Power:
Active (MobileMark 2007 Workload): 300 mW (TYP)
Idle: 250 mW (TYP)
Temperature:
Operating: 0C to 70C
Non-Operating: -55C to 95C
The motherboard we have on our test bench does have an mSATA slot, but it's limited to 3Gbps bandwidth so we're leveraging this mSATA to SATA adapter Intel was kind enough to supply with their samples. It supports full 6Gbps bandwidth so we should be good to go.
A Closer Look At The Drives
Fortunately for me, with the number of drives we are looking at I don't have to crack open the case on any of them since they are all naked mSATA drives. It makes for a much easier photo session save for the pesky stickers.
All of the Intel 525 drives all have a product sticker on each one side, carrying all of the pertinent information. This covers up the NAND modules on this side.
Peeking under the sticker we see one of the Intel branded 25nm MLC NAND chip and density varies with each drive.
Finally we come to the SandForce SF-2281 which Intel has leveraged for some time now. Intel has put a lot of time and effort into customizing the firmware they are using to squash any bugs and make tweaks that facilitates performance, reliability and power consumption. All for the better of course. Otherwise, the controller is the same that we've see countless times that excels when faced with highly compressible data and offers more modest performance on incompressible data as we've shown many times in our benchmarks. Still, it's one of the best controllers available and has been proven to be adept at maintaining drive performance with support of features like idle garbage collection, TRIM and AES 128-bit encryption.
Test System & Drive Info
Legit Reviews Storage Benchmark Test System
All tests were performed on a fresh and up-to-date install of Windows 8 Pro x64 with no other applications running while using AHCI mode set through the BIOS. Synthetic Benchmarks were run with the OS loaded on a 120GB Corsair Force SSD. In between every test, the test drive was secure erased using an instance of Parted Magic. As such, all results should be indicative of optimal performance. All components were set to their default speeds and are listed below.
Z77 Test Bench
Intel LGA 1155 Test Platform
Component
Brand/Model
Live Pricing

Processor

Core i5 2500k

Motherboard

ASUS Maximus V Gene Z77

Memory

Kingston HyperX KHX16C9B1RK28 8GB

OS Drive

Corsair Force 120GB (FW 2.4)

Power Supply

Antec Basiq BP550W Plus-EC

Operating System

Windows 8 Pro 64-Bit
Drives In The Roundup:

In addition to the Intel 525 Series mSATA drives, we also had on hand a Mushkin Atlas 30GB mSATA drive that we are throwing into the mix for additional comparison. All the capacities of the Intel drives we were sent are listed below.
| | | | |
| --- | --- | --- | --- |
| SSD MODEL | CONTROLLER(S) | Firmware | Interface |
| Mushkin Atlas 30GB mSATA | Marvell 88SS9175 | 504ABBF0 | mSATA 6Gbps |
| Intel 525 30GB mSATA | SandForce SF-2200 (SF-2281) | LLKi | mSATA 6Gbps |
| Intel 525 60GB mSATA | SandForce SF-2200 (SF-2281) | LLKi | mSATA 6Gbps |
| Intel 525 120GB mSATA | SandForce SF-2200 (SF-2281) | LLKi | mSATA 6Gbps |
| Intel 525 180GB mSATA | SandForce SF-2200 (SF-2281) | LLKi | mSATA 6Gbps |
| Intel 525 240GB mSATA | SandForce SF-2200 (SF-2281) | LLKi | mSATA 6Gbps |
CrystalDiskMark 5.2.0 Readout:
For the Intel 525 Series mSATA SSD drive, the readout on CrystalDiskInfo 5.2.0 shows that both NCQ and S.M.A.R.T. are enabled, as well as TRIM and the interface is confirmed at SATA III (6Gbps). The firmware version used for testing is the latest available at this time - LLKi.
Let's look at some benchmarks...
ATTO & AS-SSD Benchmarks
ATTO v2.47
ATTO is one of the oldest drive benchmarks still being used today and is still very relevant in the SSD world. ATTO measures transfers across a specific volume length. It measures raw transfer rates for both reads and writes and places the data into graphs that can be very easily interpreted. The test was run with the default runs of 0.5KB through 8192KB transfer sizes with the total length being 256MB.
ATTO - Intel Z77 Platform
Benchmark Results: Though the controllers are all identical (SF-2281) performance varies on the smaller drives as they carry only one NAND die per package which has an obvious performance impact, at least on the writes.

AS-SSD (1.6.4237.30508) Benchmark - Intel Z77 Platform
We have been running the AS-SSD Benchmark app for over some time now and found that it gives a broad result set. The programmer has worked very hard on this software and continues to make updates often so if you use it, show him some love and send him a donation. There are now three tests that are found within the tool and we'll show the results from two of them.
Benchmark Results: The results show an incremental improvement in performance as the drive capacity increases on the sequential tests and the overall scores reflect just that.

AS-SSD Compression Benchmark - Intel 525 Series mSATA:
Benchmark Results: Typically with SandForce drives we see the write performance ramp up as the data becomes more compressible and that holds true here with the read performance remaining relatively linear and flat.

CrystalDiskMark and Anvil IOPS
CrystalDiskMark is a small benchmark utility for drives and enables rapid measurement of sequential and random read/write speeds. Note that CDM only supports Native Command Queuing (NCQ) with a queue depth of 32 (as noted) for the last listed benchmark score. This can skew some results in favor of controllers that also do not support NCQ.
CrystalDiskMark 3.0.2 x64 - Intel Z77 Platform
Benchmark Results: Like the AS-SSD benchmark, the scores for the sequential tests increase in step with capacity where are the 4k writes see a definitive performance difference once past the 60GB capacity mark.

Anvil Storage Utilities 1.050 RC6- Intel Z77 Platform
Along with the move to a new platform, we decided to make a change in one of the benchmarks. There's a relatively new benchmark called Anvil Storage Utilities that is in beta but close to production. It's a very powerful tool that measures performance through a variety of tests which can be customized. Since some of the tests more or less duplicate what we get from other benchmarks we use already, we decided to use the IOPS (Input/Output Operations Per Second) testing on 4kb file sizes at a queue depth of 32. IOPS performance is something SSD makers tout quite a bit but we generally don't do a lot of IOPS testing because frankly a lot of users can't relate to IOPS metrics as well and it tends to be more meaningful to the enterprise/server crowd. Still, it is another performance indicator with relevance and while some drives post good MB/s numbers, their IOPS scores aren't always commensurate which this test will prove out.
Benchmark Results: Reads are fairly consistent in the IOPS measurement but again the writes ramp up as capacity increases. Overall, each exceed to the marks of their published specifications.
Real World Copy & Boot Tests
File Copy Times Via Teracopy 2.27:
One of the most common operations performed on a PC is moving/copying files. Using a free application called Teracopy, we copied large numbers of two file types from one folder to another on the same drive. Teracopy allows us to objectively measure the time of transfer and using the same drive prevents other devices from tainting the outcome. The operation requires the drive to perform both sustained read and writes simultaneously. The first set of files is a 5GB collection of JPG's of variable size and compression levels with a few movie (.MOV) files thrown in for good measure since most cameras now take video as well as stills. The second is a collection of MP3 files of various sizes which totals 5GB collectively. These file types were chosen due to their wide use and mixture of file sizes and compression levels.
Install Results: We left the 30GB drives out of these tests as the temp OS image we use for all of the real world testing doesn't fit on the 30GB drives and most would not attempt to use them as an OS drive anyway. Real world usage reflects the benchmark results with the larger capacity drives doing better than their smaller counterparts.

Windows Boot Times Via BootRacer:
Windows start up/shutdown time is always something people are interested in and we haven't done it in a while because there was little variation with the majority of the SSDs. We recently began using an application called BootRacer to objectively measure the startup times of the drives. All of the instances of Windows were identical and freshly installed with only the video driver installed.
Test Results: Oddly enough the smaller drives fare better on boot times although by a mere second or two.
Final Thoughts & Conclusions
Drive capacities as shown in Windows are shown in the table below along with the best live pricing we could find which will likely vary as time goes on. For nearly all users with a machine that holds only a single unit for storage, the 120GB and above are really the drives to be looking at where the 30Gb and 60GB drives would be better suited as cache drives or secondary storage.
Drive:
User Capacity:
Model Number:
Retail Price:
Cost Per Usable GB:
Intel 525 30 GB
27.9 GiB
SSDMCEAC030B3
$49.99
$1.76
Intel 525 60 GB
55.8 GiB
SSDMCEAC060B3
$112.90
$2.02
Intel 525 120 GB
111 GiB
SSDMCEAC0120B3
$162.99
$1.47
Intel 525 180 GB
167 GiB
SSDMCEAC0180B3
$229.99
$1.37
Intel 525 240 GB
223 GiB
SSDMCEAC0240B3
$299.99
$1.34
It's good to see some more options in the mSATA space which will only continue to grow, as right now there aren't a lot of offerings available. Intel has done a nice job of making a healthy range of capacities available to suit most everyone's needs and budgets. Covering them with a five year warranty is also a big plus since the industry standard tends to be the three year mark.
In the end, the 525 Series drives are really the mSATA version of the 520 Series drives with some additional firmware tweaks that are unique to Intel. For now at least. Being powered by the SF-2281 controller, they put up stellar numbers when faced with data the controller can compress to turbocharge performance. On the 60GB drives and up, performance is roughly the same in that respect with reads all topping out around the 555MB/s mark and writes in the 520MB/s to 530MB/s range.
Moving to incompressible data, the performance starts to vary more between each capacity, especially on the writes where they range from almost 50MB/s to a little over 300MB/s. Real world performance echo the synthetic benchmarks which is usually the case. We look forward to seeing more mSATA drives on the market and await the next generation controller from Intel as well as SandForce to pit them against the likes of Link_A_Media Devices and the Indilinx Barefoot 3 controllers.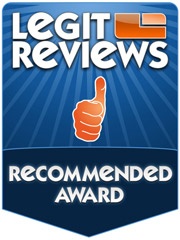 Legit Bottom Line: The dearth of big name drive makers in the mSATA SSD space, along with the performance and wide variety of capacities offered by the 525 Series of drives, makes it a slam dunk to look Intel's way for your mSATA needs.