Cougar PowerX 550W PSU - Introduction
Founded back in 2007, Cougar is a relatively new manufacturer of power supplies, at least on paper; the company is a subsidiary of HEC, which is also known as Compucase or Heroichi on some parts of the world, a firm which has been in the market for decades. Today we are having our first encounter with one of their products, the mainstream-oriented PowerX 550W. Obviously, Cougar is not trying to set any records with such a power supply, yet it is exactly the type of product which appeals to the largest percentage of common users and gamers.
The Cougar PowerX 550W power supply is not yet available in the US, but it will be soon and its MSRP price is $69.99, a highly competitive price for those seeking something better than a cheap "grey" unit but unwilling to pay for a premium power supply. Even though the class of this power supply does not create any illusions that the performance will be legendary, it still remains of critical importance to reach levels which would justify the upgrade over a cheap run-of-the-mill unit.
Cougar PowerX 550W PSU Features:

80-PLUS BRONZE CERTIFIED
COMPATIBLE WITH LATEST PC-TECHNOLOGY

Supports the newest specifications of ATX12V
Created for usage with current and next-generation multi-core CPU platforms

SUPPORT MULTI-GPU TECHNOLOGY

Support PCI Express 2.0 next-generation graphic card with 8(6+2)pin PCI-E connector

ACTIVE POWER FACTOR CORRECTION (ACTIVE PFC)

PF value up to 99%, provides clean and reliable power

ULTRA-QUIET & TEMPERATURE-CONTROLLED 120mm FAN-

Temperature-controlled design adapts its rotating speed to the PSU temperature. Even on its highest rotating level the fan is still quiet enough to be barely noticeable

INTEGRATED AIR INLET DESIGN

Optimal air-dynamical design, lead to more silent operation

JAPANESE CAPACITOR

High durable Japanese capacitor provides uncompromised performance and reliability

5Vsb OVP DESIGN

Provide full protection for your USB devices

HIGH PERFORMANCE AT 40°C

Non-stop high performance and full rated wattage at 40°C/104°F ambient temperature

DYNAMIC Dual-12V

Automatic dynamic load distribution on dual-12V line to provide power separately to the GPU and the CPU. If you are not using all output lines, the PSU automatically reroutes needed power from unused lines. This improves the performance of the 12V lines considerably for systems with high-end graphics cards in SLI® or CrossFire mode. and provide high voltage stability to keep components safe

Eco-friendly : ErP Lot6 2013 ready
Power consumption < 0.45W in PC off-mode
SUPPORTS THE ENERGY STAR 5.0

Compatible with Energy star 5.0 computer system

FULL PROTECTIONS WITH OCP, SCP, OVP, UVP, OPP, OTP
Cougar PowerX 550W PSU Specifications:
Input Characteristics

Output Characteristics

AC input

+3.3V

+5V

+12V1

+12V2

-12V

+5Vsb

Total
output

100-240Vac
50-60Hz 10A

24A

15A

28A

22A

0.3A

3A

550W

120W

516W

150W

670W
Let's move along to unboxing our test unit!
Unboxing the Cougar PowerX 550W
We received the Cougar PowerX 550W unit supplied inside a small but sturdy cardboard box. The artwork on the box is dark and subtle, without too many bells and whistles.
The rear of the box is a small user's manual, with a full list of the unit's features, tables with the electrical specifications and number of cables, as well as charts on the efficiency and acoustics of the power supply, plus some minor stuff such as links and certification logos.
As expected from a unit of this class, the items provided with the PowerX hardly qualify as a bundle to begin with. Cougar supplies the bare essentials; an A/C power cable, four mounting screws and a black and white manual.
External Design of the PowerX 550W
Although the PowerX 550W unit is built inside a typical ATX chassis, Cougan managed to make it unique by simply replacing the cover with one that has the fan guard integrated and, well, is painted orange, obviously in an attempt to replicate the color of bronze. The rest of the power supply is black, which is a matching color, yet orange may not be the color of choice for many. The PowerX is a small power supply, fully compliant with the ATX design guide. All of the cables are hardwired onto the power supply.
On the right side of the chassis, Cougar simply embossed their company logo; a quick and effective way to enhance the appearance of almost any power supply. The logo however will be visible from a windowed left panel only if the power supply is installed with the fan facing upwards.
The sticker with the electrical specifications of the power supply covers most of the left side of the PowerX, reminding us of old-school designs. The sticker will be visible through the windowed side panel of almost any case which takes the power supply with its fan facing down.
The front side of the Cougar PowerX 550W power supply is perforated, with only a simple on/off switch right next to the A/C cable plug.
As this is not a modular power supply, the rear side of the Cougar PowerX 550W is plain and uninteresting, with only a large holes from which the cables come out of.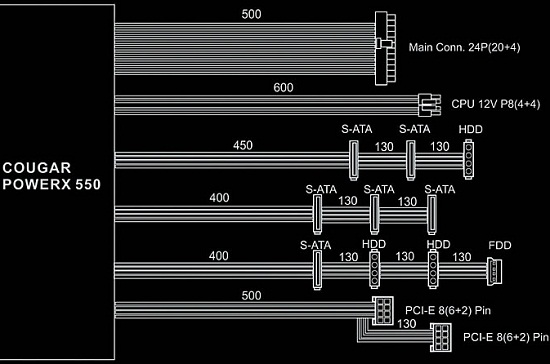 This power supply offers the following number of cables and connectors:
Connector

Main Connector

Peripheral Connector

Floppy Connector

CPU Connector

S-ATA Connector

PCI-Express Connector

Pin

24(20+4)
Pins

4 Pins

4 Pins

8(4+4)Pins

5 Pins

8(6+2)Pins

POWERX 550
CGR B4-550

1

3

1

1

6

2
Six SATA connectors and 2 PCI-E connectors should be enough for a common everyday system, yet we believe that the 3 Molex connectors could leave a few users frustrated on how to power their 4+ optical drives, fans and auxiliary devices.
A look inside the PowerX 550W
The 120mm fan inside the PowerX 550W power supply has been rebranded but we could easily identify it as the DFS122512M, a popular model by Young Lin Tech. This is a typical sleeve bearing fan with a maximum speed of 1500RPM; nothing really important about it save from the fact that it comes from a well-known manufacturer.
As we mentioned before Cougar is a subsidiary of HEC and HEC has their own power supply development department. As such, it makes perfect sense that there is no hidden OEM behind the PowerX 550W unit, which is designed and built entirely by Cougar themselves. The construction is good, with only the occasional hand-made soldering joint and glue which we expected to find in such a power supply.
The filtering stage begins on the back of the A/C receptacle, on a small vertical PCB. The entire filtering stage consists of three Y capacitors, one X capacitor, one filtering choke and a MOV. Not the best filtering stage that we have ever seen and a choke short of the design guide recommendation, yet once again expected from a product of this class.
The lone rectification bridge can be found on a basic, straight heatsink. After the rectification bridge, a single Matsushita (Panasonic) 330uF/400V 105°C capacitor is working alongside a large coil, forming the passive components of the PFC stage. The active PFC components, as well as the primary inversion transistors, are all mounted onto the large heatsink.
The heatsink on the secondary side of this power supply holds the DC line conversion transistors. There are no DC to DC circuits; all of the voltage lines are generated by the transformer directly. All of the secondary side capacitors are electrolytic and supplied by Teapo. Yes, Teapo is a well-known Taiwanese manufacturer and Cougar appears to be claiming that this unit has Japanese capacitors; however, they actually say "capacitor", on the box, online, in the manual and everywhere else. The PFC capacitor is Japanese and a very good one, therefore they are not actually lying but this indication certainly is very misleading.
Test Setup
In order to be able to effectively and efficiently test any computer power supply unit, we developed and constructed our own proprietary testing station. Our testing station consists of a number of power resistors and small capacitors, which in turn are connected to a RS485 electronic relay array which allow our load to be controlled through computer software alone.
When accuracy and speed are of critical importance, a simple multimeter or voltage meter is not sufficient for the task. To ensure the quality of our testing, an USB laboratory interface is being used to continuously monitor and record the readings of all voltage lines simultaneously. For ripple measurements, an oscilloscope is necessary and we chose the USB Instruments Stingray, the most widely used oscilloscope amongst low voltage PSU engineers and testers.
For accurate testing and repeatable results, a stable power input is also required. Thus, we are providing power to our test samples through a 3kVA VARIAC which allows us to control the input voltage of our test samples and also perform efficiency tests under both 110V AC and 230V AC input. A Lutron DW-6091 is also being used, monitoring the input voltage, real and apparent power, power factor and amperage.
A power supply testing procedure would not be complete without thermal and acoustics tests. For our acoustics tests we are using a SL-5868P digital sound level meter, placed 1 meter away from the unit (DIN standard). Two PT100 sensors and their respective displays are being used to monitor the ambient temperature and the exhaust temperature of the unit.
Testing results (Regulation & Ripple)
The electrical performance of the Cougar PowerX 550W power supply is definitely incomparable with that of high-end products, yet we still cannot rate it any better than mediocre even after taking into consideration the level of this product. The voltage regulation is good for a power supply of this class, reaching about 3% on the 12V line and 3.8%-3.5% on the 5V and 3.3V lines respectively. Ripple suppression however is rather poor, with the ripple on the 12V line reaching 84mV at maximum load, about 70% of the absolute limit, and up to 44mV on the 3.3V/5V lines, nearly 90% of the absolute ATX design limit.
Testing results (Efficiency, Noise & Thermal)
Bearing an 80Plus Bronze certification, we did not expect stellar efficiency figures from the PowerX 550W. The power supply does honor its certification, with the maximum possible efficiency reaching 86.3% when a 230VAC source is being used and 85.2% if the magnitude of the A/C voltage source is reduced down to 110VAC. The efficiency drops at minimum and maximum load but never below 82%.
Despite the mediocre power output of the PowerX 550W unit, its operating temperatures are not very low. The temperature differential begins at 3.4°C at minimum load and goes up to 7.5°C at maximum load, figures which are comparable to those we are used to encounter when testing high-end 800W+ power supplies. Nevertheless, considering that this is "just" an 80Plus Bronze certified power supply, the thermal testing results were not unexpected, although we hoped for something better than that.
The chart above explains the middling thermal performance of the PowerX 550W power supply, as well as its greatest advantage; the noise levels are very low, especially considering the class of the power supply. The PowerX 550W remains entirely inaudible up to 50% load, allowing a standard gaming system or home PC to operate noiselessly while idling or performing common tasks (office applications, watching movies, etc.). If the power consumption increases, the power supply becomes audible but will not ever reach a level where it becomes annoying.
Cougar PowerX 550W Review Conclusion
The Cougar PowerX 550W power supply obviously is a product designed to entice users into upgrading from a cheap unit of unknown (and, usually, extremely poor) quality to one of acceptable quality and performance standards. Considering that the MSRP of the power supply is just $69.99 and that the actual retail price usually is quite lower than the MSRP, the PowerX 550W might actually be a very good deal for casual users and gamers on a very tight budget. On the other hand however, the saying "you get what you pay for" fits perfectly in this case. Cougar designed the PowerX 550W unit to be a quality product for those on a tight budget and a quality product it is; well designed and made, with proper protection circuitry and backed up with a 3 year warranty. But that is where the magic ends, as the only overall performance of the PowerX 550W power supply is nothing more than acceptable.
We believe that the greatest shortcoming of the PowerX 550W was its middling electrical performance, as advanced users will primarily aim for high performance over anything else, even if they are strongly limited by their monetary budgets. The PowerX 550W meets its 80Plus Bronze efficiency certification but the voltage regulation is middling and the ripple suppression is rather poor. We realize that this power supply likely costs less than the keyboard of an advanced gamer and thus we expected no miracles from it; however, we honestly believe that Cougar could have done more than a little better on the electrical performance, which would make the PowerX 550W power supply a very competitive product. Thankfully, at least the acoustics performance of the PowerX 550W is very good, therefore it should greatly appeal to users who primarily aim towards quiet computing.
Aesthetically, this is no modular power supply but Cougar certainly placed some effort into making it visually attractive. The company sleeved all of the cables down to the last connector, embossed the chassis and installed a bronze-colored cover. These are usually more than enough for a power supply of this price range. We can only argue that the bronze-colored cover might not be such a good idea, not everybody likes fancy colors and colorful combinations.
Legit bottom line: The Cougar PowerX 550W power supply is a reliable, well-made product for advanced users and gamers on a tight budget. Its middling performance however does not make it particularly competitive, unless the actual retail price ends up significantly lower than the $69.99 MSRP that we have been informed of by Cougar.