ADATA Premier Pro 32GB SDHC Memory Card
Chances are pretty good that you have numerous Flash memory cards floating around, but when was the last time you updated it? The Secure Digital (SD) memory card format is the most popular and while the physical size of the card has not changed, the standards most certainly have. You can get SDSC, SDHC, SDIO and SDXC versions of SD cards and then you have speed grades for each class. You might have seen cards labeled Class 4 before and that basically means that the card should be guaranteed to provide at least 4MB/s write speeds since it is a Class 4 card. The 'Class' system has worked well for many years, but recently the UHS-I (Ultra-High Speed) format became available for both SDHC and SDXC cards. UHS-I cards support much higher internal clock frequencies and right now the standard says that UHS-I cards can go up to 104MB/s read and write! UHS-II is also being developed and features speeds of up to 312MB/s! In case you are wondering a SDHC UHS-I memory card will work in any SDHC (Secure Digital High Capacity) compatible device at lower speeds, but to take advantage of the UHS-I speed, a UHS-I compatible device is essential. You'll also need memory card readers that use high-speed data interfaces like SuperSpeed USB 3.0 to be able to move data between the card and your PC at such fast speeds!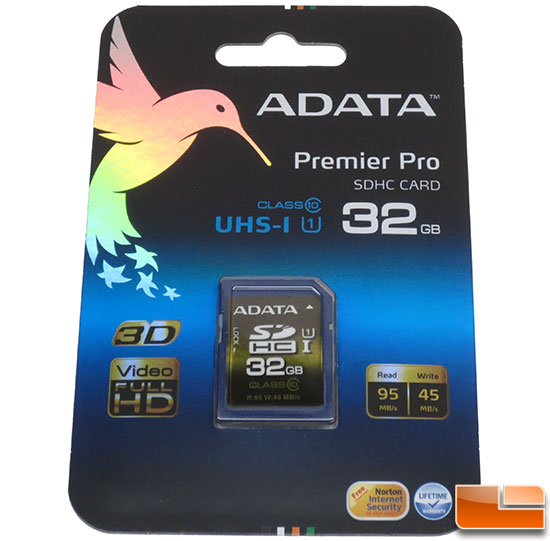 ADATA recently launched Premier Pro SDHC and SDXC memory cards that use the 'new' UHS-I specification, providing read/write speeds up to 95/45 MB per second for in 32GB and 64 GB capacity cards. Not bad speeds and something that will come in handy with newer high-end SLR cameras, high quality full HD cameras, and other devices. ADATA recently sent over the 32GB card with part number ASDH32GUI1CL10-R for review. The ADATA Premier Pro 32GB SDHC Card runs $42.90 shipped over at Amazon or $38.99 shipped on Newegg.
This card meets the latest SD 3.0 specifications for USH-I transfers and comes backed by a lifetime warranty. It also has a number data protection features including: X-ray, water, shock, and magnet proof construction. It also has the ability to handle extreme temperatures (-25C to 85C) and it even supports error correcting code (ECC) and write-switch protection functions. Not bad for a memory card!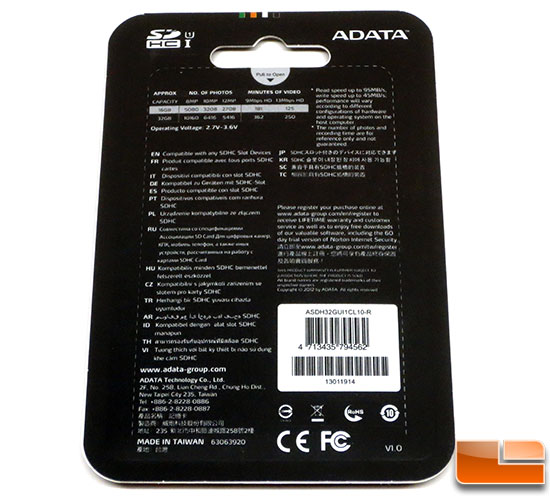 The retail packaging for the ADATA Premier Pro 32GB USH-I SDHC memory card is very nice looking and contains all the pertanant information that a shopper would be interested in knowing at a brick and mortar store.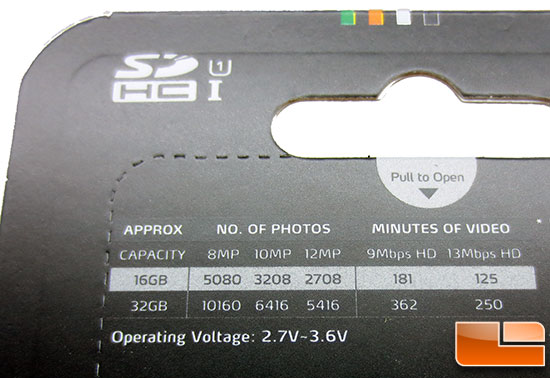 One interesting section that we noticed on the back of the packaging a table that listed how many minutes of video and images that the card would hold. The ADATA Premier Pro 32GB SHDC card should hold around 5,416 12MP photos or 250 minutes (4.2 hours) of 13Mbps HD video!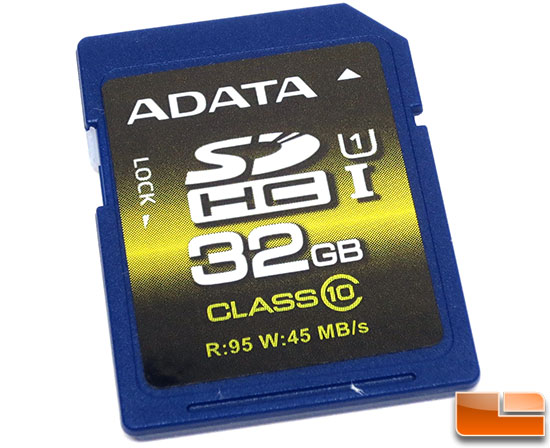 Here is a closer look at the actual memory card outside of the retail packaging. Nothing too shocking here as it looks like any other SDHC card due to the form factor requirements. We really like how ADATA put the read and write speeds on the label itself. Years down the road you'll be able to remember what the exact speeds of this card are without having to go online and look it up!
ADATA Premier Pro 32GB SDHC Memory Card Specifications:
Capacity
32GB
Standard
SDA 3.0
Dimensions (LxWxH)
24mm x 32mm x 2.1mm
Weight
2g
Operating Voltage
2.7~3.6 Volt
Performance

Seq Read/Write rate up to 95 / 45 (MB/s)
Random Read/Write: 1300 /100 (IOPs)
Warranty
Limited lifetime warranty
Compatibility
DSLR, Full HD Camcorder, Digital Camera
Certifications
FCC, CE, BSMI, VCCI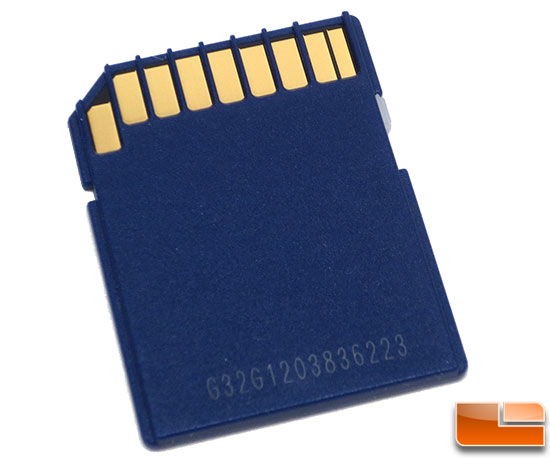 On the back of the card you can see the power and data pins along with serial number of this specific card. Since that pretty much covers all the information on this card we can go ahead and get to speed testing it!
Testing The ADATA SDHC UHS-I Card w/ USB 3.0
Testing The SDHC UHS-I Card w/ USB 3.0
To try out the ADATA Premier Pro 32GB memory card we will us using an Intel Z77 platform with a UHS-I memory card reader using the SuperSpeed USB 3.0 interface. If you would like to know more about this mini-ITX test system you can read an article on how to build it yourself here. We used Intel USB 3.0 driver version 1.0.5.235 for testing.
Legit Reviews Intel Z77 Test System Parts List:
Intel Core i7-3770K Ivy Bridge Processor - $349.99
ASUS P8Z77-I Deluxe mini-ITX Z77 Motherboard - $199.99
EVGA GeForce GTX 670 SuperClocked - $419.99
Cubitek Mini ICE ITX Case - $169.99
Kingston HyperX 480GB SSD - $669.99
Western Digital Caviar Black 2TB Hard Drive - $214.00
CoolIT Eco II 140 Liquid Cooler (thanks to Maingear)
Samsung Slimline 8x DVD Burner - $23.99
StarTech Slim Optical 5.25" Drive Bay Adapter - $26.99
StarTech Slimline SATA to SATA Adapter Cable - $8.99
2 x 140mm High Static Pressure Fans - $30
AFT PRO-37U USB 3.0 3.5" Media Card Reader - $54.99
Corsair AX 650W Gold PSU - $149.99
Windows 7 Ultimate 64-Bit - $189.99
There are not that many 3.5" internal USB 3.0 media card readers on the market, but the Atech Flash Technology (AFT) PRO-37U looks like it fits the bill. This media card reader costs $46.95 Shipped and supports pretty much every memory card format that is popular on the market today without the need of an adapter. The retail box for this reader also shows that this product supports the UHS-1 standard.
The AFT Pro-37U comes with the media card reader, two USB 3.0 cables, mounting screws and a USB 3.0 20-pin adapter. The adapter converts two regular USB 3.0 ports to USB 3.0 20-pin internal headers. This is a high-end memory card reader and perfect for testing out this card.
CrystalDiskMark 3.0.2d x64:
CrystalDiskMark is a small benchmark utility for drives and enables rapid measurement of sequential and random read/write speeds. Note that CDM only supports Native Command Queuing (NCQ) with a queue depth of 32 (as noted) for the last listed benchmark score.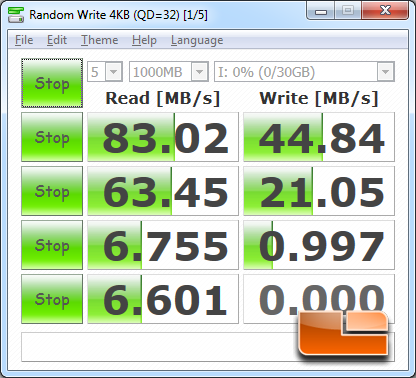 Benchmark Results: CrystalDiskMark showed that we hitting 83MB/s read and 45MB/s write on the sequential test!

ATTO v2.47:
ATTO is one of the oldest drive benchmarks still being used today and is still very relevant.. ATTO measures transfers across a specific volume length. It measures raw transfer rates for both reads and writes and places the data into graphs that can be very easily interpreted. The test was run with the default runs of 0.5kb through 8192kb transfer sizes with the total length being 256mb.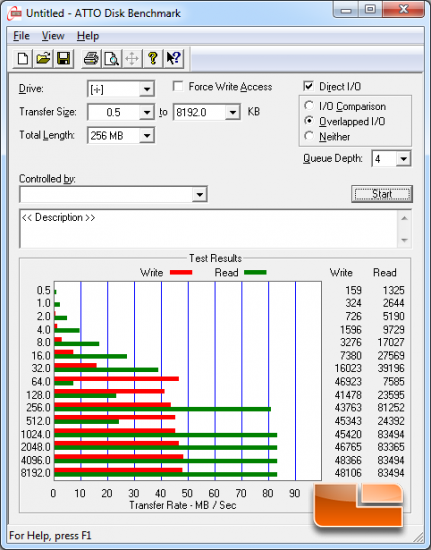 Benchmark Results: The ADATA Premier Pro was able to reach 83MB/s read and 48MB/ write speeds in ATTO with the default benchmark settings. The write speeds were a tad faster than the advertised speed rating, but the read speeds were about 13% lower than advertised. This could be a limitation of our USB 3.0 card reader or the card itself.

Check Flash v1.16.2:
Check Flash is a multi-purpose flash drive testing and maintenance tool. This utility allows for error checking, speed tests, and much more.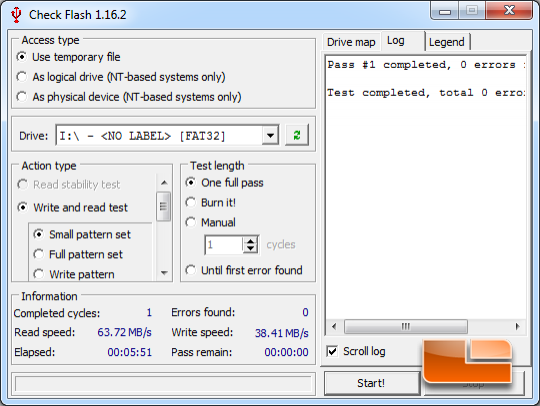 Benchmark Results: Check Flash showed that we averaged 63.72MB/s read and 38.41MB/s write on the speed test.

These are pretty fast speeds, but keep in mind that this testing was done on a USB 3.0 memory card reader. What happens when you try out the card in something different? Let's find out!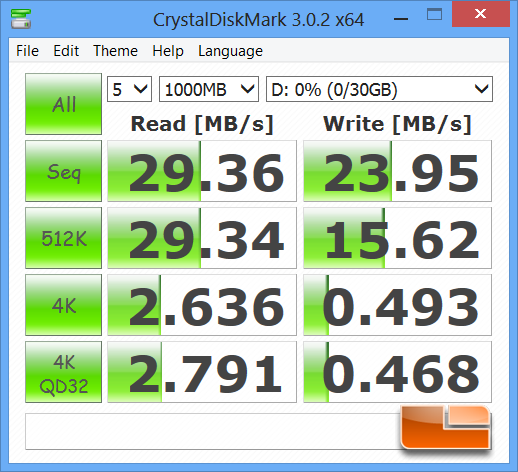 Benchmark Results: On the ASUS UX31A Ultrabooks built in memory card reader we see much lower speeds, just 29MB/s read and 24MB/s write on the sequential test. If you want to get close to the rated speeds be sure to use a USB 3.0 card reader and not one that relies on the slower USB 2.0 interface!
Final Thoughts and Conclusions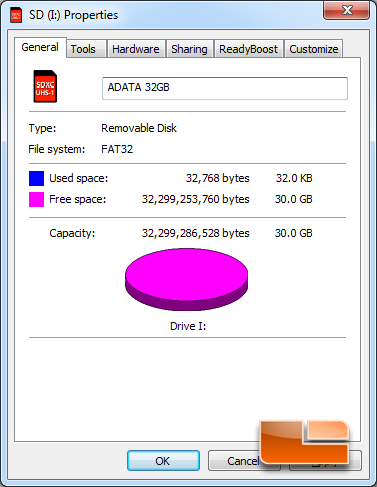 The total useable capacity of this 32GB drive shows up at 30.0GB in Windows due to the conversion from physical GB to the virtual GiB. You can see that that the ADATA memory card uses the FAT32 file system.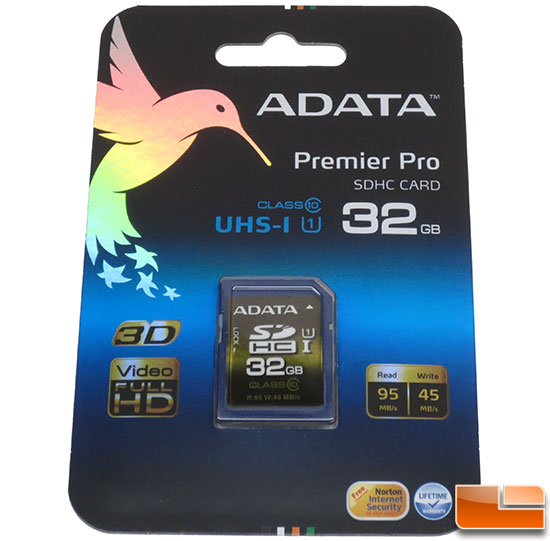 Final Thoughts and Conclusions:
If you are looking for are looking for a fast SDHC memory card then the ADATA Premier Pro series should be of interest to you. We found the rated write speeds were spot on and that is important to photography professionals, especially those that do continuous burst mode shooting or do high dynamic range (HDR) imaging! We used this card on a number of cameras and found no pause or hesitation when taking high resolution pictures as the camera wasn't waiting on the memory card to finish writing!
When it comes to pricing the ADATA Premier Pro 32GB SDHC Card runs $42.90 shipped over at Amazon or $38.99 shipped on Newegg. If you are wanting something a little bigger you an go with the 64GB version of this card that has identical speed ratings for right around $90 shipped. Not a bad price for the speed and you have to keep in mind that these cards are backed by a lifetime warranty.
Legit Bottom Line: The ADATA Premier Pro 32GB SDHC memory card is fast and affordable, but you need a UHS-I supported device and USB 3.0 memory card reader if you want to use that speed!