Corsair Obsidian 900D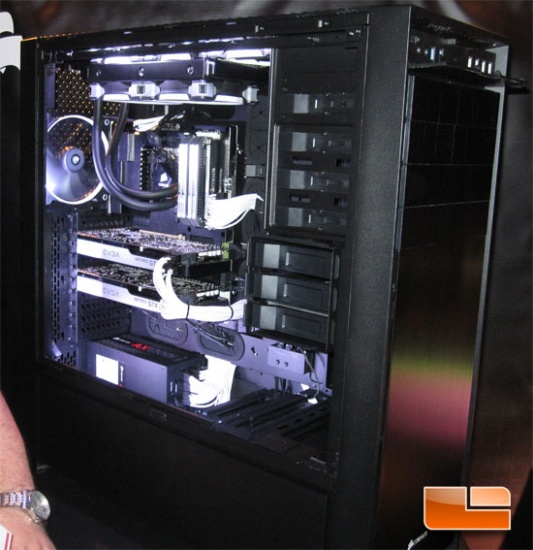 A little over three years ago, Corsair entered the PC Chassis market with a bang. They launched the Corsair Obsidian 800D. Since then many companies have tried to meet the level of quality that Corsair brought to the table with the 800D, and few have succeeded. Today, we are confident that one company has exceeded expectations and brought a bigger, better case to the playground. Once again though, it's Corsair! Last night at an invite only press event at CES 2013 Corsair unveiled the follow up to the 800D. The Corsair 900D is the improved and updated 800D. We were able to grab a few shots of this massive case that has been dubbed in the Corsair labs as Godzilla at the event, so lets take a look at Godzilla!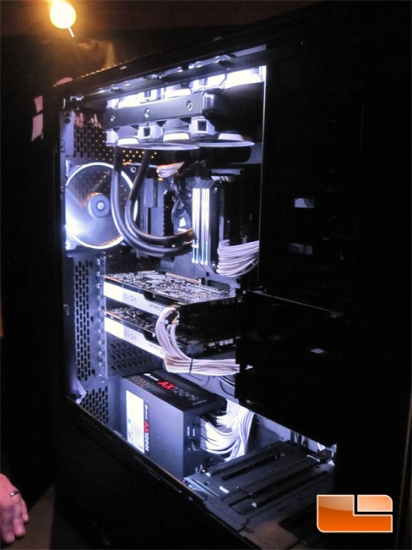 Our first shot of the Corsair 900D shows just how roomy this beast is inside. Up top Corsair has installed the H100i with fans on both sides and there is still room between it and the motherboard!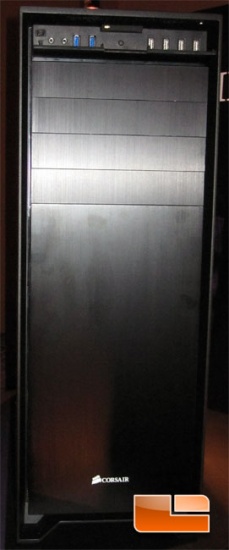 The front of the Corsair 900D features the I/O panel which does get hidden underneath a flip down panel. Below the I/O panel is four 5.25 drive bays for your optical drives. The panel below the drive bays pops off and will reveal three 120mm fans and enough room for a triple 120mm radiator!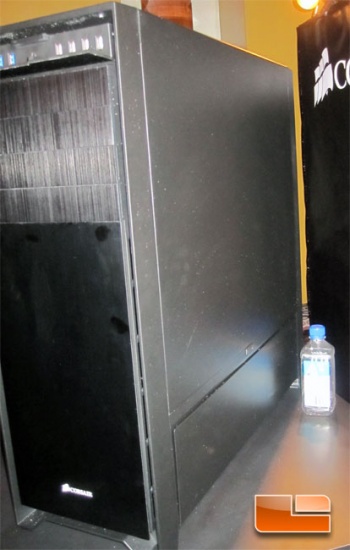 The opposing side panel isn't horribly exciting, though like the other side the bottom looks like it will flip out.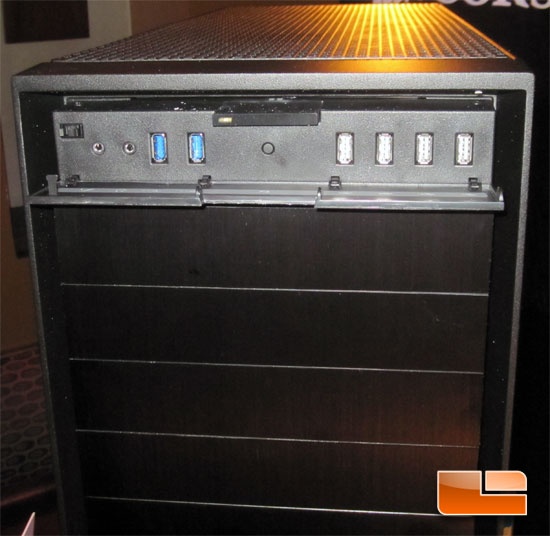 The front panel I/O features two SuperSpeed USB 3.0 and four USB 2.0 ports.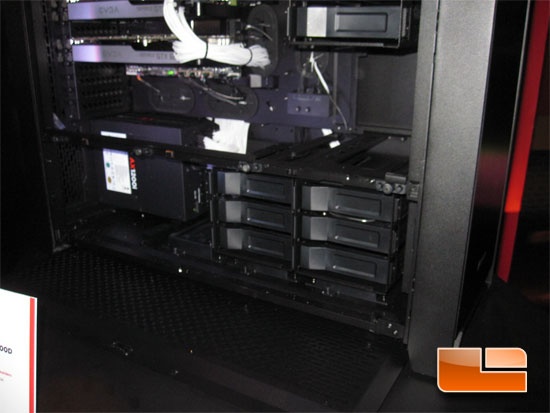 Along the bottom of the Corsair 900D we can mount up to nine hard drives or SSD's and an additional six below the 5.25" drives. One of the hard drive cages supports how swapping and has ports built into it. Currently there is only one of the Corsair AX 1200i power supplies installed, but the 900D can easily handle two power supplies side by side. There is also the option to install a 4x120mm radiator!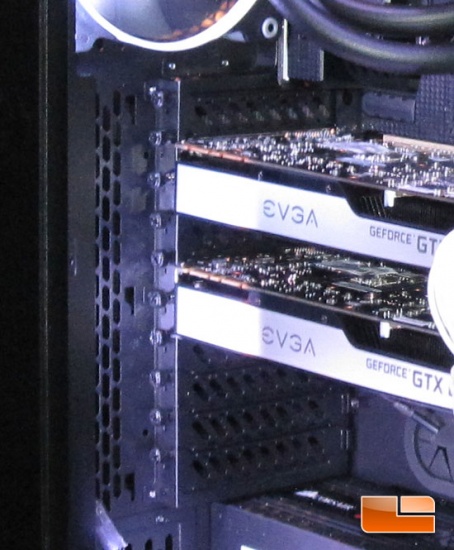 One of the complaints that Corsair has listened to and remedied between the 800D and now, is support for larger motherboards. The 800D has support for only seven expansion slots, this limited that chassis and prevented it from running some of the larger form factor motherboards like eATX, XL-ATX, and HPTX. Mainly due to the lack of expansion capailities. Enthusiasts spoke and Corsair listened, the Corsair 900D has an impressive 10 expansion slots! This allows for all of the larger motherboard form factors to fit without issue.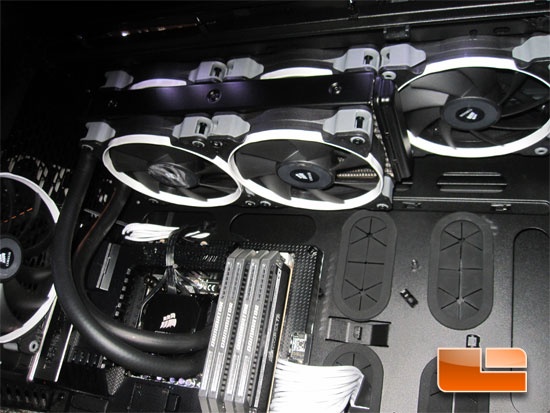 Here we can see just how much room is above the motherboard in the Corsair 900D. There is the radiator of the H100i, and fans on either side for an approximate thickness of 75mm. There is roughly 25mm more befor your begin to run into the motherboard, that means that there is 100mm between the board and the top of the 900D!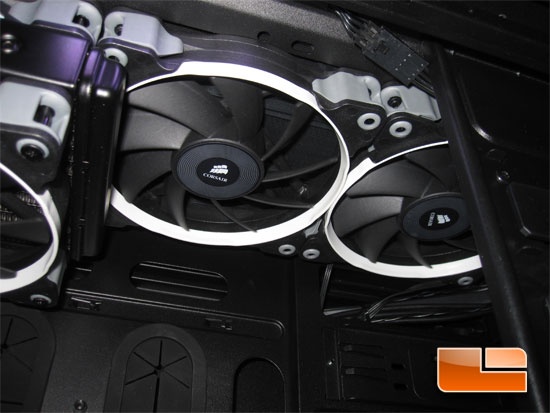 In front of the dual 120mm radiator of the H100i, there is an additional two 120mm fan locations. That means that we have enough room for another 4x120mm radiator up top!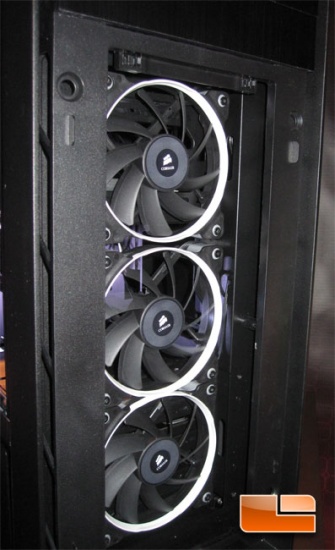 Behind the front panel we can see the three 120mm fans mentioned above, as well as see that there is room for another radiator here.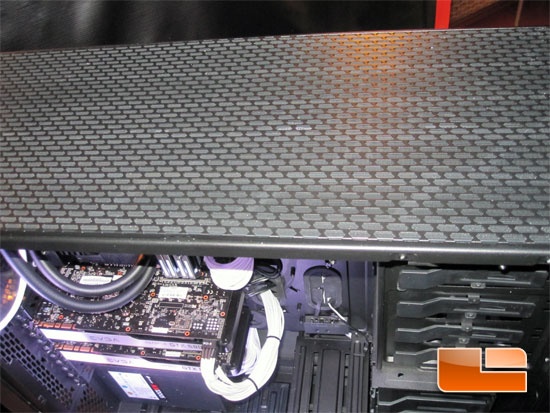 Sadly I wasn't tall enough to catch the entirety of the top of the Corsair 900D. Corsair had it placed on a pedastal, and being 27 inches tall, I wasn't able to get high enough.
If I haven't mentioned it, the Corsair 900D chassis is gigantic! If you need lots of room Corsair has definitely given it to you with the new Corsair 900D
Corsair Vengeance Updated and Improved!
Last night we had the opportunity to spend some quality time with Corsair at their press event in Las Vegas Nevada during CES: 2013. Along with several new products they are launching, they are also updating and revamping several of their existing products.
Corsair Vegeance K95 Gaming Keyboard: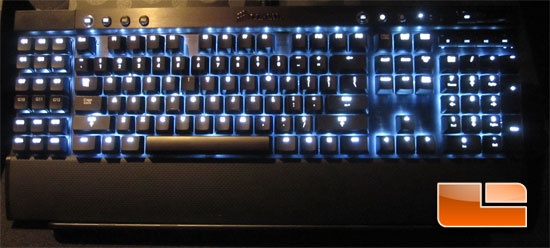 Wanting to continue down the path with the highly successful K90 Gaming keyboard, Corsair is bringing the Vengeance K95 to the party. The Vengeance K95 Gaming keyboard is the most advanced keyboard Corsair has ever built. Sporting a new black anodized brushed aluminum chassis and white LED lighting, the Vengeance K95 keyboard gets an upgrade with Cherry MX Red key mechanical switches on every key. This includes all of the function and macro keys as well. What's really sweet is that each key is backlit individually, so each can be enabled or disabled plus overall backlighting can be adjusted as well with four different settings. Like its predecessor the K90, there are still 18 dedicated progammable macro keys which can be stored in onboard flash memory along with the lighting profiles. Features also carryed over from the K90 are full anti-ghosting, 20-key rollover, and a 1ms reporting rate. We expect these to be available early spring with an MSRP of $149.99
Corsair Vegeance M65 & M95 Gaming Mice: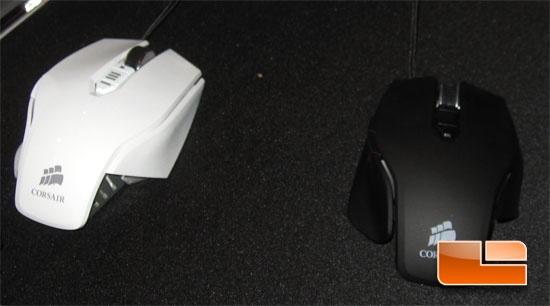 Also updated are the Vengeance gaming mice, each getting a +5 bump in product name as well from M60 and M90 to M65 and M95. Like the previous incarnations, the mice have an ergonomic aluminum unibody chassis fitted with an Avago Technologies ADNS-9800 LaserStream gaming sensor. Bumping up the DPI sensor 30% from 5700 to 8200 in tracking resolution will allow hardcore gamers more precision to boost their gaming performance. Also added are ruggedized, high-precision button switches for rapid triggering and added durability. On-the-fly resolution switching coupled with programmable lift detection and a high-mass scroll wheel keeps everything on an even keel and PTFE glide pads make the mice slide easily on most any surface. The Vengeance M95 is specifically optimized for MMO gamers with its 15 fully programmable buttons so if that's your domain, it may be worth a look.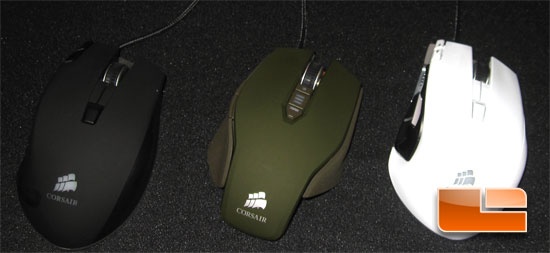 On-board flash memory stores macros for six profiles fully switchable on-the-fly and are programmed through an included Windows software utility. Adding to the black color scheme, the Vengeance M95 is now also available in Arctic White. With only eight programmable buttons the Vengeance M65 is more geared towards FPS enthusiasts with a Sniper button that drops the DPI-resolution down to allow for greater precision and more accurate aiming. It carries many of the other design features of the M95 but adds an extra color option in Military Green with Arctic White and Gunmetal Black also being available. M95 and M65 mice will be available sometime this month at an MSRP of $79.99 and $69.99 respectively.
Corsair Vengeance MM600 Dual-sided Gaming Mat: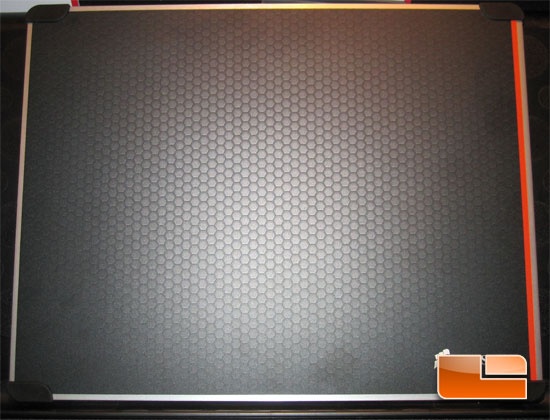 The MM600 is a new double-sided mat built upon a solid piece of 3mm thick aircraft-grade aluminum for a flatter, more rigid surface. As one would expect, no-slip rubber corners are built in to prevent movement of the mat because we all know the gyrations gamers go through during gaming sessions. Both sides feature high-quality polymer surface that have been "tuned to deliver distinct glide characteristics". Sounds good to us. One side has a smooth-texture that's designed for high-speed glide, and the opposite side has a heavy-texture for more finite control.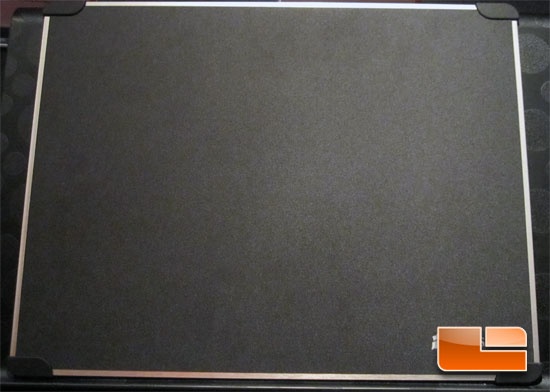 Both play nice with high-precision sensors which of course are what are offered in Corsair's laser gaming mice. They go together like peas and carrots and if you are interested in picking one up, they'll also be available this month to coincide with the M65 and M95 mice for an MSRP of $39.99.
Corsair Vengeance 2000 Wireless Gaming Headset: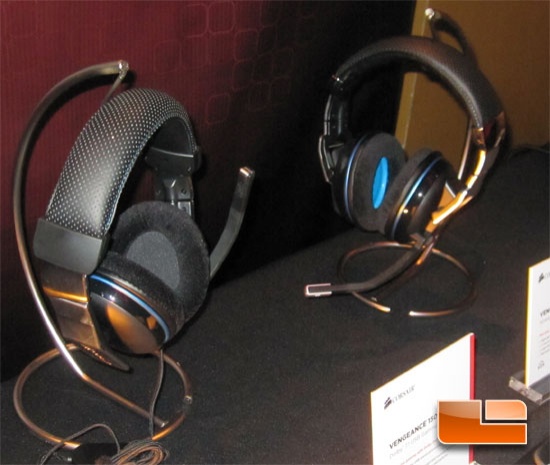 While not new in terms of hardware, Corsair will be releasing a free software driver update adding the much requested Dolby Headphone 2.0 to the Vengeance 2000 Wireless gaming headset. This will crank out up to 7.1-channels for an enhanced surround sound headphone audio experience. Look for this in February to be available for download from www.corsair.com.
Raptor Gaming & Dominator Lighting
Corsair Raptor Gaming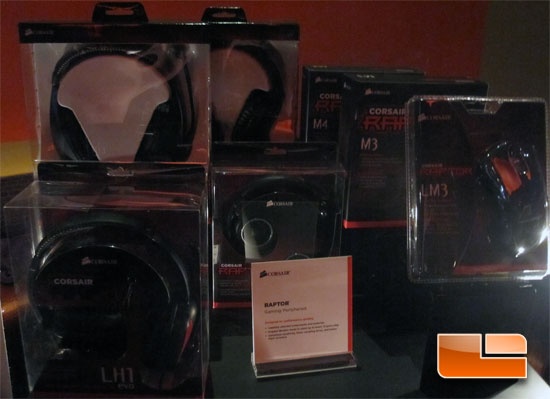 Corsair acquired Germany's Raptor Gaming in 2012. This is their first acquisition, and they are already bringing products to the playing field. Raptor gaming was founded in 2004 to build high quality peripherals for serious gamers, mostly for those across the pond from the United States. Now that their products are in the hands of Corsair, those of us state side will be able to enjoy the fruits of their labor. The Raptor products are built using more conventional materials versus the Vengeance product line that uses some of the more exclusive materials. This will allow the Raptor product stack to carry a lower price tag that will appeal to more people, still have the quality of Corsair, and the name to back it up! Hopefully for both our sake as gamers, and Corsairs sake as a company this works out as well as everybody is hoping it will. Then again, I wouldn't expect it not to!
Corsair Dominator Platinum Light Bar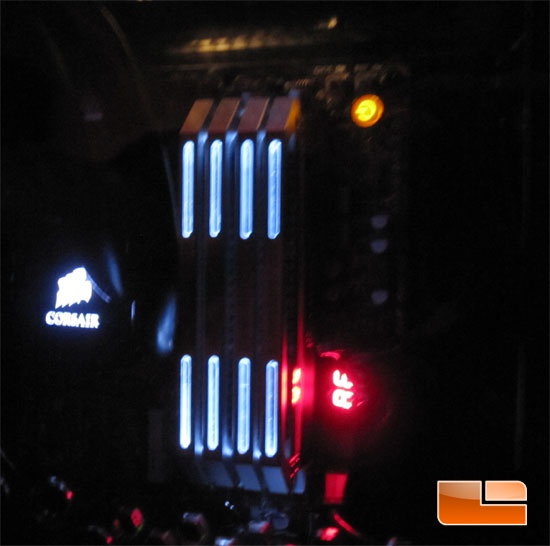 The Corsair Dominator Platinum memory kits are some of the best out there today. Unfortunately they just kind of sit there in the dark while they do their thing. Now though, you can put the spot light on them with the new Corsair Dominator Platinum Light Bars! Each kit comes with a two replacement LED bars with two different colored inserts that can be used. Above us we can see the Arctic white, while below we can see the Cerulean Blue