AMD's Trinity APU w/ Various Memory Clock Frequencies
If you are planning on building a desktop PC using an AMD Accelerated Processor we have just the article you you today! We will be using the AMD A10-5800K Trinity APU and looking at how the DDR3 memory kit you select for this platform directly impacts the performance of this 2nd generation APU.

The AMD A10-5800K A-Series APU is currently the flagship processor for AMD Socket FM2 based platforms and retails for just $119.99 shipped. The AMD A10-5800K is a quad-core CPU with Radeon HD 7660D integrated graphics. The CPU core is clocked at 3.8GHz and can go up to 4.2GHz using Turbo Boost. The AMD Radeon HD 7660D GPU is clocked at 800 MHz and has 384 Shader Processing Units. Not bad specs for a quad-core processor that retails with a CPU cooler for under $120! AMD officially says that this APU supports up to DDR3 1866MHz memory kits, but many motherboards have multiplier options for up to DDR3-2400.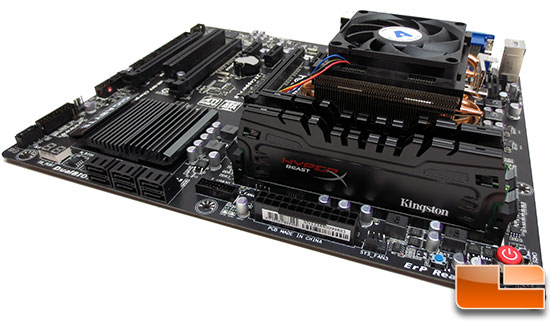 We wanted to see how the platform performs with different memory speeds, so that is what we will be doing today. We will be testing this processor at 1333MHz, 1600MHz, 1866MHz and 2133MHz to see what memory speeds do to overall system performance. We'll be using the Gigabyte GA-F2A85X-UP4 motherboard and a 16GB kit of Kingston HyperX Beast memory modules. Going into 2013 it appears that 16GB of DRAM is fairly standard, so that is what we'll be using for testing.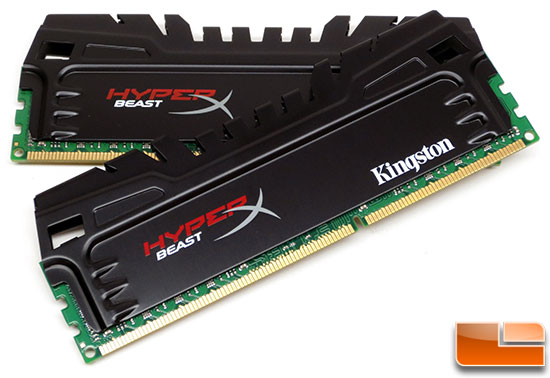 The Kingston HyperX Beast 16GB (2x8GB) memory kit that we used for testing was the 2133MHz memory kit with part number KHX21C11T3K2/16X. This kit comes with XMP profiles for 2133MHz with 11-12-11 timings and 1600MHz at 9-9-9 timings. This memory kit is very versatile and could easily be down clocked for testing the speed grades that we wanted to highlight.
This should be easy enough, so let's take a look at the test system and get right to the performance numbers.
The Test System
Before we look at the numbers, here is a brief glance at the test system that was used. All testing was done on a fresh install of Windows 7 Ultimate 64-bit. All benchmarks were completed on the desktop with no other software programs running.
The AMD Trinity APU Test System: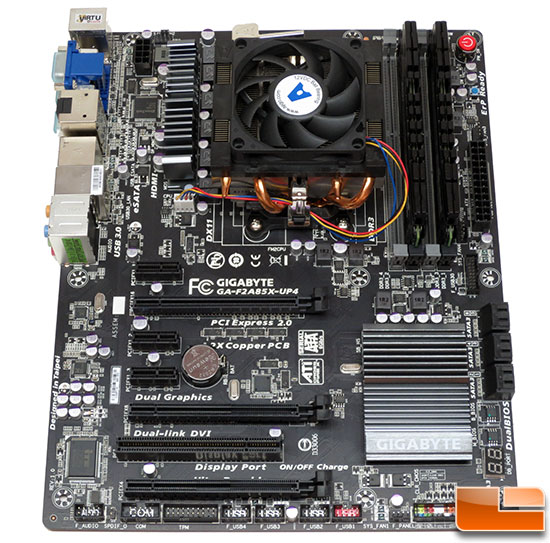 The test system was run in dual-channel memory in four configurations:
2x8GB at 1333MHz with 9-9-9-24 1T timings and 1.50V
2x8GB at 1600MHz with 9-9-9-24 1T timings and 1.60V
2x8GB at 1866MHz with 10-10-10-27 1T timings and 1.60V
2x8GB at 2133MHz with 11-12-11-27 2T timings and 1.65V
We had to change the memory timings and voltages on each clock frequency for the system to become stable. Even though we had to adjust the memory clock speed, timings and voltages, we were able to do that with memory divider in the BIOS, so the GPU and CPU clock speeds remain constant throughout the benchmarking process. The Gigabyte GA-F2A85X-UP4 motherboard was running BIOS F3k, which was the latest build available when testing was completed. You can see all of the CPU-Z and GPU-Z information for this test platform below.


The integrated graphics comes up as Radeon HD 7660D according to CPU-Z and we used AMD CATALYST 12.10 drivers for testing.
AMD Test Platform

Component

Brand/Model

Live Pricing

Processor

A10-5800K APU

Motherboard

Gigabyte GA-F2A85X-UP4

Click Here

Memory

16GB Kingston HyperX Beast

Click Here

Video Card

n/a

Click Here

Hard Drive

OCZ Vertex 3 240GB SSD

Click Here

Cooling

AMD Retail Boxed

Click Here

Power Supply

Corsair HX850W

Click Here

Operating System

Windows 7 Ultimate 64-Bit

Click Here
Sisoft Sandra 2013a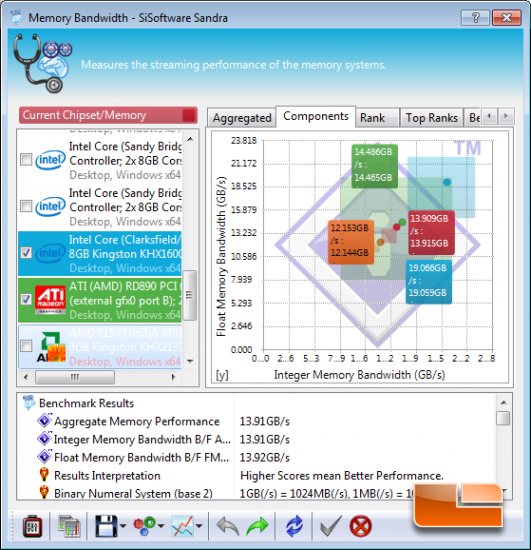 The Sisoft Sandra 2013a benchmark utility just came out a few weeks ago and we have started to include it in our benchmarking. Sandra 2013a comes with support to benchmark pretty much an entire PC, but today we will be using the program to look at just memory performance!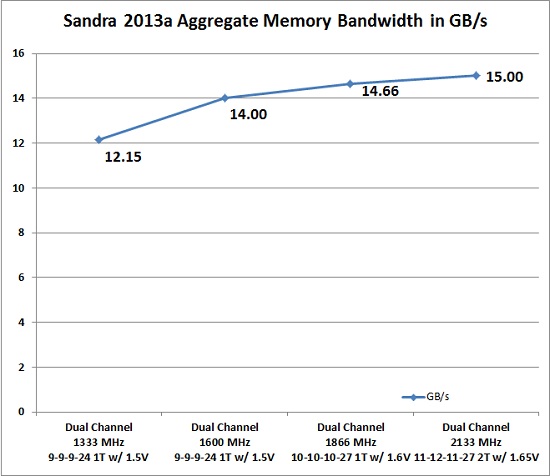 Results: The Sandra Memory Bandwidth test results show that having higher memory clock speeds most certainly helps bandwidth performance. The 2x8GB 1333MHz CL9 memory kit was able to hit ~12.15GB/s memory bandwidth. Moving up to the 2x8GB 2133MHz CL11 memory kit we saw the bandwidth jump up to 15.0GB/s, which is a 23% improvement over 1333MHz. When it comes to memory bandwidth it is obvious that the AMD A-Series APU loves fast memory!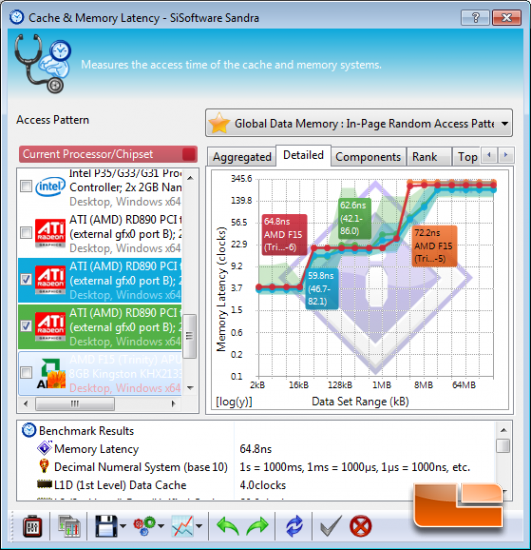 Since we are looking at memory performance in this article we felt that memory latency needs to be looked at, so we ran the Sandra Memory Latency benchmark to see what the performance looked like.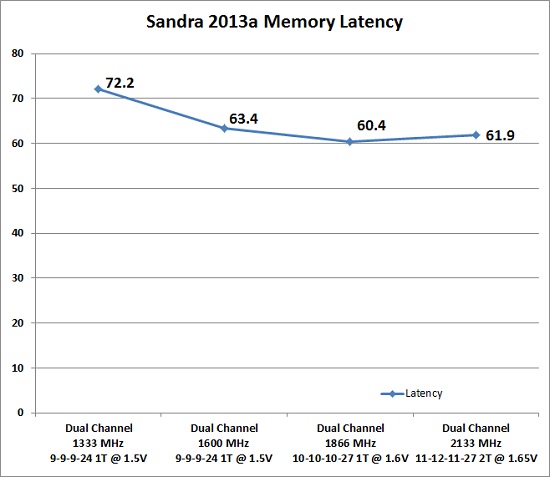 Results: We found that the 1333MHz memory kit had a memory latency of 72.2ns, 1600MHz was at 63.4ns and 1866MHz was 60.4ns. The latency on the 2133MHz memory kit increased just a bit due to the looser timings and 2T command rate, which was to be expected.


HandBrake 0.9.8
HandBrake is an open-source, GPL-licensed, multiplatform, multithreaded video transcoder, available for MacOS X, Linux and Windows. It is popular today as it allows you to transcode multiple input video formats to h.264 output format and is highly multithreaded.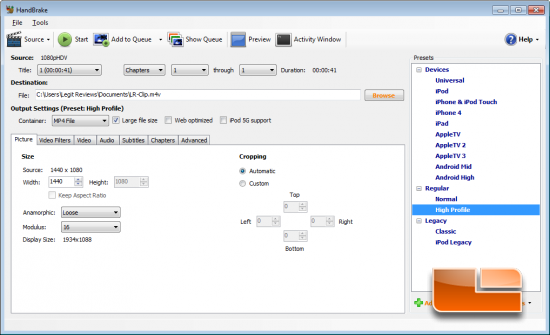 This workload is a 43-second HDV. The input file is encoded in Mpeg format. Video encode parameters are 23.9mbps, 1440*1080, 29.9fps. Audio encode parameters are 384 kbps, 48kHz, 2channel, mpeg audio version 1 layer 2. File size is 128MB. The workload is encoded into h.264 output format using the preset - high profile. HandBrake version 0.9.8 was used for benchmarking.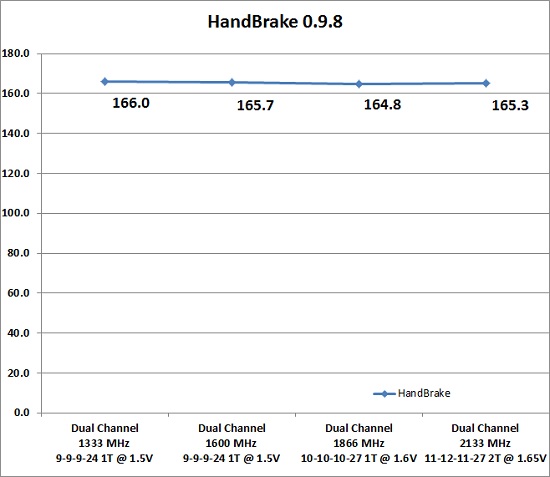 Benchmark Results: HandBrake version 0.9.8 shows that as memory clock speed increases that the performance of the platform does improve for the most part. The 2133MHz memory kit performed a bit worse than the 1866MHz memory kit in this benchmark again due to the timings being looser. If you were using a video clip that was an hour long you'll obviously see completion time differences that are minutes apart and not seconds apart.
3DMark11
3DMark 11
3DMark 11 is the latest version of the world's most popular benchmark for measuring the 3D graphics performance of gaming PCs. 3DMark 11 uses a native DirectX 11 engine designed to make extensive use of all the new features in DirectX 11, including tessellation, compute shaders and multi-threading.
We ran Futuremark 3DMark11 with the default performance presets to see how our hardware will run.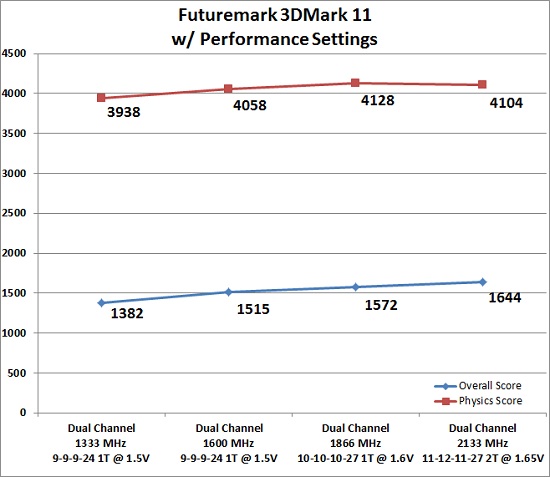 Results: The overall 3DMark score increased as the memory clock increased, but not by as much as we thought it would. The overall score is heavily weighted on the GPU performance, so we also included the test results from the Physics test as that is a better look at CPU performance. The Physics test does a much better job at showing differences due to the memory changes we were making. As you can see from the chart above the 2133MHz memory kit showed an overall score of P1644, which was 19% faster than the 1333MHz memory kits score of P1382.

S.T.A.L.K.E.R.: Call of Pripyat
The events of S.T.A.L.K.E.R.: Call of Pripyat unfold shortly after the end of S.T.A.L.K.E.R.: Shadow of Chernobyl following the ending in which Strelok destroys the C-Consciousness. Having discovered the open path to the Zone's center, the government decides to stage a large-scale operation to take control of the Chernobyl nuclear plant.
S.T.A.L.K.E.R.: Call of Pripyat utilizes the XRAY 1.6 Engine, allowing advanced modern graphical features through the use of DirectX 11 to be fully integrated; one outstanding feature being the inclusion of real-time GPU tessellation. Regions and maps feature photo realistic scenes of the region it is made to represent. There is also extensive support for older versions of DirectX, meaning that Call of Pripyat is also compatible with older DirectX 8, 9, 10 and 10.1 graphics cards.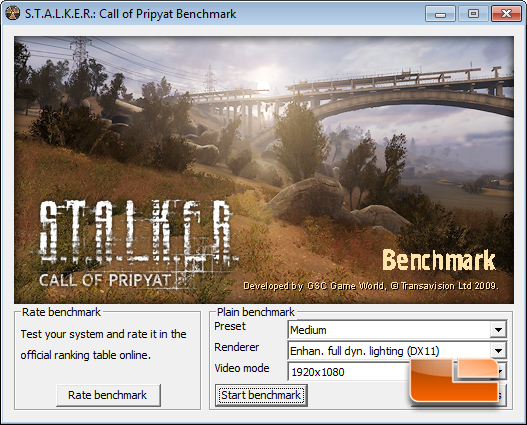 The game S.T.A.L.K.E.R.: CoP has no internal benchmarking tools built into the game engine, but they do have a standalone benchmark available that we used for our testing purposes. The screen capture above shows the main window of the benchmark with our settings. Notice we are running Enhanced Full Dynamic Lighting "DX11" as our renderer. Under the advanced settings we disabled tessellation, MSAA and ambient occlusion.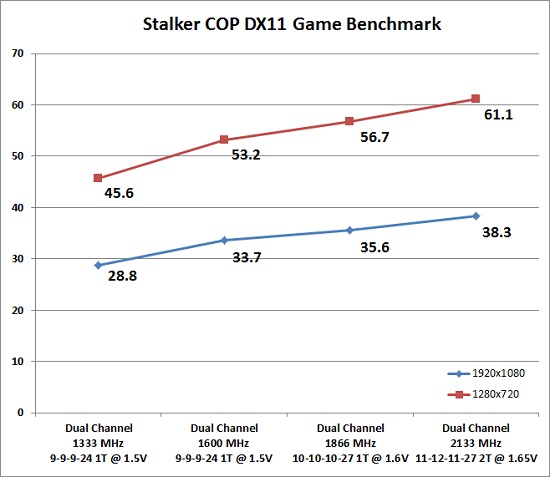 Benchmark Results: Benchmarking S.T.A.L.K.E.R.: Call of Pripyat showed a significant performance jump when the memory clock speed is increased from 1333MHz to 2133MHz. After the dust settled we found that dual channel DDR3 memory running 2133MHz with CL11 timings was ~33% faster than dual channel DDR3 memory at 1333MHz with CL9 timings. System memory speed plays a critical role in graphics performance as you can see from the chart above.

Final Thoughts and Conclusions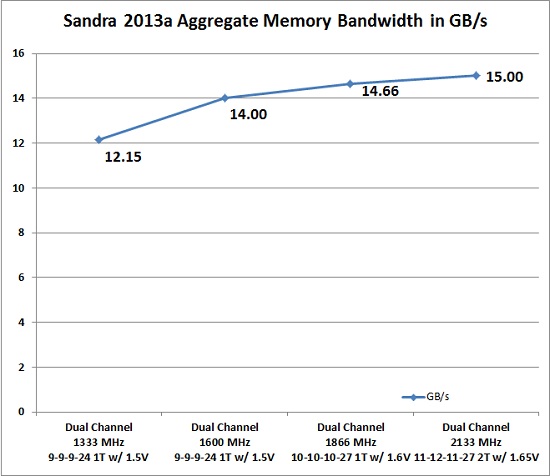 At the end of the day we found that memory performance scales with clock frequency on AMD's A-Series APU. We found that the memory bandwidth ranged from 12GB/s to 15GB/s on the AMD A10-5800K 'Trinity' APU with when the most popular speeds of DDR3 dual channel memory on the Gigabyte GA-F2A85X-UP4 motherboard. This difference doesn't sound that great, but a 2.85GB/s increase in bandwidth is around a ~23% performance increase. Most of this performance gain is seen when moving up from a 1333MHz to a 1600MHz memory kit.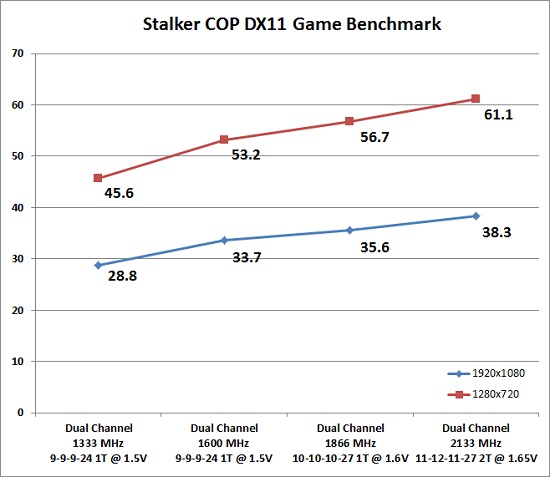 In game benchmarks we saw a ~38% performance gain by running a 2133MHz memory kit versus a 1333Mhz memory kit. This is a major performance gain and obviously shows that the AMD Radeon HD 7660D integrated graphics was being bottlenecked by the systems memory. If you ever plan on playing games with an APU powered system then you'll want to go with the memory kit with the highest possible clock speed that you can afford. The AMD A-Series APU platform was designed to be budget friendly, so let's take a look at 16GB (2x8GB) memory kits to see how affordable they are today.
The Lowest Priced 16GB (2x8GB) Memory Kits on Newegg Today:
A quick look on Newegg and we were shocked to see that 1333MHz, 1600MHz and 1866MHz memory kits are all priced about the same. The price nearly doubles when you want to go up to 2133MHz, so the pricing sweet spot is most certainly the 1866MHz CL10 memory kits that are selling for $70 shipped!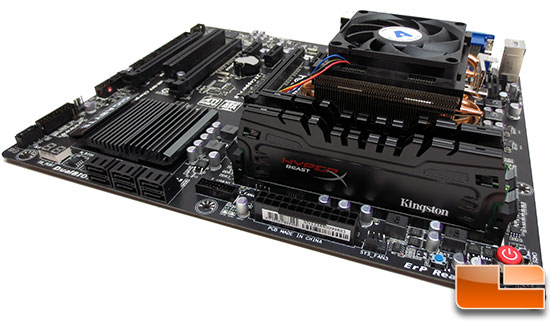 The Kingston HyperX Beast memory kit that we used today was the 2133MHz memory kit with part number KHX21C11T3K2/16X. This memory kit was found to run great with the AMD A10-5800K 'Trinity' APU and the Gigabyte F2A85X-UP4 motherboard. Despite our best efforts we were unable to run this particular Beast kit at 2400MHz though, which is why we didn't benchmark at those speeds. The Kingston HyperX Beast memory kits aren't the lowest priced modules available, but they are known to be high-quality and backed by one of the best lifetime warranties around.
Kingston HyperX Beast 16GB (2x8GB) Memory Kit Pricing:
If you are looking to build a new system and are thinking about using an AMD Trinity APU we hope that this review helped you figure out what the best memory speed is for this platform! When it comes to performance it looks like the Trinity APU loves higher clock speeds, so be sure to go with the highest clock speed that you can afford to get the most from this AMD platform!
Legit Bottom Line: The AMD A10-5800K APU loves when you increase the memory clock frequency and thanked us with 33% performance gains in gaming benchmarks!