Sapphire Nitro Radeon RX 480 4GB Arrives At $219
The Sapphire Nitro+ Radeon RX 480 4GB video card is finally here! Forget the woes of the AMD Radeon RX 480 reference design as this custom card could possibly solve all the GPU cooler and power concerns may had. The Nitro Radeon RX 480 solves the high temperature and loud noise levels by featuring a large GPU cooler with three copper heatpipes and dual fans. The board designers then placed an 8-pin PCIe power connector instead of a 6-pin to ensure the Polaris GPU on the RX 480 is getting all the power it needs and then some. At $20 more than the reference design ($199) it looks like Sapphire's Nitro Radeon RX 480 was a God send and could be the Radeon RX 480 to own.
When shopping for an AMD Radeon RX 480 graphics card you'll find that there are 4GB and 8GB versions available and that core and memory clocks on the 4GB cards will vary between manufactures. The AMD Radeon RX 480 8GB reference design was clocked at 1266MHz boost with 8Gbps memory speeds while the AMD Radeon RX 480 4GB reference card featured the same core clock, but uses 7Gbps or higher memory. This means it is up to AMD's board partners to set the clock speeds. On the Sapphire Nitro Radeon RX 480 4GB it is factory overclocked to 1306MHz on the core and 7.5Gbps on the memory. The Sapphire Nitro Radeon RX 480 8GB is clocked at 1342MHz on the core and 8Gbps on the memory. Be sure to take a close look at the clock speeds if you have your mind set on the RX 480! Those are of course the default 'Nitro Boost' clock speeds, but you can switch to 'silent' mode and then both card runs at 1266MHz.
The model that we'll be looking at today is the Sapphire Radeon RX 480 4GB that is priced at $219, whereas the Sapphire Nitro Radeon RX 480 8GB is priced at $269. https://youtu.be/LECnfdg0ffw The Sapphire Nitro Radeon RX 480 4GB is a decently sized card that measures in at 240mm x 120mm x 42mm (L x W x H), so at just 9.5-inches in length it should fit in the majority of desktop PCs. Along the top edge of the card the Sapphire logo that features 1customizable RGB lighting thanks to 'Nitro Glow' lighting technology. The card uses Sapphire's popular Dual-X GPU cooler design that continues to be updated as time goes on.
You can even change the colors of the LED, for your own customized design. This can be controlled via software using the latest version of SAPPHIRE's Overclocking Utility TriXX 3.0, or through hardware by pressing the red button on the back of the Nitro RX 480 card.
One of the biggest selling features of the Sapphire Nitro RX 480 is the 8-pin PCIe power connector that is located on the end of the card. You can also see one of the 4-pin fan headers of the 95mm cooling fans. Sapphire recommends a 500W or greater power supply for your gaming system with this 150W TDP video card model.
The Sapphire Nitro RX 480 comes with a full coverage black metal back plate to help protect the components on the back of the card and to add rigidity to the card to keep it from looking saggy on the far side of the PCIe x16 slot interface. It also helps keep your card cool as Sapphire did place a thermal pad behind the VRM components, so this should help dissipate some heat away from the hotter parts of the card. Notice that top edge of the backplate has holes cut in it. This is part of the 'Nitro Free Flow' system that allows hot air to escape through these vents.
On the back of the Nitro RX 480 you'll also be able to change the LED mode settings with a push button switch or vBIOS versions as this card ships with two BIOS versions. The LED mode switch will let you can choose from a set of six different modes including Sapphire blue, rainbow, PCB Temperature indicator, fan speed indicator, custom (set in TRIXX 3.0 software) or off. Nothing is said on the landing page of this model about what specifics on the dual BIOS mode, but we were able to talk with Ed from Sapphire USA and he told us that the 2nd BIOS (the one closest to the IO panel) has a tighter fan profile and power profile that has been tweaked to better maintain power.
Sapphire went with two DisplayPort 1.4 outputs, two HDMI 2.0b and a Dual-Link DVI-D connector when it comes to video outputs. The HDMI 2.0 port does support 4K (up to 4096x2160) @ 60Hz! Sapphire does not include any DVI to VGA adapters or SLI bridges in the accessory bundle with this card, so just a friendly heads up there. We aren't going to bother showing you the box or retail bundle as you just get a quick start guide and a driver disc (who really loads drivers from a CD-ROM these days anyway?). Notice that the card is higher than most as the fan shroud extends above the bracket and the dual-slot cards overall height is 120mm.
Here is a closer look at the heatsink Sapphire is using on the Nitro RX 480 and you can tell it's massive compared to the small factory solution. This heatsink has several heatpipes and the cooler also makes contact with the power components, so it should greatly help the thermal performance of the card. The two larger heatpipes are 10mm thick! The Sapphire Nitro RX 480 4GB model that we are testing has a default temperature target of 75C and a semi-passive fan that doesn't kick on until the temperature reached 52C.
The Sapphire Nitro RX 480 can be used with SAPPHIRE's Overclocking Utility TriXX 3.0 for full control of the cards fans settings and temperature targets, so be sure to download that if you wanted to really dial in the card. The utility also allows you to manually adjust clock speeds, voltages, fan speeds, LED colors, and more.
The graphics card cooler uses two 95 mm brushless cooling fans that feature dust-repelling dual ball bearings. The airfoil section blades help provide the airflow needed to keep this Polaris based GPU cool with lower noise levels versus smaller standard fans. The Sapphire Nitro+ Radeon RX 480 utilized 'quick connect' fan technology that allows you to remove one screw and then the fan can be lifted out at an angle away from the connection pins. This allows you to easily remove and clean the fans, but more importantly if a fan were to ever fail you could just get a replacement fan in the mail instead of an entire new card.
We removed the fans and found that Sapphire is using Champion DC Brushless CF1015H12D model fans that are made in China are the factory fans.
Our Sapphire Nitro Radeon RX 480 4GB video card is based on a pre-production design. We know this as it has a 6-phase power system for the GPU and we have been told by Sapphire that the retail cards will only have a 5-phase power system. One of the phases is supposedly disabled in the vBIOS, but we don't know how to check that and if this will impact our power numbers or overclocking results. [gallery ids="184985,184983,184984,184982,184981"] Now that we have the basics out of the way we can take a look at the test system and get to the benchmarks!
Test System
Before we look at the numbers, let's take a brief look at the test system that was used. All testing was done using a fresh install of Windows 10 Pro 64-bit and benchmarks were completed on the desktop with no other software programs running.  There has been some concern of people testing a cold card versus a hot card, but we've always done out testing 'hot' since the site started back more than a decade ago.
Video Cards & Drivers used for testing:
AMD Radeon Software Crimson Edition 16.7.3 for Radeon RX 480 and Crimson 16.6.2 For All Others
NVIDIA  GeForce 368.81 for GTX 1080/1070/1060/960 and GeForce 362.00 For All Others
Intel X79/LGA2011 Platform
The Intel X79 platform that we used to test the all of the video cards was running the ASUS P9X79-E WS motherboard with BIOS 1704 that came out on 05/08/2015. We went with the Intel Core i7-4960X Ivy Bridge-E processor to power this platform as it is PCIe 3.0 certified, so all graphics cards are tested with PCI Express Gen 3 enabled. The Kingston HyperX 10th Anniversary 16GB 2400MHz quad channel memory kit was set to XMP Profile #2. This profile defaults to 2133MHz with 1.65v and 11-13-13-30 2T memory timings. The OCZ Vertex 460 240GB SSD was run with latest firmware available. A Corsair AX860i digital power supply provides clean power to the system and is also silent as the fan hardly ever spins up. This is critical to our testing as it lowers the ambient noise level of the room and gives us more accurate sound measurements.
Here are the exact hardware components that we are using on our test system:
The Intel X79 Test Platform

Component

Brand/Model

Live Pricing

Processor
Intel Core i7-4960X
Motherboard

ASUS P9X79-E WS

Memory

16GB Kingston 2133MHz

Video Card
Various
Solid-State Drive
OCZ Vertex 460 240GB
Cooling
Intel TS13X (Asetek)
Power Supply
Corsair AX860i
Operating System
Windows 10 64-bit
Monitor
ASUS PB287Q 28" 4K
Sapphire Nitro Radeon RX 480 4GB Video Card GPU-Z Info:
Let's move on to the Battlefield 4 benchmark results!
Battlefield 4
Battlefield 4 is a first-person shooter video game developed by EA Digital Illusions CE (DICE) and published by Electronic Arts. It is a sequel to 2011's Battlefield 3 and was released on October 29, 2013 in North America. Battlefield 4's single-player Campaign takes place in 2020, six years after the events of its predecessor. Tensions between Russia and the United States have been running at a record high. On top of this, China is also on the brink of war, as Admiral Chang, the main antagonist, plans to overthrow China's current government; and, if successful, the Russians will have full support from the Chinese, bringing China into a war with the United States.
This game title uses the Frostbite 3 game engine and looks great. We tested Battlefield 4 with the Ultra graphics quality preset as most discrete desktop graphics cards can easily play with this IQ setting at 1080P and we still want to be able to push the higher-end cards down the road. We used FRAPS to benchmark with these settings on the Shanghai level. All tests were done with the DirectX 11 API.
Benchmark Results:
At the popular 1080p gaming resolution, the Sapphire Nitro RX 480 4GB was found to be just slightly slower than the AMD Radeon RX 480 8GB reference card. This sounds strange at first since the Nitro RX 480 4GB card has a higher clock speed (1306MHz versus 1266MHz) and is able to maintain it longer, but it's due to the memory clock speed. There is notable difference between 7000MHz and 8000MHz memory on the Radeon RX 480 as we showed in this article. 
A quick look at the GPU-Z logs showed that the Sapphire Nitro Radeon RX 480 4GB clock speed maintained 1306MHz the entire benchmark run and the voltage started out at 1.125V and then stayed at 1.1313V for the remainder of the time that we played this particular game title. The AMD Radeon RX 480 8GB could not maintain 1266MHz and bounced around 1223MHz to 1266MHz over the course of the benchmark. Clearly, the memory clock speed is a significant bottleneck on this card. We feel this way as Sapphire overclocked the core and was able to hold high clock speeds with the Dual-X cooler, but performance was below the reference card and we triple checked everything. Of course, it really depends on the game title you are looking at as some titles were faster on Sapphire card than the reference.
Benchmark Results:
When scaling the resolution up to 2k (2160×1440), the Nitro RX 480 was averaging about 53 FPS. 
Benchmark Results:
When it comes to 4k UHD gaming we can see why the Radeon RX 480 is not marketed at a 4K gaming graphics card! We won't bother showing any other 4K benchmark results in this review as this isn't a 4K gaming graphics card. 
Fallout 4
Fallout 4
is an open world action role-playing video game developed by Bethesda Game Studios and published by Bethesda Softworks.
Fallout 4
is set in a post-apocalyptic Boston in the year 2287, 210 years after a devastating nuclear war, in which the player character emerges from an underground bunker known as a Vault. Gameplay is similar to
Fallout 3
.  The title is the fifth major installment in the Fallout series and was released worldwide on November 10th, 2015.
Fallout 4 
was benchmarked with ultra image quality settings with TAA and 16x AF. These settings are tough for entry level discrete graphics cards, but are more than playable on high-end gaming graphics cards. V-Sync can't be disabled in the games options, so we edited the necessary INI files and disabled vsync in the driver software as well. We used FRAPS to benchmark
Fallout 4
after you emerge from the vault and are in The Commonwealth.
Benchmark Results:
In Fallout 4, at 1080p resolution, we found the Sapphire Nitro Radeon RX 480 4GB to be every so slightly ahead of the AMD Radeon RX 480 8GB reference card
Benchmark Results:
With the display resolution bumped up to 2160×1440, the Nitro Radeon RX 480 4GB was still leading the RX 480 8GB reference card by less than 1 FPS. There is basically no performance difference between the Radeon RX 480 8GB reference card ($249) and the Nitro Radeon RX 480 4GB custom card ($219).
Grand Theft Auto V
Grand Theft Auto V, currently one of the hottest
PC
 games, was finally released for the PC on April 14, 2015.  Developed by Rockstar, it is set in 2013 and the city of Los Santos.  It utilizes the Rockstar Advanced Game Engine (RAGE) which Rockstar has been using since 2006, with multiple updates for technology improvements.
In Grand Theft Auto V we set the game to run with no MSAA with 16x AF and high image quality settings as we didn't want the GPU to bottleneck the system too bad, but wanted a setup that your average gamer would actually play on. We used the games built-in benchmark utility to have at least one game we used that could be compared to your setup at home. We averaged all the five of the default benchmark runs and omitted both the minimum and maximum values as those results are garbage due to major inconsistencies.
1080P Benchmark Results: The Sapphire Nitro Radeon RX 480 4GB was about 2 seconds slower than the Radeon RX 480 8GB reference card in this game title. 
1440P Benchmark Results: Scaling up the resolution to 1440P, the Nitro Radeon RX 480 4GB was only 1 FPS behind the AMD Radeon RX 480 8GB graphics card.  
3DMark Fire Strike
3Dmark Fire Strike Benchmark Results - For high performance gaming PCs
Use Fire Strike to test the performance of dedicated gaming PCs, or use the Fire Strike Extreme preset for high-end systems with multiple GPUs. Fire Strike uses a multi-threaded DirectX 11 engine to test DirectX 11 hardware.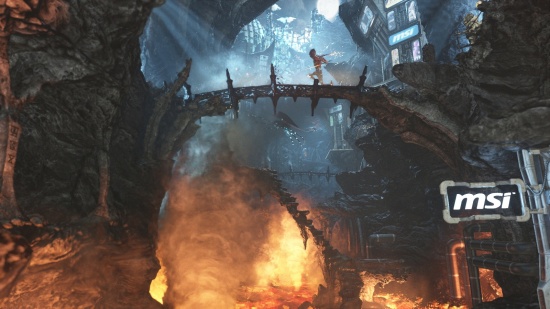 Fire Strike Benchmark Results:
Benchmark Results: The Sapphire Nitro+ Radeon RX 480 4GB scored 10,997 points versus the 10,662 points turned in by the AMD Radeon RX 480 8GB reference card, so here we see the higher clock speeds and lower memory clock pull slightly ahead. 
Fire Strike Extreme Benchmark Results:
Benchmark Results: In 3DMark Fire Strike Extreme the Sapphire Nitro Radeon RX 480 4GB scored 5,407 points.
3DMark Time Spy - DX12
3DMark Time Spy just recently came out and it is the latest and greatest DirectX 12 benchmark test for gaming PCs running Windows 10. This DirectX 12 Feature Level 11_0 benchmark utilizes a pure DirectX 12 game engine that supports features like asynchronous compute, explicit multi-adapter, and multi-threading! The developers opted to use DirectX 12 Feature Level 11_0 to ensuring wide compatibility with DirectX 11 hardware through DirectX 12 drivers.
With DirectX 12 on Windows 10, game developers can significantly improve the multi-thread scaling and hardware utilization of their titles to draw more objects, textures and effects for your viewing enjoyment. 3DMark Fire Strike is a great high-end DirectX 11 benchmark test, but doesn't really show off what new graphics cards can do on a DirectX 12 game title that will have much more going on while you are playing.
We ran 3DMark Time Spy with the standard settings and then with async compute disabled and got the following results:
In this DX12 benchmark we see the Sapphire Nitro+ Radeon RX 480 4GB video card scoring almost the same as the AMD Radeon RX 480 8GB reference card.
Here is a look at the GPU scores and you can see the difference with Async Compute enabled and disabled.
Temperature & Noise Testing
The gaming performance on a graphics card is the most important factor in buying a card, but you also need to be concerned about the noise, temperature and power consumption numbers.
Sapphire Nitro RX 480 4GB Gaming Idle and Load Temps:
The Sapphire Nitro Radeon RX 480 4GB graphics card hit 54C at idle on our our open air test bench and then the fans would kick on and cool the card back down to around 47C and then shut off and the process would start again. If we put a 120mm cooling fan blowing on the back of the card we could get the idle temperature to remain at 42C.
While gaming we noticed that the Nitro Radeon RX 480 4GB got up to it's temperature target of 75C. GPU-Z v1.9.0 showed the Radeon RX 480 4GB used 0.8250V at idle and 1.1563V while at full load. We did experience a fan issue where the fan would randomly speed up for reasons unknown to us. Sapphire is aware of the issue and it's due to how AMD handles the fan profiles in the Crimson drivers. AMD doesn't shut the fans off at idle, so we are told that the driver isn't working well with the fan profile that Sapphire is trying to implement. 
Opening AMD WattMan also causes the fans to go a bit crazy, so it's tough to take a reading on fan noise. We ended up using the noise at 43% fan levels as that is what we topped out at without the fan glitch. There is no ETA on a driver fix for the fan issues and right now Sapphire just recommends not using WattMan. They also said that their new TRIXX 3.0 utility has a way to set the fan profile and it overrides the driver without any issues. 
Here is a chart that shows the temperatures of the Sapphire Nitro Radeon RX 480 4GB versus some other high-end desktop cards and you can see this card is in the middle of the pack with regards to load temps and on the higher side for idle.
Sound Testing
We test noise levels with an Extech sound level meter that has ±1.5dB accuracy that meets Type 2 standards. This meter ranges from 35dB to 90dB on the low measurement range, which is perfect for us as our test room usually averages around 36dB. We measure the sound level two inches above the corner of the motherboard with 'A' frequency weighting. The microphone wind cover is used to make sure no wind is blowing across the microphone, which would seriously throw off the data.
With the fan turning off and on at idle we didn't know how to chart the idle noise for this card as we've never experienced a card that had a fan turning off and on ever 5 or so minutes at idle. At full load we didn't know if we should show the peak value of the bug or where we think it will be after the driver fix. We ended up just charting the fan noise at load of where we think it will be when the driver bug isn't happening. As you can tell this card is on the louder side. ** The AMD Radeon R9 Fury X reference card that we are using was the original model with a loud water pump that whines. AMD changed the pump design before the cards hit the retail market, but wasn't willing to replace ours. We expect retail cards to perform quieter for this and hopefully AMD will send us a replacement card for proper noise testing. **
Power Consumption
For testing power consumption, we took our test system and plugged it into a Kill-A-Watt power meter. For idle numbers, we allowed the system to idle on the desktop for 15 minutes and took the reading. For load numbers we ran Battlefield 4 at 3840x2160 and recorded the average idle reading and the peak gaming reading on the power meter.
Power Consumption Results:
The power draw with the Sapphire Nitro RX 480 4GB installed in our test system had everything topping out 352 Watts when running BF4 at 4K resolutions. The idle power was actually a bit better than the reference card!
Sapphire Nitro RX 480 Graphics Card Overclocking
The Sapphire Nitro Radeon RX 480 4GB is a pretty fast card right out of the box, so we couldn't wait to manually overclock it to squeeze some more performance from the card.
To do overclocking on the Sapphire Nitro RX 480 4GB graphics card we used AMD WattMan as the TRIXX 3.0 software wasn't yet available. Overclocking was simple, but you need to increase the power limit of the card if you plan on doing any overclocking. We overclocked the card just 2% to start and left the power limit at the default setting of 0 and found that the performance of the card actually went down. This is because the card was trying to run a higher clock speed and was drawing more power than allowed by the default settings. This in turn caused a drop in the overall clock speed and thus the lower performance numbers. Once we saw that this was happening we cranked up the power limit to keep that from being an issue. Sapphire has done a good job dialing this card in for stock settings, but overclocking throws it all out of whack.
This overclock meant that we were running at up to 1370 MHz at time and the memory was running at 1900 MHz (7600 MHz effective) on the 4GB of GDDR5 memory. Not the highest overclock in the world, but you have to keep in mind the reference cards boost speed is 1266MHz and the Nitro RX 480 4GB cards are the 'fallout' from the binning process done by Sapphire as the best chips become higher clocked Nitro RX 480 8GB cards. We could not get 8000MHz effective clock speeds on the memory and Sapphire confirmed that the Radeon RX 480 4GB comes with slower Hynix GDDR5 memory chips and that hitting 8GHz would be unlikely. If we went much over 1900MHz the system would hard lock. If we overclocked much higher on the core the system would also lock up. We were able to get some games to run at 1385MHz with stability, but others would crash. At 1370MHz on the core we played a handful of games and they all were stable with this particular card.
Sapphire Nitro RX 480 4GB Stock:
Sapphire Nitro RX480 4GB Overclocked (+64MHz/+150MHz):
By overclocking the Sapphire Nitro Radeon RX 480 4GB graphics card we were able to take the score of 5,407 points on 3DMark Fire Strike Extreme and raise it up to 5,712. This is a 305 point increase in our overall 3DMark score, which represents a performance gain of 5.6 percent. The overall FPS average in Graphics Test 1 went from 28.17 to 30.67, which is a 8.9% performance gain in this particular graphics test. It is nice to be able to overclock a mainstream graphics card and get some extra performance for free! Let's wrap this review up!
Final Thoughts and Conclusions
The Sapphire Nitro Radeon RX 480 4GB video card is easily one of the most anticipated AMD Radeon branded cards that I have seen in years. I'm not sure if Sapphire leaked purposely leaked out images of the early 'cheese grater' version of the Radeon RX480 Nitro with the silver metal fan shroud or not, but it got people talking about the card more than a month before it was announced. The AMD Radeon RX 480 reference design got some negative feedback about how it draws power and the Sapphire Radeon RX 480 was the gem waiting on the sidelines that had an 8-pin PCIe power connector instead of the factory 6-pin power connector. This means that it should be able to easily handle the power demands of AMD's 150W TDP Pascal GPU without leaving gamers concerned with power draws through the x16 PCIe slot or the additional PCIe power connector. Then there was the fact that the stock heatsink on the AMD Radeon RX480 looked puny and left many wanting lower thermals and noise levels. Again, the Sapphire Nitro+ Radeon RX 480 was coming with a massive GPU cooler with three copper heatpipes, a large aluminum fin array and twin fans that are easily removable. On paper the Sapphire Nitro Radeon RX 480 looks to be a damn near perfect custom designed card by a board partner. After using the Nitro Radeon RX 480 4GB for a very short period of time it left me feeling like I boarded the hype train. For starters the performance of this factory overclocked card is lower than that of the Radeon RX 480 8GB reference card despite having a higher boost clock speed of 1306MHz. I knew having 4GB of memory running at just 7Gbps instead of 8Gbps would slightly impact performance, but I thought going from 1266MHz on the core clock to 1306MHz would easily make up for that. The performance of the card felt the same when I played games, but when running the benchmarks I learned that they were coming out slightly lower. That was totally unexpected, but the good news is the card isn't significantly slower than the AMD Radeon RX 480 8GB reference card and it costs less. The GPU cooler on the Sapphire Nitro Radeon RX 480 4GB looks impressive and that it would be night and day better than the reference design. When I first powered on the open air test system it was running around 30C on the desktop and then it slowly climbed to 40C and then proceeded to go all the way up to 54C and that I when the fans on the card kicked on. Sure, the open air test platform has poor airflow, but I have benchmarked many 0dB cards from NVIDIA lately (GeForce GTX 1060 and GeForce GTX 1070) and found that some can stay below 30C at idle. I placed a 120mm fan blowing across the test systems memory and ultimately the back of the Sapphire Nitro Radeon RX 480 4GB and was able to get the temps down to 45C. Having proper airflow is a must or you'll end up with a non-passive solution at idle like we did. Sapphire has been marketing the easily removable fans as a key differentiating factor, but who benefits? Are there aftermarket clip-in fans that you can buy? If there were such a thing offered how would you load a new fan profile for the new fans as surely the number of fan blades, the pitch of the blades and overall airflow would be different. Building up an entire ecosystem is tough to do and most companies fail at it. Sapphire's easily swappable fan design appears to benefit them the most. If a fan fails during the warranty period or arrives damaged they can quickly send you out a new one via first class mail. Before they'd have to send you a whole new fan shroud with the fans attached or get the card back and do the repairs and then send the card back to you and pay standard shipping rates.  This will save the company money and reduce the number of 'used' RMA cards that have been fixed and need to be re-sold somewhere. Nothing wrong with that and it is a marketable feature as repairing a failed card quicker would be nice. I wanted to see if I could get a replacement fan and setup an account see how Sapphire customer support would handle my trouble ticket. We made up a fake account, so Sapphire customer support wouldn't know it was us and told them that our parents gave us a Nitro Radeon RX 480 4GB video card from Newegg and that one of the two fans was squeaky. They told us that we needed to send it back to Newegg for replacement. When I pushed them about replacing just the fan they quickly replied they don't send fans out. When asked if it was just a pointless marketing feature they responded saying that is how the standard RMA process works. So, the only point of the removable fans is cleaning the heatsink fins out? You can remove the entire fan shroud assembly easily to do that since it's just held on with a handful of Philips screws.
The Sapphire Nitro RX 480 4GB video card has left me with mixed feelings. I had high hopes for this card as Sapphire really touted it up. It's a good card, but I was expecting more from this custom board. It doesn't have any choke whine and appears to be well built, but the GPU cooler just didn't do enough for me and that is one of the big reasons for buying a custom card. Weeks ago I watched and tuned in for the Sapphire Nation pod casts and Ed from their North American PR department and saw that he genuinely excited by the card. I'm sure other review sites will praise the removable fans and the GPU cooler for being cooler overall than the reference design, but it failed to impress this veteran hardware reviewer. Ed is generally spot on with his thoughts as he is a gamer and he himself was a hardware reviewer. The only problem is when he started to talk about the card he didn't have a sample and he was basing his thoughts off what he knew internally and the same information we were seeing from corporate. Gaming performance on the Sapphire Nitro Radeon RX 480 4GB looked pretty good and Sapphire is targeting this model at 1080P gamers whereas they feel the 8GB model is more for 1440P gamers or those that are wanting to run CrossFire. Our testing showed that a Radeon RX 480 4GB card is just as good at 1440P gaming as the 8GB version, so save yourself some money. Having a pair of Radeon RX 480 8GB cards is certainly the ideal solution for a multi-GPU CrossFire setup due to being able to utilize 8GB of memory between the two cards. The Sapphire Nitro Radeon RX 480 4GB should be a solid card for 1080P gamers that want to play with high settings or 1440P gamers that are okay with middle of the road image quality settings. The performance difference between the 4GB models and 8GB models are pretty minor as we showed you last month. Overclocking performance was pretty decent as we were able to take the core clock speed from 1306MHz all the way up to 1370MHz with full stability. This is above the 1342MHz core clock found on the Sapphire Nitro Radeon RX 480 8GB model that costs $50 more, so we are happy with that. Sapphire is using slower 7000 MHz memory on the Nitro Radeon RX 480 4GB video card and overclocking it to 8000 MHz was out of the question. When it comes to pricing the Sapphire Nitro Radeon RX 480 4GB is $219 versus the $199 price point on AMD's reference card. The Nitro Radeon RX 480 8GB is
$269
, so you need to cough up $50 for the extra 4GB of GDDR5 memory, higher boost clock and higher memory clock speed. Sapphire also informed us that they bin their cards so the 4GB cards are going to be the fallout from the 8GB cards. Does that make it worth spending an extra $50 for? Tough call as the NVIDIA GeForce GTX 1060 6GB video card price range starts at $249.
Legit Bottom Line:
 The Sapphire Nitro Radeon RX 480 4GB graphics card had decent performance, but didn't leave us with that wow feeling due to what seemed like high temperature and fan noise issues.