The Radeon RX 480 Gets A Compatibility Mode in The Driver
Overnight we took a closer look at the new Crimson 16.7.1 video card driver
that AMD released
 as it contains a number of fixes and improvements for the Radeon RX 480 graphics card.  These drives improve the Radeon RX 480 video cards
power
distribution by lowering the current drawn from the PCIe bus and increasing the power drawn by the 6-pin PCIe connector to the systems power supply.  There is also a new UI toggle under the Global Settings in the Radeon Software app that allows you to reduce the total power of the card, but it comes off by default. AMD also improved performance in some game titles like Total War: Warhammer, Metro Last Light, Far Cry 4, Witcher 3 and 3DMark by up to 3%.
We aren't sure why AMD used 'Compatibility Mode' as the name for the Radeon RX 480 power fix, but that is what they went with and it can be found under 'Global Graphics' settings. When this mode is enabled AMD lowers the power draw on all +12V power sources evenly in order to meet the 5.5A power draw recommendation for the x16 PCI Express motherboard slot. We don't have the advanced power monitoring equipment needed to measure the power draw on each rail at the card, but sites like
PC Perspective
do and claim that is brings the power down enough not to worry about it. Since we can't do the proper power tests we'll just be looking at raw peformance.
This is the third driver for the AMD Radeon RX 480 since it came out a little more than a week ago and since it claims to fix the power draw issue and change performance we thought it might be worthwhile to take a look at it since we want to make sure our performance charts are accurate.
For this article we will be comparing the original RX 480 public driver (Crimson 16.6.2 WHQL) to Crimson 16.7.1 Beta that came out yesterday afternoon. We ran the Crimson 16.7.1 Beta drivers with Compatibility mode enabled and disabled to see what happened to performance.
AMD Radeon RX 480 8GB - Running Crimson 16.6.2 WHQL
AMD Radeon RX 480 4GB - Running Crimson 16.7.1 Beta With Compatibility Mode Off
AMD Radeon RX 480 4GB - Running Crimson 16.7.1 Beta With Compatibility Mode On
Let's run these three Radeon RX 480 card configurations and see how performance looks on a few benchmarks.
Test System
Before we look at the numbers, let's take a brief look at the test system that was used. All testing was done using a fresh install of Windows 10 Pro 64-bit and benchmarks were completed on the desktop with no other software programs running.  There has been some concern of people testing a cold card versus a hot card, but we've always done out testing 'hot' since the site started back more than a decade ago.
Video Cards & Drivers used for testing:
AMD Radeon Software Crimson Edition 16.6.2 WHQL & Crimson Edition 16.7.1
Intel X79/LGA2011 Platform
The Intel X79 platform that we used to test the all of the video cards was running the ASUS P9X79-E WS motherboard with BIOS 1704 that came out on 05/08/2015. We went with the Intel Core i7-4960X Ivy Bridge-E processor to power this platform as it is PCIe 3.0 certified, so all graphics cards are tested with PCI Express Gen 3 enabled. The Kingston HyperX 10th Anniversary 16GB 2400MHz quad channel memory kit was set to XMP Profile #2. This profile defaults to 2133MHz with 1.65v and 11-13-13-30 2T memory timings. The OCZ Vertex 460 240GB SSD was run with latest firmware available. A Corsair AX860i digital power supply provides clean power to the system and is also silent as the fan hardly ever spins up. This is critical to our testing as it lowers the ambient noise level of the room and gives us more accurate sound measurements.
Here are the exact hardware components that we are using on our test system:
The Intel X79 Test Platform

Component

Brand/Model

Live Pricing

Processor
Intel Core i7-4960X
Motherboard

ASUS P9X79-E WS

Memory

16GB Kingston 2133MHz

Video Card
Radeon RX 480
Solid-State Drive
OCZ Vertex 460 240GB
Cooling
Intel TS13X (Asetek)
Power Supply
Corsair AX860i
Operating System
Windows 10 64-bit
Monitor
Sharp PN-K321 32" 4K
Let's move on to the Battlefield 4 benchmark results!
Battlefield 4
Battlefield 4 is a first-person shooter video game developed by EA Digital Illusions CE (DICE) and published by Electronic Arts. It is a sequel to 2011's Battlefield 3 and was released on October 29, 2013 in North America. Battlefield 4's single-player Campaign takes place in 2020, six years after the events of its predecessor. Tensions between Russia and the United States have been running at a record high. On top of this, China is also on the brink of war, as Admiral Chang, the main antagonist, plans to overthrow China's current government; and, if successful, the Russians will have full support from the Chinese, bringing China into a war with the United States.
This game title uses the Frostbite 3 game engine and looks great. We tested Battlefield 4 with the Ultra graphics quality preset as most discrete desktop graphics cards can easily play with this IQ setting at 1080P and we still want to be able to push the higher-end cards down the road. We used FRAPS to benchmark with these settings on the Shanghai level. All tests were done with the DirectX 11 API.
Benchmark Results:
We found no significant difference between the performance of the Radeon RX 480 8GB video card between Crimston 16.6.2 WHQL drivers an the new Crimston 16.7.1 Beta drivers with compatibility mode turned off. Once compatibility mode was enabled we noticed a slight performance decrease. 
Benchmark Results:
When scaling the resolution up to 2k (2160×1440) there was no significant difference between any of the drivers and modes tested, which is great news for AMD as they were able to lower the power with compatibility mode and not take a huge performance beating. 
Benchmark Results:
This isn't a 4K gaming card, but you can see that turning on compatibility mode had a very small impact on the average FPS performance.  
Fallout 4
Fallout 4
is an open world action role-playing video game developed by Bethesda Game Studios and published by Bethesda Softworks.
Fallout 4
is set in a post-apocalyptic Boston in the year 2287, 210 years after a devastating nuclear war, in which the player character emerges from an underground bunker known as a Vault. Gameplay is similar to
Fallout 3
.  The title is the fifth major installment in the Fallout series and was released worldwide on November 10th, 2015.
Fallout 4 
was benchmarked with ultra image quality settings with TAA and 16x AF. These settings are tough for entry level discrete graphics cards, but are more than playable on high-end gaming graphics cards. V-Sync can't be disabled in the games options, so we edited the necessary INI files and disabled vsync in the driver software as well. We used FRAPS to benchmark
Fallout 4
after you emerge from the vault and are in The Commonwealth.
Benchmark Results:
In Fallout 4, at 1080p resolution, the RX 480 8GB came in at 84.3 FPS, on average, and that was 4.6% faster than the Radeon RX 480 4GB card running the standard reference clock speed of 7Gbps.
Benchmark Results:
With the display resolution bumped up to 2160×1440 we saw a 3% performance gap between the 4GB and 8GB cards. Not a huge difference and running the 4GB card at 8Gbps nearly allowed it to catch up to the 8GB card! 
Benchmark Results:
At full 4K UHD resolution the Radeon RX 480 8GB performed 4.7% better than the Radeon RX 480 4GB with 7Gbps memory. We were really shocked that there wasn't a drop in the minimum frame rate at 4K with the 4GB cards since the dedicated memory was filling up and overflowing to the dynamic memory, but all tests were run three times! 
Tom Clancy's The Division
Tom Clancy's The Division
is an online-only open world third-person shooter video game developed by Ubisoft Massive and published by Ubisoft, with assistance from Red Storm Entertainment, for Microsoft Windows,PlayStation 4 and Xbox One. It was announced during Ubisoft's E3 2013 press conference, and was released worldwide on March 8th, 2016. The Division is set in a dystopian New York City in the aftermath of a smallpoxpandemic; the player, who is an agent of the titular Strategic Homeland Division, commonly referred to as simply "The Division", is tasked with helping to rebuild the Division's operations in Manhattan, investigating the nature of the outbreak and combating criminal activity in its wake. The Division is structured with elements of role-playing games, as well as collaborative and player versus player online multiplayer.
The Division
uses Ubisoft's new proprietary engine known as Snowdrop, which is made for PC, PlayStation 4 and Xbox One. Snowdrop was created in-house, at Massive, in response to a specific requirement: to do things better, not bigger. The engine focuses on dynamic global illumination, stunning procedural destruction and a great amount of detail and visual effects. The developers wanted a powerful engine that works intelligently and not by brute force only.
We ran
The Division
 with the image quality settings set at Ultra and VSYNC was disabled. We tried to FRAPS to benchmark with these settings, but found it was pretty much impossible due to the night and day cycle always changing when you enter the game and the spot where you load in the open world is slightly different. Unable to get consistent results we resorted to used the games built-in benchmark.
1080P Benchmark Results:
Even at lower resolutions, The Division is a very punishing yet beautiful game, and at 1920×1080 we averaged roughly 59 FPS.
1440P Benchmark Results:
As we scale up to 1440P resolution, the RX 480 hung in pretty well with an average of 42 FPS.
4K Ultra HD Benchmark Results:
When moving up to 4K UHD resolution, the RX 480 averages 24 FPS or 8 FPS slower than the GeForce GTX 1070.
3DMark & Final Thoughts
3Dmark Fire Strike Benchmark Results - For high performance gaming PCs
3DMark is the world's most popular gaming benchmark and graphics card test is used by millions of gamers and overclockers. Fire Strike is a showcase DirectX 11 benchmark designed for today's high-performance gaming PCs. It is Futuremarks most ambitious and technical benchmark ever, featuring real-time graphics rendered with detail and complexity far beyond what is found in other benchmarks and games today. Fire Strike uses a multi-threaded DirectX 11 engine to test DirectX 11 hardware. 3DMark Fire Strike Extreme is an enhanced version of Fire Strike designed for high-end systems. In addition to raising the rendering resolution, additional visual quality improvements increase the rendering load to ensure accurate performance measurements for truly extreme hardware setups.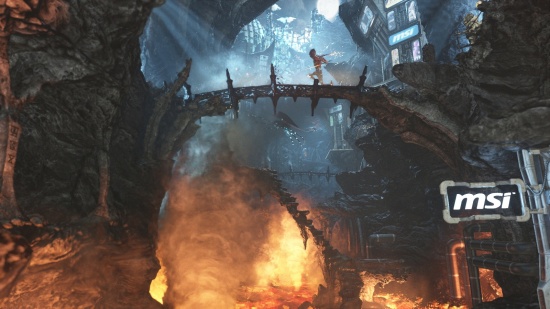 Fire Strike Extreme Benchmark Results:
Benchmark Results: In 3DMark Fire Strike Extreme we were unable to match the scores we were seeing with Crimson 16.6.2, but they are pretty close. You can see 3-4% performance decrease when turning compatibility mode on. 
Final Thoughts: 
AMD Crimson Edition 16.7.1 drivers change the way power is routed to the AMD Radeon RX 480 and they are confident that this solution solves all the power compliance issues that people were concerned about. The compatibility mode button is a bit strange to have as it comes set to 'off' by default. We asked AMD when should a user turn 'on' compatiblity mode and we were told that gamers should leave it off if he has no issues with their Radeon RX 480. We then asked what 'issues' would one experience that justifies turning on compatibility mode and we were told none since the lowering the current drawn from the PCIe bus and increasing the power drawn by the 6-pin PCIe connector to the systems power supply should fix everything and that is done automatically by this driver and all going forward.
At the end of the day the AMD Radeon RX 480 appears to have been 'fixed' depending on your interpretation of the power matter. Performance looks pretty damn close to what it was when we reviewed the card at launch, so we are confident in our performance numbers that we've been showing you since the card was released. We don't advise turning on compatibility mode though as it does lower performance and as long as you have a good power supply putting more of the load on the 6-pin power connector shouldn't be a big deal. The power matter only applied to the AMD Radeon RX 480 reference card, so once AIB cards hit the market this will be slightly less relevant. We are glad that the Radeon Technologies Group was able to solve the Radeon RX 480 issues so quickly, but too bad they couldn't have caught it and implemented this fix before releasing the card!