be quiet! today launched the company's its brand new premium sleeved power cables, with custom lengths and various connector options. By covering every single wire of the cable with a sleeve, be quiet! again offers a unique premium look inside the PC.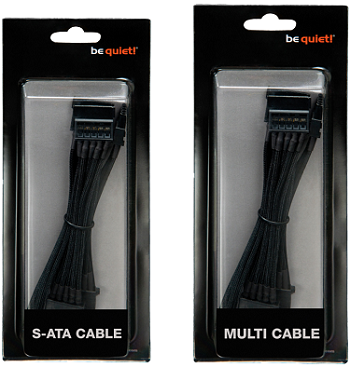 Regular power supply cables are generally medium in length to fit most PC enclosures. However, to setup a very small Home Theater PC or a very large desktop PC most power supplies will be fitted with an unsuitable cable length. But even in the normal cable length some users often do not have the desired connectors on the cable. To solve this problem, be quiet! produces premium power cables with many different connector and length variations. Whether you want a compact 30 cm power cable with only one connector or need a meter-long cable with connectors for three SATA drives and a HDD connector, be quiet! now offers all these possibilities. be quiet! offers a full three years of warranty and Power Cables are presently available for between six and ten euros.
High quality, premium function, and flat out good looks come together in our line of premium Power Cables, intended for use with your high capacity be quiet! cable management power supply. These sleeved beauties in black are available in 8 S-ATA models for maximum convenience and compatibility with all type of cases, and come with a 3 year warranty. Mix and match lengths and connector arrays to achieve the perfect combination of stylish good looks, improved cooling airflow, and peripheral device support.