Electronic Arts and independent videogame developer Respawn Entertainment today revealed the world debut of Titanfall, the studio's inaugural title. Crafted by one of the co-creators of Call of Duty and other key developers behind the Call of Duty franchise, Titanfall is among the most highly anticipated of E3 2013, having been shrouded in mystery for nearly three years. The visionaries at Respawn have drawn inspiration from their proven experience in first-person action gaming, and are building on that pedigree by taking a new approach to game design and creating an all-new universe with Titanfall. The game is entirely multiplayer, in a new experience that combines fast-paced multiplayer action with the heroic set piece moments traditionally found in campaign mode. Set in a distant frontier torn apart by war, players will have the freedom to switch between fighting as elite assault Pilots or agile, heavily armored, 24-foot tall Titans.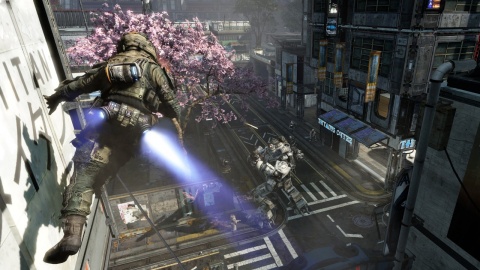 The E3 2013 announcement trailer for Titanfall is shown below. Available spring 2014, Titanfall will be available for Xbox One, PC and Xbox 360. The Xbox 360 version of Titanfall is in development at an external development studio with support from Respawn.
"It's an exciting time in the industry and it feels like the perfect time to be unveiling Titanfall," said Vince Zampella, a Co-Creator of Call of Duty and Co-Founder of Respawn Entertainment. "Our passion at Respawn is games and we are focused on bringing something exciting to kick off the next generation of software."