Looking to maximize your NVIDIA GeForce GTX 780 video card gaming experience? The EVGA GeForce GTX 780 with Hydro Copper is the perfect match for any water cooled rig. The Hydro Copper water block from EVGA features a swappable inlet/outlet for the maximum in compatibility, and is a full cover, end to end block. A 0.25mm x 0.35mm pin matrix provides optimal thermal transfer and ensures the lowest temperatures possible. Take your pick between the Hydro Copper (980MHz base/1033MHz boost) and the Hydro Copper Classified (clocks not yet announced). No word on pricing or availability, but we expect to know more in the days ahead.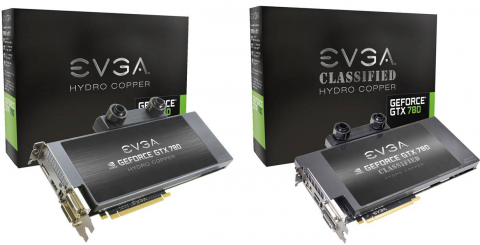 EVGA GeForce GTX 780 with Hydro Copper Key Features:
Full Cover Design - A full cover design means a complete end to end block. No tricks here. This ensures the card does not bend, provides ideal thermal transfer for the entire card, and looks awesome!
Chrome-plated C110 copper – Copper is the ideal material for thermal transfer, we use a specialized copper that helps transfer thermals effectively, and also designed in a way to minimize weight.
0.25mm x 0.35mm thin-pin Matrix- These pins help transfer heat from the GPU to the liquid, allowing for the ultimate performance in GPU cooling!
Glowing EVGA Logo - This logo looks great, and is supported by EVGA software that allows fine tuning of the LED.
Swappable Inlet/Outlet - Up to six different barb configurations gives you the utmost in flexibility for routing your tubing.
Custom Compression Fittings - Includes both 3/8" and 1/2" compression fittings. No hose clamps required.