D-Link today announced several enhancements available now to its mydlink portal and mydlink Cloud Camera apps, making it even easier to remotely monitor a home or small office via virtually any computer, iPhone or iPad running iOS 4.3 or later or Android device running 1.6 Android or later. Offering advanced new features to its award-winning line of mydlink-enabled Cloud Cameras, D-Link now offers easier configuration on its mydlink portal and enhanced remote capabilities via the mydlink+ and free mydlink Lite app. The enhancements to the mydlink portal and mydlink Lite (free) app are now available and will be available on the mydlink+ app ($0.99) in late June which also offers expanded tablet support and a multi- camera monitoring dashboard.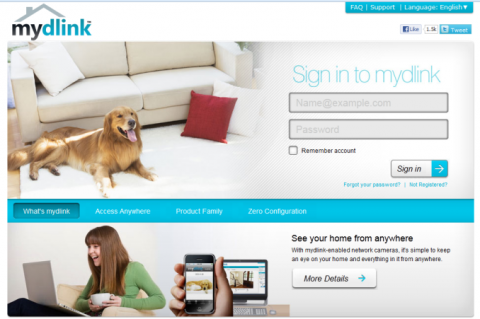 D-Link Cloud cameras now offer more control of what matters most via the mydlink portal and a range of mobile devices; highlights include:
Easy Portal Configuration: The mydlink portal now enables users to update motion and audio detection1 settings, including recording schedules and setting noise thresholds, directly on the mydlink portal without having to go through advanced settings.
Remote Video Playback: Users can play back video stored on the SD card housed in the camera (for select cameras) to multiple mobile devices, as well as configure recording2 schedules and override options in the event the SD card is full.
Two-Way Audio: Users can now speak and hear through a mobile device to select D-Link Cloud Cameras that support two-way audio, including the Cloud Camera 1200 (DCS-942L) and Cloud Camera 2200 (DCS-2132L).
Remote Pan and Tilt: For added remote flexibility, users of the Cloud Camera 5000 (DCS-5222L) can also pan and tilt live camera video from a mobile device.
Device Rename: Easily rename the mydlink-enabled device from the mobile app or portal – a useful feature if you relocated the device to a new or temporary location and want to easily identify the device.
Re-order Device Listing: Simple drag and drop interface allows users with multiple mydlink-enabled devices to show devices in the order of their preference.
"We're excited to add several new features to our mydlink apps in order to make it even easier for moms, dads, home owners and small businesses to use D-Link Cloud Cameras for round-the-clock surveillance," said Daniel Kelley, vice president of marketing, D-Link Systems, Inc. "The new capabilities cater directly to mobile users and extend the control of Cloud Cameras while on the go. Whether you're looking to keep an eye on your property, your business after hours, the kids while you're away, or even the family dog, the new features make it easier than ever."