We had the opportunity to be on hand last night when iBUYPOWER unveiled (literally) their newest innovation in the boutique PC industry. Know simply as Revolt, it's a radical departure from the prototypical enthusiast PC.
Turning the video cards 90 degrees and a power supply 37% shorter than average, they are able to make the chassis just 4" wide and 16" tall and still cram in a 140mm radiator for liquid cooling. In fact, nearly every aspect of the machine is custom designed, right down to the motherboard. There are three models available, all with Intel processors and NVIDIA GeForce GTX 600 series graphics cards.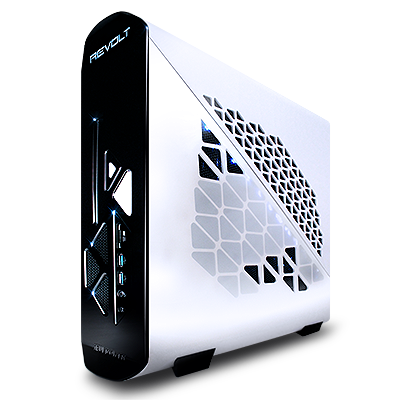 Shipping in February, they will be available at price points of $649, $899 & $1399. The latter is decked out with an i7 3770K Intel processor, an NVIDIA GTX680 graphics card and an upgrade to an SSD. We'd also like to thank iBUYPOWER for their hospitality last night!
Announcing a revolutionary new gaming experience: the Revolt. Designed to combat the stale black and beige box image of desktop PCs, the Revolt combines radical chassis design and re-engineered internal components to create the most exciting PC gaming experience in existence. "We didn't look to the industry for inspiration when we were developing Revolt. What we looked for was the burning question of, what would we like to have on our own desks? We wanted to shake up the industry and make something beautiful. This is what Revolt is," said Darren Su, Co-Founder and VP of iBUYPOWER.