PowerColor Radeon HD 7850 SCS3 1GB Passive Video Card Review
Tue, Jun 11, 2013 - 12:00 AM
Battlefield 3
Battlefield 3 (BF3) is a first-person shooter video game developed by EA Digital Illusions CE and published by Electronic Arts. The game was released in North America on October 25, 2011 and in Europe on October 28, 2011. It does not support versions of Windows prior to Windows Vista as the game only supports DirectX 10 and 11. It is a direct sequel to 2005's Battlefield 2, and the eleventh installment in the Battlefield franchise. The game sold 5 million copies in its first week of release and the PC download is exclusive to EA's Origin platform, through which PC users also authenticate when connecting to the game.
Battlefield 3 debuts the new Frostbite 2 engine. This updated Frostbite engine can realistically portray the destruction of buildings and scenery to a greater extent than previous versions. Unlike previous iterations, the new version can also support dense urban areas. Battlefield 3 uses a new type of character animation technology called ANT. ANT technology is used in EA Sports games, such as FIFA, but for Battlefield 3 is adapted to create a more realistic soldier, with the ability to transition into cover and turn the head before the body.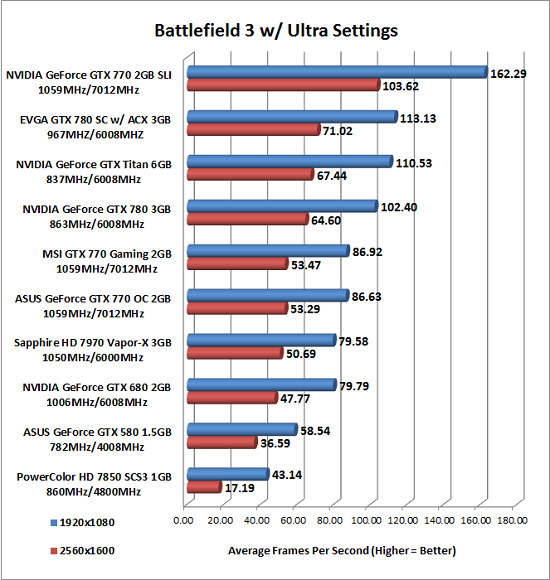 Benchmark Results: The PowerColor HD 7850 SCS3 1GB GDDR5 graphics card runs Battlefield 3 with Ultra settings great at 1920×1080, but doesn't do too hot at 2560×1600 since it doesn't have the horse power needed and the 1GB frame buffer is lacking. The AMD Radeon HD 7850 1GB cards are best played at 1920×1080 and lower, but we'll be including 2560×1600 numbers for those that are curious. We are done benchmarking under 1920×1080 as we don't know any desktop gamer with discrete graphics that plays games under 1920×1080 these days. A nice 1920×1080 widescreen LED monitor can be found online for as low as $109.99 shipped, so we expect that you have at least that since you are reading a review on a $220 mid-range gaming graphics card!