PowerColor Radeon HD 7850 SCS3 1GB Passive Video Card Review
Tue, Jun 11, 2013 - 12:00 AM
Temperature Testing
Temperature & Noise Testing
Temperatures are important to enthusiasts and gamers, so we took a bit of time and did some temperature testing on the PowerColor 7850 SCS3 1GB Passive video card.
PowerColor HD7850 SCS3 1GB Video Card Fanless: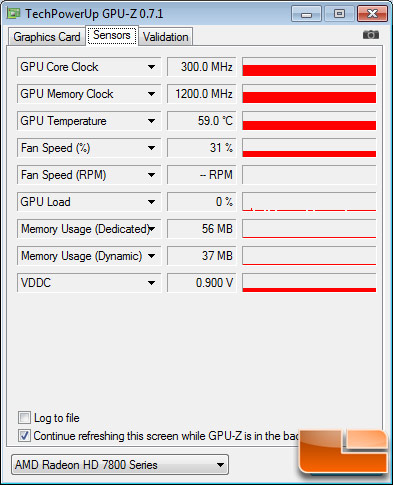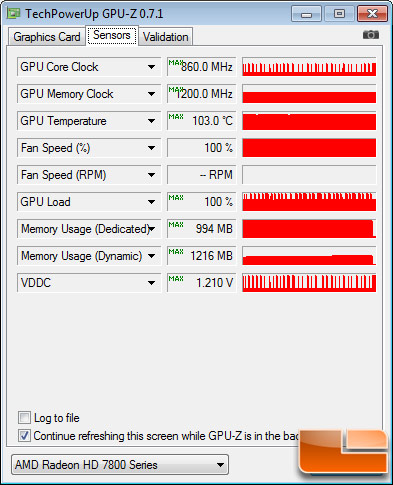 The PowerColor HD7850 SCS3 1GB video card had an idle temperature of 59.0C in a room that was 22.0C (72F). When we fired up some games we quickly found the card at 103C and was heavily throttling. Running the PowerColor HD7850 SCS3 1GB video card on an open test benchmark showed that the card was not getting enough fresh air and performance took a drastic hit.
Our solution was to take a single Thermaltake DuraMax 12 120mm Dual Ball Bearing fan to blow across the PowerColor 7850 SCS3 1GB card.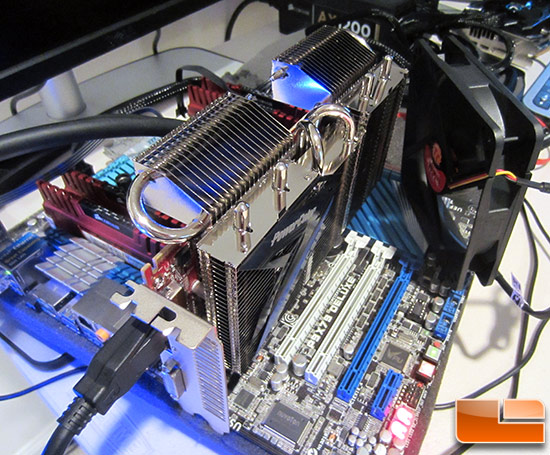 PowerColor HD7850 SCS3 1GB Video Card w/ Fan: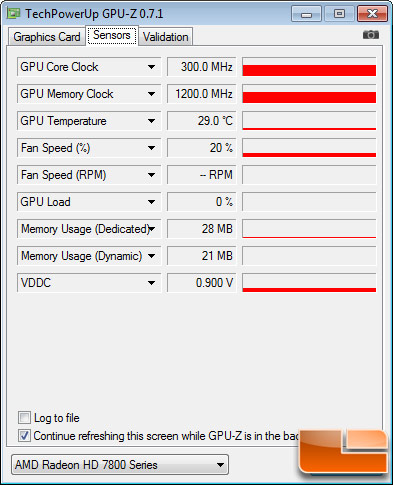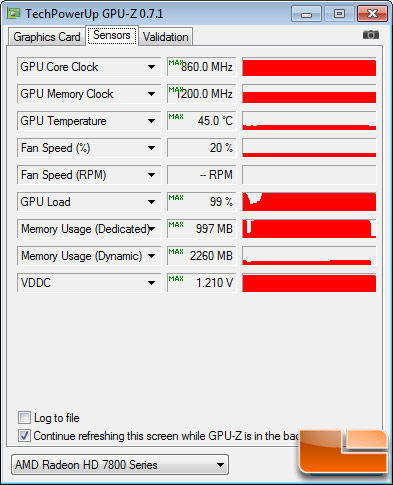 With the 120mm case fan blowing across the large passive cooler, we found dramatic temperature differences. For example, the idle temperature went from 59C to 29C and the load temperature went from 103C to 45C. This meant that the card was no longer throttling and that made gaming much more enjoyable. Since the PowerColor Radeon HD 7850 SCS3 1GB needs really good airflow, we aren't too sure that we'd call this card entirely passive. Yeah, it's passive with case fans blowing across it, but you take the fans away or put it in a fanless system and you got a card that is running 103C when you try to game with it!
Here are the benchmark results as found with FRAPS for 90 seconds of Battlefield 3 at 1920×1080 with Ultra image quality settings. One run is done with no 120mm fan in front of the PowerColor HD7850 SCS3 1GB card (passive) and the other is with the 120mm case fan (active). As you can see for the first 35 seconds the performance is nearly identical, but after that the setup without the 120mm fan starts to throttle due to being too hot and the frame rate drops severely. The end result of the benchmark run was 38FPS on average versus 43FPS, but looking at the frame rate per second in a chart like this really shows what is going on. We left the Thermaltake DuraMax 12 case fan in front of the Power Color HD7850 SCS3 1GB card for testing.