PowerColor Radeon HD 7850 SCS3 1GB Passive Video Card Review
Tue, Jun 11, 2013 - 12:00 AM
Retail Box and Bundle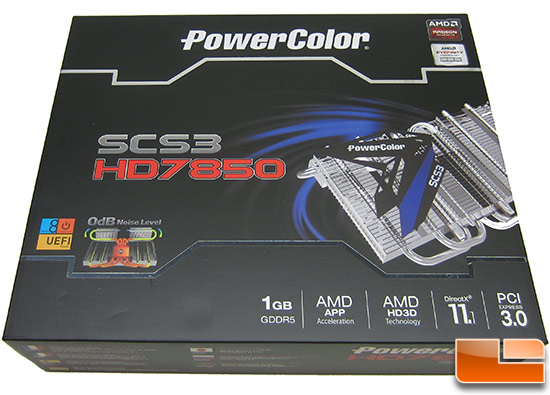 The PowerColor HD7850 SCS3 comes in a nice looking black retail box that lists some of the key features of the card. For example it supports DirectX 11.1, PCI Express 3.0, AMD HD3D Technology, AMD App Acceleration, Windows 8 UEFI Bios' and that it has 1GB GDDR5 256-bit memory along with a 0dB noise level. The box has a nice clean look to it and even shows the passive SCS3 color on it.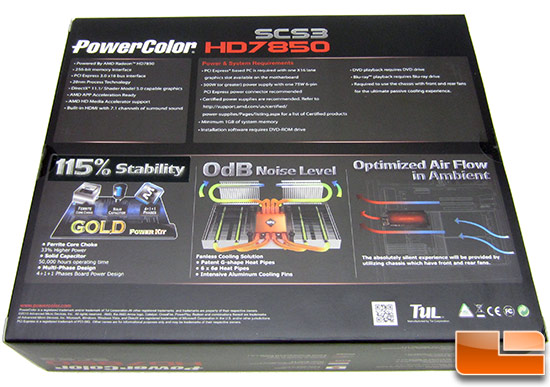 The back of the box goes into more details about the card and more details on the fanless cooling solution. For starters, it mentions that an 'absolutely silent experience will be provided by utilizing chassis which have front and rear fans'. That means that this card WILL NOT run properly in a totally passive system or in one with poor airflow. We contacted PowerColor USA and was told that you must have good air circulation in the chassis. We'll cover this more in-depth on the temperature testing page.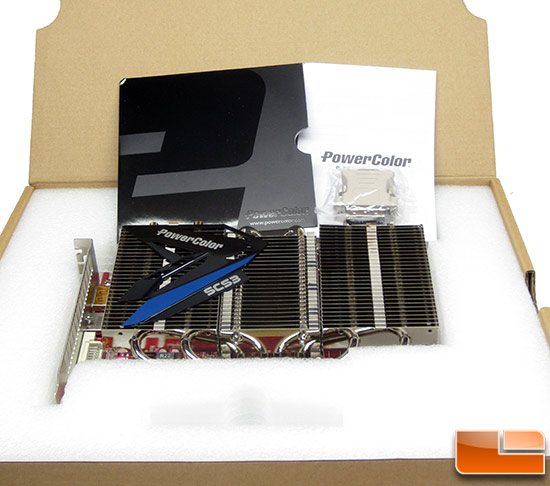 When it comes to the accessory bundle you get a DVI-to-VGA video adapter, owners manual and a driver disc. Right now there is also a limited time offer taking place that gives you a very nice gaming bundle courtesy the folks over at AMD. When you buy this card right now you'll get Far Cry 3 Blood Dragon, Bioshock Infinite and Tomb Raider! This game bundle has a retail value of $109.99, so to get it for free with a $219.99 video card is awesome.