PowerColor PCS HD7870 MYST Video Card Review – Tahiti LE
Wed, Mar 20, 2013 - 12:00 AM
The PowerColor PCS HD7870 MYST – Tahiti LE
Are you looking to buy an AMD Radeon HD 7870 video card? If you are then you've likely noticed that there is no shortage of companies that offer them as Newegg alone has 18 different models to pick from. Most of the cards range between $229 to $249 after rebate and come with Bioshock Infinite and Tomb Raider game coupons thanks to the AMD Never Settle Reloaded game bundle promotion that is taking place right now.
We noticed that all of the cards that are available with the exception of two are AMD Radeon HD 7870 GHz Edition cards, which means that they have clock speeds over 1000MHz. When you are buying a video card and are looking for the best performance it would make sense to look for the ones with the highest core clock speed, but you might be missing out. That is because in recent months, AMD has introduced the Tahiti LE GPU core, which is a neutered version of the same GPU found on the AMD Radeon HD 7950 and 7970 video cards. AMD has allowed video card manufactures to use these new cores in AMD Radeon HD 7870 video cards rather than introducing a new card called the Radeon HD 7930 or something like that. That would have been too easy right? Now you got some Radeon HD 7870 Tahiti LE (TLE) video cards floating around the market, but do gamers really know they are available due to the poor product naming?
GPU
Radeon HD 7950
(3072MB)
Radeon HD 7870 TLE
(2048MB)
Radeon HD 7870
(2048MB)
GPU codename
Tahiti Pro
Tahiti LE
Pitcairn XT
Architecture
GCN
GCN
GCN
Process
28nm
28nm
28nm
Transistors
4.3bn
4.3bn
2.8bn
Die size
352mm²
352mm²
212mm²
Processors
1792
1536
1280
Default memory
3GB
2GB
2GB
Compute units
28
24
20
Texture units
112
96
80
ROP units
32
32
32
Base GPU Clock (MHz)
800
925
1000
Boost Shader Clock (MHz)
925
975
NA
GFLOPS (inc. Boost)
3,315
2,995
2,560
Memory clock (MHz)
5,000
6,000
4,800
Memory bus (bits)
384
256
256
Max bandwidth (GB/s)
240
192
153.6
Power connectors
6+6
6+6
6+6
TDP (watts)
180
180
175
As you can see from the chart above, the AMD Radeon HD 7870 Tahiti LE video cards have 1536 shader processors, 24 compute units, 96 texture units, and 32 ROPs. The end result here is that it has more of the good stuff and as a result it will be faster than the Pitcairn XT powered AMD Radeon HD 7870 GHz edition cards, but use more power as it has a higher TDP.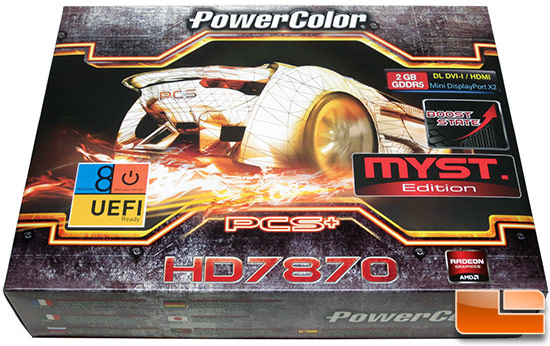 We've spent the past week testing out the PowerColor PCS HD7870 MYST 2GB, which features the 'new' Tahiti LE GPU core. It is available for $249.99 shipped and features a 975MHz core clock with 2GB of GDDR5 memory running at 1500MHz (6.0Gbps). A typical AMD Radeon HD 7870 GHz edition card features a 1000MHz core clock and 1200MHz memory clock (4.8Gbps), but we know that doesn't mean much as the cores are entirely different. Which one wins when it comes to gaming performance? That is the question that we set out to answer today to make sure you aren't missing out on a sleeper card that you dismissed because it wasn't an AMD Radeon HD 7870 GHz Edition card and you thought it was slow due to just the core clocks.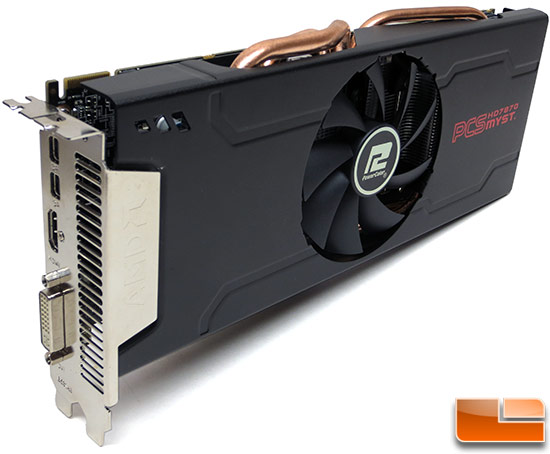 The PowerColor PCS HS7870 MYST features looks like a typical video card with the usual red/black color scheme, but it uses an all metal fan shroud! It is also triple black, so you have a black PCB, black fan and black fan shroud. The copper heatpipes and chrome PCI bracket help break up the all black and add a needed splash of color.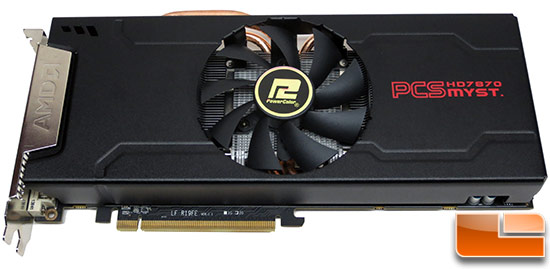 As you can see from the photo above, the PowerColor PCS HD7870 MYST use a dual-slot cooler with a single cooling fan located in the middle of the card. The PCB is custom made and features part number LF R19FE version 1.1 on our test sample.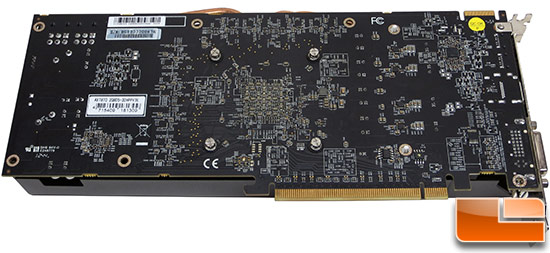 With the PowerColor PCS HD7870 MYST. video card flipped over you can better see the black. The board measures 266.65mm x 111.2mm x 38mm and as you can tell there is not a back plate. None of the memory chips for the 2GB of GDDR5 memory are located on the back of the card, but they can be seen on the front and they are Elpida branded. The GPU Cooler uses 53mm mounting holes, so you you plan on changing the GPU cooler or adding a water block you easily can.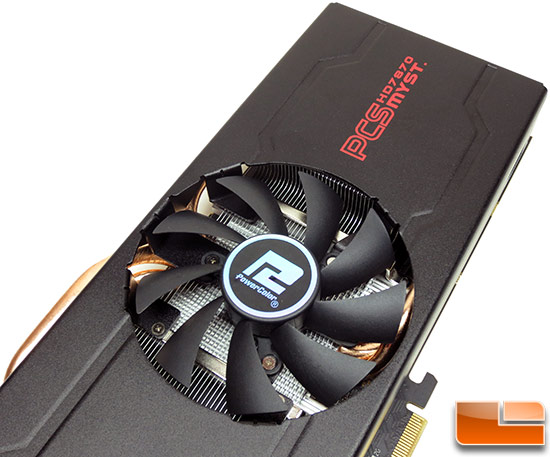 The PowerColor PCS HD7870 MYST video card is kept cool by a single 92mm 4-pin PWM cooling fan. We'll talk more about the noise level of this fan later on in this review. The GPU cooler has a SSU shaped direct touch heatpipe design that utilizes a pair of S shaped heatpipes and a single U shaped heatpipe to better transfer the head from the GPU to the aluminum cooling fins of the cooler.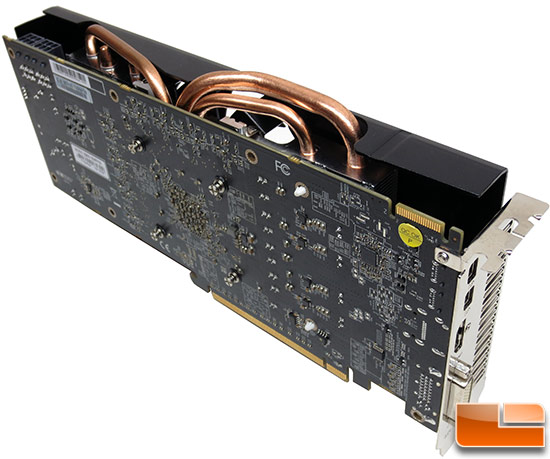 The PowerColor PCS HD7870 MYST has one CrossFireX interconnect, which means that you can run CrossFire with another card if you wanted to boost performance. This card does not have the 'Dual BIOS Toggle Switch' that is found on the Radeon HD 7900 series cards nor any fan buttons or anything like that.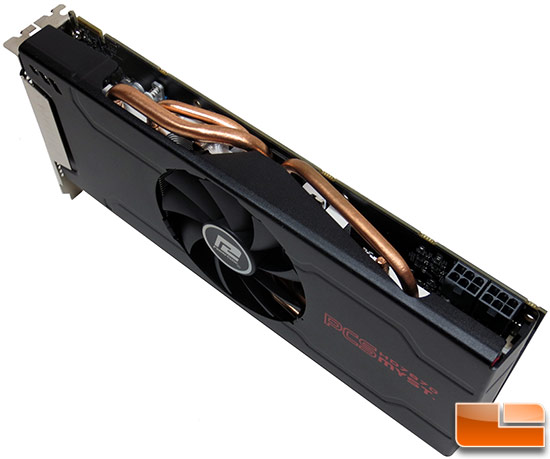 The PowerColor PCS HD7870 MYST has a pair of 6-pin PCI Express power connectors located at the end of the video card. PowerColor recommends a 500W or greater power supply for this video card. You can also see the three copper heatpipes that are on the top of the card at this angle. Two of these heatpipes continue on and come out the bottom of the GPU cooler as well.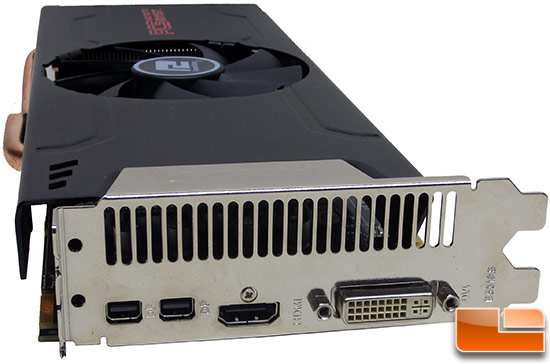 PowerColor stuck with the AMD Radeon HD 7870 reference design when it comes to the video outputs. You have a pair of mini-DisplayPort 1.2 outputs, a full size HDMI 1.4a output and a dual-link DVI-I output. With full support for 3GHz HDMI 1.4a and DisplayPort 1.2 HBR2, this card can easily power 4K monitors. All the video outputs are located on one side of the dual slot card, so the other side of the PCI bracket is just for exhausting the hot air from the GPU.
Let's take a look at the retail packaging and move along to testing!