OnLive Builds Console-Quality Gaming Into LG Google TVs
Thu, Nov 15, 2012 - 9:23 AM
OnLive has announced that its OnLive Game Service has just been integrated into the LG Smart TV with Google TV (G2 Series), making console-quality games instantly playable as part of the TV experience. The OnLive app is the first commercial deployment of instant-response cloud gaming in a TV with no console necessary. OnLive offers something that consoles can't: the ability to continue playing your saved games on the go, on nearly any PC or Mac, and many Android tablets.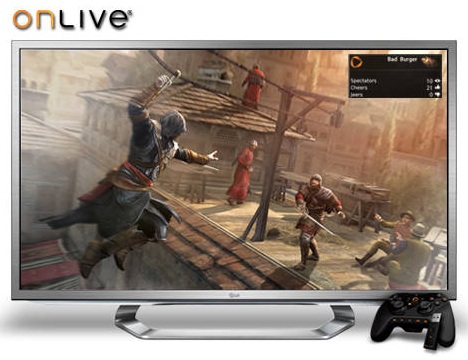 The OnLive app was delivered over the air today to the LG G2 Series TVs that are already in homes and will be preinstalled on future LG Google TVs. With the
OnLive Wireless Controller ($49.99), LG G2 TV owners in the United States can go to the Premium Apps menu on their TVs and play hundreds of video games on demand. Will this be the jump start cloud gaming is looking for?
"We are proud to be working with OnLive to deliver an incredible home entertainment experience with a full range of interactive viewing and gaming possibilities on LG G2 Series TVs," said Georg Rasinski, Director of Home Entertainment Brand Management, LG Electronics USA. "OnLive's premium-quality gaming service offers customers a great opportunity to test the dual-core performance of our G2 Series TVs. We think customers will be very impressed."