NVIDIA GeForce GTX 760 2GB Video Card Review
Tue, Jun 25, 2013 - 8:00 AM
GeForce GTX 760 Overclocking
We installed the EVGA Precision X 4.2.0 software utility to see how the NVIDIA GeForce GTX 760 2GB video card could be overclocked! You can use whatever software utility you like for overclocking and we used this one since we are familiar with it and it was already installed on our test machine.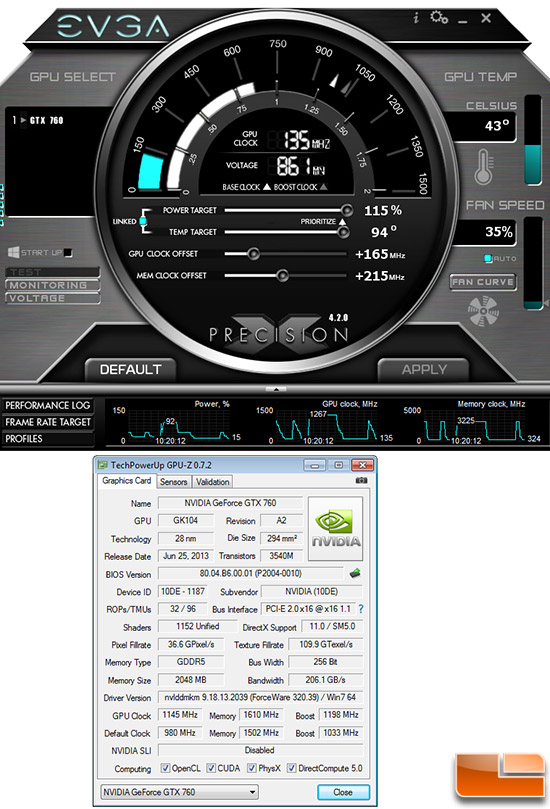 In case you forgot, the NVIDIA GeForce GTX 760 2GB graphics card has a base clock of 980MHz, a boost clock of 1033MHz and the memory runs at 6008MHz. To see how much higher we could get we increased the power target to 115% and the temperature target to 94C. This is the highest possible setting for each. We then slowly increased the GPU clock offset and memory clock offset to see how far we could go before the card would become unstable. We ended up with a GPU clock offset to +165MHz and the mem clock offset to +215MHz before we started to get encounter some issues like artifacts. In game titles we saw the card hitting 1267MHz thanks to GPU Boost on the core. This is not a bad overclock and we were very happy with the performance gains it gave us.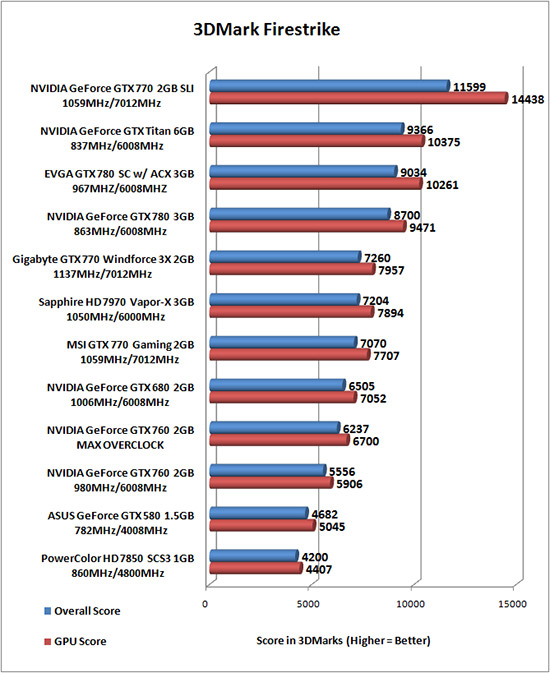 For example in 3DMark Fire Strike we saw performance go from 5556 to 6237 by overclocking the NVIDIA GeForce GTX 760 2GB video card. This is a performance gain of 12.3%, which isn't bad considering that it then performs close to a GeForce GTX 680 and only costs $250.