MSI N760 HAWK Video Card Review
Wed, Aug 07, 2013 - 12:00 AM
MSI GeForce GTX 760 HAWK Overclocking
We installed the MSI AfterBurner v3.0.0 Beta 11 software utility to see how the MSI N760 HAWK 2GB video card could be overclocked! You can use whatever software utility you like for overclocking and we used this one since we are familiar with it and it was already installed on our test machine.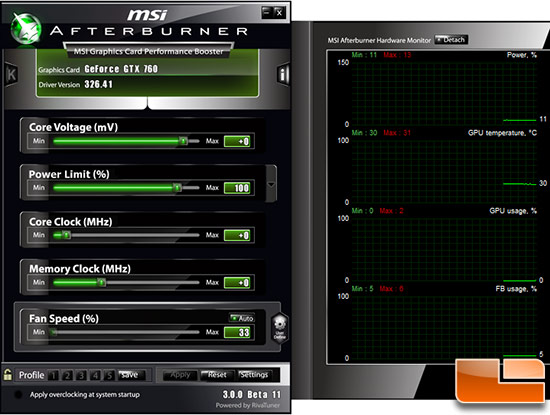 MSI Afterburner lets you adjust the voltages, clock speeds and the fan speeds on the MSI N760 HAWK. The MSI N760 HAWK has a base clock of 1111MHz, a boost clock of 1176MHz and the memory runs at 6008MHz.  Let's see how much more we can get out of this factory overclocked card!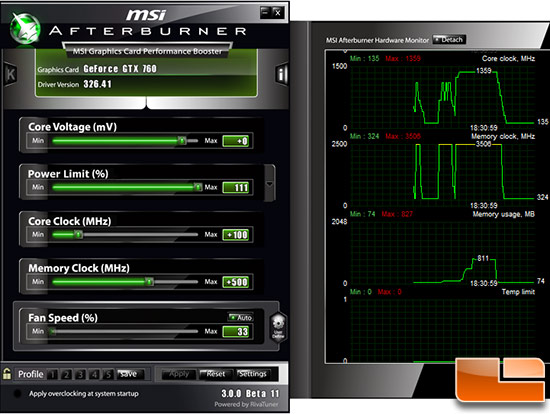 To see how much higher we could get we increased the power limit percentage to 111% and bumped up the core clock to +100MHz and the memory clock to +500MHz. Anything higher than this and the card would become unstable.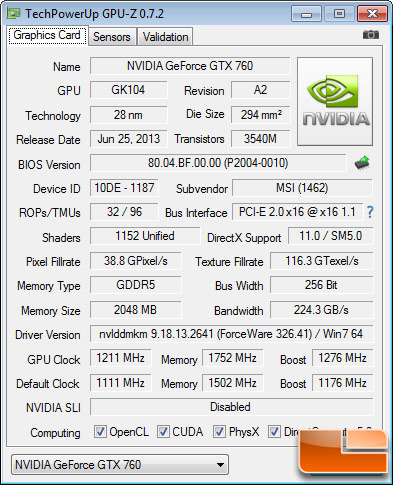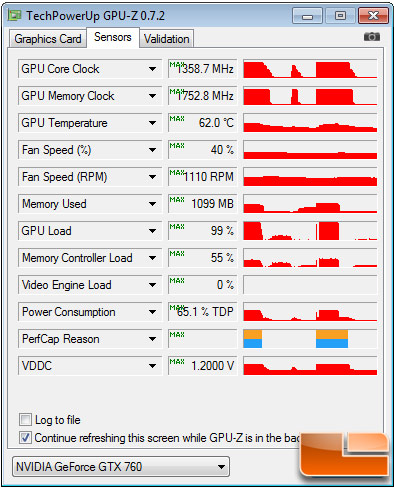 This overclock was found to be 1211MHz base and 1276MHz boost on the core clock and 1752.8MHz (7011MHz effective) on the 2GB of GDDR5 memory. In game titles we saw the card hitting 1358.7MHz thanks to GPU Boost on the core. This is the highest overclock that we have ever reached on the GK104 GPU with air cooling and no extra voltage!
NVIDIA GeForce GTX 760 2GB at 980MHz core and 6008MHz memory: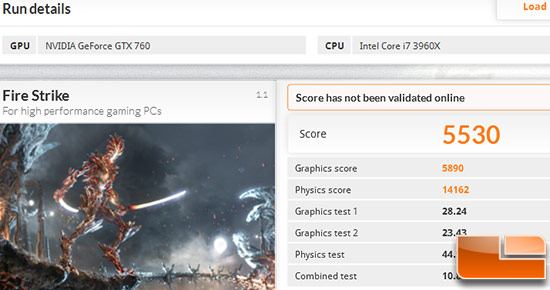 MSI N760 HAWK 2GB at 1111MHz core and 6008MHz memory: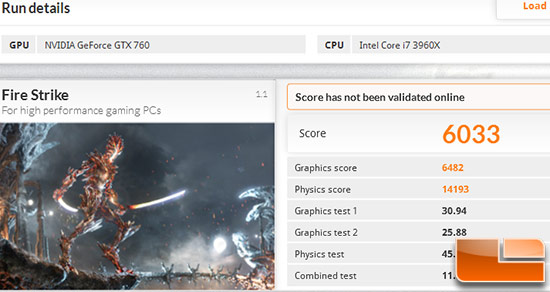 MSI N760 HAWK 2GB at 1211MHz core and 7011MHz memory: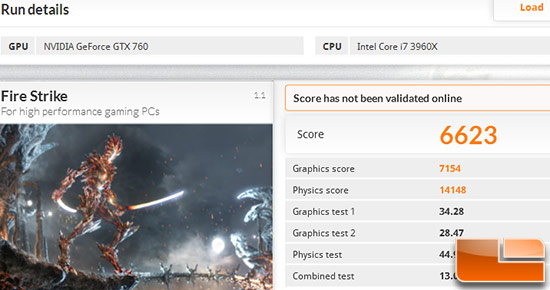 In 3DMark Fire Strike the NVIDIA GeForce GTX 760 2GB reference card scores 5530. The MSI GeForce GTX 760 HAWK boosts performance by ~9% as the overall score jumps up to 6033. By overclocking the MSI N760 HAWK 2GB video card as far as we could we were able to get an overall score of 6623, which is a ~20% performance gain from the reference card and ~10% from the factory clock speeds on the N760 HAWK.  We'll take double digit performance gains all day long!