Marvell Unveils DragonFly NVDRIVE PCIe SSD Cache Accelerator
Thu, Jan 03, 2013 - 8:07 AM
Marvell today announced the availability of the Marvell DragonFly NVDRIVE, a turnkey enterprise-class PCIe SSD caching solution with built-in SSD modules that extends the company's award-winning DragonFly NVCACHE and NVRAM adapter product offerings first announced last August.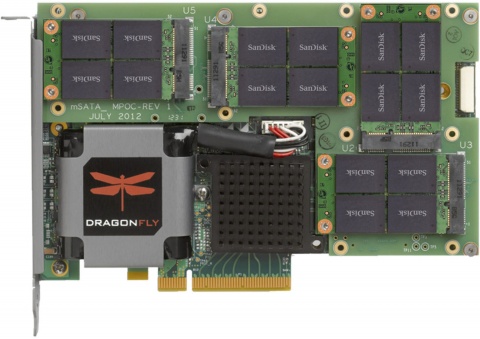 Targeted for large-scale Internet and cloud computing datacenters, the DragonFly NVDRIVE dramatically scales both bare metal and virtualized server applications, including Web servers, OLTP and analytic databases, as well as NoSQL and big data distributed applications. The Marvell DragonFly NVDRIVE will be sampling later in Q1 2013 with OEM and cloud computing customers. DragonFly NVDRIVE is offered at 750GB and 1.5TB capacity points. Pricing starts at a manufacturer's suggested retail price (MSRP) of $2,995 USD.
Feature highlights of the Dragonfly NVDRIVE include:
Up to 1.5 TB of useable SSD capacity with the industry's largest integrated non-volatile DRAM cache.
Highly predictable performance across mixed write/read workloads. Cache mode sustained performance exceeds 200,000 4K random IOPS, 3GBps throughput and sub-10us average latency.
Enterprise-class embedded write-back cache software. Simple, smart and fully automated.
Robust data protection, including RAID and HA peer-to-peer synchronous mirroring software.
Rich command line interface (CLI) and cache policies for granular file/block object level configurations.
Application-transparent OS filter driver supports all major protocols – SCSI, iSCSI, NFS, FCoE and FCP.
Hypervisor integration enables virtual machine migration, HA, snapshots, clones and more.
Fully integrated DragonFly Manager for GUI-based administration and performance monitoring.
"The NVDRIVE is a game-changing extension of the popular DragonFly NVRAM and NVCACHE family. It delivers the same unprecedented application acceleration as the existing NVCACHE solution, but now seamlessly integrates with onboard SSD modules for plug-and-play ease of use," said Alan Armstrong, vice president of marketing of Marvell Semiconductor's Storage Business Group. "The innovative application of non-volatile DDR memory, highly optimized caching algorithms, and entry enterprise SSD modules creates a converged solution that is ideally suited for mixed-workload cloud data centers. The NVDRIVE raises the bar on affordability and performance, and its unique cache automation and consistent write latency capabilities will be sought after by both OEM and cloud computing customers who require predictable performance at reasonable costs."