LightDims LED Dimming Sticker Review
Tue, Jun 18, 2013 - 12:00 AM
LightDims LED Dimming Sticker Intro
Do you have really annoyingly bright LEDs on your PC case or cable set top box? Is your digital nightstand clock is overly bright and blinding you at night? Stop using your electrical tape or permanent marker to make these LEDs dim or completely dark! LightDims has a very simple yet genius solution to dim those pesky LEDs down!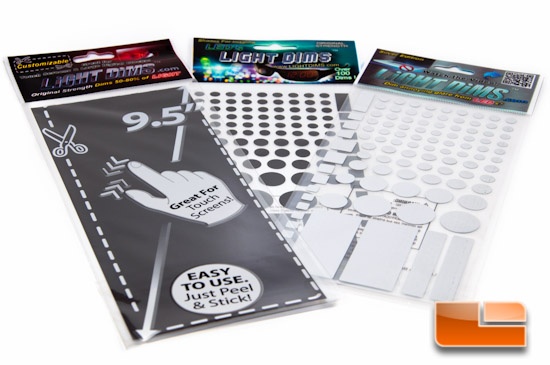 LightDims are a thin film-like material with an adhesive on the back. Think of them as a sticker-sized "window-like" tint that you can remove at will. You can stick them just about anywhere, so long as the surface is clean and dry, and LightDims claims they have installed them inside a fish tank.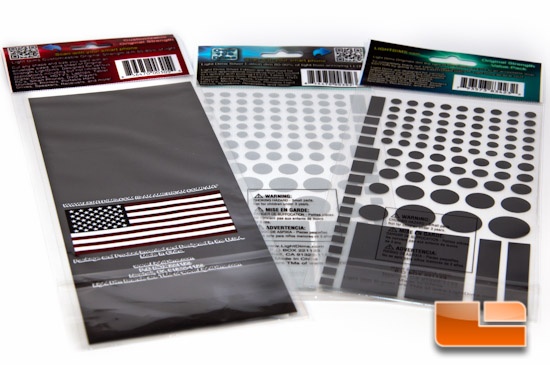 LightDims are a product that you can find in your local Fry's, Micro Center, B&H Photo Video, or Samy's Camera retail locations. Should you not have any of these stores near you, like me, you can find them on Amazon or Newegg. Newegg is currently the place online that you'll find the best deal. You can get the various shades of LightDims for as low as $3.99 per sheet, plus $1.99 shipping, or you can get all four versions for as low as $12.99, plus $1.99 shipping.
The packaging does sport an American flag which I was happy to see. When I look closer at the packaging, it actually says they're an American company, but the product is made in China.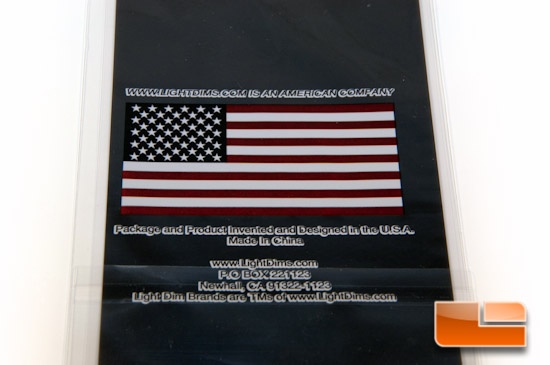 You can find these in four different versions: Blackout Edition, Original Strength, Silver Edition, and a Customizable Original Strength Edition.
Breaking the editions down:
Blackout – 100% light blocked – $3.99 + $1.99 shipping on Newegg
Original Strength – 50-80% light blocked – $3.99 + $1.99 shipping
Silver Edition – 80-90% light blocked – $3.99 + $1.99 shipping
Customizable Original Strength – 50-80% light blocked – $3.99 + $1.99 shipping
All four versions – $12.99 + $1.99 shipping
Note: If you combine multiple sheets, Newegg doesn't appear to be charging extra shipping. I'm not sure where this quantity gets cut off, though.
LightDims Quantity and Sizes
| | | | |
| --- | --- | --- | --- |
| Quantity | Size | Quantity | Size |
| 54 | 6MM | 5 | 8MM SQ |
| 14 | 8MM | 1 | 11MM SQ |
| 7 | 10MM | 1 | 12MM SQ |
| 5 | 14MM | 1 | 8MM x 22MM |
| 3 | 19MM | 2 | 10MM x 57MM |
| 9 | 6MM SQ | 2 | 25MM x 57MM |
The three main versions are said to have over 100 pre-cut shapes, when in actuality you'll find that you get 104 in total. This is a nice number and you'll have lots of LED light blocking power at your disposal. You can find the sizes and quantity of each sticker in the table above.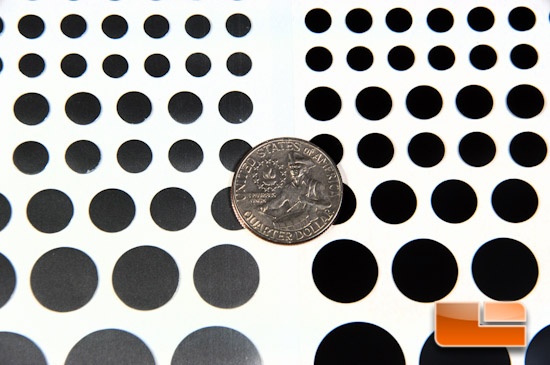 The customizable sheet is great to cut and put on larger surfaces. I know I absolutely love the look of a digital clock that has blue digits, but they're generally overly bright at night. Cut this sheet to size and you've got a great way to actually get some sleep at night!
The Silver Edition will look nice on a Mac Book or any silver surface for that matter.
Read on to see what these look like on a few different LEDs and catch what we thought about this product!