Leap Motion Controller Review – Gestures on PC!
Tue, Jul 23, 2013 - 6:00 PM
Leap Motion – PC Control With Air Gestures
The Microsoft Kinect certainly revolutionized the console gaming industry with gestural interfaces, but for some reason gesture control has been slow to come to the PC market. In May 2012 we learned of the Leap Motion Controller that hoped to make controlling computers by gestures commonplace. The company even made the bold claim that with this device, one can "say goodbye to your mouse and keyboard." Last week Leap Motion started shipping the controller to customers who pre-ordered it for $69-$79 and we finally got our hands on ours. We say finally, because it was supposed to ship in May 2013 and we've been telling you about it for more than a year! So, without further ado, say hello to the Leap Motion controller.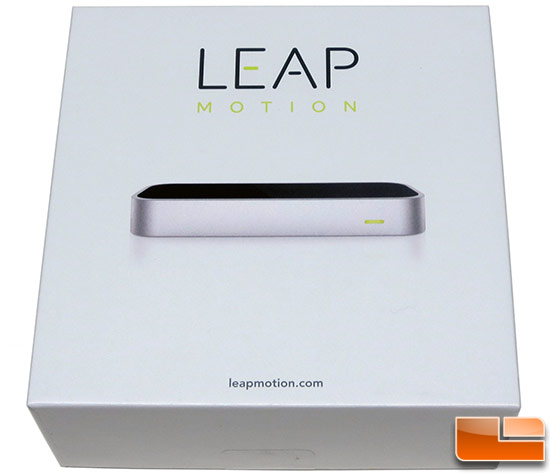 The Leap Motion controller showed up inside a nice looking, simplistic retail box that people have come to love thanks to Apple.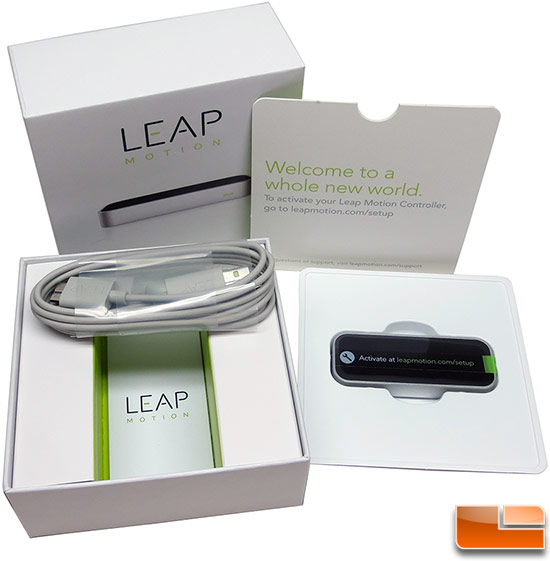 Inside you'll find a welcome card, the controller, a small information guide and a pair of USB cables. It was a bit refreshing not seeing a driver disc in the box as you can simply go online and download the latest version straight away.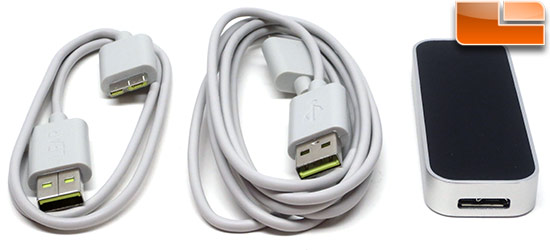 As we just mentioned you get a pair of USB 2.0 cables in the box — a 5-foot and a 2-foot. This is nice as depending on how you'll be setting it up you'll need one or both cables. We found that the 2-foot long cable is perfect for notebooks/ultrabooks and the longer 5-foot cable is ideal for desktop users. We really aren't sure if these cables are USB 2.0 or USB 3.0 because Leap Motion states that this device comes with "Two USB 2.0 cables with microUSB 3.0 connectors." We asked Leap Motion and this is what they had to say:
"The cables are USB 2.0, and the current Leap Motion output is also 2.0 but we built it to upgrade to 3.0 in the future." Leap Motion PR
It sounds like they'll be coming out with an updated Leap Motion controller in the future that is all SuperSpeed USB 3.0!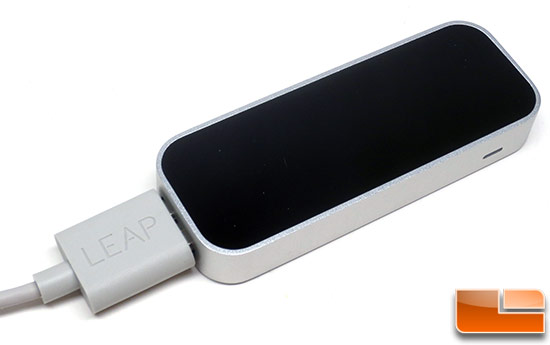 The Leap Motion controller is a small (0.5 by 1.2 by 3-inch) rectangular device that sits flat on the surface in front of the PC you are using. Inside the small controller you'll find infrared LEDs and two cameras underneath its black glass top that are used in conjunction with specialized software to track the movement of your fingers as you move them above the sensor. The 'sweet spot' of this controller is about two feet above the and around the device. You can use multiple hands and fingers, depending on the gestures required in the specific apps that work with the controller.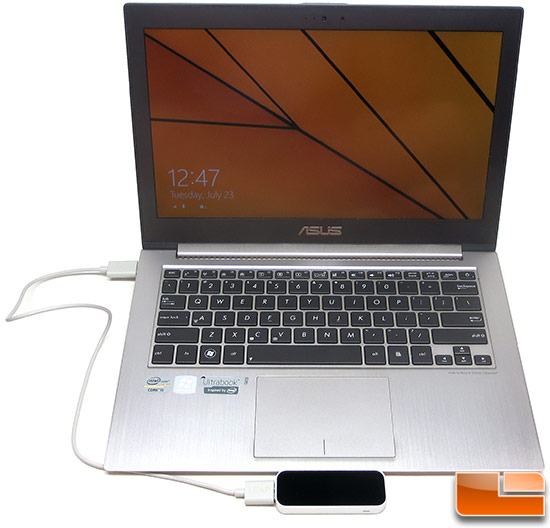 It was easy to set the Leap Motion Controller. You just plug the controller into one of your computer's open USB ports. Once you've plugged it in, you'll see the green LED on the front of the device and the infrared LEDs beneath the top plate come to life. Now you just need to download the Windows or Mac software for your operating system from the Leap Motion setup site to begin using it.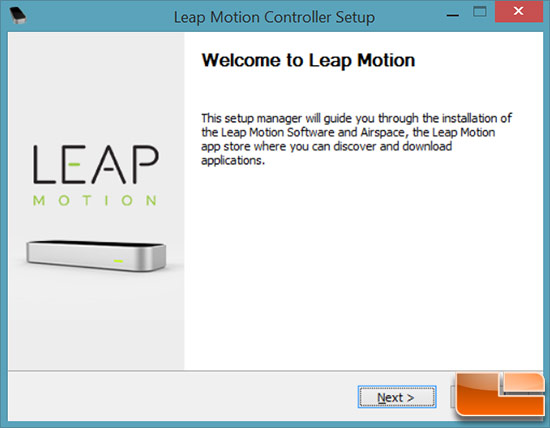 That 55.8MB download includes both a diagnostic/status program (for reporting bugs and re-calibrating the device when necessary) and the software portal from whence most Leap-friendly apps will come.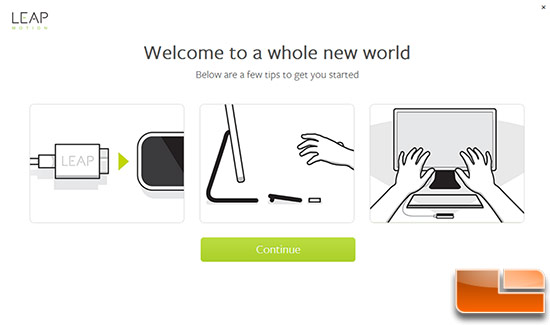 Before the install program closes, it does give you a few tips on how to begin using the new hardware.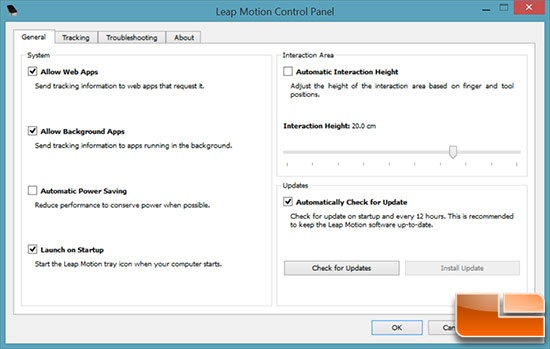 Once it installs you can go to the programs control panel and make any adjustments that you like. For example in the control panel there is an option for 'automatic power saving' that is disabled. We asked Leap Motion what this setting does and were told that when enabled the software will recognize when your hands aren't in range and powers down to use less power. You can also adjust the interaction height (20cm is default) and tracking settings.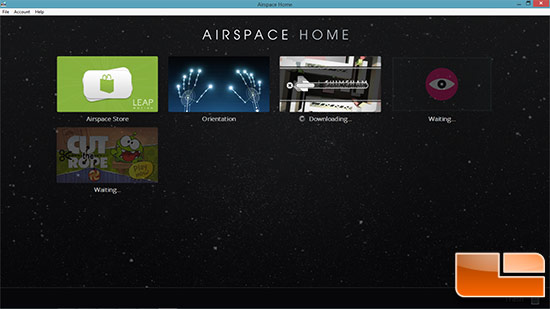 Apps will be crucial for the success for the Leap Motion Controller, so it shouldn't come as a surprise that you get a portal, called Airspace, that gives you direct access to applications built just for Leap. Airspace consists of the Airspace Store (where you download free or paid for apps) and Airspace Home (a launcher for your installed Leap-compatible apps). There is an orientation app that comes with Airspace and three other apps will be downloaded the first time you setup your account and connect for the very first time. It is free to create an account and you just need to enter your email, date of birth and and a password to get airspace installed.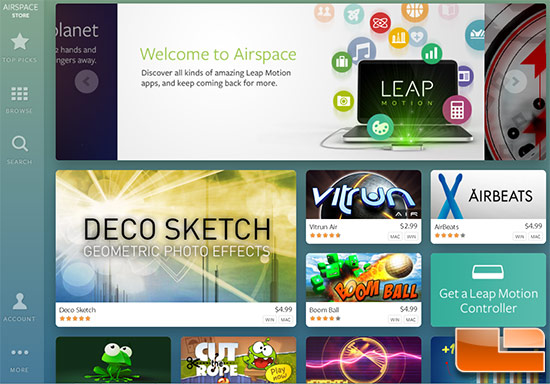 As of July 23rd, 2013 we found that there were 57 applications built to run on Windows and 58 apps for Macs. It should be noted that Only Windows 7 and 8 operating systems are supported and Macs need to be running running OS X 10.7 or higher. It should be noted that just 14 of those apps, both mac and PC, are free and most of the others are available for $1.99 to $4.99. With 48 Apps being listed in the game category it is clear that games are the number one app right now.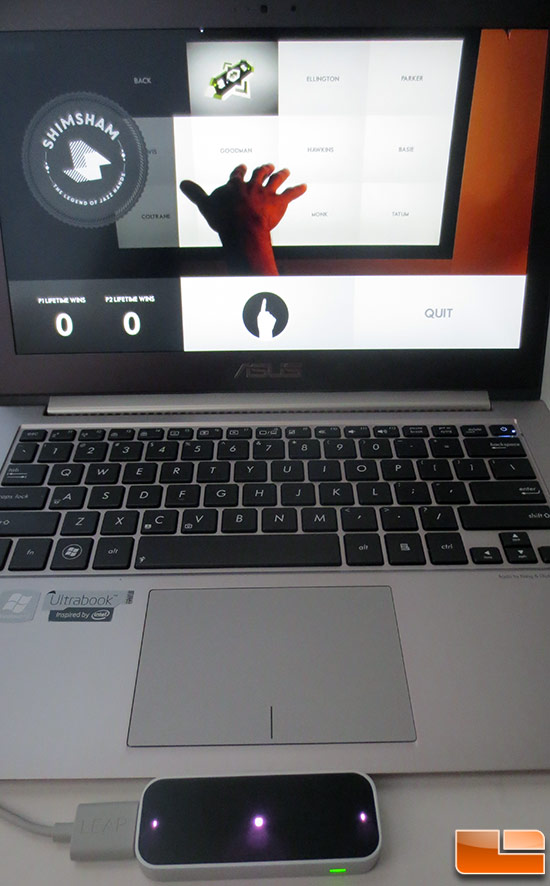 We set up the Leap Motion Controller on a PC, and downloaded and tested a variety of apps for it. We spent some time playing Cut The Rope, Shimsham, Block 54, Roshambo and had moderate success. We did have some issues with the Leap Motion Controller not doing what we wanted it to do, but you do get a bit better as time goes on. We also expect that Leap will improve the algorithms in their software for improved gesture tracking.
It should be noted that we encountered an issue on our ASUS UX31A Zenbook where some Apps would open at a miniscule screen resolution of 512 x 384 pixels despite running at the native resolution of 1920 x 1080. We contacted Leap Motion and they said it was likely due to us testing on Windows 8.1.
"You mentioned Windows 8.1 — that is actually a preview version of OS, not an official release. We only support Windows 7 or 8 currently, in our minimum specs, so for your test we ask that you use Windows 8 please. "
We won't hold that against them, but we know some of our readers are also running Windows 8.1 since it was released and figured we'd give you a heads up.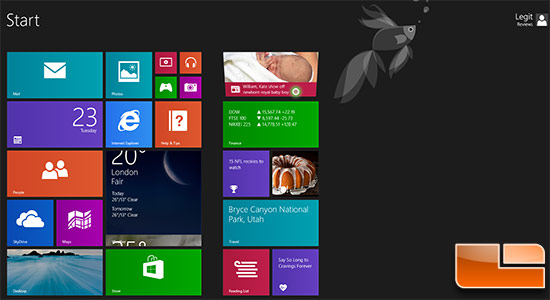 We also downloaded Touchless for Windows in the "experimental" apps section, which allows you to create a "virtual trackpad" in the air for interacting with your computer. It worked fairly well with Windows 8.1 and the metro interface. We were able to open tiles with ease, but when it came to navigating websites or looking at online forums we didn't have the accuracy we would have liked to have and became frustrated. Just picture us sitting at our desk poking the air and waving our hand for hours on end. It was pretty damn cool to surf the web by just using our hands and it felt like we were in a scene from the movie Minority Report!
It would be cool if we could have had a perfect experience like the one depicted in the marketing video below:
Final Thoughts and Conclusions:
The Leap Motion Controller brings affordable gesture control to the PC and gives developers a tool to bring new innovations to the PC industry. In our limited time with the Leap Motion Controller we quickly found out that it is very app limited due to there being less than 60 apps available at the time of launch. Leap Motion gave thousands of these devices to app developers and hoped they would develop some killer software. Leap Motion had great intentions here, but we couldn't find that one killer app that would make the Leap Motion Controller something you need to run out and buy.
At the end of the day the Leap Motion Controller has a ton of potential and there really is no other device like it on the market today. We can only hope that developers continue to create new apps for the controller and if they do we can see this being embedded in notebooks and keyboards in the years to come. You have to start someplace and Leap Motion got the ball rolling with this controller. If you have $80 to spend to try out something different then by all means go out and pick one up, but just understand it won't be replacing your mouse or keyboard anytime soon and most of the apps are basic games.
It would be really neat to see some app be created that would pair the Oculus Rift and Leap Motion Controller together to make an interactive virtual world like nothing we have ever seen before. Someday we will have a device that combines Google Glass, Oculus Rift, Leap Motion Controller, Microsoft Xbox Kinect to fully immerse an individual like nothing we've ever seen before. That day will come and some people are dreaming it up already, but for now we should just be happy with the advancements made to gesture tracking thanks to the Leap Motion Controller.
The Leap Motion Controller is is scheduled to arrive in Best Buy stores on July 28 and costs $79.99. The Leap Motion Controller is backed by a 1-year warranty that covers both parts and labor if anything should go wrong.
Legit Bottom Line: The Leap Motion Controller shows that innovation is still out there, but now we just need an app to make it something you can use for more than just gaming.