Intel Haswell USB 3.0 Issues Over in July 2013? Intel Announces C2 Stepping Chipsets
Fri, Apr 05, 2013 - 9:03 AM
For months we have heard rumors that Intel was having some issues with the USB 3.0 implementation in Haswell systems. When a computer with Haswell processor wakes up from S3 sleep mode, problems can occurs with devices connected via USB 3.0. We heard that a chipset hardware fix was required and it looks like that might have been the case. Intel has announced C2 stepping versions of Z87, H87, Q85, Q87, C222, C224, C226, QM87, HM87 and HM86 chipsets that replace the C1 steppings that were already produced. You can check out the changes by Intel here.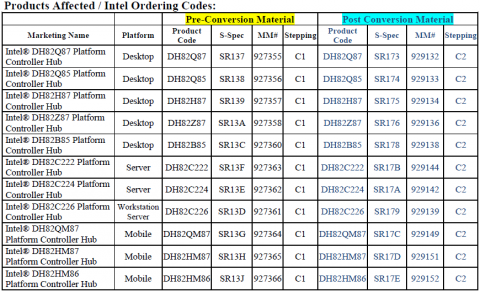 The stepping from C1 to C2 should address the problem of USB 3.0 devices not being recognized after waking from S3 sleep and be the stepping version for the first mass production boards. Assuming that everything else is okay, we should be one step closer to the launch of Intel Haswell processors along with the new boards!
The bad news is that the very first samples aren't supposed to arrive until July 1st, 2013! It has been widely rumored that the Intel 4th Generation Core i 'Haswell' processors were already delayed and were to debut at Computex 2013, which takes place the first week of June. It looks like Intel can still launch Haswell at Computex, but the C2 stepping chipsets don't look like they'll make the festivities. With first availability in July 2013, it could mean a July/August launch for Haswell. Unless, of course, they launch with C1 steppings…
UPDATE 12PM CT: Numerous people have called and e-mailed Legit Reviews about this story. It appears that the USB 3.0 issue is isolated to a USB controller issue on the client side. Intel also sent us an e-mail today letting us know that there is no delay with the Haswell platform launch. It looks like the C1 chipsets will be launched as planned in June 2013 and then the board makers will transition to the C2 chipsets sometime after July 2013.

Intel is initiating a C1 to C2 stepping conversion for the Intel 8 Series/C220 Series where products will undergo the following changes:
Metal layers change from C1 to C2 to fix USB SuperSpeed device remuneration erratum.
C1 stepping package is pin compatible with C2 stepping package.
Revision ID will change from 04h to 05h.
Compatibility revision ID will remain at 04h for Intel Stable Image Platform Program.
New S-specs and MM numbers for the converting products.