Intel Details 2011 Processor Features – 32nm Sandy Bridge
Mon, Sep 13, 2010 - 11:55 AM
Intel Corporation revealed today several significant design features for the company's 2011 2nd Generation Intel Core processor family at the Intel Developer Forum. The new and enhanced features will further extend Intel's chip performance and battery life leadership, and add a number of visually related features built right into the chips. Codenamed "Sandy Bridge," the chips will be based on Intel's first new "visibly smart" microarchitecture produced on the company's cutting-edge manufacturing factories, or "fabs," at 32-nanometer (nm is a billionth of a meter) process technology with second- generation high-k metal gate transistors.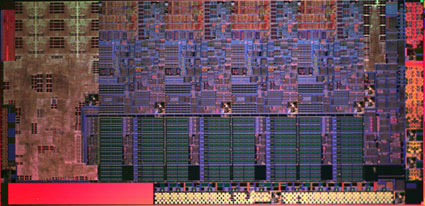 Intel detailed several new and improved features for its upcoming 2nd Generation Intel Core processor family for laptops and PCs. This will be Intel's latest processor, with a rich visual experience built-in.
Expected to be in production later this year with new laptops and PCs available starting in early 2011.
Chips will further expand Intel's battery life and performance leadership.
First public demonstrations of Intel's next-generation Xeon server platforms, for both dual and multi-processing servers.
Intel's new processor graphics delivers enhanced visual features focused on the areas where most users are computing today: HD video, 3-D, mainstream gaming, multi-tasking and online socializing and multimedia. To obtain and view video faster, Perlmutter demonstrated hardware accelerated video editing using the architecture's dedicated silicon for media processing, which allows users to quickly convert video to other formats. The 2011 chips also come with Intel Advanced Vector Extensions (AVX). AVX delivers improved performance, rich functionality and the ability to better manage, rearrange and sort data. A new 256-bit instruction set accelerates floating point intensive applications such as digital photo editing and content creation.