Gigabyte GeForce GTX 770 WindForce 3X 2GB Video Card Review
Mon, Jun 17, 2013 - 12:00 AM
Gigabyte Goes WindForce 3X on The GTX770
NVIDIA's reference design for the GeForce GTX 770 is solidly built, but most video card makers have opted to use their own PCB design and custom GPU coolers on the cards that they bring to market. Gigabyte has come out with a rather impressive NVIDIA GeForce GTX 770 2GB/4GB video card that has the company's WindForce 3X GPU Cooler and a custom designed PCB. This card stands out from the crowd due to the WindForce 3X GPU cooler that uses six copper heatpipes (2x 8mm and 4x 6mm) and three 75mm cooling fans to keep this factory overclocked card running smoothly. This beefy GPU cooler marketed as being able to handle thermal designs of up to 450 Watts.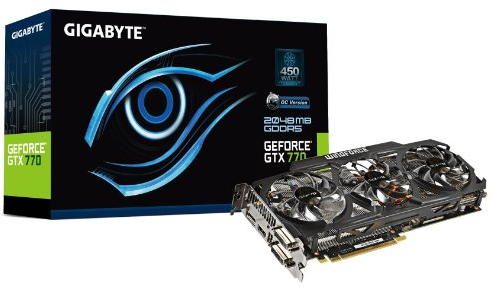 That is complete overkill for the reference GeForce GTX 770 clock speeds, so Gigabyte overclocked this card with the highest frequencies that we have seen to date. A standard reference card comes at 1046MHz base clock with a 1085MHz boost clock, but the Gigabyte GTX 770 WindForce 3X comes clocked at 1137MHz core and 1189MHz boost. a nice 9-10% increase in clock speeds on the 1536 stream processors! The 2GB of GDDR5 memory runs on a 256-bit bus and is clocked at 1753MHz (7012MHz), which means that is has not been overclocked.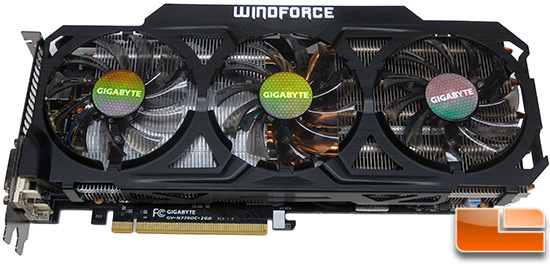 The Gigabyte GTX 770 WindForce 3X 2GB video card is sold under part number GV-N770OC-2GD and retails for $409.99 shipped.  There is also a 4GB version of the same card that has part number GV-N770OC-4GD that sells for $449.99 shipped. It you are gaming on a triple panel setup it is advisable to spend the extra $40 to get twice as much frame buffer as many game titles use more than 2GB at a screen resolution of 5760×1080 and higher.
The Gigabyte GTX 770 WindForce 3X is a dual-slot card that measures 11-inches in length, which is half an inch longer than the reference design. This card has some weight to it and weighs just over two pounds!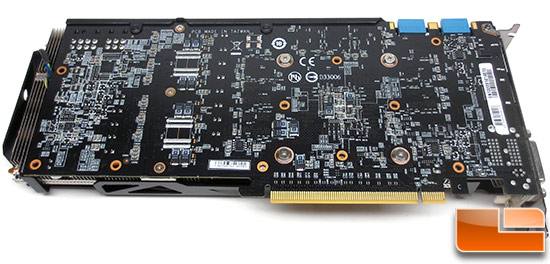 The back side of the card is not covered by a back-plate and none of the GDDR5 memory chips are located on the back of the 2GB card that we are looking at today. Notice that the GPU cooler does extend past the PCB, so Gigabyte tried to make it as large as possible.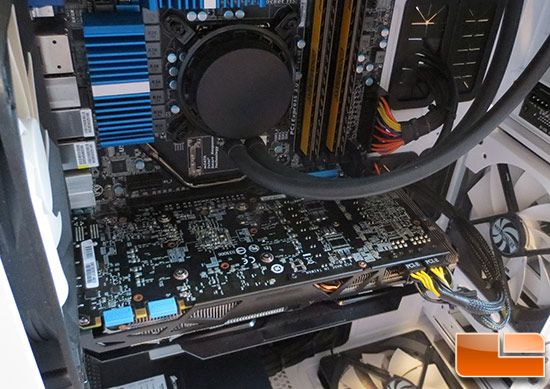 The Gigabyte GTX770 WindForce 3X video card looks sharp from the front, with a nice nameplate and all, but once installed in a case this is what you would see.  It would have been nice if Gigabyte would have installed some branding on the back of the cards metal fan shroud that extends above the card.  It's just a blank piece of metal that is sticking out when installed in a traditional PC case.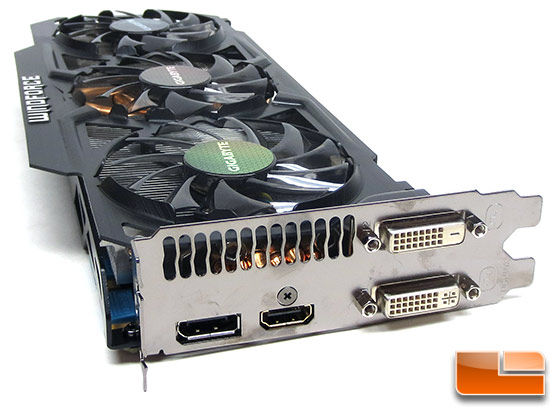 The Gigabyte GeForce GTX 770 OC WindForce 3X 2GB GDDR5 graphics card has a total of four display connectors.  You have dual-link DVI-I, dual-link DVI-D, HDMI and DisplayPort outputs. All of the video outputs are standard size, so no adapters are needed, which is nice.  The only downside to using full size connectors is that the exhaust fan outlet is small, but due to the WindForce 3X GPU Cooler design most of the air is blown back into the chassis.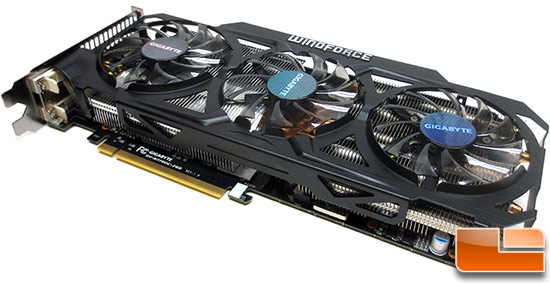 Here is a closer look at the bottom of the video card to show how the fan shroud is pretty much open all the way around the card. The fans push air down into the two large aluminum heatsinks and then the air pretty much goes out in every direction once it hits the PCB.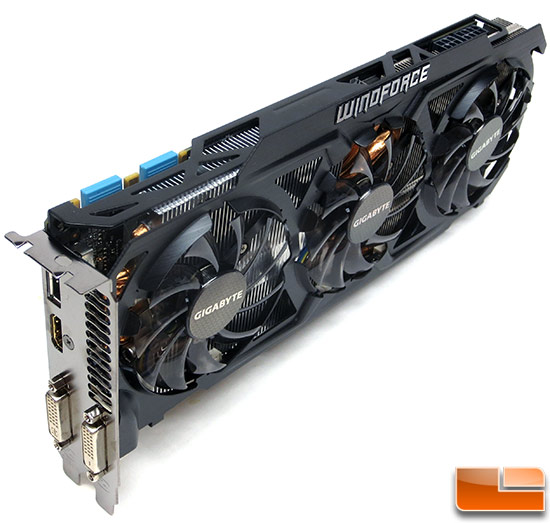 The NVIDIA GeForce GTX 770 graphics card supports triple-SLI, so Gigabyte supports it as well and the card has a pair of SLI connectors along the top of the PCB for multi-GPU systems. Gigabyte ships the card with blue colors protectors on all the video outputs, PCIe slot and the SLI connectors.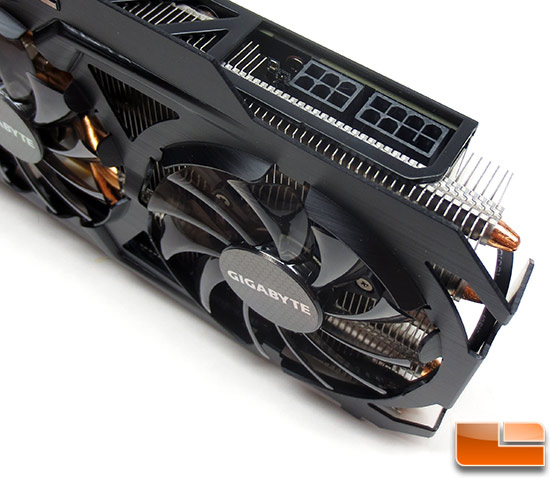 Gigabyte went with 6-pin and 8-pin PCIe power connectors on the GeForce GTX770 WindForce 3X video card and recommends at least a 600 Watt power supply with a minimum +12V current rating of 42A. It should be noted that when we plugged in the PCIe power connectors that they made contact with the WindForce 3X GPU cooler, so it is a tight fit to get them on and really tricky to get them off! You just have to be gentle and finesse it!
Now that we have covered the basics of the Gigabyte GeForce GTX 770 WindForce 3X, let's move along and take a quick look at the retail packaging and accessory bundle for all those folks that like unboxing details.