Genius Gila GX Series Gaming Mouse Review
Fri, Mar 29, 2013 - 12:00 AM
Mouse Software: Scorpion gaming user interface
The Gila's settings can be configured with Genius's Scorpion gaming user interface. Its name is quite wordy, but the software gets the job done. During testing, the latest version of the software as well as a firmware update for the mouse were used and can be found at the Gila's GX gaming downloads page. The CD included with the Gila can also be used to install the Scorpion gaming user interface, but like any driver program, we recommend using the latest approved versions.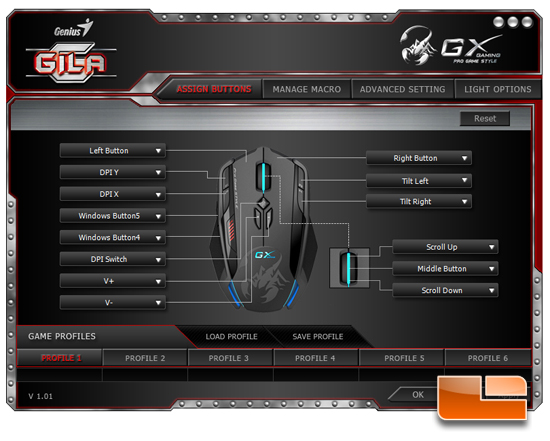 Upon opening the Scorpion gaming user interface, we are greeted with the button assignments tab. Towards the top is a ribbon of tabs that navigate to other settings. Along the bottom are tabs for each of the six profiles. Saving and loading profiles can be done in order to create multiple setting configurations and backups. Otherwise, the Gila's onboard memory allows user defined settings to persist even on other computers without the Scorpion gaming user interface installed.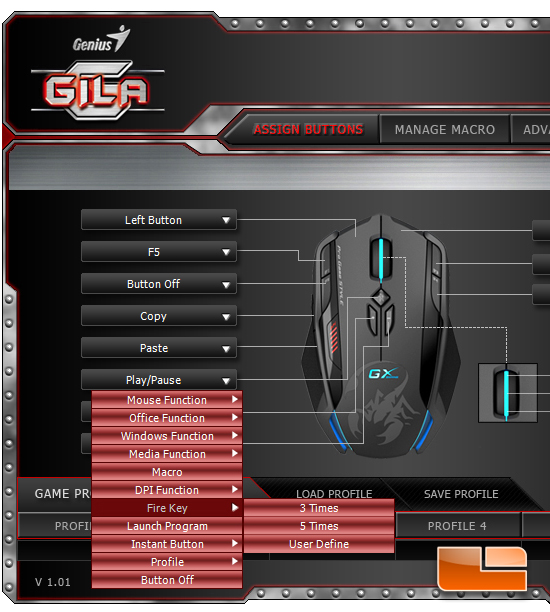 There are 14 configurable buttons including the scroll wheel. A large number of preset macro assignments are included in drop down menus.
Mouse Function: Left Button, Right Button, Middle Button, Windows Button4, Windows Button5
Office Function: Zoom In, Zoom Out, Tilt Left, Tilt Right
Windows Function: Copy, Paste, Cut, Undo, Redo, Save
Media Function: Play/Pause, Volume Up/Down, Next, Previous, Mute
Macro
DPI Function: DPI Switch, DPI X, DPI Y, Sniper
Fire Key: 3 Times, 5 Times, User Define
Launch Program
Profile: Profile 1, Profile 2, Profile 3, Profile 4, Profile 5, Profile 6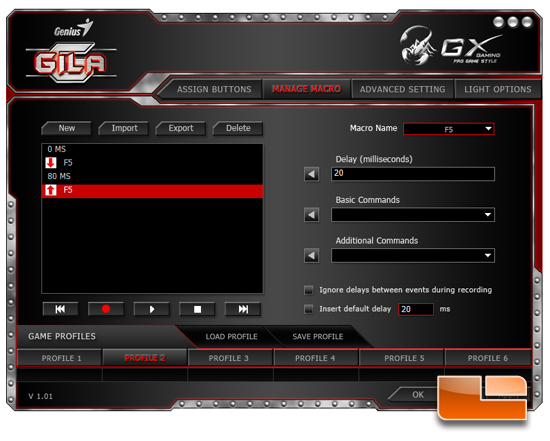 Creating macros is a simple matter. Hit the record button and it will register the order of keystrokes you input. Afterwards, the timings in-between the keystrokes can be adjusted and the keystrokes can be rearranged.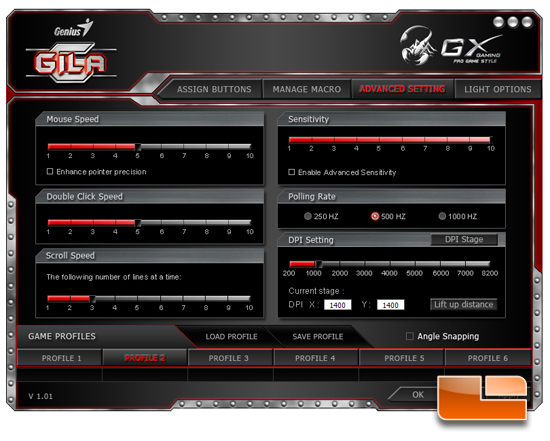 The Advanced Settings allows a number of mouse settings to be adjusted for each of the six profiles. The options available for change are mouse (pointer) speed, sensitivity, double click speed, polling rate, scroll speed, DPI settings, the number of DPI stages, X and Y DPIs, and lift up distance.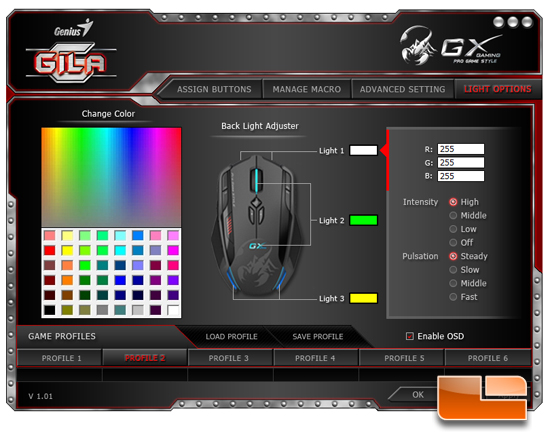 The colors for each of the three light zones can be changed with a gradient, a swatch, or inputting RGB color codes. There are four light intensity levels and the option for three light pulsation rates. Strangely enough, the option to enable the on-screen display is located in the lights tab. Enabling the check box will display whatever mouse change has occurred on the lower right side of your monitor whether it be a profile change or DPI change.