GeForce GTX 680 4-way SLI review on Hardware.Info
Thu, Mar 22, 2012 - 7:18 PM
We brought you our comprehensive review on a single GeForce GTX 680 video card this morning and walked away impressed by what NVIDIA has done with the GK104 GPU. We didn't get a pair of cards for testing, but the guys over at Hardware.Info have a full review up of the NVIDIA GeForce GTX 680 in 4-way SLI!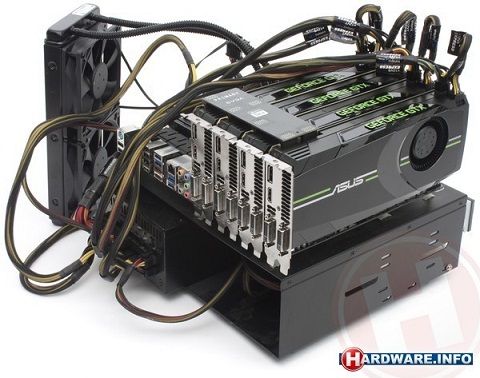 This European site is the first to extensively test a Quad-SLI configuration of the GeForce GTX 680! They normally don't translate their reviews, but this time around they translated it to English! They got cards from NVIDIA, ASUS and Zotac and made the review happen!
The SLI and Triple-SLI benchmarks were run on our standard testing rig. It consists of an Intel Core i7 3960X (Sandy Bridge-E) processor, an ASUS P7X79 Pro motherboard, 16 GB Corsair DDR3-1600 RAM, a Samsung Spinpoint F1 hard drive and a Cooler Master Silent Pro Gold 1200 watt power supply. For Quad-SLI we switched to an ASUS Rampage IV Formula motherboard and an Enermax Platimax 1500W PSU. All benchmarks were done in Windows 7 x64.