Galaxy GeForce GTX 780 GC Video Card Review
Thu, Jul 18, 2013 - 12:00 AM
Galaxy GTX 780 Overclocking
We installed the Galaxy XtremeTuner Plus v2.0.6.0 software utility to see how the Galaxy GeForce GTX 780 GC 3GB video card could be overclocked! You can use whatever software utility you like for overclocking and we used this one since it comes with the Galaxy GeForce GTX 780 GC video card.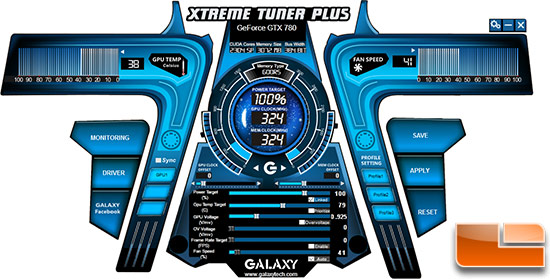 This is the first time that we have ever used XtremeTuner Plus, but is it similar to most any other overclocking utility out there. The GUI is interesting to say the least as everything that you need to adjust is so tiny and hard to see. You also can't type in the values you want, so get ready to use the slider or click the mouse a few hundred times to get to the overclock that you want. The good news about this utility is that you can adjust the power target, GPU voltage, memory voltage, frame rate target, and the fan speed.
In case you forgot, the NVIDIA GeForce GTX 780 reference card is clocked at 863 MHz base and 902 MHz boost and the memory is clocked at 6008MHz (effective). The Galaxy GeForce GTX 780 GC comes with a base clock of 967 MHz and a boost clock of 1020 MHz with the memory at 6008MHz (effective). This is already a nice 12-13% clock increase on the 2304 CUDA Cores! Let's see how much higher we can overclock this already overclocked card!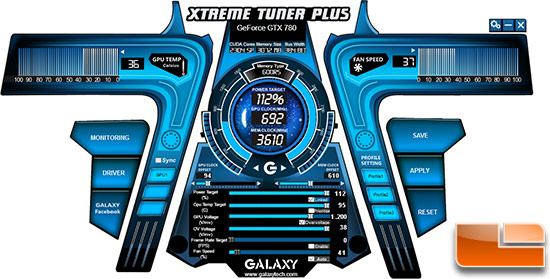 We increased the power target to 112% and the temperature target to 94C. This is the highest possible setting for each. We then slowly increased the GPU clock offset and memory clock offset to see how far we could go before the card would become unstable.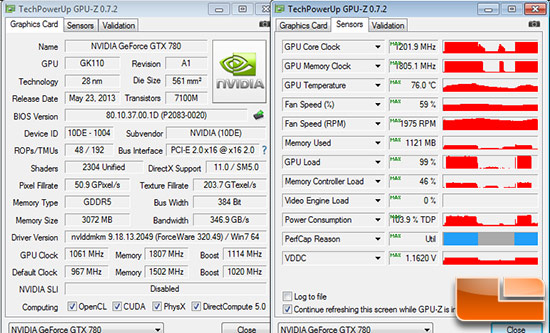 We ended up with a GPU clock offset to +94MHz and the mem clock offset to +610MHz before we started to get encounter some issues. Anything over these clock speeds and we would get freezing and driver crashes while gaming. This overclock meant that we were running at 1202MHz thanks to NVIDIA Boost 2.0 on the core and 1805MHz (7220MHz effective) on the 3GB of GDDR5 memory. The card was running in the high 75-79C temperature range with this overclock and we saw the power use in games jump up from ~430W to ~445W.
It should be noted that this is not the highest overclock we have ever had on any NVIDIA GeForce GTX 780 video card when it comes to the GPU, but this is the fastest memory frequency we have ever hit on a GTX 780!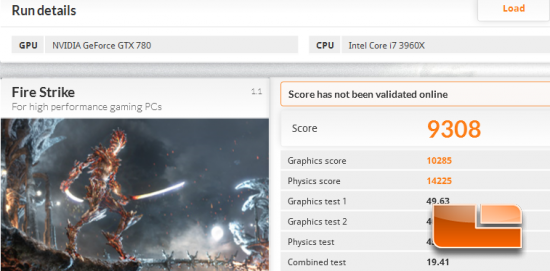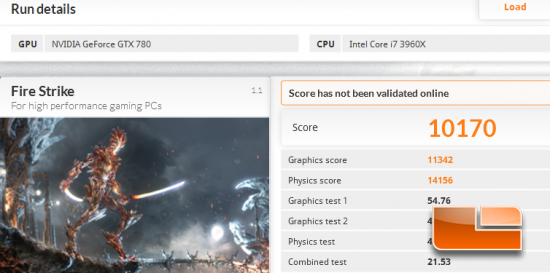 For example in 3DMark Fire Strike we saw performance go from 9308 to 10170 by overclocking the NVIDIA GeForce GTX 760 2GB video card. This is a performance gain of 9.2%, which is a very large performance gain seeing how this card is damn near the best that money can buy and you can still push the frequencies up higher!