Galaxy GeForce GTX 780 GC Video Card Review
Thu, Jul 18, 2013 - 12:00 AM
Noise and Temps
Temperature & Noise Testing
Temperatures are important to enthusiasts and gamers, so we took a bit of time and did some temperature testing on the Galaxy GeForce GTX 780 Gaming OC C 3GB video card.
Galaxy GeForce GTX 780 GC 3GB Idle Temperature: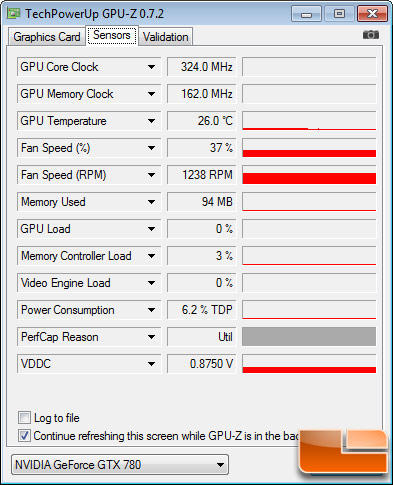 In a room that was 20C (70F) we observed the Galaxy GeForce GTX 780 GC had an idle temperature of 26C and the idle fan speed was set to 37% or 1238 RPM.
Galaxy GeForce GTX 780 GC 3GB Gaming Temperature: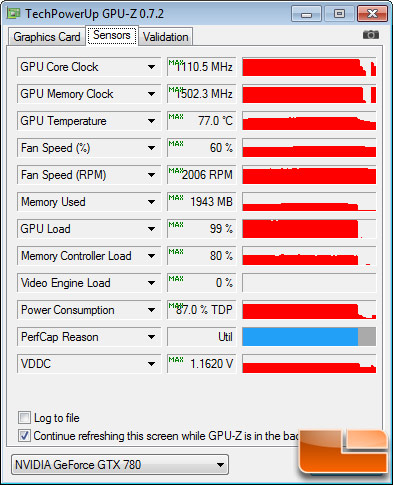 When playing Far Cry 3 and Battlefield 3 for about 30 minutes each, we hit 77C on the Galaxy GeForce GTX 780 GC and the fan speed ramped up to 2006 RPM during our gaming session.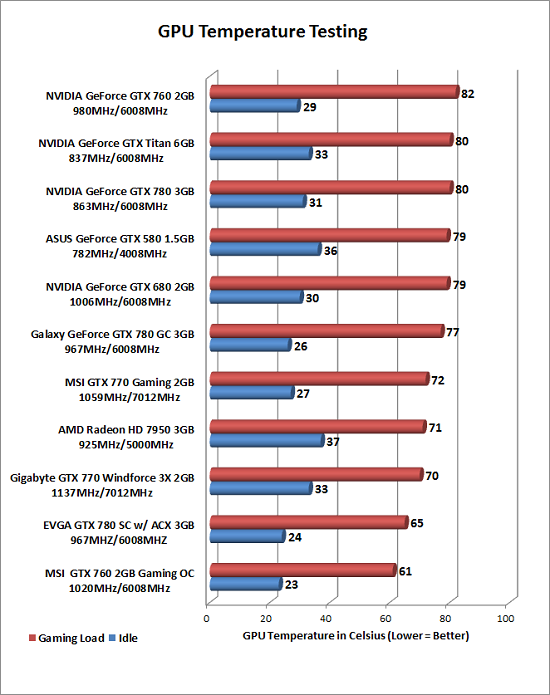 Here you can see the results in comparison with some of the other cards we have been looking at over the past month. The Galaxy GeForce GTX 780 GC thermals are better than the reference design, but no where new the low temperatures observed on the EVGA GeForce GTX SuperClocked card with the ACX Cooling System.
Sound Testing
We recently upgraded our sound meter to an Extech sound level meter with ±1.5dB accuracy that meets Type 2 standards. This meter ranges from 35dB to 90dB on the low measurement range, which is perfect for us as our test room usually averages around 36dB. We measure the sound level two inches above the corner of the motherboard with 'A' frequency weighting. The microphone wind cover is used to make sure no wind is blowing across the microphone, which would seriously throw off the data.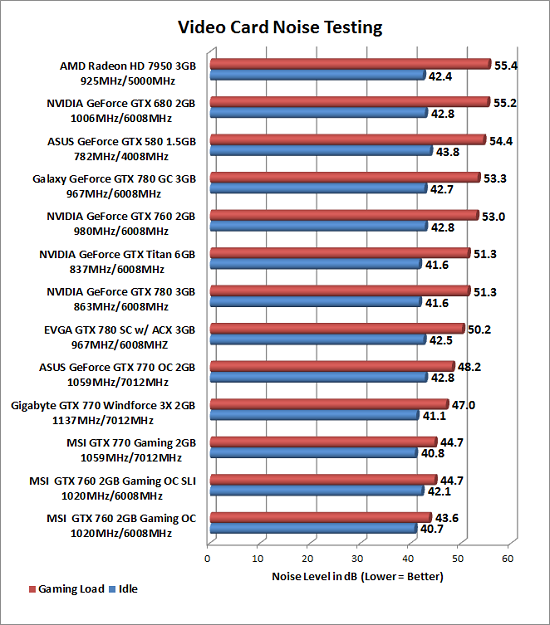 When it comes to noise levels the Galaxy GeForce GTX 780 GC 3GB card was actually a bit louder than the reference card, but it was still quieter than the NVIDIA GeForce GTX 580 and GTX 680 reference card coolers! This is the important thing as it will likely be quieter than what you are upgrading from.