ECS Expands Intel Thin Mini-ITX Motherboard Options
Mon, Mar 26, 2012 - 8:13 AM
Elitegroup Computer Systems (ECS) today announced a set of new Intel based Thin Mini-ITX motherboards. A thin mini-ITX board has the same PCB size as a regular mini-ITX board (170 x 170mm) but with approximately half the height of the standard IO shield. This enables a low-profile board that is suitable for AIO (All-In-One) PC system integration. To target different segments, ECS Thin Mini-ITX motherboards are not only compatible with AIO but also with small form factor PCs, which means they are perfect for HTPC's or for anyone wanting a custom SFF. ECS today is announcing the H61H2-TI, H61H2-G11 and CDC-TI mainboards.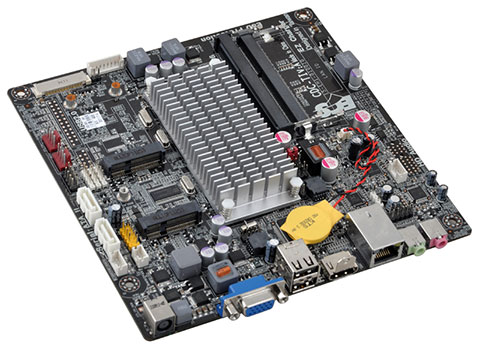 The ECS CDC-TI mainboard is Intel Atom D2700/2250 processors and features a passively cooled CPU heat sink.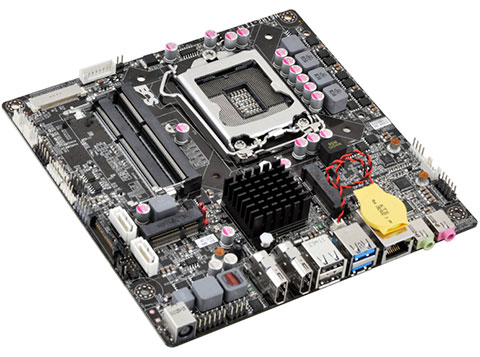 The ECS H61H2-TI mainboard is a board that is a little more interesting for our readers as it uses the Intel H61 Express chipset and supports Intel LGA1155 Sandy Bridge processors. It also has a pair of SuperSpeed USB 3.0 ports and HDMI input and outputs!
The brand new CDC-TI Thin Mini-ITX motherboard supports Intel Atom D2700/D2550/D2500 Dual-core processors. The CPU and Memory are supported 100% by Solid Capacitors in order to provide better conductivity and longevity. CDC-TI features 2 x DDR3 SO-DIMM socket supporting up to 4GB, 2 x SATA 3Gb/s, 2 x USB 2.0, 2 Mini-PCIe (1 Full/ 1 Half), VGA, HDMI and LVDS support. It is distinguished by its fan-less design because of the lowest CPU power consumption of <10W TDP. ECS CDC-TI not only works well for Thin Mini-ITX AIOs but also for other form factors that can take advantage of a low-profile board. The other H61H2-TI Thin Mini-ITX motherboard can support socket LGA1155 Intel 2nd and 3rd Generation CoreTM processors. It features Intel H61 Express chipset with SATA 3Gb/s, 2 x DDR3 SO-DIMM socket up to 16GB, 2 x USB 3.0, 2 Mini-PCIe (1 Full/ 1 Half), 1 x mSATA, and HDMI input/output that deliver you an excellent performance and amazing experience. ECS H61H2-TI provides you a multi-functional solution within a limited space. Small but versatile.