CyberPowerPC Launches New LAN III Mini PC Line
Mon, Mar 18, 2013 - 12:52 PM
CyberPower has retooled its small form factor LAN-event PC series into a new family of systems named the LAN III, which is be packed with the power and the headroom to accommodate the latest gaming hardware and titles. The CyberPowerPC LAN III series debuts with four distinct models priced from $439-$1395 and loaded with the latest performance hardware from Intel, AMD and NVIDIA. Gamers can tap CyberPowerPC's "armory" to build a custom LAN-party worthy system with a wide choice of components from Intel's flagship X79 platform with 3rd Gen Core processors to AMD's 990FX Chipset with Vishera 8-core processors. Users can drop the latest arsenal of GPUs into their LAN III, which includes NVIDIA GeForce series powered by the new "Kepler" architecture and AMD Radeon's "Southern Islands" Graphics.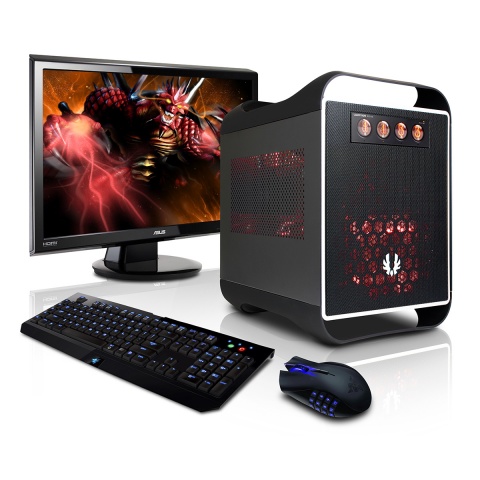 The LAN III system gets new chassis to accentuate their LAN-partying small-form factor style. The BitFenix Prodigy, a sturdy mini-ITX case with FyberFlex handles provides the enclosure for both the new LAN Mini-I and the LAN III Xtreme; both systems are powered by Intel's Express Chipset and 3rd Gen. Core processors. The subtly stylish Fractal Design Node 304 represents the LAN III Mini-A that's powered by AMD's APUs and A75 chipset. Lastly the unique Cooler Master HAF-XB is the case for the LAN III Commander; a powerful, yet compact system featuring Intel's X79 chipset and Sandy Bridge-E processor.
The LAN III Xtreme utilizes the distinct BitFenix Prodigy mid-tower chassis and is powered by Intel's 3rd Generation Core processors with Z77 chipset. MSRP is $795.
Intel Core i5-3570K Processor
8GB DDR3/1600MHz RAM
NVIDIA GTX650 1GB Video
GIGABYTE Z77 USB3 & SATA3 Motherboard
1TB SATA3 7200 RPM HD
24X DVD+-R/+-RW Drive