CES 2013: Corsair Launches Voyager Air. Wi-Fi Device & NAS AIO!
Tue, Jan 08, 2013 - 10:33 AM
Last night Corsair unveiled the new Voyager Air. The Voyager Air is a storage drive, Wireless hub, Network attached Storage, and last but not least a Portable USB 3.0 drive! There isn't much that the Voyager Air from Corsair doesn't do. During the demonstration that Legit Reviews was able to see live, Corsair was streaming HD content to five different devices! Each of the devices was watching a different HD movie! This was an impressive feat in and of itself! The Corsair Voyager Air does so much more in addition that this may be the must have device of the year!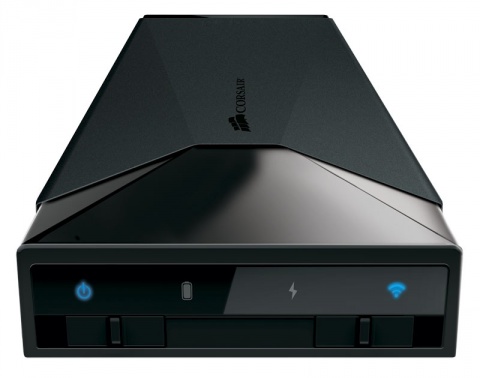 With up to 1TB of capacity, a rechargeable battery, and Wi-Fi, Ethernet, and USB 3.0 connectivity, the Voyager Air enables digital media enthusiasts to consolidate an entire collection of movies, music, or other documents for sharing on their home network or on the go. Media stored on Voyager Air may be accessed directly from a PC or Mac®, or with a free Corsair app, streamed to Android devices or Apple® iPad®, iPhone® and iPod® touch devices. Voyager Air can quickly be connected to a home network for easy access to media from network-enabled smart TVs