CCleaner v3.03.1366 Released For Download
Tue, Jan 25, 2011 - 3:50 PM
Piriform CCleaner is the number-one tool for cleaning your Windows PC and a new version came out today! This release includes a multitude of features and changes, but don't worry as the developers haven't changed the interface, so you'll still know how to use it. CCleaner protects your privacy online and make your computer faster, more secure and is free to use! You can download CCleaner v3.03.1366 that came out today here.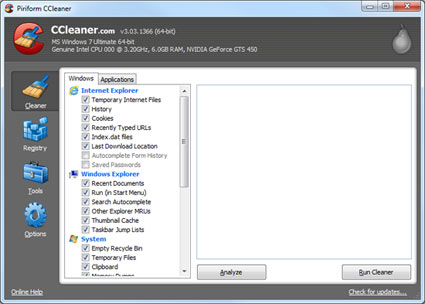 CCleaner v3.03.1366 (25 Jan 2011) Release Notes:
Added K-Meleon browser support.
Added Rockmelt browser support.
Added Chrome Plus browser support.
Added Saved Password cleaning for all browsers.
Added Recent Search History cleaning for Safari.
Added cleaning for Adobe Acrobat 9.0 and 10.0, Shockwave 10 and 11, Daemon Tools, Compare It! and Microsoft Search Helper Extension.
Improved Autocomplete Form History cleaning for IE9.
Improved Saved Form Information cleaning for Chromium based browsers.
Improved Internet History cleaning for Opera.
Improved Internet Cache cleaning for Firefox.
Improved cleaning for Silverlight and Adobe Reader.
Improved Office 2003 and XP to prevent removal of autocorrect settings.
Added more Windows MRU cleaning rules.
Minor UI tweaks and fixes.