ASUS GeForce GTX 650-E Video Card Needs No Extra PCIe Power Adapters!
Tue, Feb 12, 2013 - 9:01 AM
ASUS has announced global availability of the GeForce GTX 650-E, a motherboard bus-powered DirectX 11.1 graphics card that's ideal for desktop PCs with low-wattage power supplies. The GeForce GTX 650-E uses just 60 Watts of power, which makes it ideal for those upgrading a system that has a small power supply or one that won't support PCIe 6-pin power supply connectors. The PCI Express x16 slot can easily handle up to 75 Watts, so there should be some overclocking room left in the ASUS GeForce GTX 650-E. This GeForce GTX 650 card has 384 CUDA cores running at 1071MHz and 2GB of GDDR5 memory running 1250MHz (5000MHz effective) in case you are wondering what the default clock speeds are out of the box.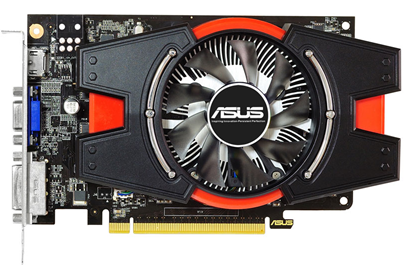 The ASUS GeForce GTX 650-E offers a quick and accessible upgrade for customers interested in affordable NVIDIA 28nm GPU technology. Powered from a PCI Express slot with a modest 60W average power consumption, the ASUS GeForce GTX 650-E is an ideal choice for users looking to upgrade their PCs without investing in a new power supply, making the process much easier and less costly. Available with 1GB or 2GB GDDR5 video memory, the ASUS GeForce GTX 650-E supports medium-to-high detail in current PC games, along with smooth 1080p full HD video playback.